House of Ife, Bush Theatre review - an Ethiopian-British family struggle to decide where 'home' is |

reviews, news & interviews
House of Ife, Bush Theatre review - an Ethiopian-British family struggle to decide where 'home' is
House of Ife, Bush Theatre review - an Ethiopian-British family struggle to decide where 'home' is
Playwright Beru Tessema makes a striking stage debut
Family at war - Karla-Simone Spence as Aida, Jude Akuwidike as Solomon
We are in a room in a simply decorated house in northwest London, where an Ethiopian-British family is gathering for a funeral "tea" for 28-year-old Ife, their first-born son and beloved twin brother of aspiring artist Aida. He has died of his crack addiction. But this is not exactly the house of the title.
What follows in Beru Tessema's debut stage work, directed by the
Bush
's artistic director, Lynette Linton, is a process of identifying where Ife's home actually was – and where all of the other family members belong too.
Ife's father Solomon (Jude Akuwudike), divorced for eight years from his mother Meron (a dignified Sarah Priddy) and father of a new set of children back in Ethiopia, has notionally built a house for them all there. Meron hoped it would be a refuge from his demons for Ife. Now she plans to rent it out. But Solomon, finally arriving in London at his daughter Tsion's expense after the funeral, tells them he has turned the house into a refuge for the homeless and now wants their permission to extend it. As a "warrior for Christ", he trumpets his desire to save souls displaced by civil war and poverty and is appalled by 19-year-old Yosi's love of videogames and rapping ("Fookerah!" he snorts, a term Yosi doesn't know), though mostly by his son's lack of that old chestnut, respect.
A complex pattern of tensions is then traced out. Between Meron and Solomon over their treatment of Ife. Between the generations – one African, one Western – raised with different cultural values, especially the younger one of trainee teacher Tsion (Yohanna Ephrem, pictured below with Sarah Priddy) and Yosi (Michael Workeye), who were born in London and are comparatively at home there but feel neglected by their father. And the tensions between those two and their older sister Aida (Karla-Simone Spence), whom they tend to view as a "pagan", a "yaa" who has left Kentish Town for a leafy town's art school. Yet Tsion admits to having felt at home in Ethiopia on a visit there; and Aida misses both the buzz of London and the simple beauty as she now sees it of the metal-roofed shack she grew up in in Ethiopia. All of them miss the "home" they believe their father could have provided for them, and especially for unhappy Ife. But where to look for it now?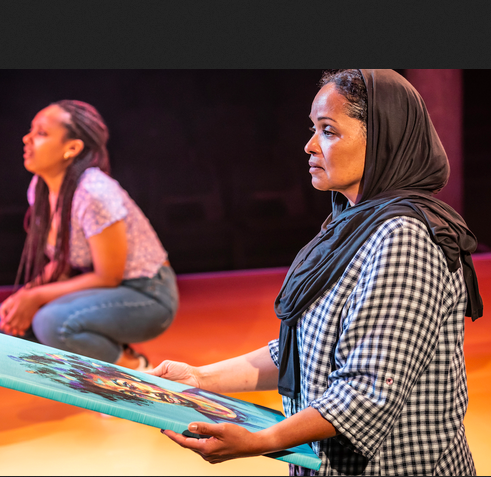 As the characters increasingly clash and their conversations become more pointed and heated, hidden emotions burst out and secrets are spilt. Tessema orchestrates this dialogue as a thicket of competing styles. It's often richly comic as well as heartfelt and painful. Particularly fun is the exchange between Yosi, complaining about being "gripsed up" by a "Karen" in a cafe, and Solomon's uncomprehending response: "You are a child of God. A child of God. You have no business with this Karen!"
Music is key here, linking the scenes, fuelling the children's exuberant dancing, underlining the plot's harmonies and discords. The cast meet this almost musical challenge impressively. Akuwudike pitches his powerful voice perfectly to give his evangelical utterances a revealingly brittle edge. He even sings badly, when showing off to Yosi. We see the pompous self-importance of the man and his way of forging the scriptures into a weapon. Yosi, on the other hand, gives a masterclass in "talking hood", with Workeye skilfully moving through all the gears of his endz vocabulary. Yosi, we realise, even if his father does not, is not a talentless fool, and being "man of the house" may be his salvation.
Compared to the two men, the sisters feel less developed, more recognisable types than individuated wholes, Tsion the most grounded of the siblings, Aida showing signs of her dead twin's addictive personality; both are sensitively played. What the piece needs overall is a stronger dramatic goal. There's almost too much going on, with characters talking over each other, competing to be heard, and not always being given enough room for us to focus on them properly. The final plot twist feels a tad too predictable to deliver its assigned thematic load.
But do go and see this piece: what Linton is doing at the Bush is nothing less than, play by play, resetting the dial and giving us an alternative stage language for telling new stories. Check out the venue's outstanding recent hit, Tyrell Williams's Red Pitch, as well, now available to stream worldwide until May 14 at bushtheatre.co.uk.

As the characters increasingly clash and their conversations become more pointed and heated, hidden emotions burst out and secrets are spilt
rating
Explore topics
Share this article