Lava, Bush Theatre review - poetic writing, mesmerically performed |

reviews, news & interviews
Lava, Bush Theatre review - poetic writing, mesmerically performed
Lava, Bush Theatre review - poetic writing, mesmerically performed
Debut work from Benedict Lombe is a red-hot poem of protest
Her-story: Ronke Adekoluejo in 'Lava'
What's in a name? In Benedict Lombe's incendiary debut play at the Bush Theatre, the answer to this question encompasses a whole continent, an entire existential experience - the Black experience, to be exact - though not in the way that "roots" stories often proceed.
The lost first name that the lead character of
Lava
needs for her British passport application is indeed her
African
one, long banned by her original home country, but not for the reason you'd expect. And home for this character, billed simply as Her (Ronke Adekoluejo), isn't a straightforward proposition either.
To unravel the tangled threads of her dual-nationality life, Her starts to explore among her "elsewheres". We learn she was born in the then-Belgian Congo, later renamed Zaire under President Mobuto. But he turned out to be a puppet, she says, and her family begins its flight to a "new world", via post-apartheid South Africa, a village in County Clare … and Wigan, an injection of bathos in a tale of great pathos.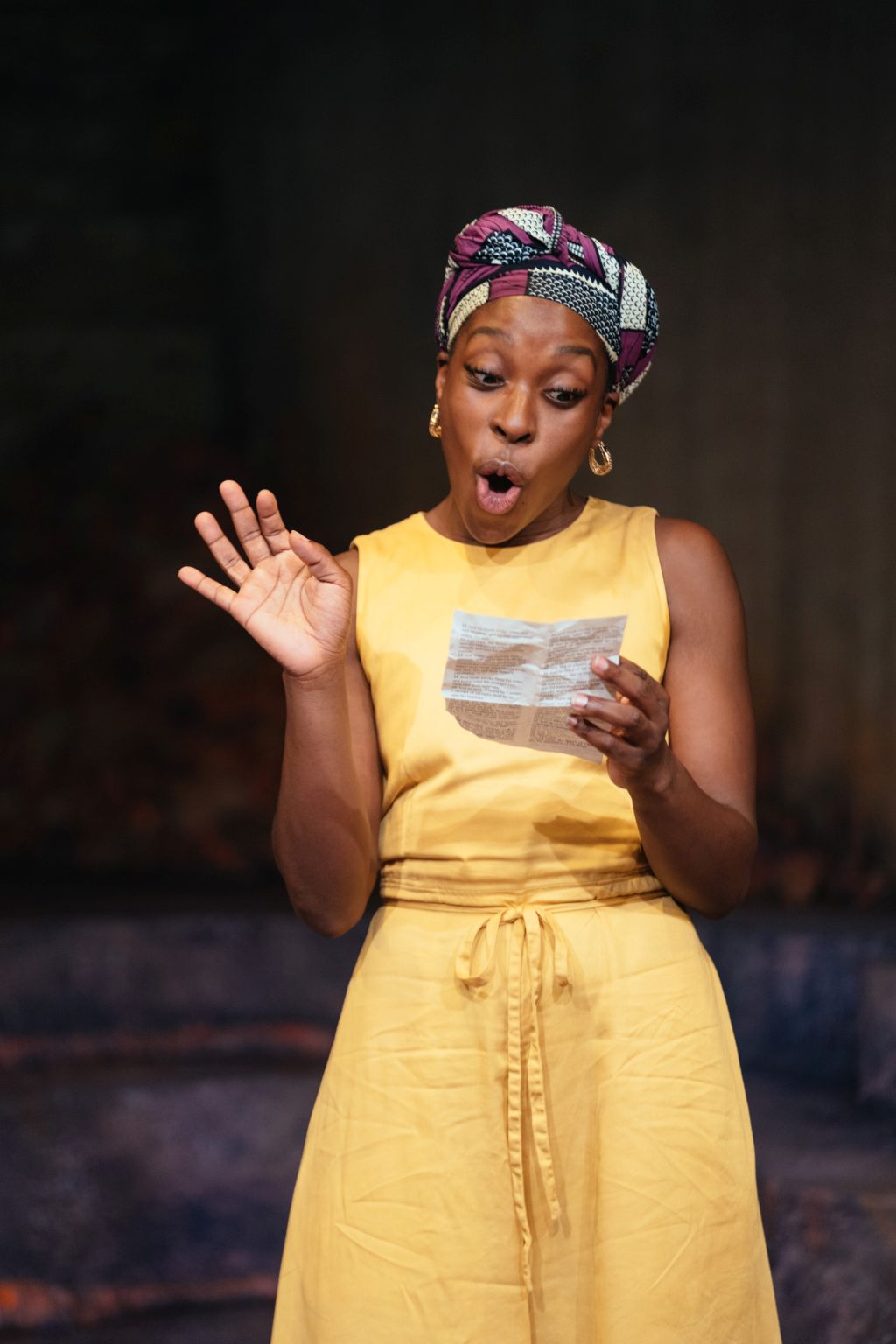 The road ahead darkens. Everywhere Her is told she is "different'". Her family grows, she gains an adored little brother -- but then there was "another you", she tells him: Anthony (Walker, 18, murdered in Lancashire by a white man in 2005), smiling in his black blazer; then many more boy victims, a riot in Minneapolis, and the Black Lives Matter movement is born. Her is searching for the words but the Congolese-British Lombe has found them already. This is a full-bodied poem of red-hot protest, carefully modulated with humour to grip and persuade.
Adekoluejo, a mesmerising solo presence in a primrose yellow jumpsuit, burns up the stage. By way of introduction, she performs a riveting sequence of black dance moves and then reaches out to the audience almost like a standup. She goes on to populate Her's story with all its main players: an exasperated but wise mother, sniffy Afrikaaner teacher, the white man she falls in love with in London. We see that under Her's charm and buoyancy burn a pain and a rage that need to '"find the words" to spill out. The lava promised in the title starts gaining critical mass.
As this journey proceeds under Anthony Simpson-Pike's direction, Jasmine Swan's striking production design - a giant cardboard packing case surrounded by broken classical pillars, rust-red magma at their base - comes into its own. Her recognises it as a birth-land, a structure built on blood, rotting but still standing. Recorded voices of white people interject: "Just for argument's sake", "Why does it always have to be about race?" One journalist accuses black drama of being "more lecture than theatre".
But where else but a theatre should Black writers "find the words", Her/Lombe asks? Adekoluejo doesn't come out for a conventional curtain call; this is theatre of a different order.
Adekoluejo, a mesmerising presence in a primrose yellow jumpsuit, burns up the stage
rating
Share this article