The Lehman Trilogy, Gillian Lynne Theatre review - a modern classic exuberantly revived |

reviews, news & interviews
The Lehman Trilogy, Gillian Lynne Theatre review - a modern classic exuberantly revived
The Lehman Trilogy, Gillian Lynne Theatre review - a modern classic exuberantly revived
The story of an immigrant family's contribution to American capitalism is still captivating
Michael Balogun, Hadley Fraser and Nigel Lindsay in Es Devlin's transparent cube set
The frantic world of finance moves fast, its giddy successes and thundering crashes causing ripples – sometimes tsunami waves – that affect us all. When director Sam Mendes and adaptor Ben Power first brought the story of the Lehman family to the National Theatre stage in 2018, a mere decade had past since the catastrophic economic crash, triggered by the bankruptcy of Lehman Brothers, in 2008.
In the five intervening years we have seen the effects of a Trump presidency, Brexit, a European war and the Truss mini-budget. Perhaps, as
Power
said in an interview, modern populist politics can be traced back to the fateful events of 2008.
There have been other upheavals since 2018, including a world-wide pandemic and, after the death of George Floyd, the Black Lives Matter movement and the subsequent re-examining of historical slavery. The script now acknowledges the role of slaves in the cotton industry which was the basis of the Lehman brothers' success (although the family's personal ownership is glossed over) and there is a passing reference to the 'flu epidemic of 1918, when there were anti-mask riots in California. The Broadway opening was postponed because of Covid; mask-wearing was again a focus for protest.
The Lehman Trilogy is, however, not predominantly about finance, but about the experience of an immigrant Jewish family: three poor brothers from Bavaria and their descendants who seek their fortune in "the magical musical box" of America. Henry arrives first in 1844, followed first by Emanuel and then Mayer. They begin modestly, selling cloth in a shop in Montgomery, Alabama. The brothers are close, Henry, "the Head", bickers with Emanuel, "the Arm", while younger, fresh-faced Mayer, "the Potato" attempts to keep the peace.Soon they are trading raw cotton, then other goods – coffee, coal – eventually branching out into railways, the entertainment industry (King Kong was financed by them) and, in World War II, arms. They see opportunities everywhere. But ultimately, now in New York, they lose sight of goods altogether and trade in money.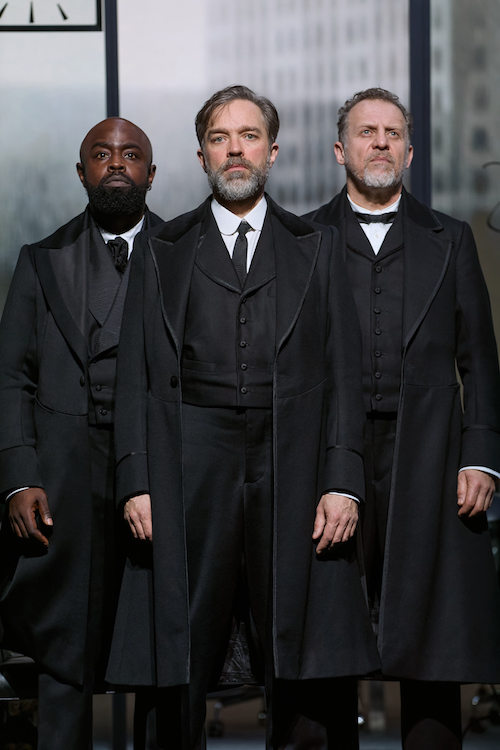 The first version of this production, based on a five-hour long, multi-actor piece by Italian playwright Stefano Massini, presented by the National Theatre and Neal Street Productions, was a revelation. It subsequently transferred to the West End, then to the Park Avenue Armory in New York, to Broadway and Los Angeles. Simon Russell Beale played Henry, Ben Miles Emanuel (later succeeded by Adrian Lester on Broadway) and Adam Godley Mayer. Between them they became dozens of other characters, from simpering maidens to bawling babes and aged rabbis. The story is told by these three – part narrated, part acted out – with the original characters echoing through the generations, their Jewish traditions gradually diminishing in a way which suggests a loss of moral compass: money becomes their sole focus. Three actors, dressed throughout in 19th century frock coats, take the audience on an imaginary 150-year journey through the development of American capitalism. It is something only theatre could do.
Everything about the production – acting, set, projections, music, lighting, comic moments – made a perfect whole and, in this latest version, that sense of glorious theatrical unity remains. Nigel Lindsay now plays Henry, Michael Balogun Emanuel and Hadley Fraser Mayer, displaying similar protean powers to the first cast as they morph into future generations and a host of minor characters, admittedly relying on caricature, especially of the women. These actors have their own qualities: Lindsay gruffer than Russell Beale as Henry but just as comically self-believing as Emanuel's son Philip, Balogun a combatively authoritative presence as go-getting Emanuel and as Herbert, Mayer's son, who becomes Governor of New York, but also a thumb-sucking toddler, and Fraser excelling in moments of energetic comedy, such as when he demonstrates all the qualities nerdy Philip requires of a bride or as the elderly Bobbie (pictured below) twisting the night away in his final decade.
The off-stage pianist – in this case Yshani Perinpanayagam – becomes virtually a fourth character, so integral is the music (composed by Nick Powell) to the changing mood, to different characters and periods.
Es Devlin's brilliantly accommodating transparent cube set, with its simple monochrome office, turns at varying speeds, altering with mood, time and place. As the business changes, one or other of the brothers scrawls on the glass walls, an instant version of wooden signs and brass plates. A video cyclorama of Bavarian fields, cotton plantations or New York skyscrapers, designed by Luke Halls, lit by Jon Clark, provides the context. This too is mainly monochrome but is occasionally suffused with harsh colour – reds and yellows - when one or other of the Lehmans suffers recurring nightmares.
The play begins in 2008 with a janitor piling the boxes which – memorably – Lehman Brothers staff were seen carrying out of the building on its last day of trading, and loops back through the history of the company to end where it began, with the company's collapse. The boxes represent every change in their professional lives, from packages of cotton goods to the establishment of the stock exchange to the horrors of the 1929 Wall Street Crash. A metaphorical tightrope walker, a human maifestation of financial risk, who for decades could be relied on not to fall, is described plunging to the ground between the towers. Lehman Brothers survives by diversifying.
The final section is speeded through, with no real explanation of what caused the company's ultimate downfall in 2008. By now no Lehmans were any longer involved; only their name survived.
This is a three-and-a half hour marathon, but it feels like a sprint through history – still relevant and full of humanity. This theatre, once home to Cats – and subsequently War Horse and Cinderella – is used to epic shows. In its way, this is one too.