The Magician's Elephant, Royal Shakespeare Theatre review - family musical doesn't fully deliver |

reviews, news & interviews
The Magician's Elephant, Royal Shakespeare Theatre review - family musical doesn't fully deliver
The Magician's Elephant, Royal Shakespeare Theatre review - family musical doesn't fully deliver
An elephant awakens an emotionally shattered town
Saturday, 30 October 2021
Pretzel Logic - the cast of The Magician's Elephant
Trigger warnings have become commonplace in theatres these days, but few chill the blood like the description "a new musical" on a playbill.
There are so many things to go wrong, so few ways to get things right and, never far away, the dissenters who caught ten minutes of the
Sound of Music
during its annual Christmas TV airing and won't stop telling you exactly how they feel about
musicals.
So, while the National Theatre gears up for its new musical, Hex, the RSC is commendably returning to its lockdown-postponed The Magician's Elephant, both productions given the stages and resources that a spectacular family show needs in order to compete with the whiz-bang of movies and computer gaming. There's nothing quite like the thrill of watching the high wire act of putting on a show and what better way to thumb the nose at that miserable, closed-doors Christmas 2020 than to get out and spend a few hours in these worlds filled with song and dance.
There's much of such magic, some real, some metaphorical, in Nancy Harris's adaptation of the American writer Kate DiCamillo's 2009 children's novel. The director, Sarah Tipple, pitches us into the grey, Dickensian town of Baltese, in which a war has taken too many of its young men and too much of its joy. At its opera house, a magician, to his own surprise, conjures an elephant that drops through the roof and becomes, as it would, the talk of the town: the vessel into which people pour their long-suppressed hopes. One boy, advised by a mysterious fortune teller, believes the animal will take him to his sister, long believed dead but now known to be alive.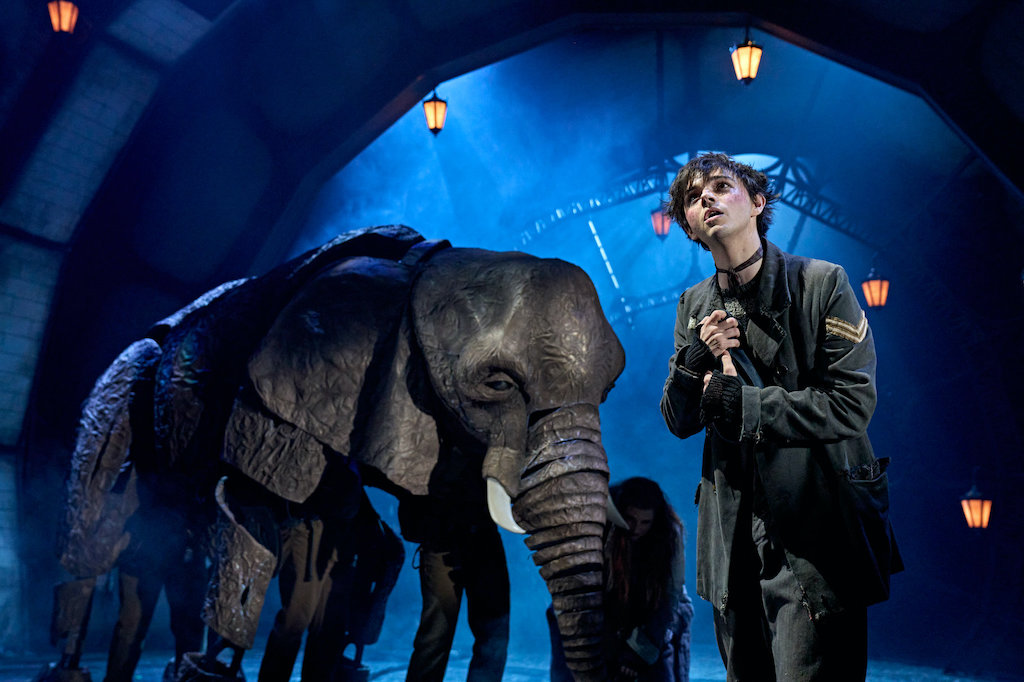 Jack Wolfe (pictured above), looking rather like mid-Potter Daniel Radcliffe, centres the narrative as the above-mentioned boy, Peter, acting with just the right wide-eyed innocence and indomitable spirit and singing with a control that belies his years; he is surely a West End lead in waiting. The comic cuts come from Forbes Masson's panicky bobby, for whom a policeman's lot is certainly not a happy one, and from Summer Strallen, giving plenty of belt as the Cruella-ish Countess. There's poignancy too from Renu Arora who was, as she so often reminds us, crushed by an elephant, and from Marc Antolin and Melissa James, who long for the magic a child brings to a marriage.
Though coming in too long at pushing three hours, the running time does give room for minor characters to have their moments. Mark Meadows adds depth to the town's backstory with his PTSD suffering soldier, Peter's guardian, Vilna; Sam Harrison gets the best song, "The Count Who Doesn't Count", as the much put-upon aristocrat consort; and Miriam Nyarko gives girls some agency in her second half stomper, "Adele The Brave".
Marc Teitler's songs are more serviceable than showstopping and there are moments when you can sense that the show is veering towards musical theatre's misty border with opera, never a bad thing for a piece with this kind of ambition. None of the 35 numbers outstay their welcome, and there's plenty of variation in both the heavy emotional ballads (Peter's "A Lot Like Me" is a fine song if an obvious one) and the big ensemble pieces ("Discipline Control Routine" has a "Consider Yourself" vibe).
Oh, lest I forget, an elephant! There's no big reveal - after all, we've all read the title - but, beautifully lit by Oliver Fenwick, Mervyn Millar's life-size puppet transmutes into an elephant within a few seconds. Of course, our belief is a given - we've already accepted a whole town bursting into song - but it's vital to the theme of individual and social salvation through trust that the elephant be both of Baltese and separate to it, possessed of an animal's strength and a human's sorrow. One could make a case for its three operators, Zoe Halliday, Wela Mbusi and Suzanne Nixon, as the best actors on show.
Although there is much to admire, not least a spectacle appealing to all ages, it's a little too slow and a lot too long for a family show. Even with its peculiar nod to QAnon in the blind faith the populace puts in the elephant, the story simply isn't robust enough for a Les Mis running time that could easily lose 20 minutes. There's also a pretty big hole in the plot, not to be revealed here.

For all that, the fantastic outweighs the flawed and, inside and screenbound for too long, now just may be the right time for kids from four to 84 to "follow the elephant".
Beautifully lit, Mervyn Millar's life-size puppet transmutes into a real elephant within a few seconds
rating
Share this article