Frozen, Theatre Royal Drury Lane review - twinkling spectacle with a sincere drama at its heart |

reviews, news & interviews
Frozen, Theatre Royal Drury Lane review - twinkling spectacle with a sincere drama at its heart
Frozen, Theatre Royal Drury Lane review - twinkling spectacle with a sincere drama at its heart
The stage version of the beloved animation looks set to become a West End staple
Thursday, 09 September 2021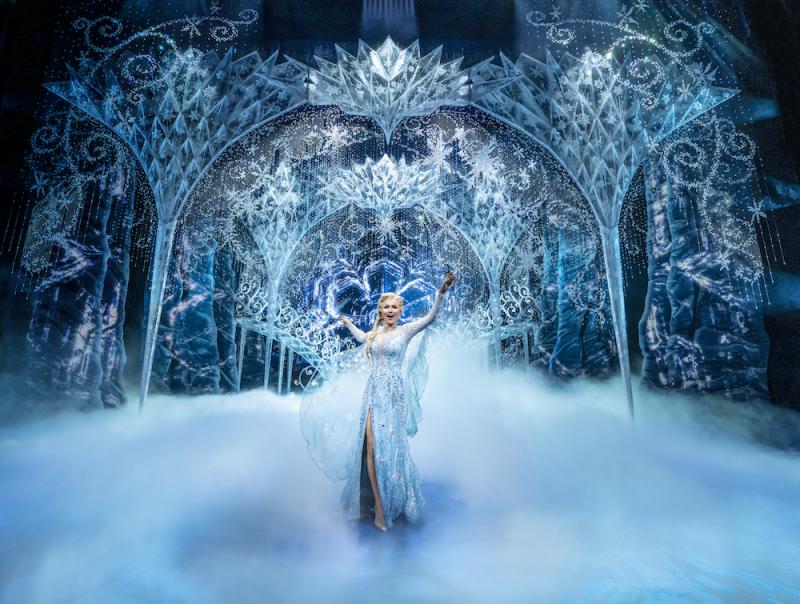 Ice Queen: Elsa (Samantha Barks) embraces her powers
The Broadway
musical
adaptation of the
Disney
film behemoth
Frozen
premiered back in 2018 and now, following Covid delays, a rejigged version finally makes its home in the
West End
– to the delight of the army of miniature Elsas in attendance. The good news is that there's plenty here to keep grown-ups entertained as well.
The show faithfully adheres to the film plot – as, indeed, it must to avoid a riot – but Jennifer Lee's book adds more psychological depth to Elsa and Anna (Samantha Barks and Stephanie McKeon), and addresses, if doesn't quite solve, the dramaturgical issue of their continual separation. A beefed-up prologue gives us added time with them as youngsters, and makes it more evident how their parents' fear and trauma, and desire to protect their loved ones through secrecy, shaped Elsa's fraught worldview.
Then it's into the story as we know it: Elsa accidentally freezing Arendelle on the day she becomes queen, when blindsided by Anna's speedy engagement to Prince Hans (Oliver Ormson), and Anna making a perilous journey, accompanied by redundant ice-seller Kristoff (Obioma Ugoala), to find her sister and save the kingdom. This isn't a radical revamp, nor does the core Frozen audience want one: they loudly greet all of the familiar elements like old friends. But, even if it plays it safe, Michael Grandage's handsomely mounted show is still an impressive, twinkling spectacle with a sincere drama at its heart.
Among the numerous new songs is an impassioned duet for the siblings, added since Broadway, while Elsa's "Dangerous to Dream" helps us to understand her thinking during the coronation, a ceremony presented with real solemnity and grace. McKeon and Barks have a sweet opposites-attract chemistry, one fearless and oversharing, the other strained and contained. A more angsty presentation of their mounting conflict makes the show feel like Wicked's kid sibling.
However, the standout numbers are still the movie songs, like goofy meet-cute "Love Is an Open Door", nostalgia-tinged "Do You Want to Build a Snowman?" and exhilarating "For the First Time in Forever". Kristen Anderson-Lopez and Robert Lopez's additions mainly repeat the action rather than add texture to it. One reprise does give Kristoff a much-needed vulnerable moment, but the same can't be said for "Hans of the Southern Isles"; a shame the character doesn't get a big villainous number, but then his reveal only comes late on.
The spirited McKeon is a total charmer. Her Anna is clearly starved of affection, but this is a great comic turn, and her singing has a lovely natural quality. Barks gets the tougher challenge, leaping from petrified introvert to the total abandon of the big, belting ballads. She definitely succeeds in making Elsa a complex, compelling figure, and draws you into the intimate musical moments, but can't quite get on top of the daunting vocal workout that is "Let It Go", where she's upstaged by a gasp-inducing costume change.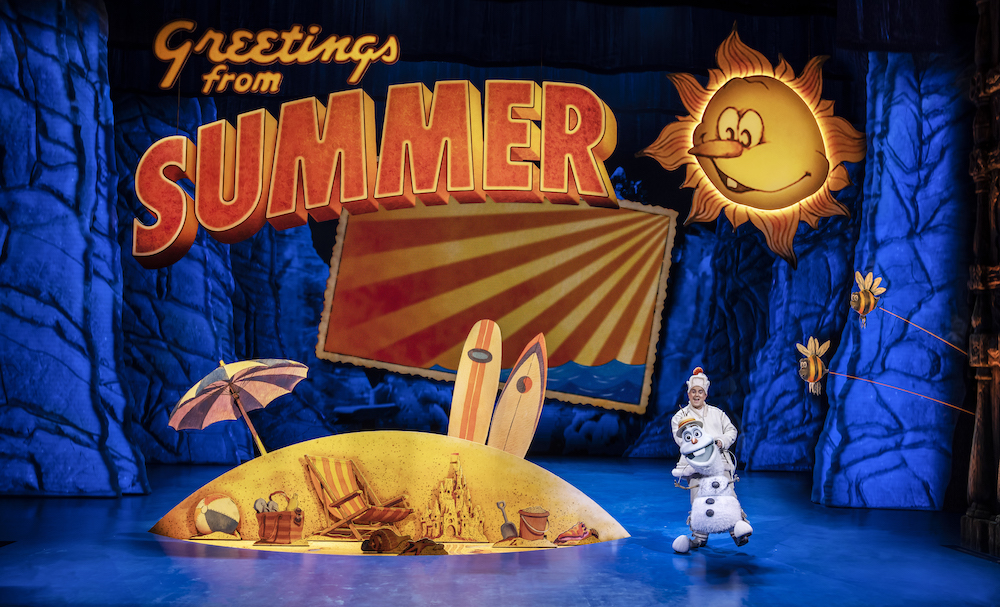 Craig Gallivan (pictured above) brilliantly operates and gives voice to a puppet Olaf. He uses the snowman's glazed eyes to support his deadpan quips, to great effect. Ormson is most fun after his heel turn, while Ugoala does grumpy better than amorous; admittedly, both are thinly written. Richard Frame relishes the misogynistic baddie Weselton, Joshua St Clair and Emily Mae give dignity to the Hidden Folk (in place of the film's trolls), and it's great to see two actors of colour, Gabriel Mokake and Jacqui Sanchez, as the King and Queen.
Rob Ashford's choreography is most interesting in the expressive sections, like the fatal shipwreck and chilly climax. Christopher Oram supplies a majestic Northern Lights backdrop and monumental Disney-Scandi designs which beautifully complement the refurbished Theatre Royal Drury Lane. And, by popular demand, Elsa's Swarovski-crystal ice palace now features the movie's iconic staircase. Her powers are evoked by Neil Austin's lighting, Peter Hyllenski's soundscape and Jeremy Chernick's special effects: pleasingly theatrical magic.
There are some more adult moments in the show, most notably a riff on hygge featuring naked sauna enthusiasts, otherwise this is well pitched for a family crowd. The celebration of difference and self-acceptance is cheering, and the longing to connect plays particularly well in pandemic times. Undoubtedly, there's a corporate sheen to this fairy tale (and staggering prices in the gift shop), but it's still part of the welcome thawing of the West End.
A more angsty presentation of the princesses' conflict makes the show feel like Wicked's kid sibling
rating
Explore topics
Share this article