The Misanthrope, Comedy Theatre |

reviews, news & interviews
The Misanthrope, Comedy Theatre
The Misanthrope, Comedy Theatre
Keira Knightley starts lightweight in this modern Moliere adaptation but grows into the role
Thursday, 17 December 2009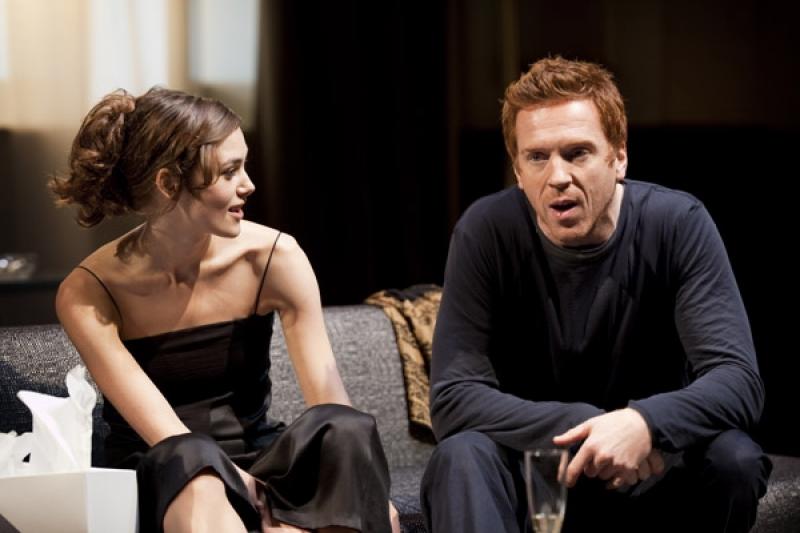 Sofa, so good: Keira Knightley and Damian Lewis in The Misanthrope
She's the most famous young pout in Hollywood. And her first West End appearance has already sparked a media frenzy, making this contemporary version of Molière's The Misanthrope the hottest ticket in town, with massive advance bookings already guaranteeing anyone associated with the show a credit-crunch-proof Christmas.
Of course, I'm talking about
Keira Knightley
– I mean, who isn't? But what about the play, which opened last night with a barrage of paparazzi flashbulbs? And how does La Knightley shape up?
Written by Martin Crimp, this take on Molière's 1666 tale about the sourpuss Alceste, who has a pretty low opinion of pretty much everyone he comes across, is set in the present and is a vivid satire on media folk. Alceste, completely refigured as a contemporary playwright, is the lover of an American film star, Jennifer. Around this couple, there is a circle of arty folk, including a critic, a journalist, an actor, an agent and an acting teacher.
Alceste, played with enormous energy by Damian Lewis in a performance full of expansive gestures, which often leave the rest of the cast with nothing to do, is a compulsive truth-teller who seems chronically unable to tell those polite little white lies that oil the wheels of social life. And he's also a monster of jealousy, constantly convinced that Jennifer is being unfaithful to him.
Knightley, of course, is Jennifer. And she is perfect in the role, clearly enjoying the portrayal of her character's shallowness, a seductive mix of flirtatiousness and vulnerability. Although her voice is a bit thin, the note of iron that enters it when she is genuinely annoyed is as hard as truth itself. And if she seems a trifle underpowered for most of the evening, she does save her best for last. So, at the very end of the show, she suddenly seems to grow, and you leave the theatre won over.
Directed with pace and verve by Thea Sharrock, the play is set in a luxurious hotel room, designed by Hildegard Bechtler to be one part Starck to two parts Louis Quatorze. And Lewis and Knightley enjoy great support from Tara FitzGerald as Jennifer's bossy acting teacher, Kelly Price as the treacherous hack, and Dominic Rowan as Alceste's down-to-earth friend. Most diverting of all is Tim McMullan's performance as the critic Covington, almost bursting with overweening self-importance.
All the while, Crimp's text cuts and thrusts deliciously close to the bone, satirizing celebrity culture and taking pops at playwrights David Hare and Tom Stoppard, as well as at Damien Hirst. Although originally staged in 1996, the play retains its freshness of insight and its rhyming stanzas both reflect the original and delight the ear. Jennifer's final rejection of Alceste ("You're seriously asking me to join you in some kind of suburban nightmare? Shop? Cook? Clean? What? Do the dishes? Sleep? Drive the kids to ballet in a Japanese jeep?") is both cutting and hilarious.
Superbly bitchy, Crimp's rasping wit hits out at false friendship, treacherous ambition, naked opportunism, journalist malpractice, postmodern clichés and the whole media circus. Updated in places to make room for a barbed reference to David Cameron's insincerity, the play is timelessly and gloriously rude about artistic pretension and social mannerisms. Crimp is also appealingly self-aware: as in the lines "I have to say that this so-called rage would make more sense on the seventeenth-century stage. And surely as a playwright you're aware of sounding like something straight out of Molière."
The rubbernecking paradise that is a West End press night is a great environment to enjoy this play. Looking around in the interval, we all suddenly seemed to be guilty creatures at a play, with only our noisy chat and exaggerated gestures to drown out the feeling that it is us being satirized. So while cynics have been carping about the irony of having a Hollywood star acting in a satire of, among other things, Hollywood stardom, there is no need to feel deflated. Instead, spread the news: Keira Knightley rocks.
Explore topics
Share this article