Sister Act the Musical, Eventim Apollo review - the West End meets the Westway |

reviews, news & interviews
Sister Act the Musical, Eventim Apollo review - the West End meets the Westway
Sister Act the Musical, Eventim Apollo review - the West End meets the Westway
Crowdpleasing musical retains its glitz and charm (and cheese, too)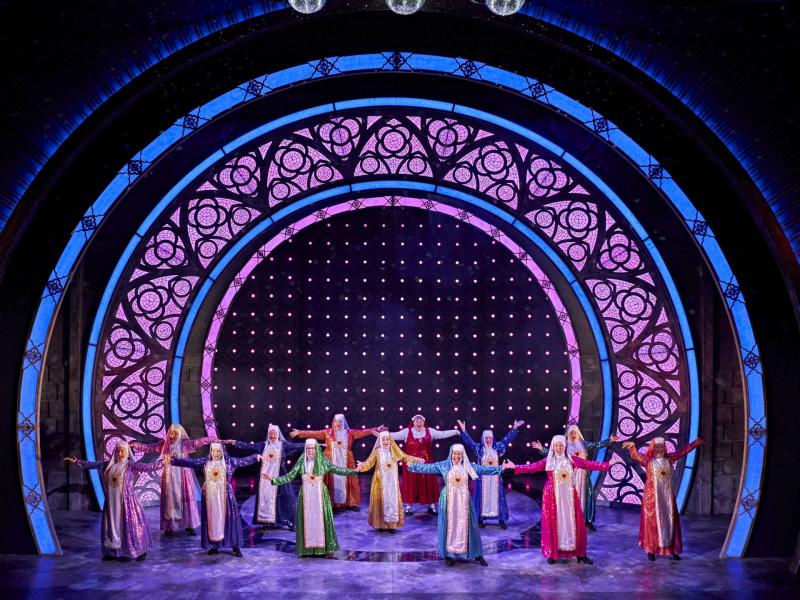 Doing it for themselves: the cast of 'Sister Act'
If jukebox shows occupy one end of the musical theatre spectrum and Stephen Sondheim's masterpieces the other, Sister Act The Musical is somewhere in-between.
We get songs we know (Alan Menken's score, heard first on the West End and then, in 2011, on Broadway, includes many staples of talent shows and daytime radio), stunt casting for name recognition and, best of all for a production delayed for two years by Covid, a confident showmanship that screams "entertainment"! If you can afford to be sniffy about such blatant commerciality in these straitened times, then good for you!
The director Bill Buckhurst throws everything at the flimsy story of the gangster's moll hiding out in a Philadelphia church whose ballsy personality galvanises the meek nuns, transforming them from shy soul savers to self-assured soul singers. As required by musicals in venues as vast as this one, everything is larger than life. Tim Mitchell dazzles with his neon lights, Jae Alexander's tight orchestra is perfectly balanced against the voices and Morgan Large's costumes are a fever dream of mid-70s polyester and sequins. It's Ultra-HD with all the settings at 100.
It's ever so easy for even the most accomplished of singers to be overwhelmed by all that, but not Beverley Knight's Deloris van Cartier - "like the watch", she explains. (Knight and Jennifer Saunders, pictured right). Fresh from The Drifters Girl across town, Knight puts her extensive experience to work, filling the cavernous space with a singular voice, wit and charisma: here's what you get when you cast a star.
Not far behind her, Keala Settle brings her Greatest Showman vibes to the role of Sister Mary Patrick; rising talent, Lizzie Bea underlines her potential after last year's super turn in Hairspray, leaving not a dry eye in the house with Sister Mary Robert's 'The Life I Never Led' and Clive Rowe has a lot of fun with Steady Eddie, the cop who wants to sing. There are super cameos from the bad guys too: Jeremy Secomb, Damian Buhagiar, Tom Hopcroft and Bradley Judge in Travolta flares, and an ensemble who aren't afraid to dial up the camp up. Whoopi Goldberg, once announced for this revival, is not on view.
Jennifer Saunders and Lesley Joseph endearingly make no compromises with their accents to the Philly location, but the audience don't care - they want to pay homage to a couple of national treasures and, if they can't dance at all and sing in a style probably best described as individual, they can still time a laugh line like the troupers they are.
Though there's real jeopardy in the story and a scene that always shocks (but is probably necessary to establish character), we're never far away from an uplifting moment of self-realisation, an underlining of the power of humanity and love in a world of rules and fear and some ol' fashioned song and dance routines with voices raised in heavenly harmonies. I had just a flicker of guilt during "I Haven't Got A Prayer", the Mother Superior's lament that discipline has broken down in her convent, the ways of the old religion no longer attuned to the times as Deloris's influence spreads. "You lot had more to worry about than that", I found myself whispering under my breath, in terms of revelations about the church that are not readily accommodated to a show like this.
But the horrors visitied upon innocent victims by the Roman Catholic Church in the late 20th century are but a fleeting shadow on a show that promises a great night out and delivers it, a rare example of an arena transfer that doesn't put a foot wrong. It's an er... habit some other shows might do well to adopt.
Beverley Knight shows what you get when you cast a star
rating
Share this article