What Girls Are Made Of, Soho Theatre review - euphoric gig-theatre |

reviews, news & interviews
What Girls Are Made Of, Soho Theatre review - euphoric gig-theatre
What Girls Are Made Of, Soho Theatre review - euphoric gig-theatre
Cora Bissett recalls the highs and lows of being a teenage Britpop star
Friday, 13 September 2019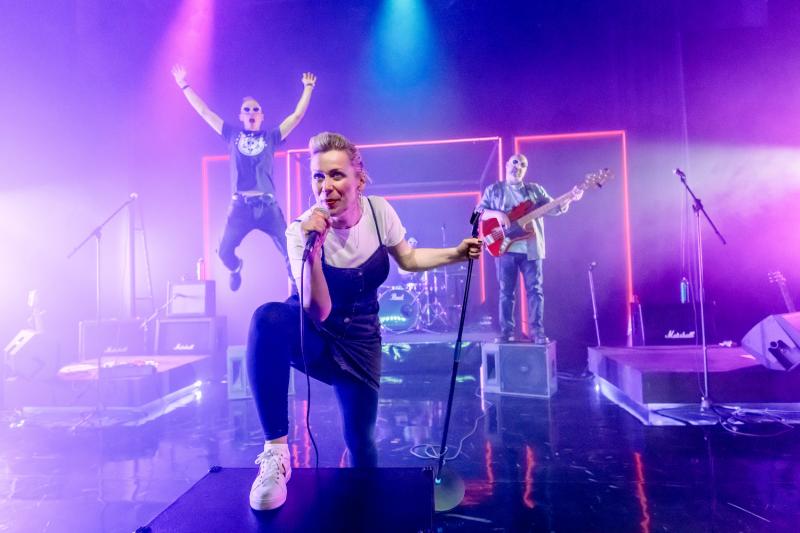 Facing the music: former Darlingheart frontwoman Cora Bissett (centre) tells all
It's now Edinburgh Fringe transfer season in London, but here's one they made earlier: Cora Bissett's Fringe First-winning autobiographical play from the 2018 Festival about her time in 1990s indie band Darlingheart.
Though the broad shape of this tale is familiar, Bissett's gig-theatre approach lends it a raw authenticity and engaging confessional quality.
Bissett (pictured below) was still at school when she replied to an advert in the local Fife paper and became the lead singer of Darlingheart. She was driven less by musical ambition – though Patti Smith was already a favourite – more by a desire to escape working-class, small-town life. The band soon scored a hefty deal, but the usual suspects got in their way: the dodgy manager, coke-snorting, heartless record execs, rock 'n' roll excess on tour, and the fickle industry that can snuff out stars just as easily as it creates them.
Nevertheless, there are vivid details in Bissett's account, particularly of the 1990s music scene (the Astoria was heaven, and the NME was God), and the band's time supporting rising Britpop talent. Onstage musicians Emma Smith, Harry Ward and Simon Donaldson (pictured below with Bissett) also multi-role superbly, and there are amusingly spot-on impressions of Radiohead and Blur, plus clever use of period pop to back the stories. It might have been interesting to hear more of Bissett's views on these relatively conventional posh boys, versus her original love of strong women smashing the system, but that feminist thread disappears.
However, just by being a young woman in the music industry, Bissett of course has unsavoury encounters to share – such as being bullied into doing a revealing photo shoot. A later #MeToo revelation also reframes some of this. But the show overall balances the giddy thrill of new experiences with the less-glamorous realities of grafting as a new band: hanging last night's sweat-drenched dress out of the window to dry before the next performance, or teen drummer Cathryn Stirling cramming for exams while making an album.
Orla O'Loughlin's tight production is set up like a gig, with neon light framing the musicians and frontwoman Bissett, in Pixies T-shirt, on the main mic. The other three jump nimbly into numerous characters and underscore her anecdotes, occasionally building into full numbers. Even more of these would be welcome – the band is fantastic, and Bissett in great voice. Though her narration is well written and conveyed, with evocative, sometimes lyrical description, she arguably best harnesses the strengths of the medium when she lets the music do the talking.
Bissett, who wrote the show after rediscovering her teenage diaries in her parents' house, also shares stories about her stoic mother and her father sadly succumbing to dementia, plus her attempts to hold down a relationship and start her own family. There's a meandering quality to some of this material, since real life rarely fits neatly into a dramatic structure, but her emotional candour draws us in, and music is brought back into the tale with a beautiful link between the steady drumbeat of a sound check and the heartbeat that signals new life.
Ultimately, this is a euphoric show, and Bissett's climatic roll call of inspiring women brings it back around to that teenager worshipping at the altar of Patti Smith. Though Bissett's rocker dreams were dashed, her take-home message isn't defeatist (though you should really try reading those 40-page contracts...). Instead, she makes a case for life's adventures shaping you. Girls are tough, women are tougher, and through art, you can find your power and your voice.
There are vivid details of the 1990s music scene - the Astoria was heaven, and the NME was God
rating
Explore topics
Share this article