DVD: The Year of the Sex Olympics |

reviews, news & interviews
DVD: The Year of the Sex Olympics
DVD: The Year of the Sex Olympics
Nigel Kneale's vision of broadcasting future is showing its age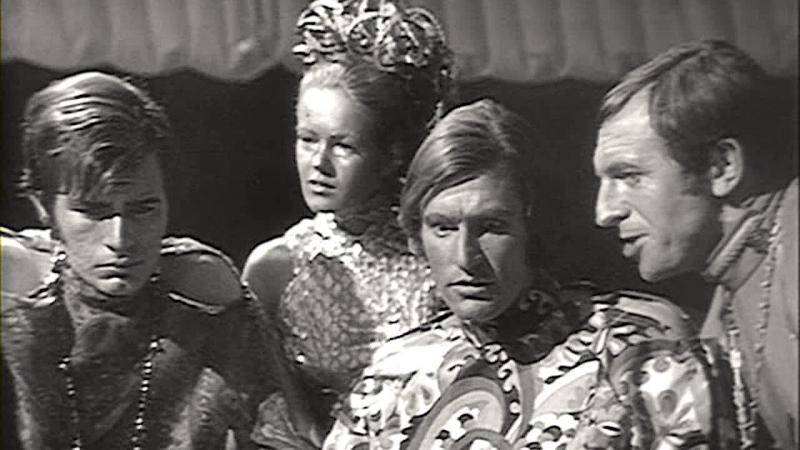 Monochrome set: (from left) Brian Cox, Vickery Turner, Tony Vogel and Leonard Rossiter
Originally aired in BBC2's "Theatre 625" slot in July 1968, Nigel Kneale's The Year of the Sex Olympics has gathered a reputation as a groundbreaking piece of TV drama which uncannily anticipated the broadcasting future.
Its depiction of a society in which the audience are apathetic zombies pacified by crass, bottom-of-the-barrel "entertainment" might cause pangs of unease as we view such contemporary phenomena as
Big Brother
or
I'm A Celebrity…
, while the notion of audiences gaping at glamorous couples enacting competitive TV sex is too
Love Island
for words.
However, while Kneale's far-sighted ideas have weathered spectacularly well, the programme itself is showing its age. The original colour master tapes were wiped after broadcast, and all that survives is this monochrome version belatedly discovered in the Eighties. By all accounts the colour version was a visual feast (this BFI DVD reissue includes a featurette about Joyce Hammond's inventive and brilliantly-hued costumes), but in black and white it's a bit of a struggle (pictured below, the audience).
Colour aside, the show's sci-fi aspects inevitably look comically dated (though perhaps Kneale also foresaw the Apple Watch, since the cast are able to communicate with wristband transmitters), which wouldn't be so bad if the acting weren't so stridently hammy. Tony Vogel, playing TV executive Nat Mender, proclaims his lines with bizarre staring-eyed fanaticism, while Leonard Rossiter's "co-ordinator" Ugo Priest is a one-dimensional slimeball. Kneale's Orwell-esque perception that language might have been diminished by constant exposure to slogans, media jargon and anaesthetising programming prompted him to create dialogue with slang phrases like "super-king" or "you've gone real madhead", another smart idea that sounds excruciating in practice.
The drama picks up pace in its later phases, when Mender, his wife Deanie (Suzanne Neve) and their daughter Keten (Lesley Roach) become a guinea-pig reality TV family stranded on what looks very like Father Ted's Craggy Island. Mender sees this as a kind of rebellion against a deathly culture where imagination and true expression have been strangled, but for his TV bosses it's an excuse to exploit fear, terror and death to kick-start their moribund ratings. An unrecognisably young Brian Cox, as Lasar Opie, is the embodiment of ranting media-madness.
This re-release arrives with a collection of extras, including options to watch the film with an audio commentary by Cox or an interview with Kneale. The inclusion of Le Pétomane, written by Galton and Simpson and starring Leonard Rossiter as fabled flatulist Joseph Pujol, is amusing though hardly relevant, while a short Vision On documentary hailing the magnificence of the BBC on its 50th birthday serves no discernible need.
An unrecognisably young Brian Cox, as Lasar Opie, is the embodiment of ranting media-madness
rating
Share this article