Servant, Apple TV+ review - shocks, shivers and black humour in missing-baby saga |

reviews, news & interviews
Servant, Apple TV+ review - shocks, shivers and black humour in missing-baby saga
Servant, Apple TV+ review - shocks, shivers and black humour in missing-baby saga
M Night Shyamalan's drama is fascinating and confounding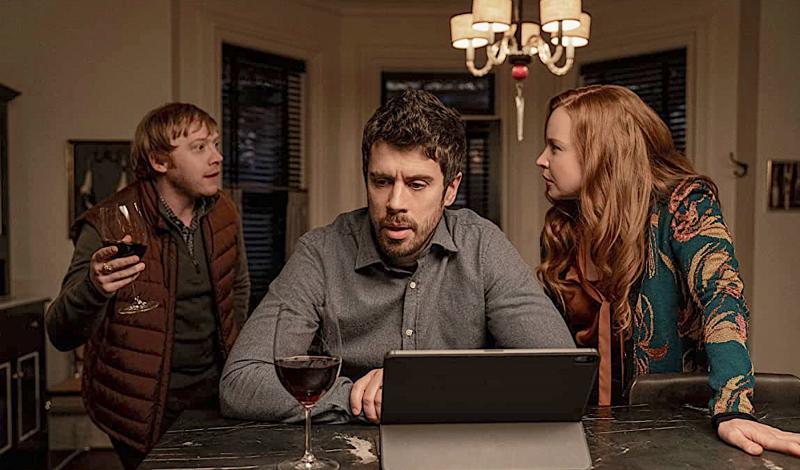 Don't panic: Rupert Grint, Tony Kebbell and Lauren Ambrose try to keep it together
The oeuvre of M Night Shyamalan has tended to veer between unsettling creepiness and sometimes hilarious misfires, but, working as Executive Producer with screenwriter Tony Basgallop, he's hit the spot with this unnerving series for Apple TV +.
Just back for its second season,
Servant
homes in on the fraught and freaky lives of Sean and Dorothy Turner. He's a so-called "consulting
chef
", she's a high-profile news journalist on Philadelphia's 8 News TV network, and there's a huge smouldering crater where their home life used to be.
Apart from the pair of them being self-obsessed narcissists, their relationship is being ripped asunder in the aftermath of the loss of their baby son Jericho. Part of the allure of Servant (apart from its eminently snackable half-hour episodes) is the way that the narrative is like a shifting jigsaw which never quite gives you the full picture, and it wasn't until late in the first season that Jericho's tragic fate was finally revealed. Up until then, we'd had the unsettling spectacle of Dorothy cooing and fawning over a freaky "reborn doll", a synthetic facsimile of a baby which, in her traumatised state, Dorothy had accepted as the real thing. Bizarrely, when they hired a nanny to help Dorothy cope, she blithely performed her care-giving services as if she too had no doubt that the doll was a real child – until, one day, the doll was suddenly and without explanation replaced by a live-and-kicking infant.
The disorientating absence of logic in Servant leaves gaps the viewer feels compelled to fill. For instance, it seems that taciturn and fanatically religious nanny Leanne (Nell Tiger Free, pictured left, or Myrcella Baratheon if you're a GoT fan) may possess supernatural powers – she seems to make chef Sean lose his sense of taste, for instance, and may have telekinetic abilities. She supposedly comes from a family in the backwoods of Wisconsin, but they were discovered to have perished in a fire. The story takes a sharp twist when it's revealed that Leanne has been under the control of a sinister cult called the Church of the Lesser Saints, who were involved in a Waco-style conflagration which Dorothy reported on for her news network. When the cult's eerie Aunt May and crazed, Scripture-spouting Uncle George turn up at the Turners' home, the going gets stranger still.
How the Turners cope with the cult and the disappearance of their now much-loved replacement baby – provenance unknown – forms the spine of the second season, but much of what makes Servant so bingeable is hidden in the margins or dropped in as though just an afterthought. Little clips of Dorothy doing her TV reporting job, whether it's visiting animal sanctuaries, checking out the latest exercise fad or joining city workers cleaning out the Philadelphia sewers, provide a droll running commentary on a life packed with frantic activity but hardly any meaning, and Dorothy's vengeful paranoia when younger, prettier reporters threaten her position is both hilarious and agonising. Sean, who describes himself as "spoiled, selfish and critical of everyone", is like the sum of all monstrous TV chefs, mixing the brutality of Gordon Ramsay with the ludicrous science-lab fusions of Heston Blumenthal (lobster ice cream, anyone?).
Both Lauren Ambrose as Dorothy and Tony Kebbell as Sean are consistently excellent, and as a bonus there's a superb black-comic turn from Rupert Grint as Dorothy's brother Julian. Recklessly drunk and raddled with assorted drugs, Julian charges into every domestic crisis like a wounded elephant, always bellowingly certain he's doing the right thing and almost always wrong. It's a shame you have to clamber over the Apple paywall to watch this, but you can get a seven-day free trial.