Crowe, BBCSSO, Volkov, BBC Proms review - shining light on history and heritage |

reviews, news & interviews
Crowe, BBCSSO, Volkov, BBC Proms review - shining light on history and heritage
Crowe, BBCSSO, Volkov, BBC Proms review - shining light on history and heritage
A big premiere shaded by music that's always new
Long-standing relations: Ilan Volkov, former Principal, now Principal Guest Conductor of the BBCSSO
Minds in Flux is the largest of this season's Proms commissions, and last night it afforded a rare chance for UK audiences to hear work of George Lewis outside the often insular new-music and avant-garde improvisation circuits.
As a trombonist-provocateur, Lewis (
pictured below
) was thumbing a nose at German new-music festivals the best part of half a century ago with a fellow African-American experimental composer, the saxophonist Anthony Braxton, doubtless to the satisfaction of everyone concerned. His blurring of boundaries – between composition and improvisation, jazz and classical, electronic and acoustic – has made him an influential professor at American universities for many years.
With a full-ish BBC Scottish Symphony Orchestra – and refreshingly little in the way of percussion exotica – socially distanced across the Albert Hall stage, the opening sound-image of Minds in Flux sprang an arresting surprise: a flock of flutes and clarinets wheeling, dipping and circling around the hall, mediated by the software designer Damon Holzborn and the familiar wizardry of Sound Intermedia.
Thereafter, however, the live-electronic element added little beyond surround-sound sensation to the work's 25-minute progress, at least compared to the responsive and immersive space created by classics of the genre: the solo violin-plus of Boulez's Anthèmes II, say, or the pure electronica of Stockhausen's late Cosmic Pulses. When not obscured by rustling fricatives and rolling echo zones, Lewis's handling of the orchestra always held the attention – darting and lucid, often Beethovenian in scale and agility – even while the work's argument proved trickier to read.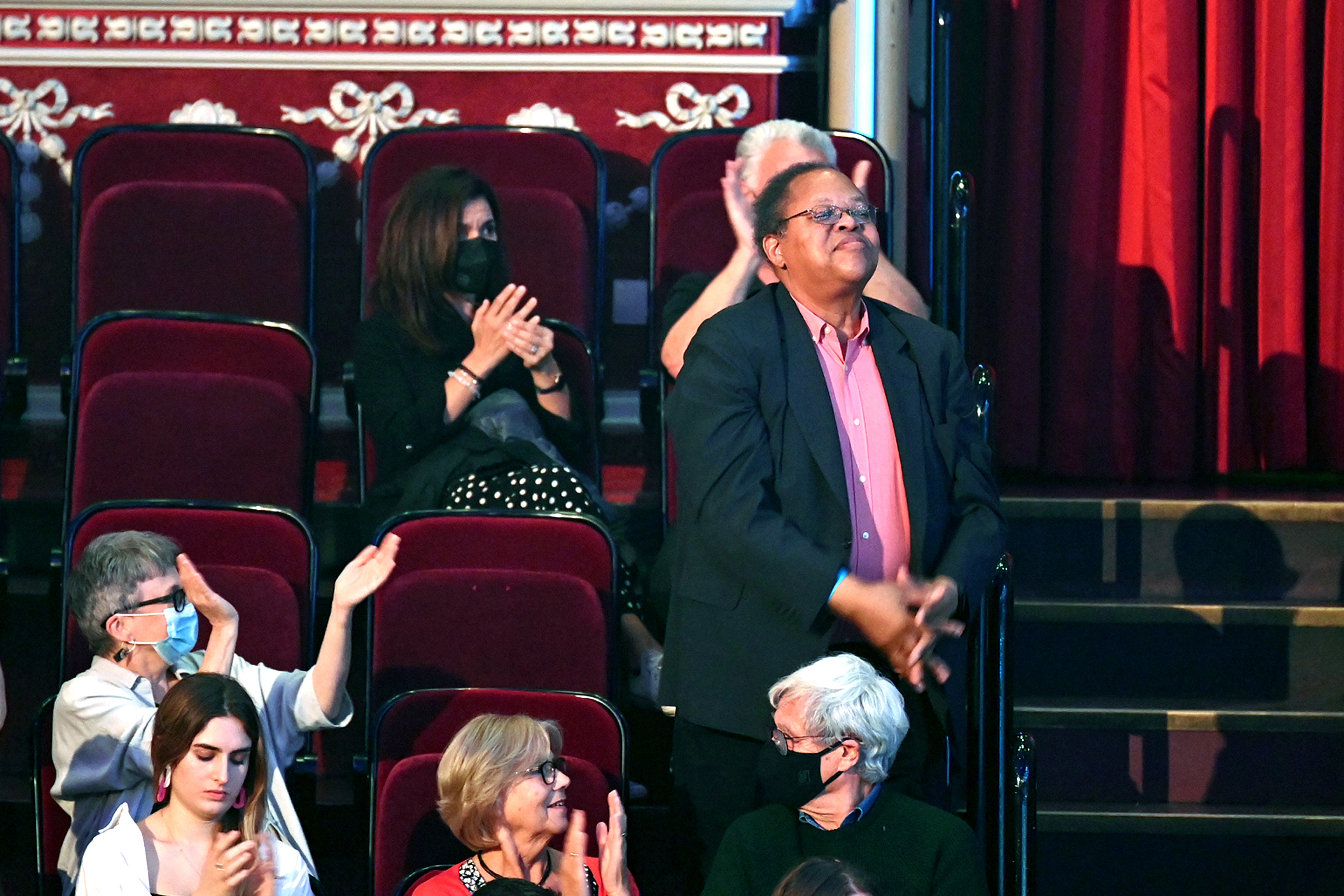 Many of us are familiar with the frustration of running through a long document – or for that matter large score – in PDF format. You're looking for something, you can't quite remember what, and the scrolling motion allows the eye to alight on a familiar term before you realise the context is wrong. Even when readily grasped, motifs and gestures slipped away to return in fragmentary form – Minds in Flux, maybe? – teasing the ear with the unfulfilled promise of something like symphonic coherence, periodically strengthened by Schumann-like or Stravinskian punctuations of brass and timpani. A three-part form emerged, with not so much a slow as a "quiet movement" at the centre. Ironically for such a busy and restless piece the end arrived abruptly, as if at the beginning of an unwritten finale, sealed off and signified by the return of those swooping flute-birds.
The trailed political element of Minds in Flux, as "a sonic meditation on what processes of decolonisation might sound like" was opaque to the point of irrelevance, at least on a first hearing, and the composer's programme note, a textbook piece of academese, gave no help at all. The Proms in 2021 have already yielded an unusually high hit-rate of premieres, with works by Elizabeth Ogonek, Britta Byström and Augusta Read Thomas inviting a second listen. So does Minds in Flux, if only to work out whether something durable emerges beneath Lewis's practised procedures of controlled improvisation.
Programmed alongside a new piece making stiff demands of technique and rehearsal time, standard repertoire tends either to fall into routine or take wing fuelled by adrenaline. Last night's Beethoven second half had considerably more to offer. Lucy Crowe (pictured above) seized the stage from the first betrayed cry of Ah! perfido, held the ear and gripped the text with the ringing enunciation of a great Fiordiligi or Leonora: simply outstanding. Her sophisticated control of tonal colour was mirrored by the BBC SSO in the Second Symphony, which also got off to a perfect start – crisply articulated, advancing its supersized Haydn ambitions without recourse to anachronistic pathos or toyshop high jinks. The Larghetto sang easefully, a notch or two under Beethoven's metronome, and only an arch holding back before the coda's final explosion of joy came close to spoiling an otherwise completely satisfying account. Worth a second listen? And a third, and a fifth.
The opening sound-image of 'Minds in Flux' sprang an arresting surprise
rating
Explore topics
Share this article