Danny Driver, Wigmore Hall review - ingenious sleight-of-hand |

reviews, news & interviews
Danny Driver, Wigmore Hall review - ingenious sleight-of-hand
Danny Driver, Wigmore Hall review - ingenious sleight-of-hand
The British pianist returns with an imaginative programme, gloriously played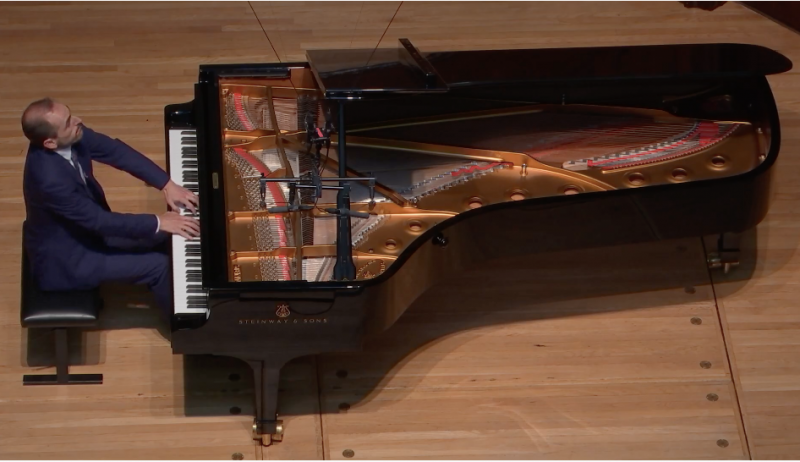 Danny Driver in the Wigmore Hall
Like many musicians, Danny Driver had not given a recital since the pandemic took hold in March.
Like many musicians, Danny Driver had not given a recital since the pandemic took hold in March. His return to the platform took place in the intense spotlight of the Wigmore Hall, broadcast live in BBC Radio 3's Lunchtime Concert and webcast to the world - for which he chose a programme that was demanding, exposed and imaginative and rose to its ferocious challenges as if butter wouldn't melt.
Driver's selection focused on the idea of études, which the best composers can make into far more than technical exercises. First, an unusual choice: a sonata by C P E Bach, the ground-breaking son of J S, whose keyboard music developed the notions of what a "sonata" really was in the mid 18th century, a piece making the most of contrasts, rather than working out one idea at a time. This sonata, the F sharp minor Wq. 52 No. 4, presents an opening movement in which an étude-like toccata and an aria seem to collide repeatedly; in Driver's hands this was a well-argued dialogue between two different characters, and the central slow movement floated in as if from another world. While CPE Bach is probably not going to knock Beethoven off his programming perch, it's worth reflecting that the latter would probably not have written as he did without this composer first laying the foundation.
Two Ligeti etudes, "Entrelacs" and "Fanfares," were welcome modern masterpieces, fascinating interplays of time and timbre, requiring nerves of steel and laser-sharp fingerwork. Put one note out of place and the entire edifice would crash down. Driver, though, not only presented ideal technique but the ability to define and make audible the many simultaneous strands that add up to Ligeti's dizzying sleight-of-hand. From the back of the hall, the effect is quite magical; fortunately we can also look at the streamed video to see exactly how he did it.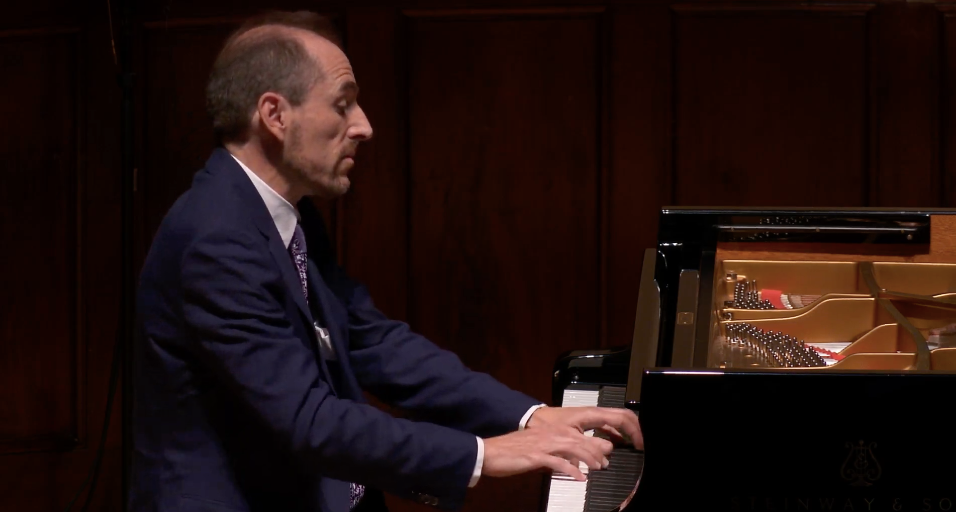 Finally came the Schumann Etudes symphoniques Op. 13, which effectively united the idea of fierce challenge with that of vivid contrasts. As in the C P E Bach, two personalities are in dialogue, this time Schumann's famous alter-egos, the extrovert Florestan and introvert Eusebius; and the idea that the etudes are written "in symphonic style" can apply to the way Schumann employs the instrument's every capability across its range - almost a type of aural 3D to be played with just ten figures. To be fair, his writing is so idiomatic that many of the work's effects could be created only on the piano; for some of the figurations an orchestral equivalent is scarcely even possible.
Driver's tone nevertheless was rich enough for the Berlin Philharmonic's string sections. He allowed the characterisations to shine out, with beautifully judged tempi, impeccable balance and clarity to match. Schumann's piano in 1834 would not have had half the range and power of the Wigmore's Steinway, and whatever the beauties and characters of early instruments, one could scarcely help wishing the composer could beam in from the beyond to hear it.
If you feel that every note in such a concert seems invested with the emotional power of three after a Covid-induced musical drought, you wouldn't be wrong. Is that due to the performer, or to the audience members' personal reactions? Happily, it's everything together. Perhaps that's what concerts are for.
Driver rose to these ferocious challenges as if butter wouldn't melt
rating
Explore topics
Share this article