David Webb's 'Winter Journey', Wigmore Hall online review - an epic shared |

reviews, news & interviews
David Webb's 'Winter Journey', Wigmore Hall online review - an epic shared
David Webb's 'Winter Journey', Wigmore Hall online review - an epic shared
Four singers take a group approach to Schubert's exploration of loneliness
Saturday, 30 January 2021
David Webb: mindful 'Winterreise'
The bleak isolation and lonely angst felt in Schubert's Winterreise is only too appropriate for a lockdown January. However, one positive to shine from this gloom is tenor David Webb's own "Winter Journey".
Cycling around his home in London every day since "Blue Monday" – 18 January, supposedly the most depressing day of the year – Webb has clocked up 500 miles and is raising money for both MINDS and Music Minds Matters, to help pay for at least two people to have counselling and therapy for a year. This concert – streamed live from the
Wigmore Hall
on Friday – celebrates the culmination of Webb's journey. It featured performances not just from Webb himself, but from two more tenors, Alessandro Fisher and Rupert Charlesworth, baritone Benedict Nelson and pianist Iain Burnside.
I can't be the only one who would have welcomed a couple of female voices in the mix, too. Both men and women sang the work during Schubert's lifetime, and, as explained by baritone Roderick Williams in a previous Wigmore livestream, the "genderisation" of art song is a relatively new phenomenon. Anyway, enough. The gentlemen who sang yesterday did so beautifully and it was a pleasure to listen to them. Taking a verse each of the first song, "Gute Nacht", each singer displayed his distinct vocal personality.
Rupert Charlesworth delivered an ardent rendition of "Ernstarrung" ("Numbness") and gave a fiery sense of rage to "Der stürmische Morgen" ("The stormy morning"). Webb's rich, lustrous voice was beautifully suited to the stillness of "Der Lindenbaum" ("The linden tree") and he leant a chilling darkness to "Die Krähe" ("The crow"). His performance of "Der Wegweiser" ("The signpost") was particularly moving, perfectly portaying the wanderer's forlornness.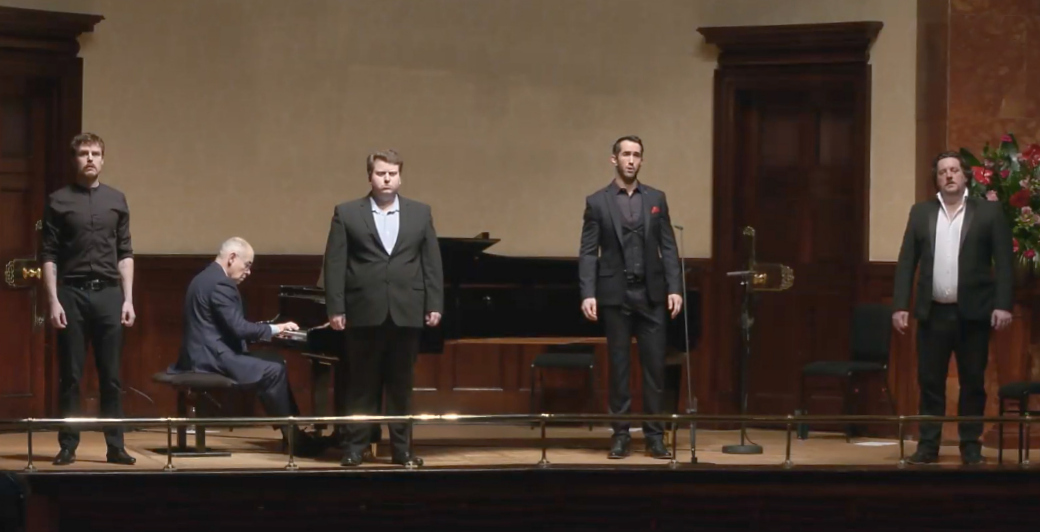 The darker timbre to Benedict Nelson's baritone brought particular depth to "Wasserflut" ("Flood") and he expertly showed the wounded anger of "Auf dem Flusse" ("On the river"). Alessandro Fisher's smooth tenor brought a sense of rebirth and renewal to "Frühlingstraum" ("Dreams of spring") but he made it clear any hope had been dashed with his angry, anguished rendition of "Einsamkeit" ("Loneliness"). Ending as they began, each singer took a verse from "Der Leierman" ("The organ grinder"), bringing the cycle to a poignant close.
Burnside's playing was exquisite throughout, wonderfully illuminating the details of Wilhelm Müller's poetry, from the languid drops of melted snow in "Wasserflut" to delicate lilting in 'Irrlicht' ("Will-o'-the-wisp") and the driven gallop of the horses in "Die Post" ("The mail coach").
The performance began with an open and frank discussion about mental health, with touchingly honest testimonies from the singers. Hearing a range of vocalists sing this cycle perfectly exemplified how these emotions and experiences aren't limited to one person. Maybe we all have a bit of the wanderer in us. However, as Webb reminded us at the start, if your mental health is suffering, unlike Winterreise's haunted protagonist, you don't have to be alone.
Taking a verse each of 'Gute Nacht', each singer displayed his distinct vocal personality
rating
Explore topics
Share this article