Dmitri Alexeev and Friends, St John's Smith Square review - an almost breathless brio |

reviews, news & interviews
Dmitri Alexeev and Friends, St John's Smith Square review - an almost breathless brio
Dmitri Alexeev and Friends, St John's Smith Square review - an almost breathless brio
Two to four pianists at two keyboards serve up a lavish feast
Vitaly Pisarenko, Thomas Kelly, Jun Lin Wu and Dmitri Alexeev in the Bizet encore
As part of a concert series devoted to the memory of a great pianist and teacher, Georgian-born Dmitri Bashkirov, Russian legends Dmitri Alexeev and Nikolai Demidenko were to have reunited in a two-piano spectacular (I well remember their Wigmore Hall recital when hands flew so fast over the keyboard that the poor page-turner went into panic mode).
Demidenko, however, had suffered a hand injury, so Alexeev generously shared the other role among three of his brilliant students, sticking to the audacious original programme and serving up special delights as encores.
Alexeev very much called the tune, and the mostly brisk tempi, throughout. His manner is ruthlessly focused, always high, lucid and bright, but I want to hear more of the evident sensitivities his acolytes didn't always get a chance to highlight. Fascinating, though, to see the razor sharp interchanges between keyboards: when Liszt in Les Préludes and Saint-Saëns in Danse Macabre gets his orchestral sections to dialogue with each other, there were fascinating responses from Ukrainian Vitaly Pisarenko (pictured below with Alexeev) to Alexeev, and vice-versa.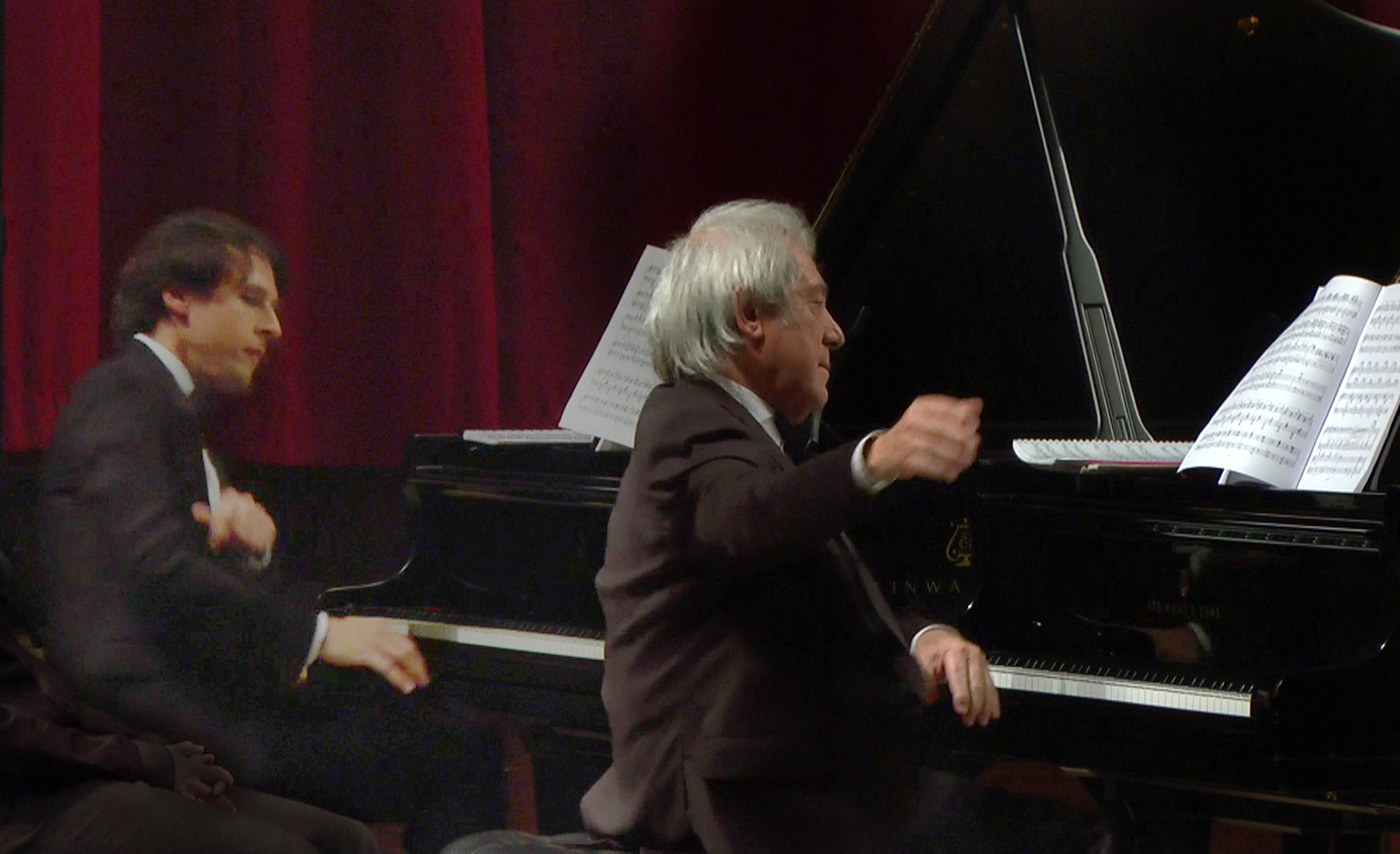 The Liszt sounded, dare I say it, less fustian than in its orchestral garb, Alexeev driving the action forward and unfurling a fine clutch of themes towards a brilliant, not over-military triumph. Saint-Saëns's waltz of death had extra skeleton clatter in the upper register (the xylophone, of course, was a relative newcomer to the orchestra when the work was composed in 1874). Perhaps one expects more fun and games from the French maverick in his Variations on a theme of Beethoven, but Alexeev and Jun Lin Wu made the most of the light repeated-chord exchanges of the fourth variation and the ethereal fleetness of the sixth, palate-cleansers in among the meat and two veg. Kudos, anyway, for featuring this lucid rarity as we head towards the hundredth anniversary of the composer's death.
Light touches abounded from Pisarenko and Alexeev in Shostakovich's modest Second Jazz Suite (not jazz in the strict sense, just light music for a jazz-like ensemble in the original). Then came the biggest tour de force: Alexeev's transcription of what, in essence, was the extended sequence of dances we get in Stravinsky's 1945, as opposed to the more often performed 1919, suite from The Firebird. How cleverly he captured a ghostly high-register piano equivalent of the sliding strings in ogre Kashchey's garden at night; what glitter in the princesses' dance with the golden apples. I want to hear more, though of the subtle nuances Thomas Kelly (pictured below with Alexeev) only occasionally got the chance to highlight; Alexeev kept it metronomic – startlingly so in the Firebird's lullaby over the exhausted denizens of the magic kingdom, seeming to mark passing hours until daybreak with an insistent tick-tocking.
The great blaze at the end would have been a spectacular enough conclusion to a fine feast; but there was more. The other two pianists had their chance to duet once more with Alexeev – Shostakovich's Tahiti Trot/Tea for Two transported us into the carefree atmosphere of a 1920s night club – and then came two tour de forces: first the three rapidly swapping seats to partner their mentor in increasingly audacious fun with Rachmaninov's Italian Polka, and finally all four pianists making Bizet's "Danse Bohème" from Carmen seem more than ever a piece harmonically way ahead of its time. How generous of Alexeev not only to his acolytes but also to a rapturous audience. Don't miss the remaining two concerts.
Watch Dmitri Alexeev and Nikolai Demidenko in a performance of Rachmaninov's Italian Polka
Alexeev very much called the tune, and the mostly brisk tempi, throughout
rating
Explore topics
Share this article