Two-Piano Gala, Kings Place review - five pianists, two pianos, too many pieces |

reviews, news & interviews
Two-Piano Gala, Kings Place review - five pianists, two pianos, too many pieces
Two-Piano Gala, Kings Place review - five pianists, two pianos, too many pieces
Captivating Mozart and Schubert offset by note-heavy Ravel and Rachmaninov
Charles Owen, Katya Apekisheva, Kathryn Stott, Gabriela Montero and Finghin Collins at the end of the Two-Piano Gala
I've always loved the sound of two-piano music: the amazing range of available textures, the interplay of parts and the sense of collaboration between soloists.
All were on display in Saturday's Two-Piano Gala, part of the London
Piano
Festival at
Kings Place
, which boasted a wealth of top-notch pianists in a superabundance of piano duos (and one duet) but was something of an overstuffed sofa: inviting but bursting at the seams. As Basil Fawlty once said: "Too much of a good thing always leaves one wanting less." Admittedly he was talking about a veal cutlet, but the principle applies to concert programming too.
In previous festivals the equivalent event has been billed as a "marathon" rather than a "gala", which is perhaps more honest if less enticing. Either way, the five pianists, appearing in different combinations, were uniformly excellent. My colleague David Nice loved Gabriela Montero's recital on Friday, and here she was terrific again in Schubert's Fantasie (alongside Finghin Collins, pictured below): the opening tune was tenderly shaped and effortlessly projected while the Handelian second movement had a splendidly tongue-in-cheek hauteur.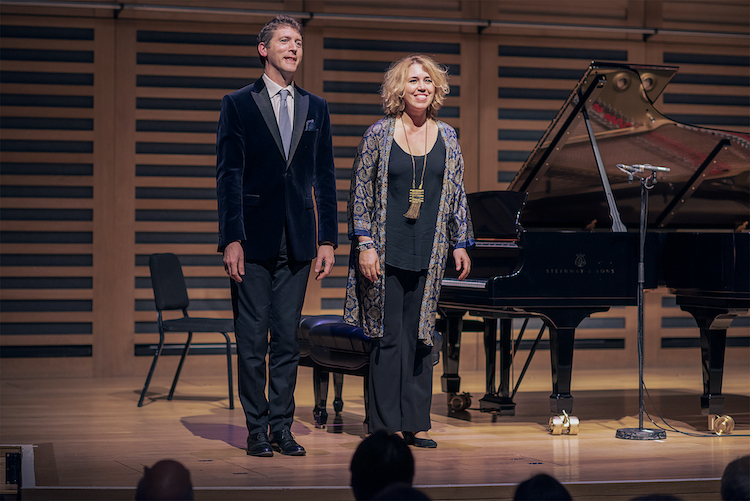 I was bowled over by Mozart's Sonata for Two Pianos K448, in which Collins and Katya Apekisheva displayed a flawless, almost supernatural, co-ordination and an impish wit in exchanging lines and ideas. The textures were so transparent that every detail came through – whereas the transcription of Ravel's Daphnis et Chloé was a flurry of notes. Heroic though Charles Owen and Kathryn Stott were in negotiating the virtuosic demands, it only drove home to me the extent to which Daphnis is really about the orchestration, and shorn of that colour it loses much of its appeal (unlike, say, La Valse).
This first half had the best things, and the (very long) second half couldn't quite live up to it. The Sally Beamish premiere Sonnets had the complex conceit of acting out the three-way relationship at the heart of Shakespeare's sonnets – between the poet, the "fair youth" and the "dark lady" – in terms of three pianists at two pianos. Getting musicians to act always risks being a bit eggy, and despite their best efforts Owen, Collins and Apekisheva (pictured below) struggled to sustain the idea through its 18 minutes. Beamish's music was at its most interesting at the beginning and the end, when it mused on Dowland, but all the swiping left on a phone, the bumping each other off the piano stool, the yearning looks and the storming off: it didn't work for me.
Rachmaninov's Suite No. 2 showed that, where Mozart's crystalline textures work well for two pianos, one is sufficient for Sergey. His barrage of arpeggios and thick chords from two keyboards was clogged and over-dense ("too many notes, my dear Mozart"). But the final item, Percy Grainger's Fantasy on Porgy and Bess kept me entertained (even as the concert passed three hours) not just in its deft reimagining of the songs but in the chromatic-tinged linking passages. Kathryn Stott – who surely played the most notes in a note-heavy evening – was in her element, in the swinging ragtime moments of "It ain't necessarily so" and the glorious optimism of "Oh Lawd, I'm on my way".
The opening tune was tenderly shaped while the Handelian second movement had a splendidly tongue-in-cheek hauteur
rating
Explore topics
Share this article