Fatma Said, Joseph Middleton, Wigmore Hall review - song recital heaven |

reviews, news & interviews
Fatma Said, Joseph Middleton, Wigmore Hall review - song recital heaven
Fatma Said, Joseph Middleton, Wigmore Hall review - song recital heaven
The Egyptian soprano in a remarkable programme
Tuesday, 08 December 2020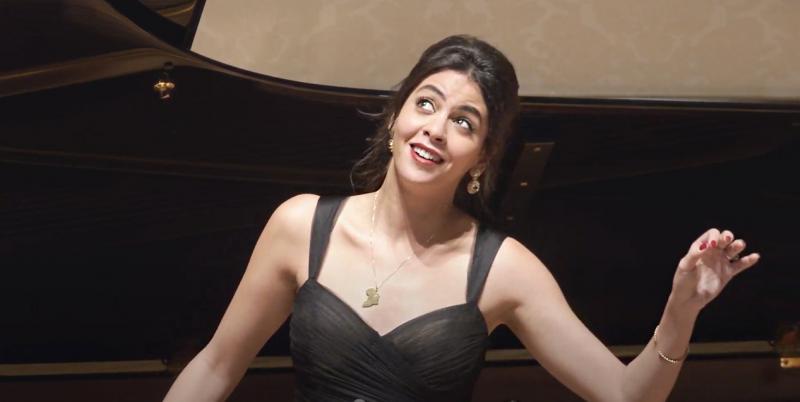 Spellbinding, revelatory: Fatma Said
This was the first song recital back at the Wigmore Hall following the second lockdown with a (distanced, 25%) audience. And it was a joy to be back. Great singing. That superb acoustic. A completely rapt audience. And, miraculously, not a single cough.
Fatma Said and Joseph Middleton's 75-minute recital consisted of a very cleverly-constructed two-part programme: the first half with songs about flowers starting with Mozart and progressing to Schubert, the second about dreams, from Schubert to Weill with an encore from Jerome Kern, all sung completely from memory.
Said has a lively stage personality, those wonderful flashing eyes, a voice which can seemingly float effortlessly. But what is fascinating is to hear her repertoire as it broadens out, to witness her astonishing ability to take on new things and, essentially, to make them all work. She is completely self-aware as these changes happen. As she said to a Belgian interviewer just a few weeks ago: "My voice is very different now from what it was in my teens, and it will transform again when I'm in my thirties."
Very true. The BBC has clips of her from her time as a Radio 3 New Generation Artist (2016-2018). I last heard her in early 2019 at the Pembroke Festival of Voice in Cambridge. Each time hearing Fatma Said there is more, much more.
The emotionally contrasting endings of the first three Mädchenblumen songs Op. 22 by Richard Strauss to poems by Dahn were perhaps the first clue of the variety we were to witness as the programme evolved. The first of these songs expresses contentment, peace and gentleness. The second is an exclamatory flourish very similar to that at the end of Wolf's "Ich hab' in Penna", the third a beautifully spacious vision of isolation and solitude. Said and Middleton gave us just the right pacing to draw the listener completely into the inner world of each song.
And that set the scene for contrasts, the twists and turns of Schubert's remarkable 19-verse song-rondo "Viola". This was stunning, and held the audience completely throughout its span of nearly a quarter of an hour. There was matchless beauty, delicacy and poise in the opening. We witnessed a dramatic scene of complete desolation and abandonment with "Schwestern nicht, nicht Bräutigam", and a wonderful draining of colour from the voice to paint the words "stumm und bleich". This was a superbly thought-through and worked performance which had everything. There were miracles of pacing and rubato from Joseph Middleton (pictured above), delicate holdings-back between verses. "Viola" even has some vintage tongue-twisters in it, such as "sitzet sie und schluchzt und weint": a reminder of quite how consistently clear and authentic Said's German diction is.
Said's poly-linguistic ability is indeed something very special. Her recent album El Nour also has Spanish and Arabic on it; last night there was even an excursion into idiomatic Swedish for the Sibelius song "Var det en dröm", although here the full effect of the climactic verse-endings low in the voice could have been stronger.
The extent of preparation for this concert and the assuredness also stay in the mind. And it seems hard to believe that all of this repertoire was not just sung from memory but also so completely absorbed and owned; up to and including Bernstein's "Dream With Me" as a song that was intended to be – but then dropped as – Wendy's closing number in the composer's music for Peter Pan.
The biggest surprise of all was in Weill's tango-habanera "Youkali" from the composer's brief time in Paris, in which Said suddenly found a blowsy assertiveness and grit. Now that, truly, opens up all kinds of astonishing possibilities for the future; it was just one moment of revelation and delight in a very special evening.
Each time hearing Fatma Said there is more, much more
rating
Explore topics
Share this article