I Fagiolini, Hollingworth, Kings Place review - magnificent Monteverdi Vespers |

reviews, news & interviews
I Fagiolini, Hollingworth, Kings Place review - magnificent Monteverdi Vespers
I Fagiolini, Hollingworth, Kings Place review - magnificent Monteverdi Vespers
Small-scale performance offers both grandeur and delicacy
I Fagiolini and Robert Hollingworth sing Monteverdi's Vespers
It was great to see Kings Place full on Saturday night for I Fagiolini's take on the Monteverdi Vespers, added, rock'n'roll style, as an "additional date due to public demand" after the Friday show sold out. And it was superb.
Hearing the
Vespers,
often sung by a
large choir
, here performed by small forces (including the
period instruments
of the English Cornett and Sackbut Ensemble) in the clean acoustic of Hall One was completely engrossing, and I can't remember when I last experienced time passing so fast in a concert.
The Vespers were published in 1610, possibly a calling-card in a bid by Monteverdi to gain employment in Rome. If so, it is the poshest "gissa job" ever issued, even if it proved unsuccessful. (Washing up instead a couple of years later in Venice was not a bad Plan B.) A lavish volume that combines vespers psalms with solos and duets in the most modern vein, Monteverdi puts liturgical propriety to one side in favour of musical pizzazz. The alternation of rich choral numbers with the most alluring of songs in the "stile moderno" makes for a colourful and captivating sequence.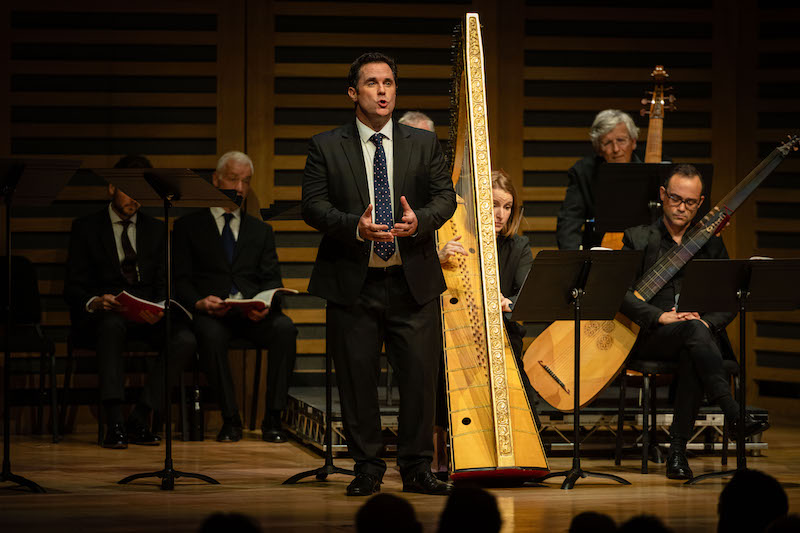 Director and mastermind Robert Hollingworth wrung maximum variety from his 11 singers and 17 players, who rarely all came together. He used the space to the full, with the galleries mostly used for the cornetts and sackbuts and small string section, but with the singers appearing there in the second half, as well as off-stage effects. (You can't beat a bit of off-stage brass.) The onstage continuo section was centred around two chitarrones and a harp, used in various configurations, Lynda Sayce showing her versatility by switching occasionally to recorder. The singers also substituted in and out seamlessly according to a complicated choreography.
The moments when everyone played and sang were magnificent. The opening chorus, largely on one chord, is borrowed from Monteverdi's own opera L'Orfeo, with the distinctive close-spaced low brass chords giving a sense of solid foundation. The joyous start to the second half was like an ensemble from a Mozart opera: multiple voices in conversational crosstalk, each individual personality emerging, but each also belonging to the general effect. And the huge "Magnificat" that ends the whole thing was like the season finale of an involved drama, each sub-grouping being spotlit for a moment before the whole thing is drawn together.
But the songs were perhaps the highlight. Nicholas Mulroy (pictured above by Monika S Jakubowska) singing "Nigra sum" – off-copy despite only doing it because of a last-minute change of personnel – was off-the-charts brilliant. It was as seductive and saucy as sacred music can acceptably be, and the diction was faultless (as it was through the whole evening). Julia Doyle and Ciara Hendrick (pictured below) looped round each other in "Pulchra es" and Matthew Long commanded the stage in "Audi coelum", in duet with an invisible echo.
Wherever you look there was something to enjoy. William Lyons's fruity dulcian – a kind of semi-house-trained bassoon – brought "Laetatus sum" to life, the heroic cornett playing of Gawain Glenton and Conor Hastings scattered scales all over the place, and Aileen Henry's delicate harp was a delight. It was all glorious.
But above all it was the choral singing that won me over. Even calling it "choral" is to open a can of worms. Here the "big numbers" were performed like madrigals, with the ebb and flow that can come with one-to-a-part. For all the impressiveness of Pygmalion's recent recording, a choir of 40 sounds overblown when set alongside this reading. Robert Hollingworth – who directed proceedings neatly and unobtrusively throughout – obviously cares deeply about this repertoire, confessing to losing sleep over the temporal relationships between duple and triple time sections. But his approach is highly persuasive. This performance was grand and hefty enough to make an impact – the sound physically tangible in the final tutti – but also lithe and intimate and utterly enthralling.
The joyous start to the second half was like an ensemble from a Mozart opera, with multiple voices in conversational crosstalk
rating
Explore topics
Share this article