LSO, Davis, Uchida, Barbican Hall |

reviews, news & interviews
LSO, Davis, Uchida, Barbican Hall
LSO, Davis, Uchida, Barbican Hall
Chaos reigns in a performance of Nielsen's Fourth Symphony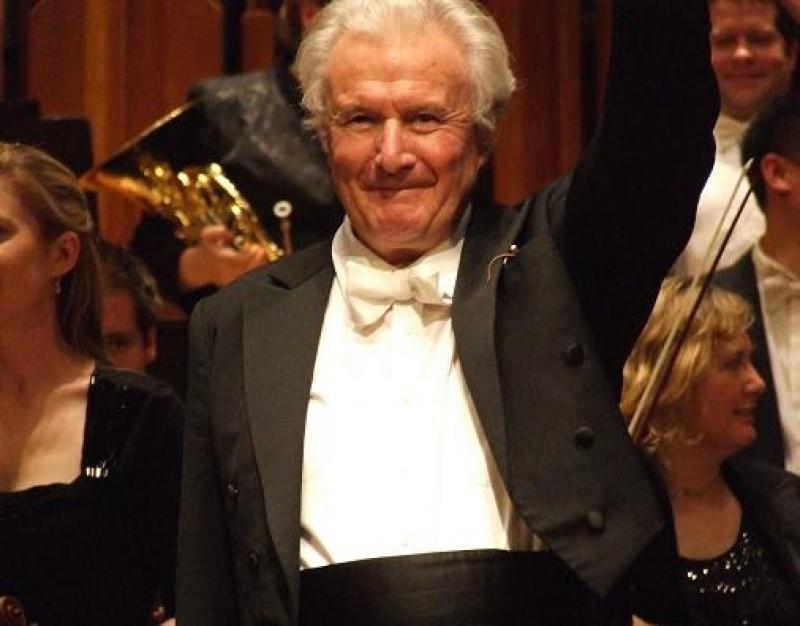 Communists had taken over the Acropolis, Britain faced a hung parliament and in the 20 minutes it took me to get down to the Barbican by bus the US stock market had fallen more sharply than at any time since 1987. In the face of global and political madness, it was nice to have a concert awaiting that seemed to offer a sense of cosy familiarity and unfashionability and monarchical approval.
Sir Colin Davis and Dame
Mitsuko Uchida
were our guides, an unfussy programme our fate. Yet the concert unfolded with about as much good grace as the political day, the second half spinning almost completely out of control - just as the composer intended.
Respectability, however, was where we began. It says a lot about the orchestral climate today that a respectable performance of a work by Haydn, who exemplified respectable 18th-century society better than anyone else, should shock. But shock it did to hear the three-four first movement of Haydn's Symphony in C, No 97, performed with so much orchestral weight and focus on beauty of sound. To an extent I was reminded of Beecham, but Beecham would surely have made more of the sinking chromaticism that bedevils the apparently firm Classical ground.
The first jolts to the system occurred in Uchida's Mozart, the G major piano concerto K453. At first, her dry, staccato, pedal-less, left-hand ostinato brought a smile to my face. It was so Uchida, a reinvention from the off. But as the dryness continued, her sound starting to resemble the coy advances of a small mechanical bird, the effect was increasingly lost on me. Why couldn't she have coloured the opening with the same agogic suppleness and softness that came through in the Andante? Not sure. There is certainly a schizophrenia in this vital work but I didn't understand Uchida's two faces. The result was unsettling.
But then came the real volcanic explosion: Nielsen's Fourth Symphony, The Inextinguishable, which has an opening of unrivalled spontaneity. Encountering its first bars is like stumbling upon a revolution - or hung parliament. Davis and the LSO plunged us into it impressively, brass crashing down violently on the low strings, the orchestra forced into an aimless, exuberant, suffocated writhing (ring a bell?), throwing timpani and strings high up into the air like a volcanic ash cloud. It is an extraordinary act of ingenuity to have this unlikely duo - timpani and strings - hanging over the orchestra, precipitating its black, carpeting, fortissimos intermittently. It is not the only extraordinary act, though.
A concert that had begun with such home-spun gentility was beginning to resemble the lawless world outisde. Nielsen's symphony may be an affirmation of the inextinguishable power of musical thought - hence its subtitle - but its jittery exploration of every tonal and orchestral nook and cranny is almost viral or fractal in feel. Everything is in flux, everything new and odd.
There are what sound like tone rows from the violins, overlapping keys and modes and chromatic meanderings that move in such an increasingly tangled way as to almost swallow themselves, a folksy woodwind divertissement that is quickly made grotesque. Davis allowed these diseased themes to work themselves up into a mangled frenzy, the energy climaxing in a Varèse-like drum-off, a section that leaps into the air as if set alight, in the last movement. In the face of this unending wildness, the world outside seemed positively dull.
Explore topics
Share this article