LSO Futures, Roth, Barbican |

reviews, news & interviews
LSO Futures, Roth, Barbican
LSO Futures, Roth, Barbican
One fine orchestra, two intriguing premieres, three classic symphonies
François-Xavier Roth, congenial maestro
How can an orchestra perform the music of the future? This was the question posed by Francois-Xavier Roth, congenial maestro and charming educator, as the standard concerto for platform arrangers played out behind him on the floor of LSO St Luke's. Roth had just offered one confident answer to the question, with the first performance of Dr Glaser's Experiment by Darren Bloom.
Californian-born in 1982 but long resident in the UK, Bloom made use of both the performing space and the virtuosity of the LSO. Radiating out from a core of bass and percussion were pairs of solo and duo winds and strings, like moons around a planet – or the particles in an atom analysed by the eponymous physicist Dr Donald Glaser.
Roth masterminded it all with total, understated control
No physics PhD was needed, however, to appreciate Bloom's ear for spectrally arranged pitches and his handling of the space, which over a 20-minute span created the impression of huge forces approaching and colliding from vast distances. Points of crisis and the moment of annihilating impact at the piece's golden section were somewhat predictably signalled by gong, drum and suspended cymbal, but its form is as organised yet its conclusion as unpredictable as a good experiment should be. Cosmic, sonic dust swirled around the audience and finally settled in an unsynchronised quartet of four violins, fading to black like the illustrative live visuals of Ignatz Johnson Higham.
A few hours later at the Barbican, Roth again showed London audiences what a superb Ligeti conductor he is, after his appearance with the SWR Symphony Orchestra of Baden-Baden and Freiburg was a highlight of last year's BBC Proms. The composer's defining essay of Atmosphères was as measured and exquisitely calibrated as anyone could wish, and it formed an imposing prelude to another premiere from a young composer, Elizabeth Ogonek (b1989, and now composer in residence with the Chicago Symphony Orchestra). Commissioned by the LSO Panufnik Composers Scheme, Sleep and Unremembrance takes its title and inspiration from a late poem by Wislawa Szymborska, While Sleeping: "I shook from my pockets letters, litter, leaves not addressed to me."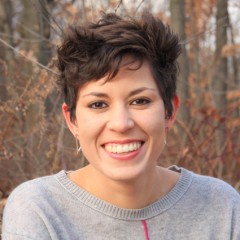 The two-part narrative resemblance to Death and Transfiguration is played out over a quarter of an hour on an orchestra even larger than Richard Strauss's, and Ogonek (pictured right) handled her chosen forces with the comparable self-assurance of a twentysomething dealing with matters of life and mostly death. Each individual event is enticingly scored – lush string chords, Eastern-tinged winds and vibraphone transported us at one point into an unwritten act of Daphnis and Chloe – but continuity of gesture was more appreciable on a first hearing than the movement of thought. The keynote mood was of dreamy inertia, translating the subject of Szyborska's poem more than its language.
Both concerts wound up with modern answers to the problem of the symphony. Schoenberg's First Chamber Symphony is now over a century old, but like the Eroica it wears its years lightly, even in this rackety performance, which majored on vigour, enthusiasm and the conviction of the 15 LSO musicians that they would meet at the double bar, which they did, just about.
The products of dedicated rehearsal were more apparent in subtle accounts of the Chamber Symphony of Thomas Adès and the Sinfonia of Luciano Berio. Seated at the feet of Roth, the octet of Synergy Vocals were forwardly balanced against the teeming mass of the LSO so that every word of Berio's textual palimpsest, quoting Beckett and Levi-Strauss, could be heard if not understood, like the waltz of fleeting quotations from three centuries of orchestral music in the tour de force of the Sinfonia's third movement. Roth masterminded it all with total, understated control.
Its form is as organised yet its conclusion as unpredictable as a good experiment should be
rating
Explore topics
Share this article