Prom 39: Morison, BBCNOW, Chan review - a night of inspiring firsts |

reviews, news & interviews
Prom 39: Morison, BBCNOW, Chan review - a night of inspiring firsts
Prom 39: Morison, BBCNOW, Chan review - a night of inspiring firsts
The young Scottish mezzo-soprano shines in a vivid Errollyn Wallen premiere
Wallen, Morison and Chan acknowledge a triumphant performance
A clever programme, a vivid premiere, a Proms debut for an exciting young conductor and the first appearance there by Catriona Morison since she won the 2017 BBC Cardiff Singer of the World: all this provided grist to the mill for a sold-out Prom that was more than the sum of its impressive parts.
Elim Chan, who won the Donatella Flick Conducting Competition (the first woman to do so) in 2014, was on the BBC National Orchestra of Wales's podium for pieces themed around the sea and pictures. The 33-year-old conductor from Hong Kong is a tiny, pleasingly charismatic figure – offering ideas that were not only sizable but often inspiring, even in repertoire that otherwise could sometimes seem too well worn for its own good.
Romanticism was the musical land that historical performance forgot, at least until recently. Designated researchers have been delving into real 19th century styles of late, and if you think it has nothing to do with rigid rhythm, you're right. What's emerging instead is the sort of flexible and intense characterisation that Chan (Pictured below) brought to Mendelssohn's Overture The Hebrides. This was long-lined musical thinking, the softest moments replete with a hushed glow, sometimes slowing to a rapt stillness, and the vigorous episodes ratcheted up the tempo, balancing them out. Occasionally just one notch of a change made all the difference: the return of the second theme on duetting clarinets was a fraction slower than what had preceded it and acquired a heart-warming beauty with plenty of room to breathe.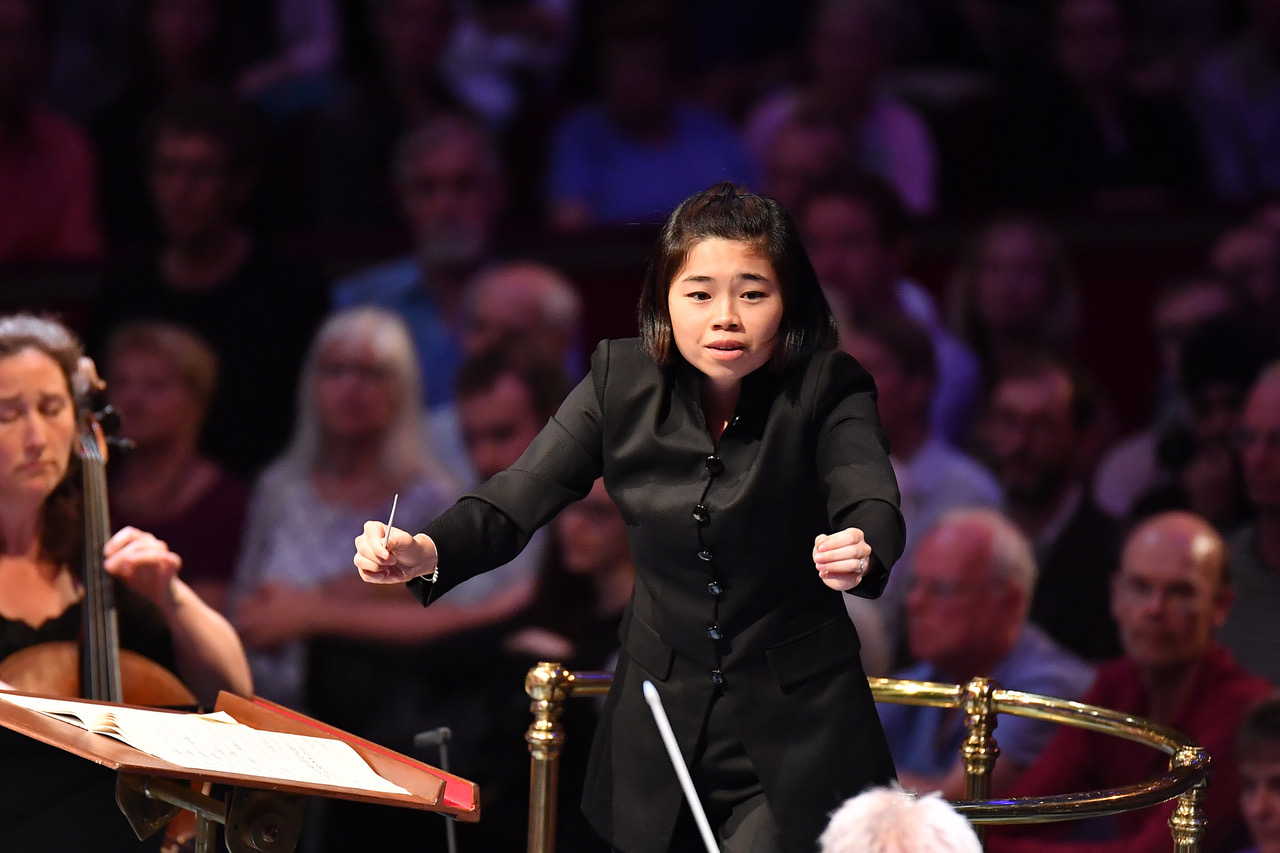 Next, from the sea to Elgar's Sea Pictures, written in 1899 for Clara Butt – then an artist on the rise much as Morison is now. The young Scottish mezzo-soprano has a radiant, smoothly flexible and precise tone that blends effortlessly with the orchestra. Seemingly aware that less is more, she offered well-characterised accounts of the five poems with a poetic directness that proved deeply touching in the "good night" calls of the "Sea Slumber Song" and "In Haven", a love poem by Alice Elgar, the composer's wife. Chan balanced the orchestra carefully around her – though sadly no conductor in the world can make the Royal Albert Hall acoustic helpful to any solo singer.
Errollyn Wallen's Proms commission world premiere, This Frame is Part of the Painting, was written specifically for Morison (Pictured below). This fresh, unusual work pays tribute to the painter Howard Hodgkin (1932-2017) and aims, among other things, to capture the "maximum feeling" that the artist had set out to achieve, a "heightened state" as Wallen says. The words are the composer's own, fragments of text ("Note to self: don't be lazy"), based sometimes on Hodgkin's ideas and, in the final section, his colour palette ("Permanent Green Light, Cadmium Yellow Deep…").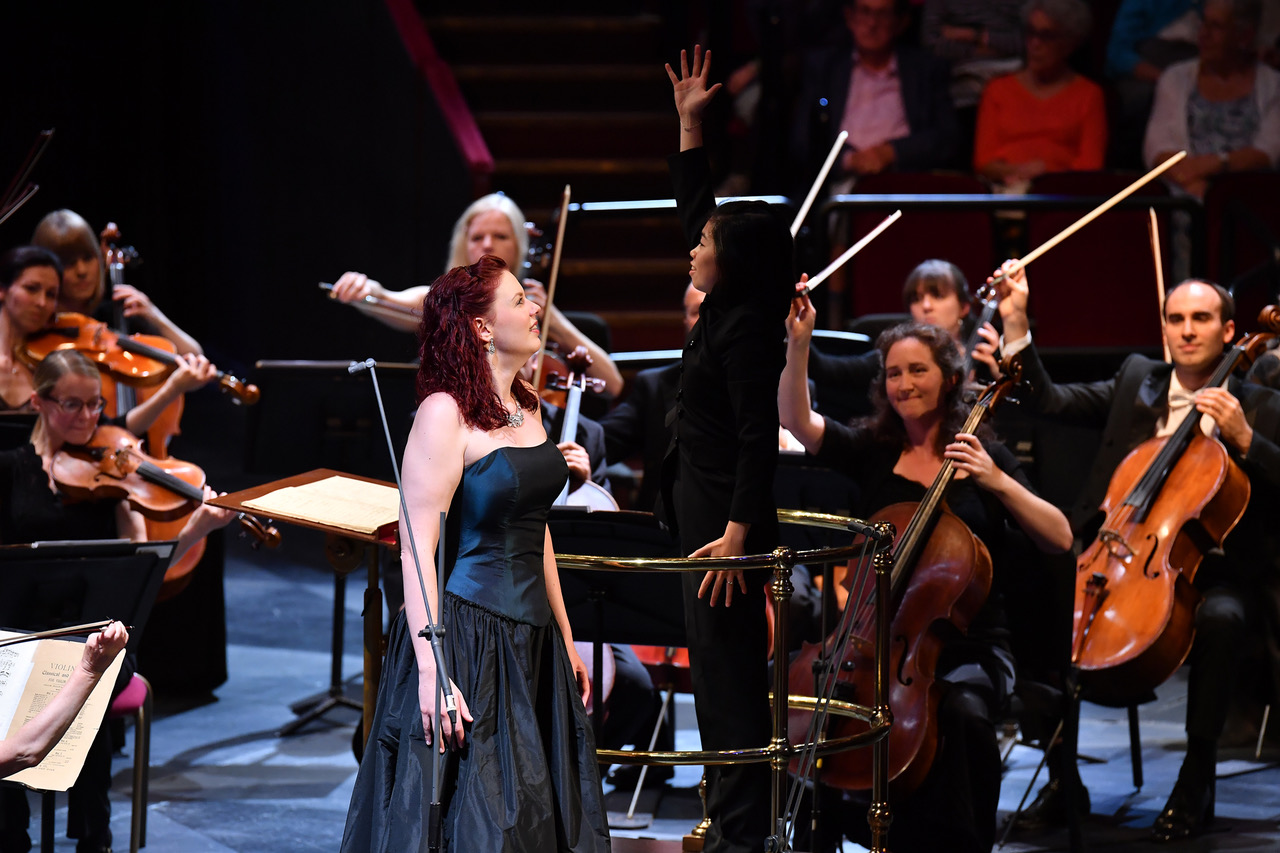 The idea borders at times on the mystical as Wallen fuses sound with perceived colour and her personality with the artist's - occasionally quoting the music he liked to listen to while painting, notably Byrd's Mass for Four Voices. Her kaleidoscopic orchestration ranges from ample glittering percussion to bass sounds so low that they are heard only as subterranean vibrations; Morison's voice wove around the woodwind lines as if she was one of them, though she also had a chance to soar above them, especially at the end. Wallen's sense of pace and contrast is intuitively exact, satisfying to ear and brain alike and not without humour ("I feel a painting coming on" the singer confides to us, alone, with a suitable twinkle). I hope this will be the first of many more performances of this original and very rewarding piece.
To close, Musorgsky's good old war-horse Pictures at an Exhibition was, for once, the perfect choice: another tribute to an artist, this time the composer's friend Viktor Hartmann after his death at the age of 39. Ravel's technicolor orchestration is of course a crucial element in making the work such a concert favourite. By this time, though, the orchestra was starting to sound a tad tired, fraying at the edges, and it got off to a slightly enervated start, as if our exhibition-goer had come in looking for the nearest chair. Nevertheless, things improved soon, and Chan's instinct for tempo, rhythm and character paid ample dividends as we strolled through the richly contrasted scenes. An evening, all in all, of inspiring firsts.
Wallen's sense of pace and contrast is intuitively exact
rating
Buy
Explore topics
Share this article