RSNO, Denève; Ensemble Matheus, Spinosi, Royal Albert Hall |

reviews, news & interviews
RSNO, Denève; Ensemble Matheus, Spinosi, Royal Albert Hall
RSNO, Denève; Ensemble Matheus, Spinosi, Royal Albert Hall
French sophistication meets Italianate fire in two stunning Proms
Tuesday, 07 September 2010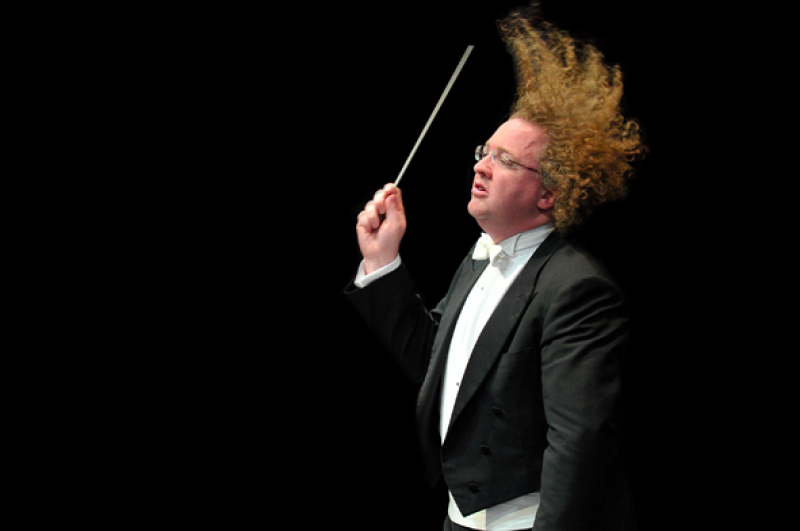 Stéphane Denève in action at the Proms
Is that asking a lot? Probably not, considering what's already been achieved at this year's BBC Proms. Looking back on it, last night felt implausibly rich yet gloriously digestible, too, at least in retrospect. I couldn't have predicted that I would be so swept away by the jam-packed wonders that came from Jean-Christophe Spinosi's Ensemble Matheus and their soloists.
But I did know that Denève was fairly certain to deliver the goods, on the strength not only of
a spectacular Philharmonia concert earlier this year
but also from an RSNO Prom two seasons back which sagged a bit with Stephen Hough's car crash of a Rachmaninov Second Piano Concerto but soared again to the best Debussy
La Mer
I've heard live from any conductor and orchestra.
Last night, all four glorious hours of it, began as it meant to end, with an Italian festival viewed through the eyes of the French. And here, right at the start of Berlioz's
Roman Carnival
Overture, was what I'd been missing in
Rattle's first Berlin Prom
(wish I'd been at
the second
, which sounds like it fitted his micromanagement better): not just the rainbow of dynamic effects - Denève managed that in the contrast between the opening flourish and the ensuing string susurrations - but the long vision too, in a cor anglais song (from Zoe Kitson, excellent throughout) which moved at a natural pace but never lost out on Berlioz's multiple details. Denève, like
Robin Ticciati
, knows how to lift an operatic phrase: that's why I'm so keen to hear him in Berlioz's
Benvenuto Cellini
, the composer's liveliest opera and the overture's parent work.
Brilliant sonorities in this tricky hall, reaching to my least favourite seat well to the rear of the amphitheatre's semicircle of stalls, seemed to have been tried and tested (you can see it's summing-up time in the last week of the Proms, as I mention the other conductor who seemed to have cracked the venue's difficulties,
Donald Runnicles with the other big Scottish orchestra earlier in the season
). With the more restricted palette of Beethoven's Fifth Piano Concerto, it was murkier business as usual for the orchestra, despite a splendid lift for the finale's leaping dance which outstripped the soloist; but otherwise Paul Lewis
(pictured below right at the start of his Beethoven concertos marathon)
had the lion's share of clarity and upper-register gleam.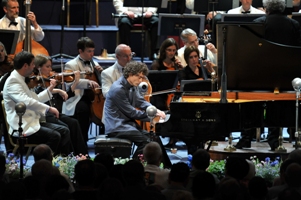 Even so, it was not exactly a leonine performance, and I did miss a Russian-school grandeur in the first movement's central double octaves; but on the other hand I've never heard a more convincing
cadenza
dematerialisation into those weird minor-key oscillations, and as in the first concert, Lewis convinces you that no one trills more elegantly than he does. The central Adagio was as much Denève's triumph as his pianist's: more a completely convincing Andante, a walking-tune tempo of rapt inwardness and lovable simplicity. And the famous transition to the spring of the finale was predictably spellbinding.
In their Prom of two years ago, Denève and the RSNO placed a recent Scots work third out of four, and so it was here with the three interludes from James MacMillan's shocking bloodgrudge operatic legend
The Sacrifice
, the only opera I've seen in the last decade which I could call a total masterpiece. Much of its sense of dread and imminent violence is quickly adumbrated in the interludes, especially the central Passacaglia for a wedding celebration that will end in tears. Yes, there are shades of
Peter Grimes
here, but MacMillan is master of his own distinctively dense orchestral palette and his underlying tension was vividly energised by Denève in music that - rare among contemporary works - knows exactly where it's going.
It was bold to move straight on to the dazzling, equally clearly etched light of Respighi's Villa Borghese in
The Pines of Rome
. It's a real Albert Hall showcase with the resounding orchestral chants of the catacomb sequence and the ultimate spatial effects of ancient Roman cohorts on the march, crowned by the mighty organ. But again, Denève made it more than that. The refinement of Respighi's Janiculum moonshine, ushered in by the utterly distinctive clarinet of veteran John Cushing, proved not Hollywoodish but Debussyan - worthy of the master of
La Mer
and even
Jeux
. And could you expect to hear a more exquisitely reproduced real nightingale? Only, he pretentiously adds, on a May night in the Abruzzi.
There was more nocturnal billing and cooing as recorder-player Alexis Kossenko and flautist Jean-Marc Goujon
(pictured left with Spinosi and the Ensemble Matheus)
caressed each other quite flagrantly in the late-night performance of Telemann's E minor Concerto. But was anyone who didn't know it expecting the gypsy stomping and whooping of the finale? I wasn't, and I adored the shameless hyperactive love-in led by Ensemble Matheus's violinist-director Jean Christophe Spinosi, even if it was so free that at times it nearly fell apart. They started with a sprung
sotto voce
to back up cuddly countertenor Philippe Jaroussky's Giulio Cesare. What was going on here, you wondered: a feminine countertenor (they can be very butch, you know - those, oddly, are the ones we call male sopranos) alongside a ballbreaking contralto, the adorable Marie-Nicole Lemieux, whom I'd last seen as a Sapphic-in-uniform Mistress Quickly in Richard Jones's Glyndebourne production of Verdi's
Falstaff
.
As it happened, they ended up playing to the gender reversal, not least in the anything-you-can-do competition of the encore, "Nel profondo cieco" from Vivaldi's
Orlando furioso
, turned into a justifiably mugged bit of high-versus-low (had Canadian-born Lemieux been watching
The Morecambe and Wise Show
, and the lady who used to thank everyone for being on her little show?).
The campery
(pictured right)
was a welcome bit of relaxation after both had shown their range in other numbers from Vivaldi's stupendous
Orlando
: Jaroussky his ravishing long lines in another winner, Ruggiero's melting nocturne "Sol da te" with more caressing from Goujon, and Lemieux her histrionics in a very theatrical mad scene. Febrile Corsican Spinosi and his vibrant team, too, rarely let us lie back and bathe in baroque; their Vivaldi concerto for two violins, Spinosi leading alongside the rather less flamboyant Laurence Paugam, spun us ever so elegantly round before the singers' final meeting. So much for late-night smooth classics. I'll certainly be
listening again to this while it's on the iPlayer for the next six days
, and no doubt more than once. And stop press: I've just discovered that Spinosi, Lemieux and Jaroussky will be giving a
concert performance of Vivaldi's Orlando furioso at the Barbican next March.
So that's one of those three dreams that's going to come true, even if it won't be at the Proms.
All Proms photographs by Chris Christodoulou
Febrile Corsican Spinosi and his vibrant team rarely let us lie back and bathe in baroque
Share this article