The King and I, London Palladium review - classic musical reborn with modern sensibilities |

reviews, news & interviews
The King and I, London Palladium review - classic musical reborn with modern sensibilities
The King and I, London Palladium review - classic musical reborn with modern sensibilities
A golden production helmed by the incomparable Kelli O'Hara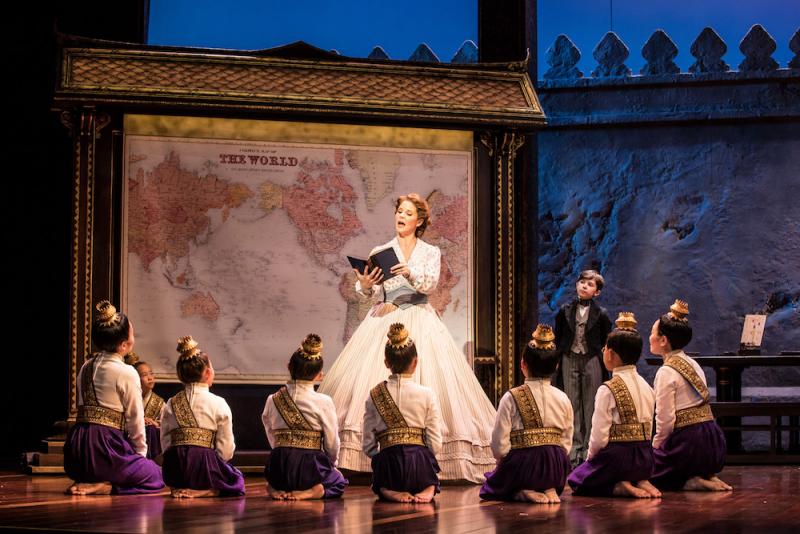 New school: Anna Leonowens (Kelli O'Hara) teaches her royal charges
Shall we dodge? (One, two, three) No, the brilliance of Bartlett Sher's Tony-winning Lincoln Center revival – first on Broadway in 2015, now gracing the West End, with its original leads – is that it faces the problematic elements of Rodgers and Hammerstein's 1951 musical head on.
But, in a canny reading, it finds such nuance in the piece that it feels freshly minted – if gorgeously attired in Golden Age trappings.
Based on the memoirs of army widow Anna Leonowens (Kelli O'Hara), the show follows her journey to Siam in 1862, where she's employed to teach the many children (by many wives) of its King (Ken Watanabe, pictured below). A battle of wills ensues, but Anna and her stormy employer eventually join forces in order to present Siam as a civilised nation – and therefore one off-limits to would-be colonial invaders.
Of course, Anna is herself a colonial symbol, come to impart Western wisdom. But Sher's even-handed production presents it more as a cultural exchange, one in which the benefits and absurdities of both realms are readily apparent; the Act II number "Western People Funny" here firmly places the joke on the Victorian women forced into hooped skirts and agonising heels. In addition, the education of the King and his court has its tortuous moments ­– the strain of becoming caught between two worlds.
Yet this is also a golden production that revels in spectacle, supported by a full-blooded orchestra making a beguiling case for this classic score. It opens with a giant boat steaming into view, and even set changes become opportunities for well-honed dance numbers. On the whole, Sher uses spectacle judiciously for story, demonstrating the scale of the palace, its unified inhabitants, and a King fuelled by the performative reverence of his people.
We're often made aware that the action is being watched by someone: the (scene-stealingly adorable) kids overlooked by their nervous mothers, or the King consciously demonstrating strength and certainty, copied by his heir apparent, through to the theatrical take on Harriet Beecher Stowe's abolitionist novel Uncle Tom's Cabin, played – The Mousetrap style – to one particular spectator.
Anna does her fair share of public grandstanding, but real progress with the King is made behind the scenes – through a playful but shrewdly effective diplomacy. The charge between the pair is less overtly romantic, more the meeting of minds and the pleasurable rush of compromise. That's reflected, too, in the dancing – Christopher Gattelli building on Jerome Robbins' choreography to fuse lyrical and kinetic, traditional and modern, East and West. "Getting to Know You" becomes mutual learning through movement, and Uncle Tom's Cabin blends national art forms to find universal truths.
Watanabe is physically dynamic, and his witty, intelligent King wrestles believably with the challenges of leadership. However, his enunciation is erratic – particularly in the exacting "A Puzzlement", which is unfortunately followed by Anna teaching a lesson in diction. But there are no such caveats for the silvery-voiced wonder that is Kelli O'Hara AKA the Second Coming of Julie Andrews. Her authoritative, proto-feminist Anna cuts through the blustering men, via both wry tone (the King's acrobats are the finest she's seen – "…at a funeral") and principled firmness. Her request for the house she was promised comes to mean the respect and status she demands – 19th-century gender politics be damned.
Yet O'Hara's performance never feels anachronistic – her Anna is still perfectly ladylike, and wise enough to pick her battles – nor cloyingly virtuous. She, too, has a temper, exhibited in a rant with delicious lyrics (the King's "polygamy" makes "a prig o' me"), and her scientific logic is sometimes superseded by romanticism, as soaringly expressed in "Hello, Young Lovers". Throughout, O'Hara's voice seems like the most natural miracle: trilling like a songbird, or softening into low notes like melting butter.
In fine support, Na-Young Jeon and Dean John-Wilson provide tender harmonies as the secret lovers, Naoko Mori eloquently expresses a more pragmatic affection, and a highly skilled, predominantly Asian cast offers textured representation – and a sharp rejoinder to anyone who argues that diversity in theatre is held back by a shallow talent pool. There's detail in every supporting role – I particularly enjoyed William Mychael Lee's increasingly perturbed royal secretary, while Ena Yamaguchi (pictured above) leads the ballet with mesmerising grace.
Michael Yeargan's set uses minimal pieces to maximum effect, like a towering palace wall and giant pillars for scale. Catherine Zuber's lush costumes are similarly articulate, initially placing Anna (in teal) in opposition with the Siamese (reds and purples). The iconic ballgown of "Shall We Dance?" is a real showstopper, as is the shiver-inducing moment of a hand cautiously cupping a waist – a moment of intimacy earned by a production that serves both personal and political, head and heart.
O'Hara's voice seems like the most natural miracle: trilling like a songbird, or softening into low notes like melting butter
rating
Share this article