Reissue CDs Weekly: Manchester - A City United In Music |

reviews, news & interviews
Reissue CDs Weekly: Manchester - A City United In Music
Reissue CDs Weekly: Manchester - A City United In Music
Thought-provoking compendium dedicated to the northern musical powerhouse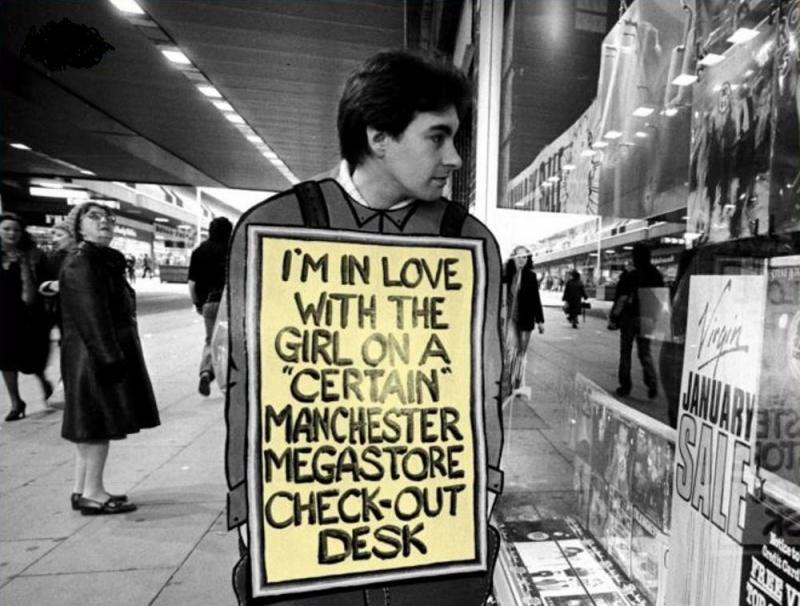 Chris Sievey advertises his ardour outside Manchester's Virgin Megastore
Full marks for shoehorning-in the names of city's two major football teams into the title of Manchester - A City United In Music. But this spiffy double-CD compendium roams further than the boundaries of the titular metropolis. Leigh, Salford, Stockport, Timperley and Warrington are in the mix too. "Manchester-area" or "Manchester-region" wouldn't be such snappy designations but the point is made – Manchester is suffused in music.
The period covered is covered is 1963 to 1994 with a couple of outliers rounding-out the picture. What's dealt with is from the Beatles-dominated beat era up to and just beyond the Madchester fad. In the main flow, Pete Maclaine & The Clan's "Yes I Do" and Freddie & The Dreamers' "If You Gotta Make a Fool of Somebody" (both issued in 1963) are the earliest tracks and Oasis' "Rock 'n' Roll Star" (1994) the latest. The outliers are a 1983 Ewan MacColl and Peggy Seeger version of "Dirty Old Town", included because 1950's recordings were of poor sound quality, and the 2013 single take of Johnny Marr's wonderful "New Town Velocity". Neither The Smiths or Morrissey could be licensed for inclusion so Marr was called in as the substitute.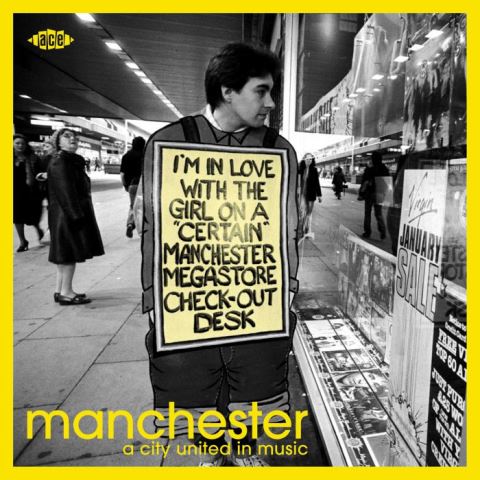 Over the two discs, the 45 tracks are split into a pair of cogent groupings: Disc One is the Sixties up to the mid Seventies; Disc Two is punk and after. The Smiths and Morrissey aside, the only major omissions are Sad Café, A Guy Called Gerald or 808 State and maybe Van der Graaf Generator. Otherwise, everyone representing the different facets of the story is here: Barclay James Harvest, Elkie Brooks, Buzzcocks, The Dakotas, The Fall, Wayne Fontana & The Mindbenders, Happy Mondays, Herman's Hermits, The Hollies, Jilted John, Joy Division, Magazine, Simply Red, The Stone Roses, Sweet Sensation, 10cc and beyond. Adding Ed Banger & The Nosebleeds, Northside or even James wouldn't fill out the picture.
What falls out of being forced to get a grip on this particular socio-musical history is instructive. Although The Hollies, Freddie Garrity and co, Wayne Fontana, the songwriter and future 10cc-man Graham Gouldman et al brought Manchester as strong a Sixties commercial profile as that of Liverpool and London, there was no marketing handle like Merseybeat or Birmingham's "Brumbeat" in or immediately after the beat era. Despite Top of the Pops being filmed there, a unifying Manchester flag was not explicitly flown.
That changed after 1976, largely as a result of Buzzcocks' Howard Devoto and Pete Shelley bringing the Sex Pistols to town, and Manchester became Britain's second city of punk. From this came Magazine, Factory Records, Joy Division and many other idiosyncratic and as-important flavours.
Then, underpinned by Factory Records' and its Haçienda Club (which closed in 1991), The Stone Roses, Happy Mondays and more, Manchester got its handy handle with the coining of "Madchester". It was, for a while, the city and region looked to for a musical and flappy clothed lead by the rest of the country. Nonetheless, infrastructure akin to that in-part represented by Factory and the Haçienda had been in place from the early Sixties. Amongst the markers were the Oasis club, which opened in December 1961, the powerful Kennedy Street agency and 10cc's Strawberry Studio. Manchester had not strictly needed London to make a mark.
All this is grappled with by Manchester - A City United In Music's compilers Ady Croasdell and CP Lee. The former is more usually associated with soul music and Lee is now an academic and was a member of the city's satire-rockers Alberto Y Lost Trios Paranoias. Lee writes the introductory essay and track-by-track commentary. There is also a short prologue by former Manchester dweller Jon Savage. Musically, Lee appears three times: with the Albertos, Greasy Bear and Gerry & The Holograms.
Aside from its inherent thought-provoking nature, this package has no problem making the case that Manchester is an important, world-class musical hub. The well-known names attest to this and it's surprising how good Simply Red's "Come to my Aid" sounds. "Mocking Bird", a 1971 single by Barclay James Harvest, is superb. As is Marr's "New Town Velocity" which shares much of its vibe with "August Avenue", a 1985 single he produced for The Impossible Dreamers on which he also played.
Hearing tracks in fresh contexts can be arresting. Magazine's elegant "A Song From Under the Floorboards" sounds more powerful than ever due to being sequenced between Gerry & The Holograms' eponymous single and Smack's oddball art-rocker "Edward Fox". The text revisits the standard case for the purported similarity of New Order's "Blue Monday" to "Gerry & The Holograms" though no mention is made of Simple Minds' seemingly looking to "A Song From Under the Floorboards" with their "The American".
Of the Sixties' tracks, The Dakotas' 1968 A-side "The Spider and the Fly" is a crunching marvel. The Mockingbirds, the prodigious Graham Gouldman's band, appear with "How to Find a Lover" (1966) a clever composition which would have been a hit had one of his songwriting clients recorded it. Most extraordinary is The Toggery Five's intense, Animals-esque "I'm Gonna Jump".
This is also an acknowledgment of those who have departed, some all-too recently. Pete Shelley died late last year. Mark Smith died at the beginning of last year. Chris Sievey died in 2010 at only 54. He became better known in his Frank Sidebottom guise and is heard with his band The Freshies, whose fab 1981 single "I'm In Love With the Girl on the Manchester Virgin Megastore Checkout Desk" was the first of his creations to attract widespread attention.
A Manchester sound doesn't surface, except on some of the 1989-ish tracks where American-informed rhythms seep into proceedings. Beyond the geography, what's apparent overall is a full-on attitude: an ethos that what's being done is being done to its fullest.
In his text, Jon Savage describes seeing The Stones Roses at London's Dingwalls, the first time he had seen them. He was, he says, "mystified by the chants of 'Manchester, in the area.'" It was "the dreaded capital" and the band and its fans had something to prove: "The Stones Roses had a point to make and they made it." Manchester - A City United In Music is about many things but this sense of determination is what unites the 45 tracks.
Next week: Musical Prophet - The Expanded 1963 New York Studio Sessions. The first full airing of Eric Dolphy's July 1963 recordings with Alan Douglas
A Manchester sound doesn't surface but what's apparent overall is a full-on attitude
Share this article
Subscribe to theartsdesk.com
Thank you for continuing to read our work on theartsdesk.com. For unlimited access to every article in its entirety, including our archive of more than 10,000 pieces, we're asking for £3.95 per month or £30 per year. We feel it's a very good deal, and hope you do too.
To take an annual subscription now simply click here.
And if you're looking for that extra gift for a friend or family member, why not treat them to a theartsdesk.com gift subscription?