The Collini Case review - it might be legal, but that doesn't mean it's justice |

reviews, news & interviews
The Collini Case review - it might be legal, but that doesn't mean it's justice
The Collini Case review - it might be legal, but that doesn't mean it's justice
Tense courtroom drama probes Germany's Nazi legacy
Thursday, 09 September 2021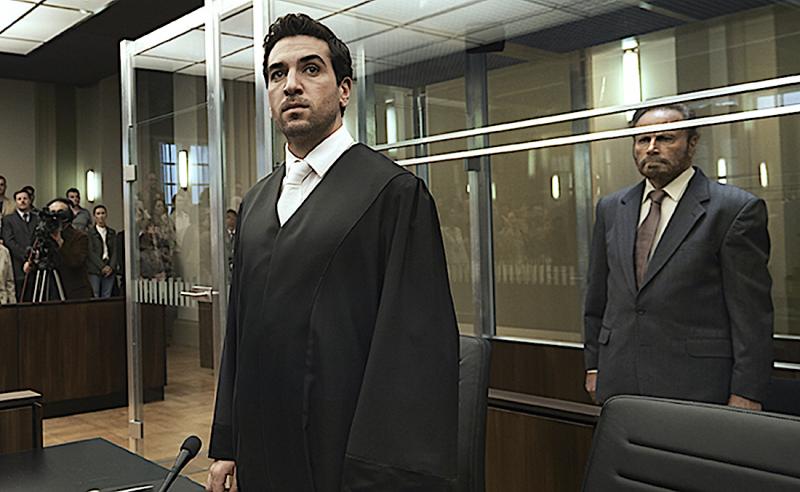 The law on trial: Caspar Leinen (Elyas M'Barek) and Fabrizio Collini (Franco Nero)
Adapted from Ferdinand von Schirach's bestselling 2011 novel, The Collini Case is a riveting mix of character study and legal drama, carefully blended into a historical perspective reaching forward 60 years from the 1940s.
At its core is the so-called Dreher Law, a sinister legacy from the
Nazi
era which, cunningly evading democratic scrutiny in Germany's Bundestag, was a device for erasing murders committed under the Third Reich from the records.
Directed with sensitivity and acuity by Marco Kreuzpaintner, the story is seen through the eyes of Caspar Leinen (Elyas M'Barek), a naive young public defender in Berlin, just a few months into his career (the story's present day is 2001). When he's handed his first big case, defending a 70-year-old Italian called Fabrizio Collini (Franco Nero) who's accused of murder, Caspar is full of starry-eyed enthusiasm. That is, until he learns that Collini's victim was the industrial magnate Hans Meyer (Manfred Zapatka).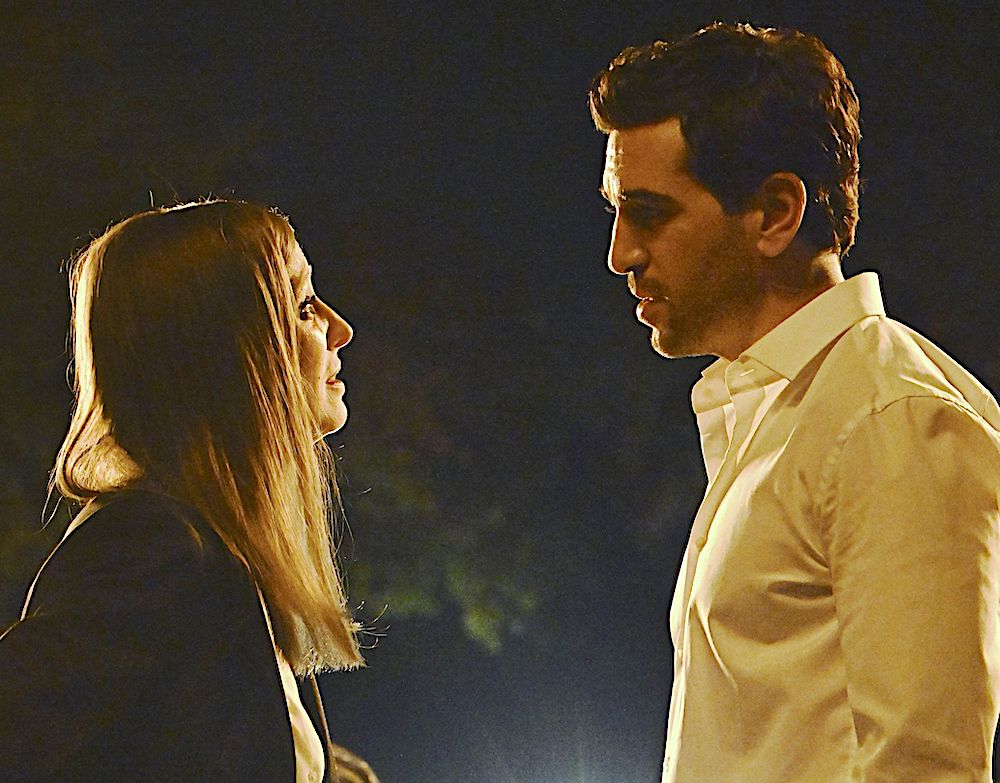 As it happens, Caspar, from an immigrant Turkish family, was taken under the wing of Meyer and his family in his youth, and owes his career to him. Defending Meyer's killer could look very like biting the hand that fed him, especially in the case of Johanna (Alexandra Maria Lara, pictured above with M'Barek), Meyer's granddaughter with whom Caspar had a youthful love affair.
His first panicky urge is to recuse himself from the case, but he's talked out of it by the silver-tongued Professor Richard Mattinger (Heiner Lauterbach), who will be the prosecutor in the Collini case. He also taught Caspar criminal law, and when he scoffs at his misgivings – "do you think personal opinions belong in a courtroom?" – the fledgling defender finds himself unable to argue.
Collini's conviction looks like a slam dunk for the authorities. Bloodstains and DNA evidence, such as fragments of Meyer's brains spattered on his clothing, leave no wriggle room whatsoever, and the taciturn Collini makes no effort to explain or defend himself. Caspar's amateurish incompetence in court, where he has yet to master the most basic protocols of conducting a case, provokes knowing smirks between Mattinger and Senior Public Prosecutor Reimers (Rainer Bock). You'd almost think he was being set up to fail.
Soon, the haughty and condescending Mattinger is inviting Caspar on board his sailing boat on the Wannsee, dangling the carrot of a reduced sentence if he can get Collini to confess. "Pay attention to the wind," Mattinger urges Caspar pointedly, handing him the tiller. Mattinger cynically makes no bones about his view of running a law firm: "It's about settlements, deals and billing as many hours as possible."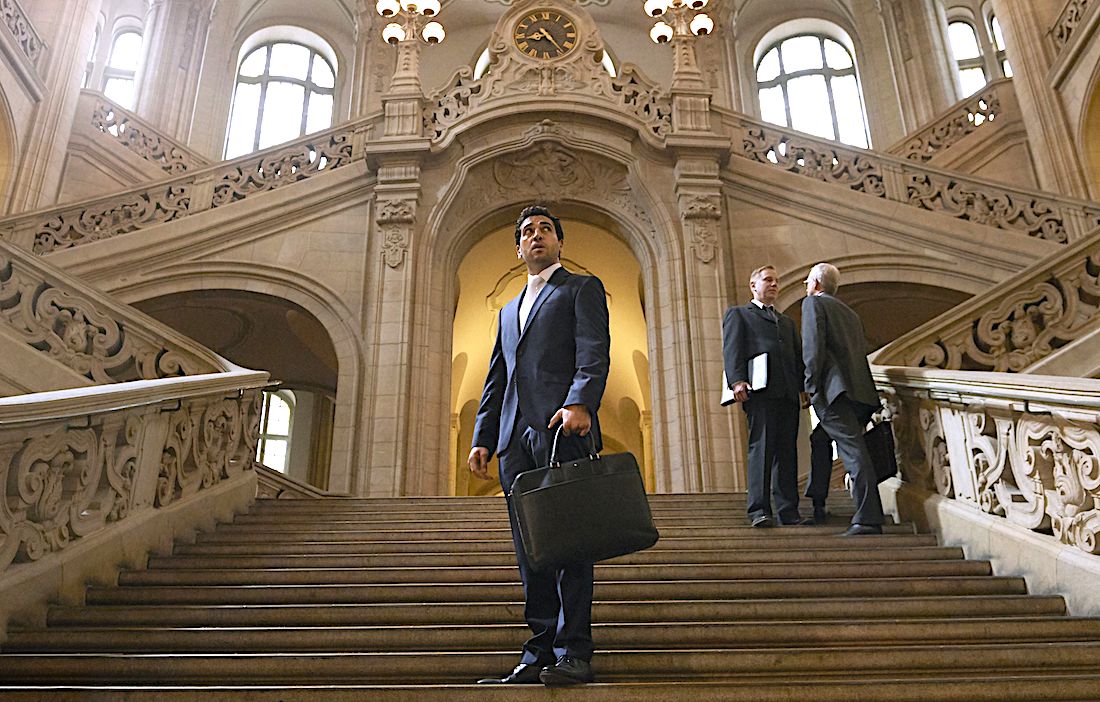 But there wouldn't be much of a story if Caspar took the deal, and when he gets down to the nitty-gritty of researching the background to the case, events begin to assume a somewhat different character. While Caspar is haunted by memories of his formative days with the Meyers back in the Eighties (Kreuzpaintner has shot these scenes on period 35mm film, lending them a glowing, dreamy aura), he begins to discern the vague shapes of buried secrets and hidden allegiances reaching back through the decades, eating away at the ostensible probity of the law and the German state like dry rot. Even his rekindled friendship with Johanna is not what it seems.
It's when he finds the crucial link between Meyer and an outrage committed by the Waffen SS in Italy that the dam starts to crumble. In courtroom scenes which steadily ramp up the tension along with our expectations, Caspar is transformed into the lawyer he always hoped to be, while the true nature of Mattinger and all that he represents is dragged shamingly into the daylight.
It's a fine piece of work, illuminated by some rockin' performances. M'Barek's journey, as the outsider who travels from gaucheness to sagacity, is handled with panache, while Lauterbach's portrayal of Mattinger is a haunting exemplar of the devil wearing… perhaps not Prada, but Hugo Boss. Nero, as the haunted, burned-out Collini, has few lines but speaks volumes with his eyes. It's a film that will stay with you.
Collini's conviction looks like a slam dunk for the authorities
rating
Explore topics
Share this article