theartsdesk Q&A: filmmaker Marco Kreuzpaintner |

reviews, news & interviews
theartsdesk Q&A: filmmaker Marco Kreuzpaintner
theartsdesk Q&A: filmmaker Marco Kreuzpaintner
What his new film 'The Collini Case' says about Germany, the Nazis, justice and the law
Monday, 06 September 2021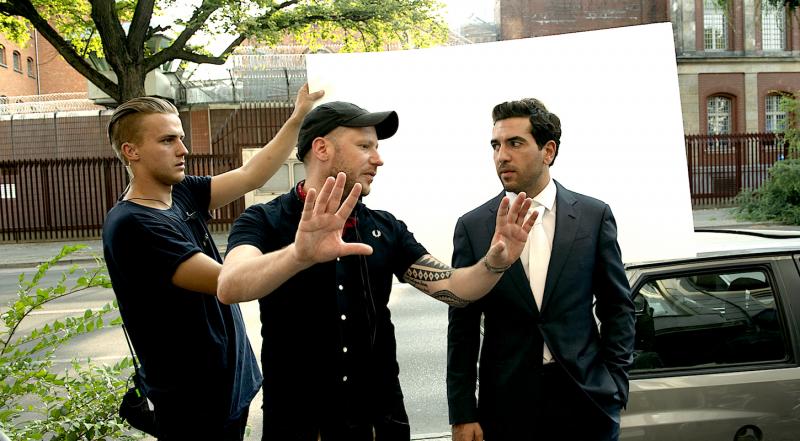 On location: Marco Kreutzpaintner (centre) with Elyas M'Barek (right)
In 2011, Ferdinand von Schirach's novel Der Fall Collini (The Collini Case) was published, its narrative of crime and punishment inspired by a law passed in Germany in 1968.
Promoted by Dr Eduard Dreher, a former
Nazi
-era prosecutor who served in the post-1945 West German justice ministry along with many fellow ex-Nazis, this law was in effect an amnesty for murders committed during the Third Reich era. Somehow it was passed almost unnoticed, under the carefully bland title of the Introductory Act to Administrative Offenses. "The law seemed so unimportant it wasn't even debated in the Bundestag," von Schirach wrote.
The novel became an international bestseller and threw blinding light on the deplorable Dreher law. Now it's been filmed by director Marco Kreuzpaintner (known for Trade and Krabat, as well as for the Amazon TV series Beat and AMC's Soulmates) and proved a substantial success when released in Germany in 2019. Set in 2001, the story concerns the murder of a German industrialist by an elderly Italian, Fabrizio Collini (Franco Nero), and unravels a trail that leads back to wartime Nazi atrocities while also touching on issues of loyalty, family ties, and the consequences of institutionalised amnesia. It's also a powerful courtroom drama which isn't much concerned with sparing the blushes of the legal profession. "By raising major moral questions about the subject of justice, this epic story is an almost classic subject for the cinema," says Kreuzpaintner.
ADAM SWEETING: Your film has been very meticulously made, from the look and the tone of it to the various messages it contains (pictured above, Elyas M'Barek as Caspar Leinen, Franco Nero as Fabrizio Collini).
MARCO KREUZPAINTNER: Growing up in Germany, obviously we feel a lot about our past. We were always taught in school that from 1945 onwards Germany turned into a democracy, we got rid of all the Nazis, and with 1968 and the student revolution, that was it. Which is obviously not the truth, because the truth is that all the intellectuals, all the knowledge, all creativity, the people who had something to say, most of them were dead or had emigrated. What was left over for the Allies in Germany to build the new administration? It was the surviving Nazis, so the surviving Nazis were basically running the democratic Germany. This is something that happens with all these systems, look at Russia, look at Romania. Konrad Adenauer became Chancellor and there were people getting into positions they should never have got into. The law that this whole movie is based on, which was manufactured in 1967 or '68, was very much made by these people who saw that the next generation and the left wingers, the student revolution, all these movements were now uprising in Europe. They were scared to death that the climate would change and they would come after them.
This Dreher law is very much at the centre of the story.
Yes, they created this law which was absolutely undercover. It meant that when you murdered somebody and you did it for the good of something, or for the national interest, then it was just manslaughter. The consequence was you couldn't question manslaughter convictions 15 years later any more. So all the crimes committed up to 1945, in the '60s you couldn't go after them. Did the Bundestag, the German parliament, know what they were signing up to? Or was it that they didn't read it enough, that they didn't care, because it was very well disguised? It wasn't in your face, like "oh, this is the law where the Nazis get away". But shouldn't the MPs have checked on that? It seems that what is spoken about in the back rooms and how the real politics that impact on us are made seem not to be covered that well any more by the news. Maybe it was always like that, maybe it is just at the moment it's very evident to me I think, but that's what interested me when I read the script.
In the film Hans Meyer, the former Nazi and SS officer, has covered himself with a virtuous exterior, he's very respectable and charitable. It's quite clever camouflage.
It is absolutely, it's a kind of whitewashing. It's like how all of a sudden in Pride month, all companies are the biggest gay lovers ever. For instance Nestlé is now in rainbow colours – when it becomes mainstream and they can't get around it any more, they attach these new values as accessories, but we would never say Nestlé is a good company, would we? It's very much like this character in our film. The Nazis, they closed this chapter. They never speak about those times. They would say "with the knowledge of now obviously we wouldn't have acted like this", but wouldn't they have? I think that's the central question, speaking about times whether it was slavery or it was the Nazi time and other chapters in history, it's how would we have reacted? There were always the people who said no, and there were people who were in opposition, but I found this whole conflict very interesting. The novel already is very complex and that drew me into making it (pictured below, M'Barek with Alexandra Maria Lara as Johanna).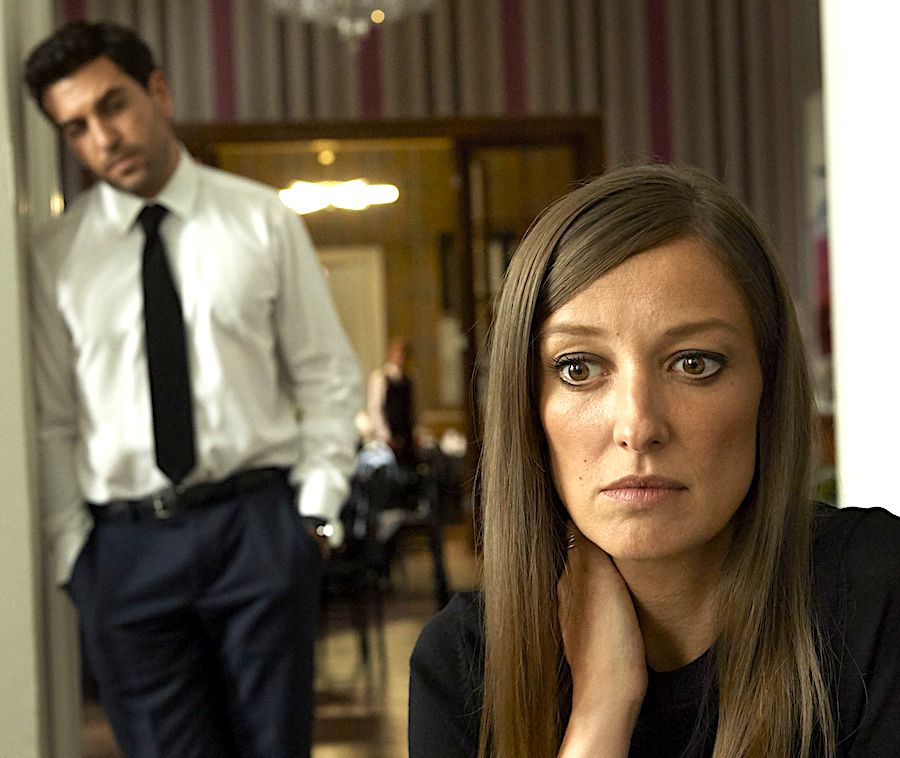 After the war did the German people take on board what they'd done, or was it all too traumatic?
I think they absolutely did after '68. The generation who lived through the war were just exhausted and didn't want to talk about it any more, and I think they denied it. It's also why we had these horrible heimat movies in the Fifties in Germany and all this kind of schlager music, it was all about forgetting, right? It was about escapism into a fake idyllic world. Then with filmmakers like Fassbinder, Wenders and Volker Schlöndorff, there was a change and that reflected the climate of society itself. But nowadays I think the Germans are dealing very well with their past, at least my generation. Whatever you hear about neo-Nazis in the East or something, yes there is this movement, though it's the same you could find around Leeds for instance, it's always like in the working class where people are left behind. There's an attraction to a new force, the strong men who pretend to be leaders and pretend to be good to them. I think that's in human nature, but I think in general people are highly educated about that.
You've assembled a terrific cast. I think you had to go to Italy to persuade Franco Nero?
He read the script, he liked it, he said he wanted to meet the director. I had to fly to Rome, and I had lunch with him at his home. We were there all afternoon and he brought so much food to the table, very Italian – pasta, mozarella and tomatoes, and then another course and another course. I think the fact that there was a part for him where he could obviously see himself but also to hear another generation's take on it was something that really interested him, and we got along very well. As you might know, he's still together with Vanessa Redgrave, who I already knew from The Inheritance. Stephen Daldry [who produced The Inheritance at the Young Vic] is a friend, so there was a personal connection. Obviously there's movie magic about Nero, whether one likes spaghetti westerns or not! He absolutely knows what he can do and what he can't. It's all about his eyes. He said right at the beginning, "all you have to do is hold on to my eyes and it works!"
Creating the scene where the Italian villagers are executed must have been pretty harrowing?
Of course. How does one deal with things like? It's always a big moral dilemma. There's a kid, a child actor, and you are recreating the scene for the effect on the plot in the movie. You don't want it to be an effect only, but it is because it illustrates what the character was going through. I feel that you have to do it in the most technical kind of way without focusing on the emotional aspect of it too much, because I think that's how it was. Basically the Nazis very much went by the book, and that's obviously the outrageous thing about this chapter in history, like how it was a bureaucratic, manufactured mass murder. The guy who plays the young Meyer is Jannis Niewöhner, who you will hear a lot about in the next couple of years. He's starring in big Hollywood films. Especially at the end of the war these were very young guys. They were like mid-20s, had an incredible power of life and death, and they were brought up in the Nazi system, and didn't know anything else. They were going to the elite schools of the Nazi terror, and were brainwashed basically. I read a lot about how SS officers reviewed their times, and you feel that they really don't understand why history judged them that hard, because they said we did what was taught to us and we just did what we believed would be the right thing. In this specific scene I did the whole beginning just as one shot. Like when Meyer walks over that square, it was a huge choreography. Obviously you can't do the shooting itself like that when you have blood squibs and all these kind of things to worry about. It's hard for me to talk about it.
In the trial, the young lawyer, Caspar Leinen, is being set up to fail by the prosecutor, Mattinger. Heiner Lauterbach is unpleasantly effective as Mattinger – arrogant, condescending, self-righteous.
Yes, this guy is portrayed very well in von Schirach's novel. There were these kind of star state lawyers or lawyers for hire that old Nazi loyalties were always defended by. They were brilliant people, they were very smart. Yes, as you say, it was a plotted thing, and they thought they could buy Leinen or he would fuck it up. It's also an irony within the story that they have chosen somebody with a Turkish background.
The judge in the case gives him some leeway. She seems sympathetic to him.
I don't know how it is in England but in Germany there were not that many women judges in the '80s and '90s, this is like a very millennium kind of thing now, and I have lots of respect because they had to deal with a very misogynyst climate. We forget about that, and it's not that long ago. So I think that the sensitivity of this guy and that he's not perfect and doesn't show like this male masculine alpha behaviour is something she kind of is attracted by, and so she's a little bit in his favour, yeah.
The film was released in Germany in 2019, I think?
Yes, it was the second most successful film at the box office in Germany, which was very unexpected because it's not the kind of film you'd think would have mass appeal, but there was a huge interest and I think the topic grabbed people. Elyas M'Barek, who plays Leinen, is a big star in Germany, he would be the equivalent of a Jack Whitehall or something here. He comes from a more commercial comedy kind of background. A lot of people were hoping he would fail but he didn't. Even the press gave him credit for it. He grows into the part. He is a little bit silly in the beginning but he's also insecure, and he's never had a case before so its probably like this whole idea of becoming a lawyer and not really knowing if he wants to be a lawyer for hire or where he wants to end up. He's not flawless. There are situations which might make us aware suddenly of an injustice and I think that's what basically happens to him. He chooses to become a good lawyer, a guy who really goes for something that is called justice. You and I know that it's very naive to think that lawyers are interested in justice. They're not. They're interested in winning a case and making lots of money. Even with judges, something can be judged in a certain way but it can still be injustice from our own perspective. People might say "why the fuck does he only get three years?", but the law considers psychological determination and all these kind of things that have to be reflected, though in the public eye it doesn't seem just.
Was the novel based on a true story?
No, it's a story made up around this law and about specific events that happened that were similar to this event. There were partisans being shot, there were a lot in Naples and a lot in Verona, but I think von Chirac didn't want the story to be about one historic event. He wanted it to be about this law being made, that was his central motivation. At the same time, him being the grandson of the leader of the Hitler Youth is obviously a personal thing where he had to deal with his own family story, asking the question how much of what they were is in me? [Baldur von Schirach was head of the Hitler Youth and later Gauleiter of Viennna. He was sentenced to 20 years in prison at the Nuremberg trials].
Do you know von Schirach quite well now?
As much as you can know novelist royalty in Germany. There's mainly one thing he's interested in and that's talking about himself! Not in a negative way because what he has to say is very interesting, but there's a joke where this famous person meets a young guy and talks forever about himself and all of a sudden he asks "oh, I talk only about myself my young friend, let's talk about you. What did you think about my last novel?" That's kind of how it is, you know? (Kreuzpaintner pictured above).
Are you worried about Covid affecting cinema audiences?
Of course, but what can you do? Not too many German films come out here, so I'm incredibly proud. I've been living in London for three years, so I'm just so happy that I can go with my friends to a movie theatre and see it here.
The Collini Case is in cinemas on 10 September
It's very naive to think that lawyers are interested in justice. They're not. They're interested in winning a case and making lots of money
Explore topics
Share this article