The Humans review - staring headlong into the abyss |

reviews, news & interviews
The Humans review - staring headlong into the abyss
The Humans review - staring headlong into the abyss
Stephen Karam's Tony-winning play is even bleaker on screen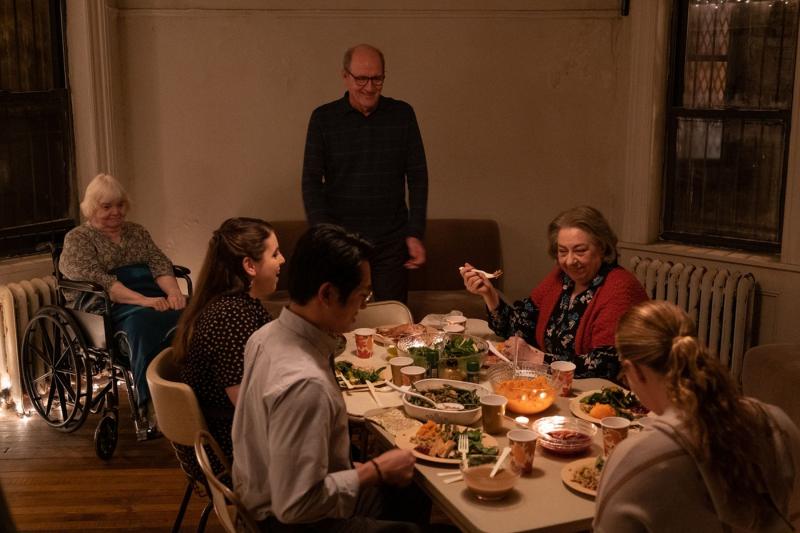 Traumatised thanks: the ensemble of 'The Humans'
A small film that packs a significant wallop, The Humans snuck into view at the very end of 2021 to cast a despairing shadow that extends well beyond the Thanksgiving day during which it takes place.
Adapted
from the much-traveled Tony-winning play of the same name, writer-director Stephen Karam's screen iteration of his own one-act seems even bleaker in this iteration than it did in my twofold experience of it on stage (including at the
Hampstead
, with its original New York cast, in autumn 2018). .
Those who think American drama too often offers its characters the easy way out won't find that here: Karam has written nothing less than a horror story of and for our time. Set in a lower Manhattan apartment that seems in need of an exorcism, the play brings together six members of a family whose fissures run as deep as their complicated but clearly genuine love.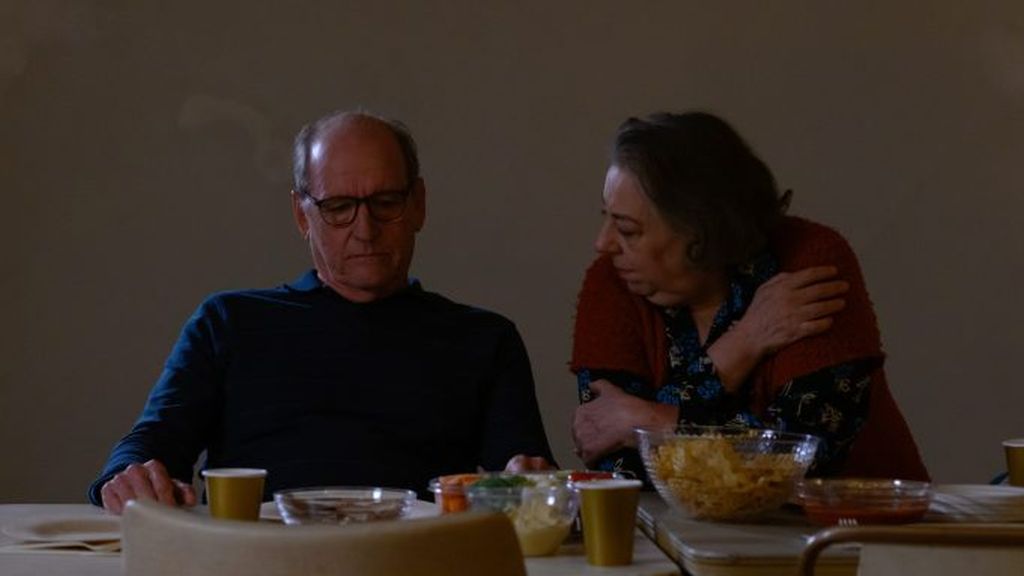 It's no wonder that the final shot plunges its last remaining visible character - Richard Jenkins's anxious paterfamilias, Erik (pictured above with Jayne Houdyshell) - into darkness. Karam's assemblage exist perilously close to the abyss: the duplex Chinatown apartment newly occupied by younger daughter Brigid (Beanie Feldstein) and her boyfriend Richard (Steven Yeun, late of Minari) is located not far from Ground Zero, which would seem to be the psychic point inhabited by each of these characters in different ways. One of them, we learn, might well have perished on 9/11 had luck not intervened.
Holiday gatherings have long been a dramatic staple, but they rarely course with the pile-up of tension on view here. Scarcely have Erik and his wife Deirdre (Houdyshell, the lone holdover from the stage version) entered the apartment before it assumes the aura of enemy territory. The wall exudes an eerily threatening damp, whereas odd noises from upstairs may or may not be explained away as the goings-on of a neighbour (briefly glimpsed) moving about. The view out the window gives on to a specific New York drear, which prompts Deirdre to suggest, deadpan, that they "take a stroll in the interior courtyard": you can see at every turn why Houdyshell, an invaluable New York theatre veteran on Broadway now in The Music Man, won a Tony for this performance.
The film is longer than the play, not least so that Karam can let his camera soak in the physical environs: you notice in passing that someone has drawn a penis on the door to the lift. At times, you feel Karam as director reveling perhaps a bit too much in what he can achieve by positioning one character or another at a distance or at a specific angle. Whereas the play put one at times in mind of Albee (A Delicate Balance in particular, with its nod toward the supernatural), the film seems to aspire visually and thematically to Bergman, or Woody Allen in faux-Bergman mode. An apt alternate title for The Humans, in fact, could well be Interiors.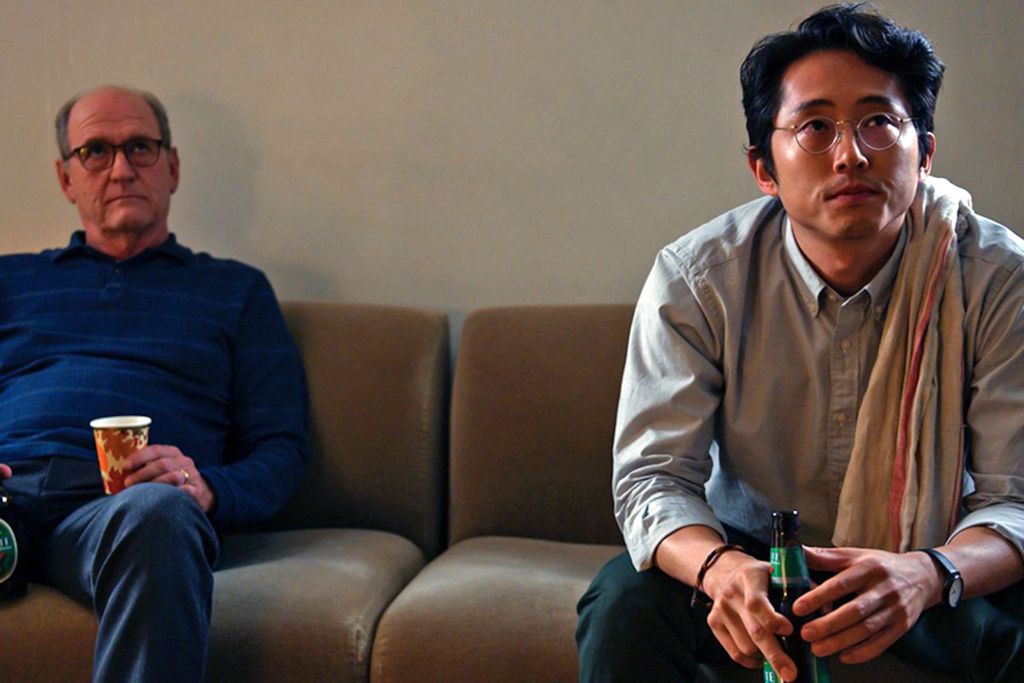 Except, of course, that Karam never loses sight of this family, who are seen to exhibit a decay mirrored in the physical disrepair around them. "I love you, I'm just saying," says Deirdre offhandedly as she calls her daughter's attention to a broken toilet, and once they sit down to the actual meal, the cross-current of conversation reaches a fearsome crescendo. While care is given to the elderly, dementia-ridden Momo (June Squibb, a onetime Oscar nominee for Nebraska), we hear more from elder daughter, Aimee (Amy Schumer, in terrific form), dealing both with ulcerative colitis and abandonment by her (female) partner.
Brigid's good cheer masks a simmering anger all its own, which Feldstein navigates with remarkable ease: the Thanksgiving feast, she decides, is just the place to announce to her religiously-minded parents her own wish to be cremated. Rich, her partner, tries where possible to keep the peace, this perpetual student letting it be known that he will come into money of his own age 40, which means only one year still to go: the immediately empathic Yeun is pictured above with Jenkins. Deirdre, meanwhile, has watched at work as younger colleagues join her office at better pay, but things could be worse, she insists: at least none of her family is in the abject position of the refugees who have arrived into her and Erik's Pennsylvania community from Bhutan.
Money prompts from Erik the question - "don't you think it should cost less to be alive?" - that informs the material throughout and only makes one wish that this clearly intelligent clan might have extended their conversation still further into the realm of politics, as Richard Nelson's not dissimilar Apple family has so often done. At times, one wants even more language and a shade less atmospherics.
Still, one can only imagine what the Blakes might have made of the pandemic, while being aware all the while of the gently crippling malaise shared amongst them that functions as a pandemic of its own. No wonder Erik's mind seems to keep drifting off, though we never know quite know where. (Reference is made to his own grievous job woes.) It seems illustrative of the unrelievedly sombre material that even the prospect of snow - as often as not a redemptive visual image in art - is here thought to be nothing more than an ashtray being emptied from somewhere up above. These are lives on a knife edge away from oblivion: a portrait of survival before they, too, turn to ash.
Karam never loses sight of this family, who are seen to exhibit a decay mirrored in the physical disrepair around them
rating
Share this article