The Miseducation of Cameron Post review - learning the right way |

reviews, news & interviews
The Miseducation of Cameron Post review - learning the right way
The Miseducation of Cameron Post review - learning the right way
Desiree Akhavan's composed but shocking story of gay conversion
Friday, 07 September 2018
Outsider: Chloë Grace Moretz as the eponymous heroine of 'The Miseducation of Cameron Post'
This is Desiree Akhavan's second film, following on from her rather ironically titled Appropriate Behaviour of 2014. That was a coming-out drama about a bisexual, Iranian-American woman, whose story closely reflected the director's own – and Akhavan played its lead role, too. With The Miseducation of Cameron Post, she has widened her perspective considerably, and her new film, while surely retaining gay community admirers, will also speak, it must be hoped, to a considerably wider audience. On which note, mainstream name Chloë Grace Moretz's presence in the title role, as well as the film's winning the Grand Jury prize at this year's Sundance festival, can only help.
It's to the director's credit that Cameron Post is a film that plays down opportunities for obvious drama in favour of something much more considered, more reflective. Akhavan has made the story of her eponymous late-teenage heroine's experience in a gay conversion therapy centre, a Church-led correction facility that aims to change participants' sexual orientation, largely non-judgemental. We see Cameron's lonely experience through her own eyes, and feel it with her, but blame, such as it is, is attached more to the abstract principles of blind religious dogma rather than (largely) to those directly involved in the process.
It's an adaption of Emily Danforth's 2012 coming-of-age novel that told the story of a 12-year-girl who, after the death of her parents in an accident, is adopted into the evangelical Christian family of her aunt. The film has taken the final third or so of the book, from Cameron's developing relationship with schoolmate Coley – their passionate embraces are interspersed with watching films like Priscilla, Queen of the Desert – through to their being discovered, by an accompanying "boyfriend" date, making out in the back of a car during the school Prom.
It's a moment of sheer shock for Cameron, one which will turn her world upside down: until then she's been a sports star, and the pervasive background religion has not obviously intruded into her life. Now it certainly does, though not with any fire-and-brimstone denunciation, rather sotto-voce words from pastor and family that see her sent off to God's Promise, a rather particular educational establishment that's set in the beautiful wilds of nature.
Sessions to "pray away the gay" take place alongside therapy that tries to establish childhood experiences that may have led to "SSA", same-sex attraction, instincts, and thus "cure" it. (There are more curious – for British eyes, at least – manifestations of religion in everyday life here, such as the "Blessercize" TV channel, which brings God into the gym.) It's overseen by the coldly concerned Dr Lydia Marsh (Jennifer Ehle), who established the place after "converting" her own brother, Reverend Rick (John Gallagher Jr). (Pictured above: John Gallagher with Chloë Grace Moretz)
'There's no such thing as homosexuality,' the doctor insists at one point, 'Would you let drug addicts throw parades for themselves?'
The irony here, and about the only positive aspect of Cameron's initial experience, is that for the first time in her life she can be open about herself, in the company of those who have been through similar experiences. There are distinctions between those attending, however, from anguished determination to clutch at any straight straw – however precarious such convictions of change may be – through to the more sagacious resignation adopted by the two new friends she makes, Jane Fonda (Sasha Lane, from Andrea Arnold's American Honey) and Native American Adam Red Eagle (Forrest Goodluck); their bonding is encouraged by the weed that those two are clandestinely growing (and which, in a nicely gothic touch, Jane conceals in her artificial leg). There's further irony in the fact that both had been living in their wider environments without family issues, in particular Adam, whose tribal identity as a third-gender, or "Winkte", almost endorsed his sexuality; only when external circumstances – her mother marrying an evangelical, his father going into politics – changed, were they sent away for reformation. (Pictured below: from letf, Chloë Grace Moretz, Sasha Lane, Forrest Goodluck)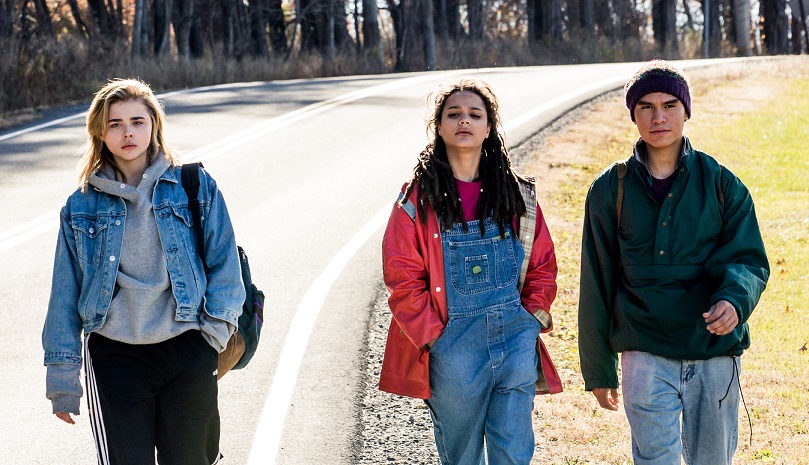 They're all too aware that release back into the wider world will depend on the appearance of change rather than anything else. But their readiness to bide time in so laid-back a fashion doesn't extend to all, however, as one searing late scene – with a stand-out role from Owen Campbell – reveals.
But this isn't a lock-up environment, and good behaviour ameliorates some of the facility's hardship, which principally involves isolatiion (following Danforth's book, the film is set in 1993, so has no phones or internet). That's a note that reveals some of the dramatic strands on which Akhavan has surely drawn: you can't help thinking of One Flew Over the Cuckoo's Nest, for its associations both of confinement and concomitant absurdity, with Ehle's character a loose variant of Nurse Ratched (she's even referred to as a "Disney villain" at one point). "There's no such thing as homosexuality," the doctor insists at one point, "Would you let drug addicts throw parades for themselves?" Reverend Rick can't match his sister's unflinching certainties, however.
Akhavan has cited John Hughes as another point of reference, and as a teen movie Cameron Post was surely always going to adopt an attitude that bounced back against authority. It's a coming-of-age drama, in which learning from new human contact plays a far greater role than any group therapy, made clearest when, in a late scene, Cameron can simply ask, "How is programming people to hate themselves not emotional abuse?"
The surface composure of Akhavan's film rather belies the director's emotiional engagement; she certainly leaves the question of what the future may hold for her heroine open. We can hope that Cameron will never allow herself to be persuaded away from what she has learned on her bleak journey. As well as that Akhavan's film may reach some of the young viewers, in her homeland especially, for whom its story could prove essential.
Overleaf: watch the preview for The Miseducation of Cameron Post
Sessions to 'pray away the gay' take place alongside therapy that tries to establish childhood experiences that may have led to 'SSA', same-sex attraction, instincts, and thus 'cure' it
rating
Share this article