Celtic Connections: Juliette Lemoine, Orchestral Qawwali Project review - fusion of myriad musical traditions |

reviews, news & interviews
Celtic Connections: Juliette Lemoine, Orchestral Qawwali Project review - fusion of myriad musical traditions
Celtic Connections: Juliette Lemoine, Orchestral Qawwali Project review - fusion of myriad musical traditions
Scotland's premier folk festival is back with a bang
Wednesday, 25 January 2023
Orchestral Qawwali Project, with Greg Lawson conducting students from the Royal Conservatoire of Scotland
In full force again for 2023, Scotland's premier folk music festival Celtic Connections is back with its signature strand of blending and sharing musical traditions. On Saturday, emerging Scottish folk cellist Juliette Lemoine gave a superb early evening recital in Glasgow City Hall's intimate recital room for what was the official launch of her debut album Soaring.
Her band comprised pianist Fergus McCreadie – who was recently nominated for the Mercury Music Prize with his jazz album Forest Floor – saxophonist Matt Carmichael and award-winning fiddler and jazz bassist Charlie Stewart on fiddle. It's little wonder then given this line-up that her set was a seamless fusion of Scottish traditional and jazz, with the cello – an unusual star in both these traditions – to the fore.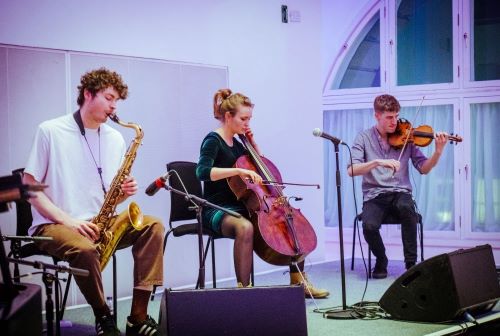 Her opening track, "Arising", saw the band play with almost symbiotic synergy as they soared through interesting and unexpected modulations. "Persian Omelette", named after a dish on the menu at the sadly now-closed Cafe Hula, a firm favourite with students from the Royal Conservatoire of Scotland where these musicians all studied, had some delightful rhythmic quirks, while the more contemplative "Twilight in a City Park" had a sweet, nostalgic feel.
Moving to City Hall's main concert hall for the evening concert, Orchestral Qawwali, the recently formed Orchestral Qawwali Project was supported in the first half by Vedanth Bharadwaj and Gurupriya Atreya. The duo shared the fruits of their recent Sing a Lullaby project, where they collected 52 lullabies from across India, and the rest of the world. Sufi poetry was woven with artful melodic threads, and the pair also sang lullabies in Suraiki – a language spoken in the western half of the Punjab – and Tongan, showing just how universal the practice of singing and rocking a baby to sleep is. There was, of course, some Scottish influence in their set too, as they were joined for a couple of songs by Scottish composer and multi-instrumentalist Fraser Fifield. Vedanth told the crowd, "We just met yesterday, but it feels like we have been connected for life", truly epitomising the second half of the festival's title.
If you were needing to wake up after such soporific sounds, the second half was sure to do just that! The Orchestral Qawwali Project, widely regarded as the biggest step forward for the art-form in decades, was founded in 2020 and comprises pianist and composer Rushil, singer Abi Sampa and tabla player Amrit Dhuffer. They were joined on stage by a chamber orchestra made up of students from the Royal Conservatoire of Scotland, conducted by multi-genre musician Greg Lawson, all arranged and orchestrated by Rushil.
The dramatic force which the orchestra brought to the songs was captivating, but the real star of the evening was most definitely London-based Indian classical singer (and dentist!) Abi Sampa, whose soaring, elemental vocals filled the hall. A trio of songs by Pakistani Qawwali singer Nusrat Fateh Ali Khan – "Mera Piya Ghar Aya", "Ya mustafa" and "Wohi Khuda Hai" – were strong and affirming. Rushil's arrangement of Rang, by the 13th century Indo-Persian Sufi singer and poet Amir Khusrau had an almost palpable musical drama, with a flurry of driven tabla playing. It was the final track, "Dam mast Qalandar", also originally by Nusrat Fateh Ali Khan, which was perhaps the most rousing, with Sampa's stunning vocals leaving the crowd begging for more.