theartsdesk in Bodø: a World of Music inside the Arctic Circle |

reviews, news & interviews
theartsdesk in Bodø: a World of Music inside the Arctic Circle
theartsdesk in Bodø: a World of Music inside the Arctic Circle
Elvis Costello headlines the genre-busting Nordland Musikkfestuke in remotest Norway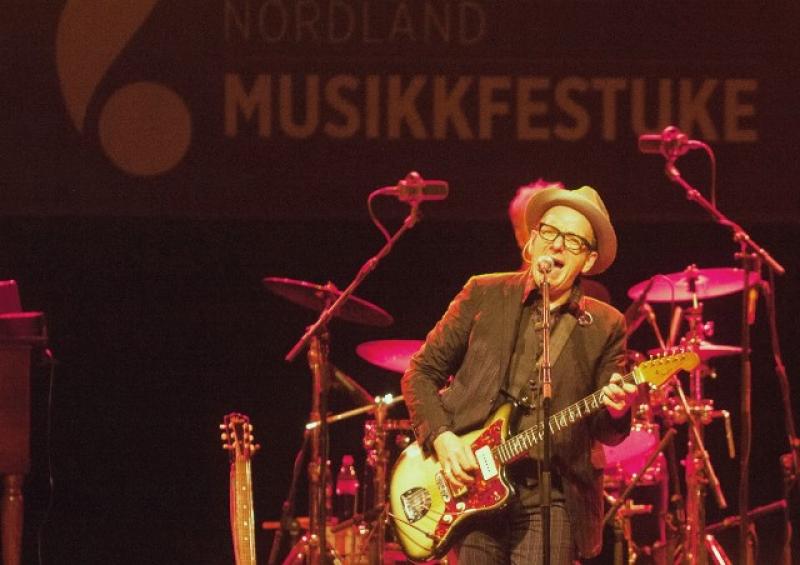 Elvis Costello at Nordland Musikkfestuke: songs delivered like lightning bolts
"Rock 'n' roll was invented in Bodø about 1922," declares Elvis Costello before kicking into "A Slow Drag With Josephine". "Then it crept down to Trondheim," he continues. "Then the squares in Oslo got it about 1952." Up here, 25km inside the Arctic Circle, it actually seems possible that anything could have developed without the outside world noticing. On the tip of a finger of land between two mountain-fringed fjords, the city of Bodø doesn't need to shout its identity.
The setting is enough.
Costello is here with the Imposters, playing Bodø Spektrum as the opening attraction of the 2013 Nordland Musikkfestuke. Since 1980 the annual festival has brought artists of international standing to the north of Norway. This year, Germany's Akademie für Alte Musik Berlin are here, along with Norwegian violinist Henning Kraggerud, long-established Swedish vocalist Lisa Nilsson and Kari Bremnes – Norway's "Queen of Sensuality". Weimer-style cabaret, Dutch soprano Johannette Zomer and genre-straddling jazz saxophonist Henning Gravrok further emphasise that Nordland Musikkfestuke is about all music. As does a cello played with a fish.
Its uncommonly broad booking policy makes Nordland Musikkfestuke a major event. Bodø, its host city, is north Norway's second-biggest and the administrative centre of the Nordland region. Even so, it only has a population of 46,000. As well as the fjords, it's backdropped by mountains so sizable they look close enough to touch. Strain your eyes on a warm afternoon and it's actually possible to see the Svartisen glaciers. Yet during the festival's opening ceremony the temperature was a surprising 25 centigrade. There are no polar bears on the streets of Bodø (pronunced "boo-da" – disconcerting when heard repeatedly), a reminder that the Arctic Circle is not the Arctic itself. (Pictured above right: the opening ceremony of Nordland Musikkfestuke).

At the Spektrum, Costello offered few words over his 90-minute set. Constantly chewing gum, during the first half hour he attacked the audience with an unbroken sequence of songs rattled off with such force that most onlookers stood as if straining to keep upright in a wind tunnel. "Heart of the City", "Mystery Dance", "Radio Radio" – all were delivered like lightning bolts. After that salvo, the tone shifted to bring light and shade. "She" was introduced, as was "Spooky Girlfriend", but the general lack of patter meant Costello didn't breach the barrier between himself and the all-ages audience. The songs were mostly well known and, considering it was probably the first time he had played this far north, it was exactly right for a crowd with little opportunity otherwise to see him.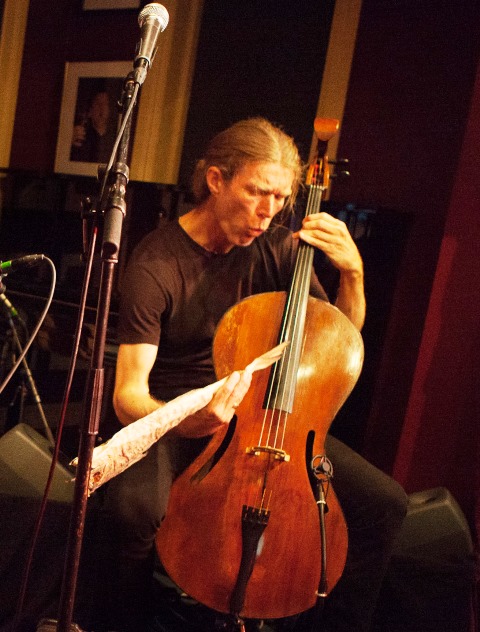 But the highlight of his set came when Swedish cellist Svante Henryson stepped on for a nuanced rendering of "Shipbuilding". As the festival's artist in residence, Henryson cropped up all over the place, whether guesting, in special collaborations, or on his own. Together, Henryson and Costello had written "Green Song" for Costello's 2001 collaboration with Anne Sofie von Otter, For the Stars. Reuniting them was a coup.
As well as working as von Otter's musical director, Henryson has also played bass with Yngwie Malmsteen. That his approach to music is as broad as the festival's came into sharp focus a couple of nights later during his solo show at the British-styled Piccadilly pub, when he played blues on his cello with a stockfish – the local air-dried fish – he'd been given (Pictured above left. Photo by Henrik Dvergsdal). Minutes earlier he was raptly caught in an intense raga. A man who bleeds music.
The night after his Piccadilly appearance, Henryson was on stage at the Kulturhuset with fellow Swede Lisa Nilsson. Her career-spanning concert drew on 20-plus years of recording and had sold out six months in advance. Although pretty much unknown outside Scandinavia, she's a major star with a musical arc taking her near Cassandra Wilson, Bebel Gilberto and Mariza, but with a laid-back approach that's all her own. Again, and without Costello's fire, Bodø was rapt.
Afterwards, in near-daylight at midnight, Bodø took centre stage. (Pictured above: midnight at the Bodø marina) Although rarely in the headlines – in cycling, the Arctic Race of Norway started there last week – Bodø has a history of being at the centre of the news. In 1960, Soviet leader Khrushchev threatened to destroy the city as an American U2 spy plane bound for Bodø was shot down over Russia. Even now, the city shakes as the morning flight of reconnaissance planes takes off.
Khrushchev's threat would have been even more shocking to locals as two-thirds of Bodø was destroyed by German bombing on 27 May, 1940. Norway had been neutral and was under German occupation. The reasons for the destruction remain unclear, but it was probably a warning to Norwegians tempted to join the Free Norway movement. After the bombing, German troops entered the devastated city by bicycle.
Modern Bodø's buildings are, therefore, mostly from the mid-1950s and later. Along the serene streets leading down to the water, they are functional, practical and unremarkable. A group of streets on higher ground above the bay are dubbed "Swedish Town", as the houses there were prefabricated in Sweden and put up during the war for the newly homeless. Current developments progressing by the waterside include a massive, city-block-sized hotel and a new Kulturhuset. On its own, each would dwarf the post-war townscape and loom over the more human-scale marina.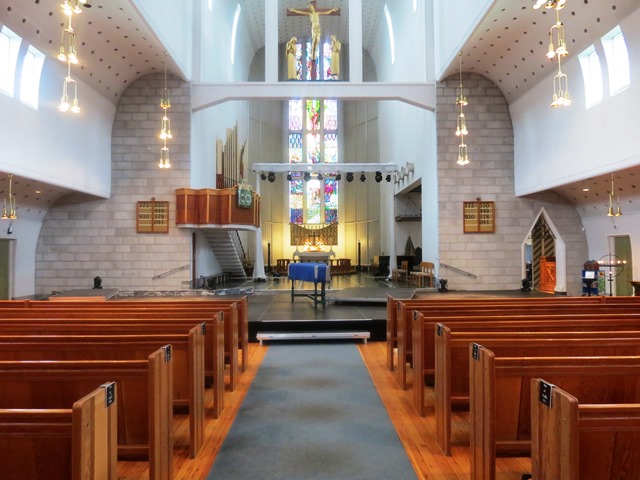 More interesting and appealing are the functionalist, Jugendstil (art nouveau) influenced city hall and cathedral, both completed in the 1950s and both in harmony with the scale of the city. Each has a separate tower. During Nordland Musikkfestuke the cathedral tower's carillon rang out each evening with music played by Gro Bergrabb – including a cheeky version of "She" the evening after Costello's concert. (Pictured above right, the interior of Bodø cathedral)
Whatever is constructed in the city, the wider environment dominates. Bodø feels temporary, as though visiting. It's a quiet place with a calm air: sound vanishes into the infinity of the endless sky. It is water that has had a material impact. Founded in 1816 as an alternative trading centre to Bergen to its south, Bodø first experienced growth in 1864 when the abundance of herring defined the shape of its future economy – in the Nordland museum this period is described as a gold rush. A herring processing plant still sits on one side of the harbour.
Visitors come to fish but they also hike in the mountains and explore the fjords. A gateway to the Norwegian holiday spot The Lofoten Islands, Bodø is also close to the astonishing Saltstraumen, the world's strongest tidal current. South-east of Bodø, the Salts Fjord is forced into a narrow opening where the pressure squeezing water through the gap and against the tide makes the water churn. Idling boats are pulled in circles while the water makes a curious sucking sound as though it were alive. It's an unsettling demonstration of the forces of nature. Around here, the mountains rise by half a centimetre each year.
North and up the coast, after a bumpy but spectacular 40-minute journey by RIB boat, is the tiny, beautiful former trading post of Kjerringøy, whose late-19th century church was co-opted by Nordland Musikkfestuke for a performance by Eline Thorpe. Solo at a piano, her emotive songs conjured visions of Regina Spektor and Denmark's Agnes Obel. (Pictured above left, the quayside at Kjerringøy)
Even without the music, there's more than enough to see and do in and around Bodø. Nordland Musikkfestuke is simply the icing on the cake – or, more appropriately, the snow on the mountain. And nothing could have more appropriate than a mountaintop concert by Norway's own Kari Bremnes.
Bremnes was set to play atop Keiservarden, the 360m mountain overlooking the north of Bodø, but a forecast predicting high winds meant she performed in the city's Solparken, by the cathedral. Born in The Lofoten Islands, her music is about Norway, its landscape and how it is connected with the people. For over 25 years, she has defined the mood of what it is to be Norwegian for Norway. Keiservarden would have been her perfect venue.
The experience of being amongst an audience familiar with a mainstream artist who has been a star to them for a significant part of their lives is initially odd. Bremnes has a large following in Germany, but she belongs to Norway. Greeted warmly – more as though she's returning home than as a star – she opens her arms to welcome the world. She may be someone you would have to have grown up with, but it's easy see her appeal, regardless of the language barrier, and the feeling of initially seeming an outsider at this peculiarly Norwegian gathering soon wears off. (Pictured below, Kari Bremnes at Bodø's Solparken. Photo by Henrik Dvergsdal)
Despite being slathered in Eighties-style keyboard wash and punctuated by fiddly, distracting drum fills, her songs ebb and flow like the nearby tide. Her voice is rich and direct without the tremulousness usually associated with artists in tune with the environment. She's not rock, but her music wears the trappings of rock.
With its carillon ringing out, a sense of welcome also reached out from the concerts held in the Domkirke. Set aside for classical music, the airy cathedral was – like the city hall – designed by the architects Gudolf Blakstad and Herman Munthe-Kaas. Formed from steel and concrete, it appears as light as a timber structure. In this striking modernist building, Akademie für Alte Musik Berlin (The Berlin Academy of Early Music) with guest soprano Johannette Zomer turned back time with an evening of Bach. Their performance of Weichet nur, betrübte Schatten stood out, not least due to their extraordinary cellist. Playing without a spike to root his instrument, he bounced along with the music, leaning forward to slice his bow across the strings of the cello cradled between his shins.
Even more striking was the cathedral performance of Vivaldi's The Four Seasons by violinist Henning Kraggerud and The Tromsø Kammerorkester. With specially written and spoken introductions from the Norwegian author and poet Erik Fosnes Hansen, this concert had a unique vitality. Clearly loving playing with Kraggerud, the orchestra drove the performances forward, feeding their temporary leader. Kraggerud was magnetic, precise, urgent, aggressive and expressive. Any notion that music written 290 years ago would be set in aspic was blown out of the water by this unselfconscious display of raw energy. (Pictured left, Henning Kraggerud with the Tromsø Kammerorkester. Photo by Henrik Dvergsdal)
Kraggerud may have drawn energy from the powerful atmosphere of this region, but despite Elvis Costello's crack that rock 'n' roll was invented in Bodø, we know it wasn't. The city was home, however, to 1-2-6, one of Norway's best Sixties bands whose Dylan-influenced 1967 single "Graveyard Paradise" was a national hit. Its sound might not reflect the surroundings, but nowadays Bodø and its environment are more than amply complemented by the riches on offer at Nordland Musikkfestuke. If an excuse is needed to go to this part of the world, this festival is it.
Listen to 1-2-6's "Graveyard Paradise"
Its uncommonly broad booking policy makes Nordland Musikkfestuke a major event
Share this article