theartsdesk on Vinyl 79: Primal Scream, Girl Ray, Mort Garson, Barbie, Nina Simone, Dengue Fever and more |

reviews, news & interviews
theartsdesk on Vinyl 79: Primal Scream, Girl Ray, Mort Garson, Barbie, Nina Simone, Dengue Fever and more
theartsdesk on Vinyl 79: Primal Scream, Girl Ray, Mort Garson, Barbie, Nina Simone, Dengue Fever and more
The largest, most wide-ranging, regular record review in the universe
Thursday, 07 September 2023
Always spinning those golden beats
VINYL OF THE MONTH
African Head Charge A Trip to Bolgatanga (On-U Sound)
The latest album from percussionist Bonjo Iyabinghi Noah and On-U Sound producer-par-excellence Adrian Sherwood is stunning. 40-something years into their collaborative career, it proves the pair are still more than capable of offering sonic surprises. A Trip to Bolgatanga is more in-yer-face than a fair chunk of African Head Charge material, less stoned and dubbed out… well, it's dubbed out alright but comes clattering forward in the mix, energized and foot-moving rather than bonging on the sofa. It even boasts unlikely clubby tunes, such as the house music bounce of "Accra Electronica". On-U mainstays Skip McDonald and Doug Wimbish hold things tight, while raucous vocal input from Ghanaian kologo (lute) player King Ayisoba adds another dimension. As African Head Charge's (I think) sixteenth studio album, it will likely not create waves, but it deserves to as it's one of the month's most exciting and adventurous releases. Comes with 12" x 12" card art mask insert.
VINYL REVIEWS
The Sindecut & Ijeoma Late (Tru Thoughts) + Sirens of Lesbos Peace (Sirens of Lesbos)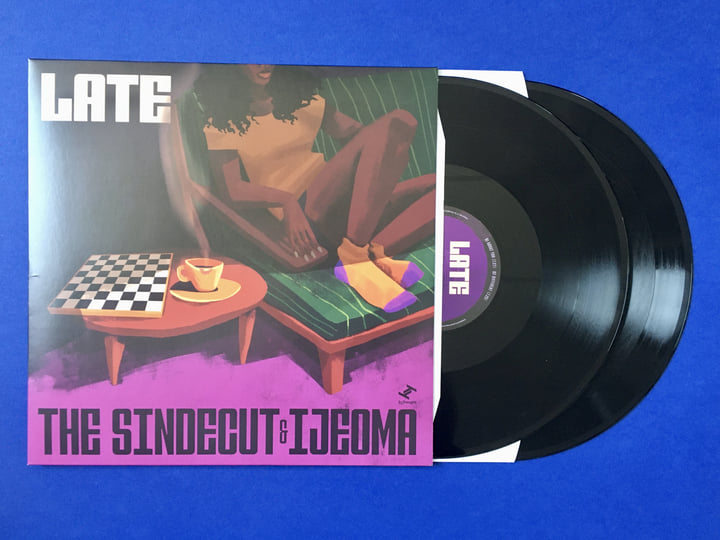 Two albums wherein soul and R&B wander on through pop to somewhere new-ish. Limited to a 500 run on vinyl, the new collaboration between original UK hip hop unit The Sinedcut, featuring turntablist DJ Fingers, and London-based singer Ijeoma, combines iron-tough rhythms with consistently impressive soul vocals and music that runs the gamut from the rock-soul of "Different", to the heartfelt rhythm'n'blues-tinted "Better Than Never", to the reggae-favoured Funki Dred vibes of "Change", to the straightforward jazz-funk slowie "What You Love". It's a masterly set, perhaps even more so, in that it's not in one of this writer's go-to musical styles. Comes on double. Swiss outfit
Sirens of Lesbos' second album features Bootsy Collins, Joshua Idehen and others. I'm not sure exactly who's doing what or what the song titles are, as I've been sent a white label, but each song is a welcome surprise. The production has a zonked marijuana vibe, also hip hop funky, a little bit Solange Knowles-ish but more consciously electronica. There are raps, Funkadelic goes hip hop sequences, Frank Ocean 3.00 AM cuts, and squidgy, skittering requests for "a little peace". Stoned, smooth, imaginative and ear-friendly, it's a late-night gem. Incidentally, those who might, please don't send me white labels. I absorb much more from finished albums and their packaging. They tell a story I can sink my teeth deeper into.
Primal Scream Reverberations (Travelling in Time): BBC Radio Sessions & Creation Singles 1985-1986 (Young Tiki/BBC)
The epochal NME cassette C86 famously summed up the Eighties indie sound, which was later termed "shambling", bands mostly in thrall to The Byrds and The Velvet Underground, but heavily influenced by punk's don't-give-a-damn production ethos. Some acts sneerily offered feeble offcuts to C86 and, in fact, the collection is consequently a better concept than compilation. One band who got it right, though, were Primal Scream whose "Velocity Girl" is a perfect less-than-two-minute nugget that sums up the creative mindset. It's here twice on a new collection, which gathers two John Peel BBC sessions from 1985 and 1986 together with a 1986 Janice Long BBC session, and everything from the band's first two singles, including the short squalling noise-bath "Spirea X" from the 12" of "Crystal Crescent" (which also hints where the band would go next, before they eventually turned on to Ecstasy). What surprises from this distance in time is how well-constructed the songs are, mostly lovely, the likes of "I Love You", "Silent Spring" and "Leaves". Bobby Gillespie sounds young, uninhibited, vulnerable, even faintly innocent (compared to later!), throwing himself 100% into inhabiting a fey-sounding persona, while the band deliver elevational jangling pop. I'd not heard some of these songs for years, a few of them not at all, and am surprised how likeable they are, how melodically persuasive, working well together as an album. Comes on transparent blue vinyl in art gatefold with a photo/info inner sleeve and an eight-page booklet containing photos and background from Bob Stanley, and the Scream's then-guitarist Jim Beattie, as well as a relevant snippet from Gillespie's memoir Tenement Kid.
Teri Gender Bender Outsiders + Catspeak (Clouds Hill)
Two 10" EPs from the prolific Mexican frontwoman of feminist punk band Le Butcherettes. Playing almost all the music herself, every one of these ten songs has legs, the lyrics oblique but the tunes immediate. Not raging punk, it's new wave-flavoured indie pop. "You're stuffing splinters through my mouth/Licking all the soft spots that are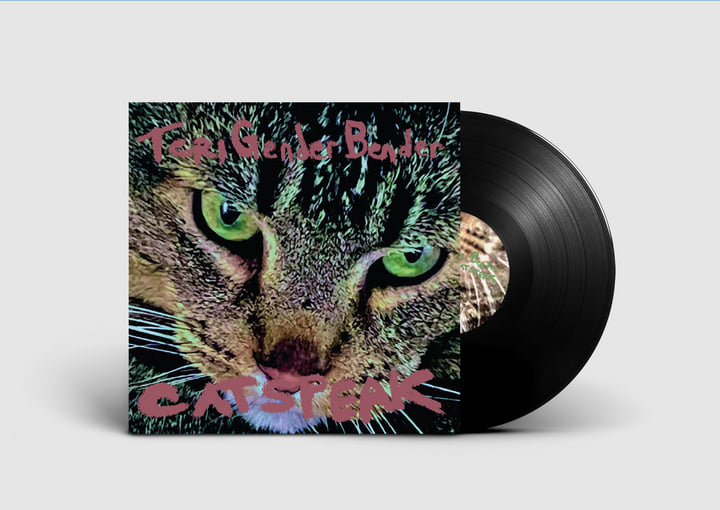 bound down to me," she rages on the feisty "Misery and Us", and makes me think of PJ Harvey, while "You Won the Man" is a more straightforward sarcastic narrative about the politics of relationships. Simply solid songwriting. Oh, and my copy arrived with a garish pair of pink, green and yellow Teri Gender Bender socks!
Mort Garson Journey to the Moon and Beyond (Sacred Bones) + Black Dog Productions Bytes (Warp) + The Black Dog Spanners (Warp) + Black Light Smoke Ghosts (Scissor & Thread) + Mitch Wellings Space Tours: The Legacy of Phoenix (Space Tours) + Cosmic Neighbourhood Gatherings (Rivertones)
Every month there's one style of music that excels itself, with multiple worthwhile releases, leading to a gigantic review like this one. This month it's electronica of various eras. To start, rewinding the clock through the decades is a new collection from the Sixties/Seventies Canadian Moog pioneer Mort Garson. Hailing from a background in orchestral arrangement and easy listening (he worked with Doris Day and Glen Campbell amongst many others), once he'd met Robert Moog, he became a convert and Journey to the Moon and Beyond offers up a smörgåsbord, ranging from the pure bloopy analogue electronics of his TV work (a National Geographic special, cues for the 1969 Moon landing, advert material) to kitsch lounge-pop, such as "See the Cheetah" (released as a single in 1967 under the name Big Game Hunters) to his demented, speeding attempt at disco, "Disco UFO (Pt II)". Comes in die-cut cover, art inner sleeve,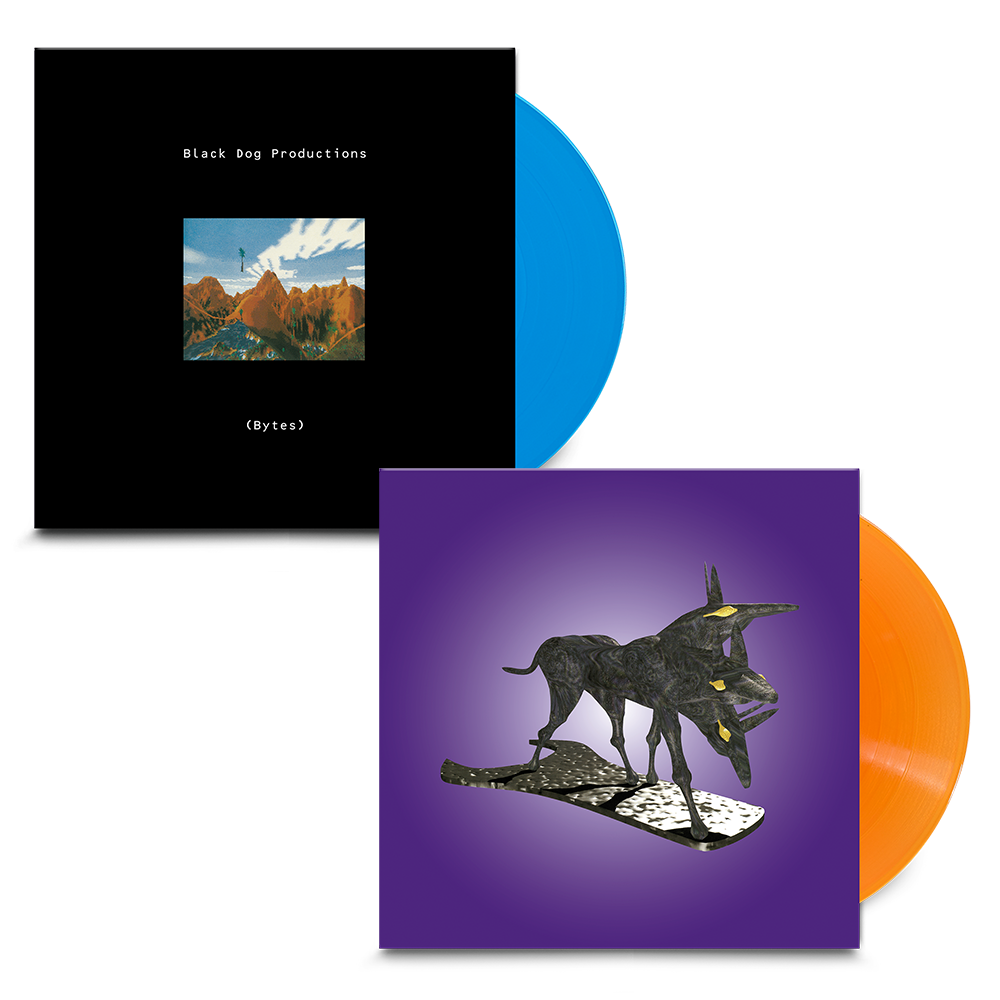 with a poster. When the Sheffield trio The Black Dog first appeared, their 1993 debut album for Warp Records, Bytes, was presented as a compilation. The opening track "Object Orient" was by Plaid, the name under which Ed Handley and Andy Turner would continue when they split with Ken Downie in 1995. Their first and third albums as a trio now receive a re-release, all of them key texts in the development of techno-flavoured home listening that would be favoured by a particular type of (mostly male and trainspotter-ish) 1990s music fan and dance music journalist. In a way, if we regard acid house and rave culture as equivalent to the late-Sixties psychedelic rock explosion, then what came to be known as IDM, which followed, has parallels to Seventies prog-rock. This isn't to completely besmirch it for, unlike most prog rock, which theartsdesk on Vinyl has little time for, the stark head-music of Bytes has appeal, beats'n'effects, also nostaligically redolent of smoke-filled rooms with eyes-closed E-heads. Some cuts are techno space-outs but others, such as "Focus Mel", have a staunch electro edge. Where Bytes was a groundbreaker whose appeal may be harder to gauge for most under 40, 1995's Spanners sees The
Black Dog fully bedded into their sound, exploring the possibilities and, while not as influential, is actually a far more wide-ranging expedition, diving into minimalism on cuts such as "Bolt3" or creating cinematic dub, especially on "Pot Noddle". Both albums come as doubles in art gatefold. New York producer Jordan Lieb's longterm day job is composing music for film and TV, notably the long-running US soap opera One Life to Live. However, he also lets off steam by creating club-friendly music and his second album, Ghosts, is a double in gatefold, full of classy, mid-paced tech-house. It's the kind of music that sounds great at 4.00 AM, jogging from foot to foot in a half-full festival marquee, a club back room, or an easing-down beach party, but, in the cold light of day, can come across a bit dull. Effortlessly sleek but with bubbling forward movement, it's probably more for Ibiza-centric DJs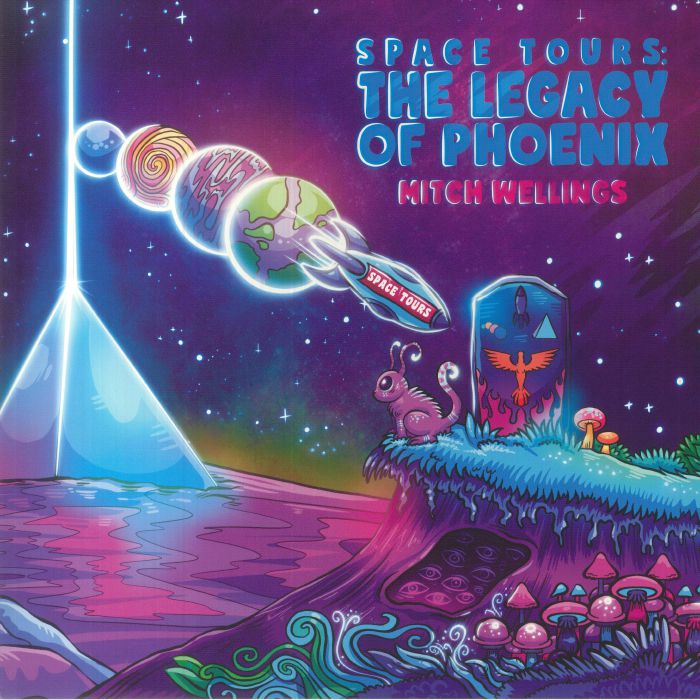 than everyday home listening. Mitch Wellings runs what may be the sole vinyl electronic label in Stoke-on-Trent. He has, thus far, fired out a series of dancefloor EPs, drawing attention from DJs such as Sasha and Gerd Janson, but now he's realised a double concept album. The idea is that it's about a guy gaining mystic insights via travels in space. Don't run away, though. Although there are voice actors occasionally performing roles, most of the album is electronica that's warm, appealing and often sets the legs twitching. There's plenty of imaginative 4/4 action alongside squidgier, less beat-driven episodes. It recalls, in feel, some of the more esoteric releases put out by the Raja Ram/Simon Posford axis on TIP Records, although it's certainly not psy-trance. An enjoyable odyssey, clearly made for the love of it, and of a kind one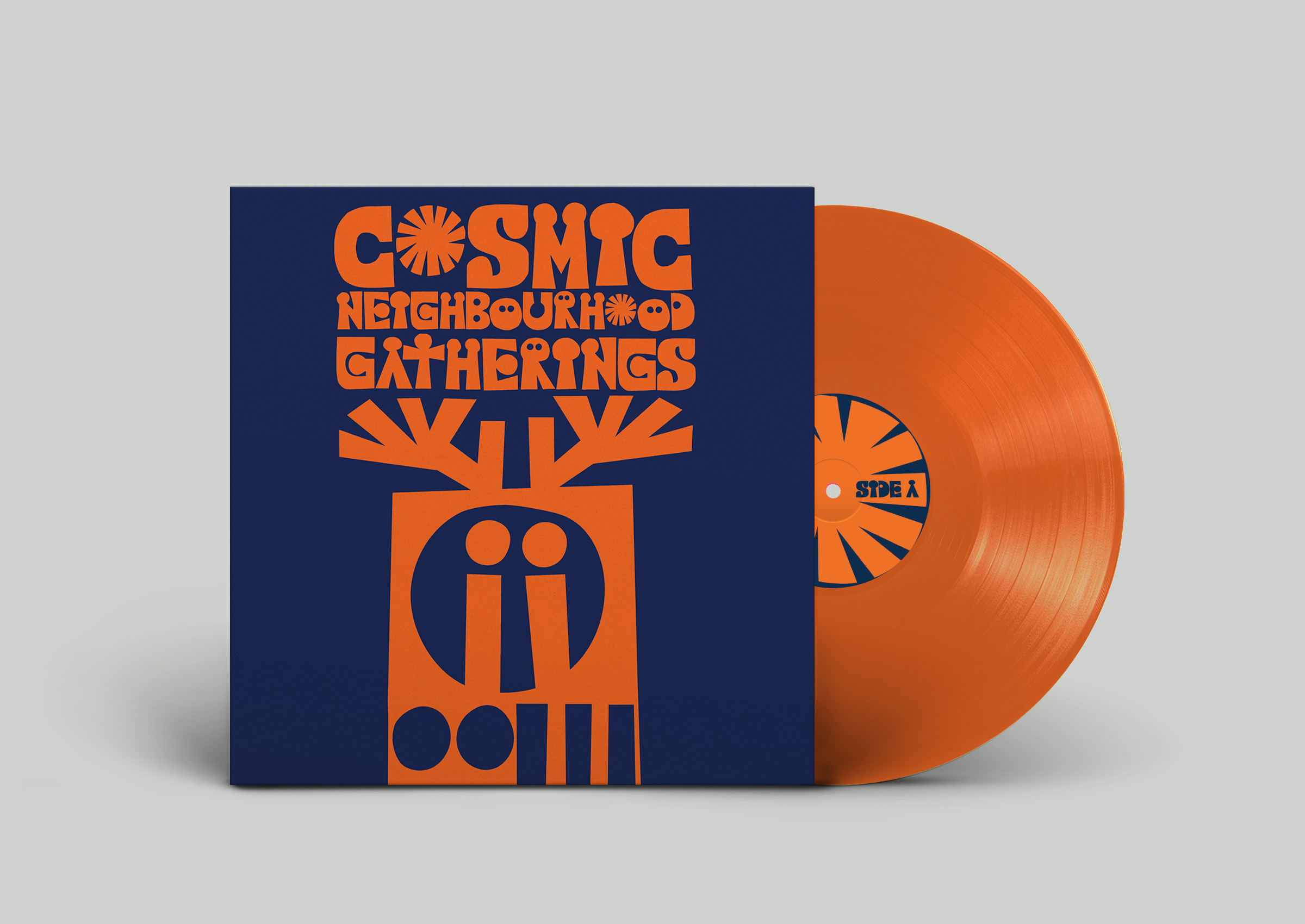 seldom hears anymore. Finally, the delicious analogue synthesizer wooblings of illustrator and retro-electronica fan Adam Higton, AKA Cosmic Neighbourhood. Mingling Moog, mellotron, field recordings, sedately-used drum machines and various other bits'n'pieces, this debut album brilliantly mingles Boards of Canada-style folktronica instrumentals with sounds that conjur BBC Radiophonic Workshop material from sinister 1970s children's TV programmes. The result is proper mind gurgle, slightly deranged but sometimes hitting a pacey motorik groove, with whiffs of everything from Terry Riley to Suicide along the way. Great stuff and on bright orange vinyl.
Peter Culshaw Music From the Temple of Light (Iskra)
The respected writer Peter Culshaw, author of Clandestino: In Search of Manu Chao, releases (I think) his debut album. There's always been a punk rogue side to Culshaw (the album is partly dedicated to his late friend Malcom McLaren, the sale of whose 1989 Merc partly paid for it), but this music is dedicatedly spiritual, drawing deep from the well of his travels, most especially on the Indian subcontinent. Culshaw on piano is at the centre of things but surrounded by bamboo flute, tabla and vocals, as well as multiple guest musicians on all manner of exotic instrumentation. While there are a few feisty cuts, notably the start of one of the album's highlights, the three-part "Fire and Rose Suite", most of the album is ruminative, its jazz edge and sense of adventure keeping it away from new agey reiki parlour fare. One to drift to. Comes with a small four-page booklet explaining the background.
Nina Simone You've Got to Learn (Verve) + Various Tell Everybody (Easy Eye Sound)
Two albums with different slants at the blues. You've Got to Learn is a six-track set taken from Nina Simone's performance at the 1966 Newport Jazz Festival, cut fat and loud to vinyl. It sees her mingling her hard-earned jazz reputation with her increasing interest in civil rights, so that Charles Aznavour's "You've Got to Learn" is in there but so's a unique and tender version of "Mississippi Goddam". Bluesiest of all is "Blues for Mama", a feminist battle cry, ripped from the soul. Simone channels a multitude of feelings into her performance; her delivery, alternately
forceful and clement, gives these songs additional nuance. Comes with an 10" x 10" insert giving background. Tell Everybody is subtitled "21st century juke joint blues from Easy Eye Sound" which is Black Key Dan Auerbach's Nashville label. It's a rip-roaring collection, ranging from oldsters giving it gutbucket raw, as with Robert Finley on the title track, to younger performers such as Gabe Carter with the amped, simple, effective "Buffalo Road", and Auerbach's own "Spirit in the Sky"-style stomp "Every Chance I Get (I Want You in the Flesh)". A muscular collection that comes on blue vinyl with A4 info insert.
Kingsley Beat & the Ramshackle Music Collective Greatest Hats (Kitchen Creative)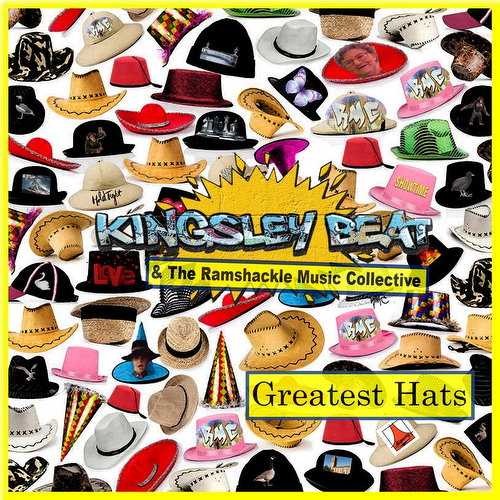 London singer Kingsley Beat – AKA Andrew Baines – releases a debut album on his own micro-label. That it looks cheerfully homemade and PhotoShopped, with passport-style shots of contributors on the back, belies the fact that the music within is rife with spirit and, more importantly, songs that snag in the memory. Baines is clearly in thrall to the "baggy" era, when Madchester ruled the waves, and his work is often filtered through that. Such a narrow, retro musical worldview might normally put me off but opener "Showtime" ensures the attention is held, a smasher of a song. Every time the walking-in-the-steps-of-The-Stones-Roses aspect starts becoming a bit much, songs arrive that reinvigorate; the slowies "Balcony" and "This Heart", the golden jangle-pop of "Ju Ju Belle", featuring great guitar by Tom Fassnidge, The Housemartins-like "Make the Monsters Go Away", and more. You may have a job tracking this one down (check the buying link on this page) but fans of vivacious indie songwriting delivered with verve would do well to check it out.
The Fun Boy Three The Fun Boy Three (Chrysalis) + Fun Boy Three Waiting (Chrysalis)
Fun Boy Three were the band Terry Hall, Neville Staple and Lynval Golding put together after they left The Specials. The group only existed for about 18 months but both their albums are essential. The debut from 1982 launched the career of Bananarama, who sang on the Top 5 single "T'Ain't What You Do (It's the Way That You Do It)", but is more interesting for its wilfully uncommercial sound, hacking back instrumentation to a vaguely Afro-flavoured dour percussiveness, over which defeated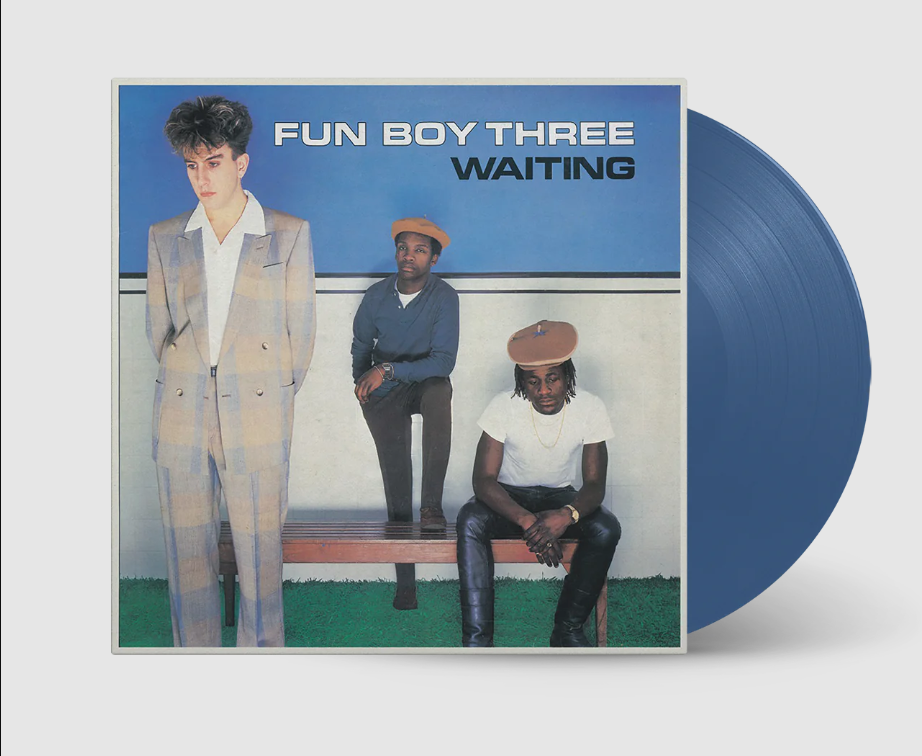 sounding chants form the songs. "The Telephone Always Rings" is a stand-out example but, rightly, the most famous song is the deathlessly relevant "The Lunatics (Have Taken Over The Asylum)". The second album, Waiting, from a year later, features songs that are lush and more fully formed, baroque pop, doomed but tuneful, about the meaninglessness of romance, the politics of weed dealing, and Terry Hall's own sexual abuse as a child on a school trip to France. "We're having all the fun," they deadpan on one song. Both albums are brilliant but Waiting, with its carefully crafted narratives and whistlable tunes, is the more approachable.
The Kevin Fingier Collective Not Strictly Soul (Fingier/Acid Jazz) + Marden Hill Blown Away (Acid Jazz)
Two from Acid Jazz that are well worth the price of entry. Buenos Aires mod and club-runner Kevin Fingier gives us his second album of lively bouncing soul cuts, unavoidably and joyously deep-dipped in his local Argentinian sounds. Playing guitar and Hammond, and utilizing retro equipment, he leads a sizable band whose jazz chops allow for a looseness, intermingling tightly constructed songs with a snifter of Northern Soul. Not Strictly Soul sounds both old and new, like the sort of thing anyone with dancing shoes would be pleased to come across in a far-flung festival tent. London outfit Marden Hill were an early Nineties outfit, originally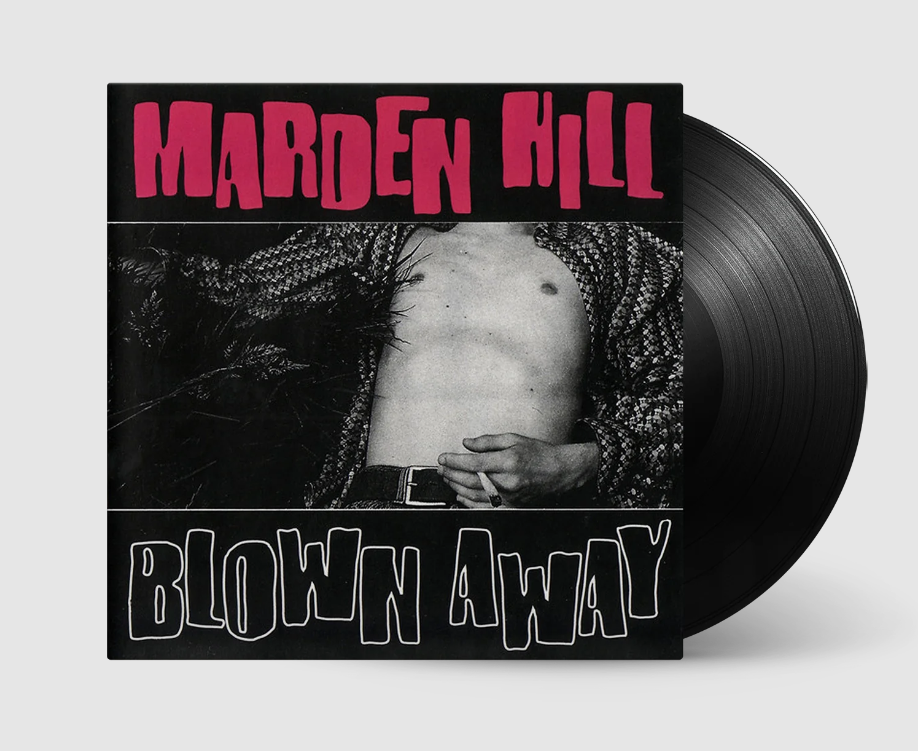 signed to Mo Wax. Blown Away is a 1994 remixed version of their debut album, Sixty Second Man, which came out the year before. The sound is somewhere between Stereo MCs, The Sandals and the Galliano remix album Thicker Plot, which is to say it has a rolling bongo dub feel of the kind Andrew Weatherall was into at the time. Lyrics, where there are any, are often sung-drawled and semi-spoken, apart from Viv Stanshall's crisp tones on the zonked "Bombed on Heavy". Any slack is taken up by muted trumpet and sassy sax. A cult classic for connoisseurs of this sort of thing.
Various Barbie: The Album (Atlantic)
The biggest film of the year has given birth to the biggest album of the year. Helmed by producer Mark Ronson, the vinyl version appears, of course, on garish fluoro-pink vinyl, in a photo inner sleeve with notes from director Greta Gerwig and Ronson himself, as well as a 12" x 12" four-page photo/info insert with. Theartsdesk on Vinyl is not sent enough pure 2020s pop, partly because a lot of it never appears on plastic, so it's a pleasure to have this compilation, so saturated with the names of now – Lizzo, Charli XCX, Sam Smith, PinkPantheress and so on – and including biggies such as Dua Lipa's suburban disco monster "Dance the Night" (it's tricky to resist the choreographed clapping, even if you try) or the breathy balladry of Billie Eilish on "What Was I Made For?" (although I do wish Eilish would go back to making bangers instead of turning into the electropop Adele). And then there's Ryan Gosling's preposterous, prog-musical theatre anthem "I'm Just Ken", madly OTT but contagious. Special mentions also to Tame Impala for "Journey to the Real World" and the shouty electro-rock stomp of "Butterflies" by Gayle.
Dengue Fever Ting Mong (Tuk Tuk)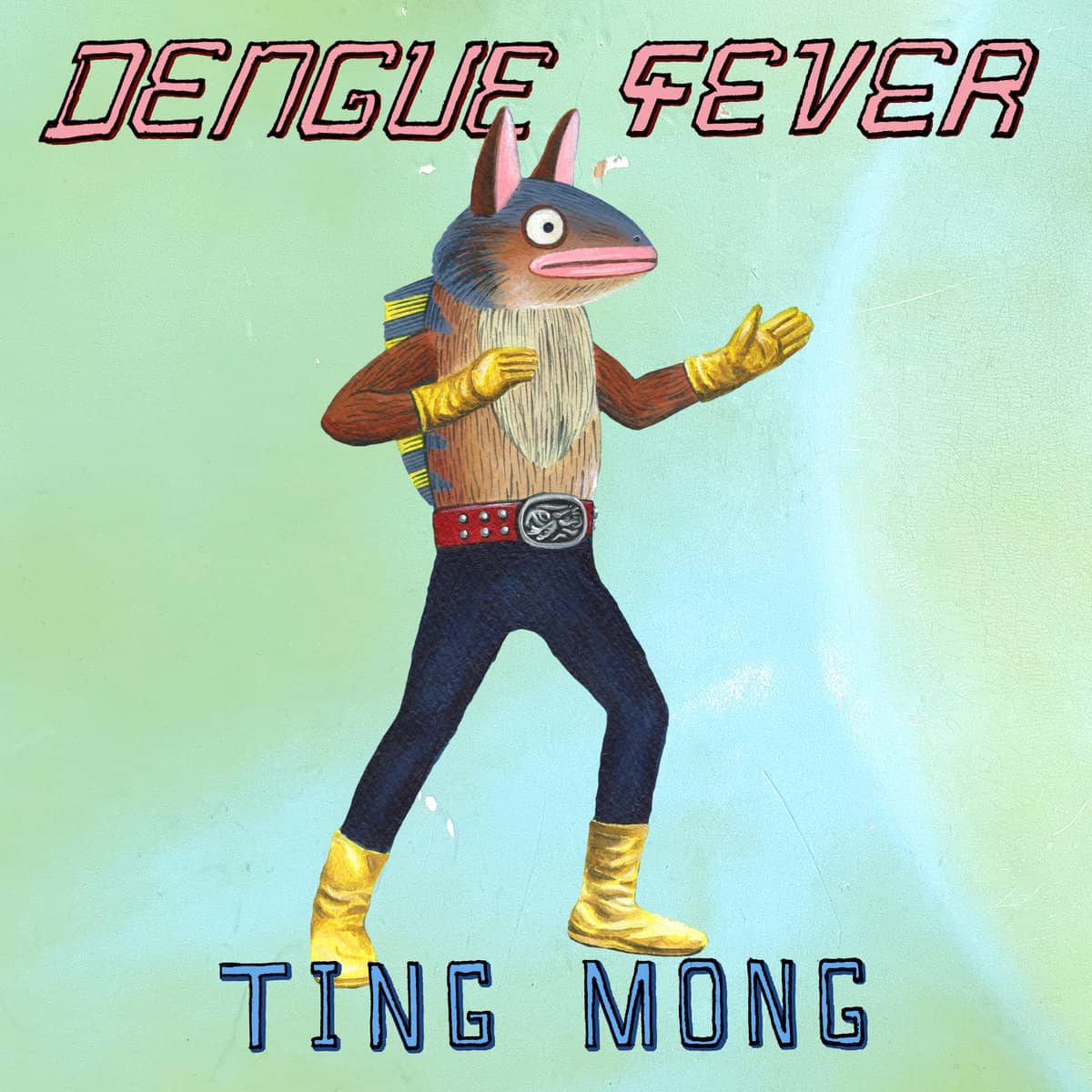 Los Angeles band Dengue Fever have been around for over 20 years but haven't recorded an album in eight. Their remit is so unique, though, that interest in what they do has only grown, especially via their 2007 documentary Sleepwalking Through the Mekong and a play, Cambodian Rock Band that incudes them. Fronted by female singer Chlom Nimol, they've based their sound on Cambodian pop-rock of the Sixties and Seventies, a celebration of all that the Khmer Rouge swept away, both covers and originals. Their latest successfully continues their legacy and also includes some lovely English language pop-rock, such as the catchy "Great on Paper". As the popularty of music that fuses indie with "world music" rises, acclaim for Dengue Fever will only grow. Comes in gatefold with art/info inner sleeve.
Benjamín Gísli Trio Line of Thought (Fjordgata/Reykjavik) + Huw Marc Bennett Days Like Now (Albert's Favourites)
Two very different faces of jazz, both drawing heavily from the modern classical palette. Norwegian pianist Benjamín Gísli releases his debut solo album following acclaim from the international jazz community for releases with the Bliss Quintet and the Bento Box Trio. Accompanied solely by Andreas Solheim on bass and Veslemøy Narvesen on drums, the appeal of this album is the way it stays away from obvious jazz tropes and embraces a twitchy minimalism. Created in Iceland, perhaps Gísli and cohorts absorbed some of that country's unadorned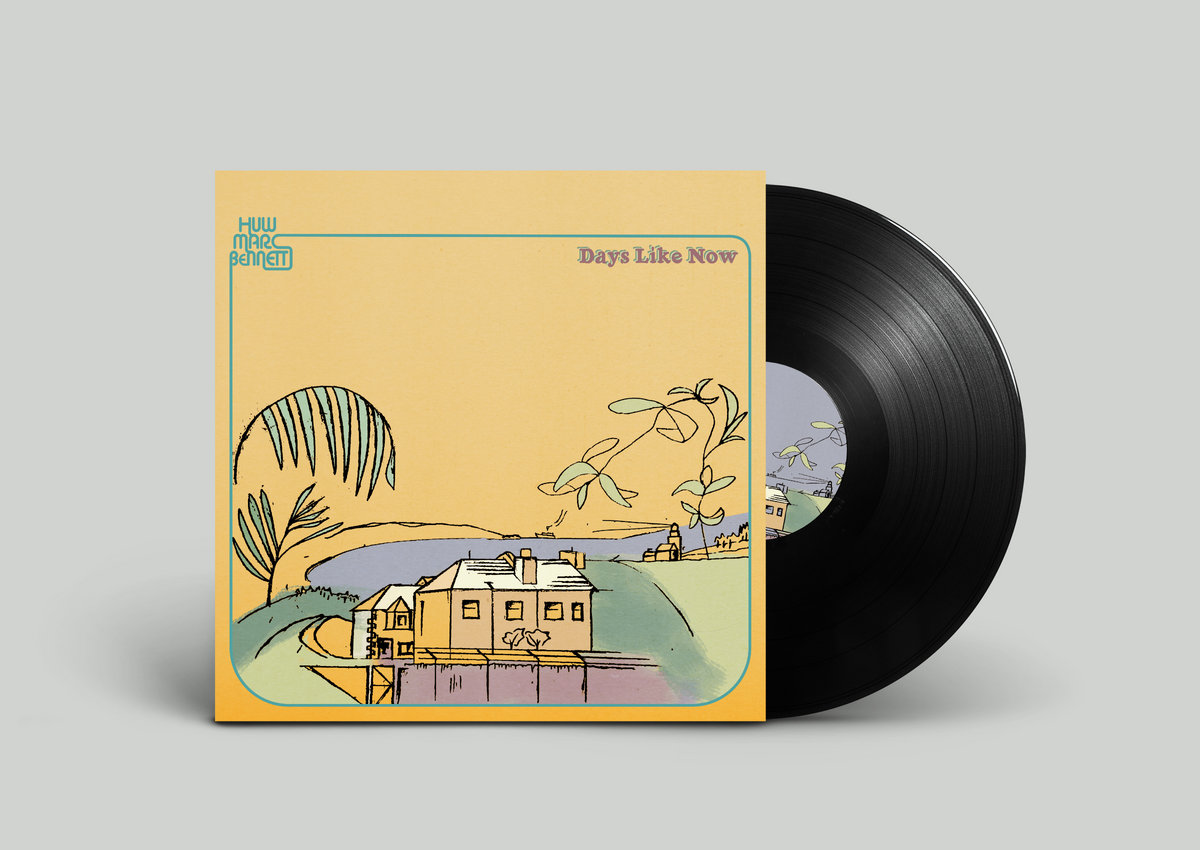 aesthetic. His playing is often abstract but is captured within the net of his rhythm section, the whole adding up to a music that emanates darkness flecked with light. With his debut album, Treslilian Bay, three years ago, Huw Marc Bennett offered up an unexpected take on the pastoral-instrumental. He now returns with an more fully formed vision. Of Welsh origin but based in London he has said that being away from his home country has allowed him a deeper perspective on his love for it. It's a musical romance that's flourishing, for Days Like Now is akin to a folk-jazz documentary soundtrack. Featuring the occasional female vocal, it's a wistful, faintly dub-touched jog of plucked guitar, subtle synthesizer, and warm sweet feeling, cuddly even. Comes with art/info inner sleeve
Tucker Zimmerman Over Here on Europe (Big Potato)
Tucker Zimmerman is an American singer-songwriter of the Sixties generation who, like Leonard Cohen, spent much time in Europe and let that continent's approach to poetry/literature bleed into his music. His third album, explicitly entitled Over Here in Europe, was recorded in France. It's a delight. Zimmerman was exploring the possibilities of synthesizers and the Ondes Martenot, both of which provide an added layer to his strumming and skilled songwriting ability. He has an atypical warbling voice whose quiver adds emotion to a set of songs that combine mythic American themes with love, dope-smoking and philosophical ponderings. An accompanying 12" x 12" insert contains background info and a recent interview with Zimmerman, who lives these days in backwoods Belgium, and intimates that Over Here in Europe backing singer Marie-Claire may be his longterm partner. He was an early favourite of Bowie. It's easy to hear why. This is an original slant on well-worn singer-songwriter stylistic tics of those times. And the songs are great. Just check out "Oregon", as a way in.
Girl Ray Prestige (Moshi Moshi)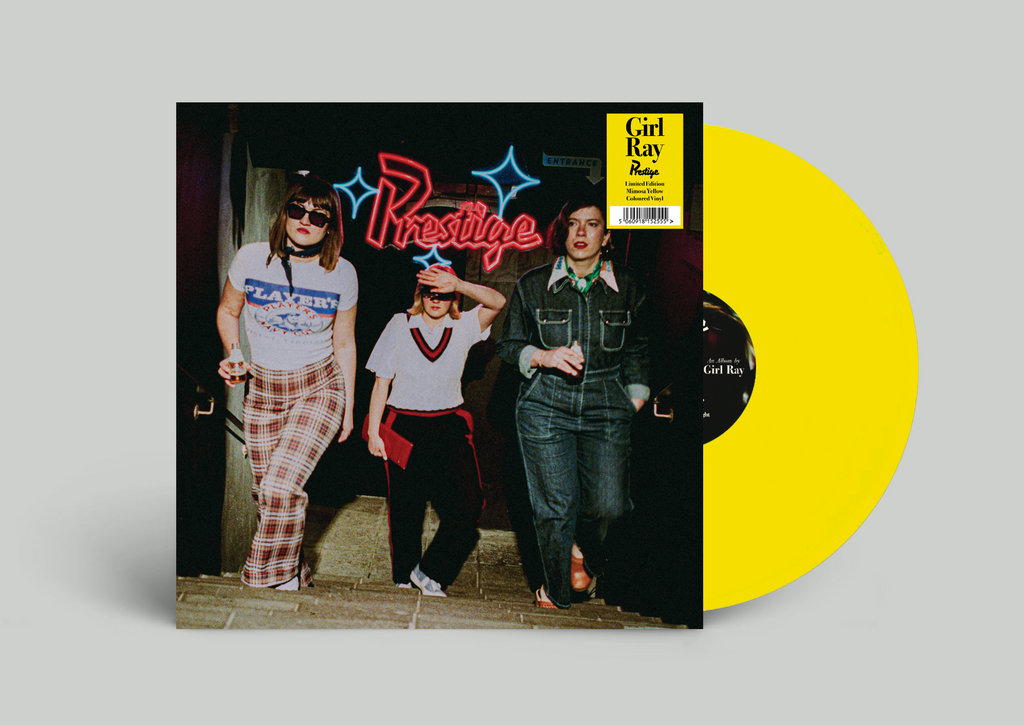 London trio Girl Ray are up for fun on their third album. The all-female group's first outing, 2017's Earl Grey was a bright set of Haim-like indie-pop, their second, 2019's Girl was a dreamier affair, pushing their sound somewhere hazier and more chilled. Their third, however, takes disco as its template. They maintain a light, airy vocal fronting radio-friendly tunes, but this time it's all embedded within strings and funk-bounce bass, not a million miles from Dua Lipa's Future Nostalgia but more earthy, performed and "real". As you can see from the cover, the three project their own image, many miles from that foisted on many female singers, and Prestige feels like the one which might push them to the next level. Comes in photo/lyric/info inner sleeve.
ALSO WORTHY OF MENTION
Public Service Broadcasting/BBC Symphony Orchestra/Jules Buckley This New Noise (BBC/Testcard): Public Service Broadcasting were the perfect outfit to represent the centenary of the BBC at the 2022 BBC Proms at the Royal Albert Hall last year. This recording is that concert but remixed and fiddled about with by PSB main man J. Willgoose Esq. It's a more thoughtful and cinematic affair than the likes of their electronically fizzier The Race For Space album, due to the orchestral element, but is also a nostalgia-fest for the decency and possibility that the BBC offered in its early days (and still often does, despite the Tories top-loading it with their stooges to undermine its image). Features voices ranging from George Brenard Shaw to original Director General William Reith. Comes on two records in gatefold, with inner sleeves full of background info about the pieces and the project.
Lush Spooky + Split + Lovelife (4AD)
Back when they were about, 1987 to 1996, I never had any interest in Lush, but a friend persuaded me to read singer-guitarist Miki Berenyi's recent autobiography Fingers Crossed. It's a gripping tale, made riveting by Berenyi's unforgiving self-awareness and honesty. Quite apart from Lush, her early life, a wild child of absentee parents, makes for shocking reading. Even before she's born, the account of her heritage alone is completely compulsive. Thus, with the rerelease of Lush's three albums, Spooky from 1992, Split from 1994 and Lovelife from 1996, I was keen to check the music I'd just read about. With debut Spooky, I remain as underwhelmed as I ever was by its wispy sub-Cocteau Twins waftings, but by the time of Split, their jangle has become sturdier, their songwriting stronger and the harmonies impressive. By the time of Lovelife, their mingling of Brit indie tropes with something studier and more US college radio-friendly is going places. One thing Berenyi's book accidentally reveals, is what a cliquey, snipey London indie-world milieu Lush hailed from, her relentess gig-going and resultant contacts undoubtedly a factor in their signing to 4AD, but while their debut can be cynically viewed in this light, the other two albums are meatier, worthy of attention, and, perhaps, deserved greater success than they achieved. All three come on transparent vinyl with art/info inner sleeves.
Various Late Night Tales presents After Dark Vespertine (LateNightTales) + Various Richard Sen presents Dream the Dream: UK Techno House and Breakbeat 1990-1994 (Dance Music From Planet Earth): Two very different compilations from the world of electronic dance music. The latest edition of After Dark, the fourth, is, once again, curated by writer and DJ Bill Brewster. The idea behind this series is that it's dance music with the gnarly bangin' filleted out, be that new cuts, exclusives or lost crate-dug rarities. So, loosely Balearic, then. This edition runs the gamut from a bubbly edit by Nail from Bent of Gilbert O'Sullivan's unlikely 1990 electro-pop single "So What" to the chill-out funk of "Le Chiffre" by Canada High to the trombone'n'Moroder pulse of "1998" by Fernando Pulichino to my favourite cut, the 1985 single "Nijána" by Czech singer Jana Koubková, a hypno-weird percussive thing. Also on board is a Mang Dynasty Irreverent Dub remix of Khruagbin's "So We Don't Forget" as well as music from Chas Jankel, Hot Toddy and others. The best of it is noticeably desirable. Comes on double on right red vinyl. Richard Sen, once of Bronx Dogs and Padded Cell, releases a two-record set of deep cuts from the early Nineties, techno-centric but swerving away from the ever-popular but much-pursued breakbeat "hardcore" boom. While still keeping a foot in the rave, Sen is more interested in tunes that reinvent Detroit's gift to the world as something pared-back and hypnotic. Renegade Soundwave's "The Phantom" is not here but it's a good reference point for what he's going for. Artists on board include Bandulu, Darren Price (in his early Centuras trio) and Dream Frequency, but the listener is as likely to find lost gold they've never heard of, such as the proto-Afro-techno of "Rave on the Congo" by Strontium 90 or the washy space groove of Isatai by As One (a Kirk Degiorgio pseudonym). It's a connoisseur's excavation rather than a welcoming nostalgia trip (not all of it's even especially dancefloor), but for heads and DJs interested in the period, there's certainly interest.
Headcat Walk the Walk… Talk the Talk + Live in Berlin (BMG): After contributing together to an Elvis tribute album in 1999, Motörhead's Lemmy, Stray Cat Slim Jim Phantom and rockabilly guitarist Danny B Harvey would occasionally gather in concert and in the studio to play rock'n'roll covers. 2010's Walk the Walk… Talk the Talk is their second album (or third, if you want to be pedantic, as they released their first album twice in slightly different forms under different titles). While hardly essential, it's fun, mainly for hearing Lemmy's unique voice gravelling around cuts such as "Shakin' All Over", "Something Else" and "Say Mama". It also includes two welcome originals "The Eagles Flies on Friday" and "American Beat". However, the best way to catch this act was undoubtedly live, as can be heard on the newly released double set on Barbie-pink vinyl. Recorded at Huxley's Neue Welt in 2011, Live in Berlin ramps up the raw, as befits the sound being made. Both releases come on gatefold.
Mr Scruff Trouser Jazz (Ninja Tune) + The Bees Sunshine Hit Me (We Love You/PIAS): Two affable and well-loved albums receive a 20th anniversary reissue. Trouser Jazz by Mancunian DJ-producer Mr Scruff was a Top 30 hit on its release. It was his third album and marked a slight step away from the idiosyncratic English whimsy'n'beats that came before. But only slight. It still has a track called "Valley of the Sausages", bloopy oddness such as "Ug", and is still constructed from samples and beats. But there's also a deliberate move towards a more formal funk, as on the summery groove of "Shrimp". Comes on double on blue and red vinyl in a cartoon art gatefold with cover art featuring an "infinitey peelable trouser sticker", in the vein of the first Velvet Underground album. Scruff's art remains a delight (his 2008 Ninja Tuna USB stick hangs, still packaged, on the wall of theartsdesk of Vinyl's office). The Bees, from the Isle of Wight, are equally amiable. They still exist but we haven't really heard anything from them for a decade. When they first appeared, it seemed they might be destined for superstardom, such was the critical appetite for their good-natured music. Debut Sunshine Hit Me is partly summer-dappled rustic psychedelia, harmonic and woozy, as if the West Coast US Sixties had melted into British pastoral of the same period, but it's also deep-dipped in easy listening, most especially South American-flavoured exotica. The word "balmy" springs to mind. Comes in art/info inner sleeve on light mauve vinyl.
Doris Duke/Rhyze Woman of the Ghetto/Free (SAM) + Convertion Let's Do It (SAM) + Komiko Feel Alright (SAM): Three from Demon Records' ongoing series of Demon Singles Club releases, these are all reissues from the back catalogue of Seventies-into-Eighties New York post-disco label SAM Records. Most immediate among them is the 12" double-header of gospel belter Doris Duke's timeless string-laden, too-slow-to-disco, Blaxploitation-ish 1975 classic "Woman of the Ghetto", paired with the 1980 disco-funk of Rhyze's "Free". "Let's Do It" by Convertion, on the other hand, acknowledges hip hop is beginning in 1980, but then settles to a quirky, synth-laced, hand-clappy Saturday night disco jolly. "Feel Alright" by Komiko from 1982 is more inventive. With its slap-bass and hints of Herbie Hancock and Prince, it's a smart hunk of floor-friendly electro-soul. The latter two are on 7". Along with "Woman of the Ghetto", Komiko is the pick of the bunch.
Swansea Sound Twentieth Century (Skep Wax): The second album from indie royalty Swansea Sound, a band the includes Amelia Fletcher, Hue Williams and Rob Pursey who, between them, have been in The Pooh Sticks, Heavenly and Talullah Gosh. You won't find their albums on streaming sites, so ten of these twelve songs are vinyl-only treats (the two singles, "Keep Your Head on" and the title track are on Spotify). All written by Pursey, they are witty and tuneful, their construction classic old school indie. The songs' themes are a resigned, a slightly bitter sigh at the dystopian blandville we've ended up in, whether that's clicking-to-buy online 24 hours a day or the crumbling education system. Alongside this there's also a kitchen sink-ish nostalgia, with a dash of optimism and the lost possibilities of love (notably in "Seven in a Car"). They don't sound young and desperate, they sound older and ready to snipe, while still holding onto a sliver of romance. Comes in photo/lyric inner sleeve.
Jim Wallis In Huge Gesturing Loops (Tip Top): The new solo album by Jim Wallis, of ambient folkers Modern Nature, derives from his utilization of recordings by pedal steel virtuoso Henry Senior which were originally intended for another project entirely. Instead of the intended song-based approach, he's wallowed the steel guitar down into a washy, reverbed sound-bed, resulting in six pieces of downtempo brain-cosset. Imagine Ry Cooder's music for Paris, Texas filtered through Vangelis's more contemplative work on Bladerunner and you might be within sniffing distance.
Pedro Rosa Midnight Alvorada (Abaju!) + Moriah Plaza Moriah Plaza (Batov) + Samba De La Muerte Ornament (Yotanka/Collectif Toujours): Three albums with varying degrees of connect with Hispanic roots. First is Pedro Rosa, from São Paulo, but with a decade-and-a-half in Spain under his belt. His first album is a labour of love created with an array of Brazilian musical virtuosity, including percussion from Zé Luis Nascimento. Rosa's soft acoustic guitar and tender voice lead the music but around it is a carefully constructed framework of secondary instrumentation, never to the fore, always supportive. The whole adds up to a confident but supremely relaxed debut. Second up is Moriah Plaza, a band from Berlin that's the brainwave of two musicians from Tel Aviv. Their self-titled debut album is an unforced, fruity and laidback sally at the easy listening side of bossa nova. Featuring airy female vocals and a lush array of instruments, it's a light concoction that makes it hard to believe that it was born from a now-defunct shoegaze band. Finally, Samba de la Muerte is a project Adrien Leprêtre of Normandy rockers Concrete Knives and the only reason it's squeezed in here is because it has a Hispanic name. I dipped in and thought it was going to be an electro-Latin thing... on further listening, it's nothing to do with the releases reviewed above. But, hell, I'm going to squeeze it in here anyway. It's well worth a listen. Leprêtre's voice is Eighties New Romantic but is set against music that's stripped back, percussive, like a cross between New York post-punk and, say, Bastille. It's different and tuneful and arrives on art/info gatefold.
Power Trip Live in Seattle (Southern Lord): Recorded at Neumos in Seattle in May 2018, this concert set showcases Texan thrashers Power Trip in fine form, and includes a version of "Executioner's Tax (Swing of the Axe)" which garnered them a nomination for the Best Metal Performance Grammy. Their sound mingles a relentless, athletic energy with a leanness that's more approachable than many of their contemporaries, harking back to Eighties metal and even West Coast punk. Lead singer Riley Gales died in 2020 of an accidental overdose, a victim of America's opioid epidemic, so Power Trip's next move is unclear. For now, Live in Seattle reminds of the force to be reckoned with that they were. Comes on star-swirled black'n'scarlet vinyl, accompanied by a 12-page photo booklet
Matt Wilde Hello World (Band on the Wall): Manchester keys-player Matt Wilde's music isn't for those after something that's going to rouse them. This is soothing stuff. It's a debut album, and arrives in notable cover art and inner sleeve art by fellow Mancunian Ollie Macdonald Oulds. The painted images depict urban locales and everyday domesticity. The music is a match. Consisting mostly of piano/keys, bass and drums, with occasional trumpet, it finds something to say from within normal life's ease, reminding that being able to stop and take a moment is a privilege rather than a given. I'm not actively much of a one for mindfulness but Hello World, without even meaning to, makes a persuasive case.
Becca Mancari Left Hand (Captured Tracks) + Roseanne Reid Lawside (Lastman): Two singers from two different continents who both inject their music with a smidgeon of Americana. Of the two of them, Nashville-based New York alt-folk singer and Alabama Shakes associate Becca Mancari is the less explicitly country on their third album. It fuses a bedroom-recorded feel with something more widescreen, balancing ear-intriguing effects with a lyricism that builds a mood of dream-like misplacement, of being away from a thing they want to get back to. Comes on dark aquamarine transparent vinyl with a four-page 12" x 12" art/lyric insert. The second album from Aberdeen singer Roseanne Reid combines country with a certain Celtic soul swing (especially on the brassy "Call It Love"). She has a characterful voice, human, comfortable, also wise, as she renders a set of thirteen self-penned songs about love and family and loss. It's an album that's straightforward but full of feeling. Comes with 12" x 12" lyric/info insert.
Various Heartbreak – Lokad 2 (Lokad) + Nathan Fake Crystal Vision (Cambrian Instruments) + Hyroglifics I'll Wait, I Guess (Critical Music): Three electronic outings worth pursuing. San Francisco's Whitney Smith runs a label called Lokad and their second six-track EP is upon us. The idea is that various producers were asked to contribute a track under a one-off assumed pseudonym. Some are names we might have heard of, others fresh off the block, with tracks that might have been sitting around for years, or that were created especially for this. The theme is "heartbreak" but what I'm hearing is gnarly bangin' techno, much of it in a Dave Clarke-friendly vein, full-fat. As with its predecessor, Unearthed, most of it is pretty tough, but there's enough variety to hold the interest, albeit equally for DJs. A limited edition of 300, it comes on red vinyl with a wax-sealed black envelope containing stickers and Lokad key ring. Effort has been put into the whole package and it shows. Nathan Fake is a consistent explorer of sound and his new album skews about the possibilities of electronica, serious but usually keeping the listener onside, whether he's slowly ascending on the lush synth wizardry of "Outsider" (featuring Clark), taking us to out there with his own version of pop on the excellent, lazily vocalled "The Grass", featuring Wizard Apprentice, or exploring the murky sonic undergrowth with the title track. His sixth, on double, is a solid addition to what came before. Matt Harris, AKA Hyroglifix, is a young Bristolian who's moved to Los Angeles. His coolly-titled debut, I'll Wait, I Guess, showcases an artist whose central production style may be drum & bass, but who's gradually expanding his sonic palette. Over two records in art-photo gatefold, he drifts between stern rave beats and material that sprawls off into dubstep, crunky industrial illbience and zonked hip hop, the latter featuring MCs such as Black Josh, Feux, Yeo Limone and Nah Eeto. There's even a downtempo song featuring London-based female vocalist Lyza Jane.
The Budos Band Frontier's Edge (Diamond West): For almost 20 years, The Budos Band have build a career on Daptone Records based on a studied but loose fusion of soul and retro soundtrack-esque grooves. Their latest mini-album, though, on their own label, sees them move towards a grittier sound, closer to Barry Adamson, in places, but also maintaining an edgy funk that would fit well within the films of Quentin Tarantino or the DJ sets of David Holmes.
The Undertones Positive Touch + The Sin of Pride (BMG): BMG follow their reissue of The Undertones' first two albums with the last two they recorded with original vocalist Feargal Sharkey, Positive Touch from 1981 and The Sin of Pride from 1983. The only song the average music fan will likely know from both albums is the Top 20 single "It's Going to Happen". This catchy Dexys-like bouncer is a good hint what the rest of Positive Touch sounds like. The band have moved on from their punk roots, exploring pop redolent of everything from Madness to Orange Juice ("Sigh and Explode" combines both!), creating a set that's varied and zippy and deserved a better reception than it received. The Sin of Pride is less immediately likeable, but once the listener has pushed beyond its dry Eighties production, it's a little like an animated but over-polished Teardrop Explodes, albeit Sharkey's voice is like no-one else in pop and rock. Both albums showcase a band scrabbling to carve new ground while maintaining a link to their power pop fanbase. They only partially succeed.
Ebi Soda Ugh (Tru Thoughts) + Wheelup We Are the Magic (Tru Thoughts): Two from Brighton label Tru Thoughts that adapt jazz to their own purposes. Ebi Soda are a five-piece from the same city and their debut album mingles easy-going electronic architecture and mellow funk with trombonist Will Heaton's warm tones, dropping in a couple of pleasing vocal tracks, notably the Trump-baiting "Run for President" featuring rising alt-R&B singer Chloe Bodur. The final of the four sides contains three dub reversions by bass don Ash Walker. It's a genial and varied double album. Comes on buttercup yellow vinyl. The genre known as "broken beats" is not nearly as interesting as those words sound… it's not nearly broken enough! It's one of the few genres within which I find very little to like; dinner party soul-funk noodle given a choppy production makeover. Happily the second album from London DJ-producer Danny Wheeler, AKA Wheelup, raises the temperature a little in this usually lukewarm sub-genre, mostly by injecting elegant hip hop vocals by the likes of Destiny Will and Alabama rapper Brint Story. Over two records Wheelup stays cool and smartly dressed London, but maintains interest.
AND WHILE WE'RE HERE
More from Tru Thoughts Records in the form of Night Shift, a broken beats-meets-jazz tribute to the urban nightworld created by Brussels producer Kuna Maze (AKA Edouard Gilbert). It's a double of funk-lite that pootles along, occasionally upping the ante to almost-club fare, with input from Steve Spacek along the way. John Carrol Kirby wanders vaguely similar territory. He's an American session keyboardist who's played with everyone from Harry Styles to Solange, as well as firing out a prolific range of solo fare in multiple jazz-ish modes. His latest album is Blowout on Stones Throw Records, apparently inspired by a trip to Coast Rica, four sides in gatefold of squelchy tropical funk that reminds of Millennial chill-out boom groovers such as Jaffa and Jimpster. Pleasant head-nod. Again covering similar gound is Adam Gibbons' prolific Lack of Afro project, who reappear with Square One on Bastion Music Group. It's full of joyous hip hop-soul-funk, brassy and bubbly, featuring MCs and singers such as Herbal T, Jack Tyson-Charles, Too Many T's, HOLMES and Greg Blackman. Comes on gatefold in art/info inner sleeve. Playing a somewhat straighter jazz game are Seattle outfit High Pulp, now relocated to Los Angeles. Their third album, Days in the Desert on ANTI-, starts with the percussive punch of "Dirtmouth" which is a forceful creature, but then settles to a floatier, electronic-tinted, slothfully psychedelic jazz outing. Varied and weaving hither and thither, it's an amiable listen. As is the The Baptism of Pedro del Zorro, a piece commissioned by Trondheim Jazz Festival from Norwegian jazzers Cobra Kraft and out on Crispin Glover Records. The sax/guitar/keys/bass/drums five-piece are more rock-centric than High Pulp, happy to explore the Miles Davis-meets-Hendrix axis when they fancy. Six busy and twisty tracks. Less friendly, put more ear-intriguingly experimental, is the songwriting of Norway's Fågelle (Klara Andersson) who says that her music is also based in jazz. Her second album, Den Svenska Vreden ("The Swedish Rage") draws on on the idea that her nation's people suppress emotions. It appears on Medication Time Records. Sung in Norwegian, it combines off-kilter electronics, melancholy vocals, crunchy noisiness and a folk-ish feel to create what, on more than one listen, turns out to be an abstract form of pop. Comes in lyric/photo/info inner sleeve on vinyl that looks like sooty glass. More akin to formal old-school easy listening are Californian husband'n'wife duo The Saxophones whose third album To Be a Cloud on Full Time Hobby is woozy fun, flavoured with Sixties exotica but, as much, cheerfully literate songwriting, spacious as Matt Monro on a hot beach with some bongos. Comes on forest green vinyl. On Come Play With Me Records, meanwhile, appears the debut album from Leeds outfit Green Gardens. Entitled This is Not Your Fault it's kind of downtempo indie-prog, owing a small debt to Radiohead but emitting its own spooked thing, notably on the queasy death-touting title track. Comes in photo/lyric inner sleeve on orange-brown vinyl that looks like a grubby sun storm. Gregory Alan Isakov has built a solid Stateside following for his cosmic indie-Americana, a more countrified take on The Fleet Foxes/Bon Iver oeuvre. His latest album, Appaloosa Bones, on Dualtone/Suitcase Music, is delicate, reaching for the space between broken and ethereal, slow and thoughtful, music for late-night metro cowboys. Comes on penny brown vinyl with a 12" x 12" lyric insert. There's a smidgeon of Americana in the work of big-in-Ireland singer-songwriter Mick Flannery. His ninth studio album, Goodtime Charlie, arrives on double in gatefold on Oh Boy Records and finds Flannery's voice, both gruff and sensitive, sometimes surrounded by a rhythm'n'blues set-up but, at other times, against pared-back guitar. Either way, he has a penchant for forthright lyrics. It's the sort of thing I'd enjoy if I came across in a bar, but not my go-to on record. He can write a song. As can Paul Murphy, lead singer of Nova Scotia band Wintersleep. Postdata is his solo project and his fourth album in this guise, Run Wild on Paper Bag, sits midway between baroque indie-pop and something more post-drugs Beach Boys. It is joyful and upbeat, as exemplified on the jolliness of the title track. Comes in art/lyric inner sleeve on maroon vinyl the colour of certain hibiscus flowers. The second album from another Canadian indie outfit, Pony Girl, Laff It Off on Paper Bag Records, is less flighty but equally well put together, mingling dream-pop haze with more forceful synth-driven numbers, often boosted by saxophone. Comes on transparent yellow vinyl in lyric inner sleeve with 10" x 10" photo/info insert. Indie in its more traditional form – as in lo-fi guitar stewed in punk – is the name of the game for brashly titled Bristol trio Toodles And the Hectic City whose debut album Hold Onto Happiness… is out on Specialist Subject Records. It's on a dodgy shade of brown vinyl in a photo/lyric/info inner sleeve and screeches out of the traps notably shouty and scratchy yet also leftfield lyrical. It offers a high concept, if hardly straightforward, commentary on the process of transformation. In a very different vein is the latest 12" single from DJ-producer George FitzGerald. He's of that first generation of DJs who arrived after dance music's glory years, the ones who lowered the BPMs on Ibiza and dealt, post-dubstep, in a smooth blend of techno and house. They all seemed a bit professional to me but, fair game, they've banged out the occasional good tune and avoided getting proper jobs, so that's to be respected. All that aside, his latest Not As I EP on Double Six is a set of woozy 4/4 Balearic beach-pop songs, undemanding but easy, featuring the laidback singing of Brian Fennell from Seattle indie band Barcelona, in his SYML guise. Pushing the boat out further with his electronic music is Clark, the moniker of Chris Clark, once maker of Warp Records post-Autechre crunch, he's now moved into a different area and his new album, Sus Dog on Throttle, consists of four sides of vocal songs that mingle James Blake-ishness with something more sprawlingly offbeat, with hints of modern classical aspiration, à la Jon Hopkins. It's a well-wrought stew of sounds and more approachable than my description makes it sound. On two discs in gatefold, it comes with a 12" x 12" 12-page booklet that mingles black'n'white art-graphics with lyrics. Oxbow are one of the more uncategorizable bands in all rock (are they even rock?). Their mingling of avant-classical angularity with a Swans-ish caustic blues and no wave discord is very much its own thing. Their eighth album, Love's Holiday on Ipecac (of course!) continues their unique mission, and while songs such as the mournful slowie "Million Dollar Weekend" are almost straightforward, the listener never has to venture far before colliding into something much trickier. Comes with 12" x 12" lyric/info insert. Brighton rockers Shaw's Trailer Park also like a blues lick. Led by animator and rocker Tim Sanpher they laid down a set of songs in an afternoon, now eponymously presented on Republic of Music. The music boasts a sassy garage-bar guitar insouciance and a penchant for relentlessly revolving riffs. Also into his blues, albeit with a more Americana flavour, was John Fogarty both with Creedance Clearwater Revival and when he quit that band for a solo career, starting in 1972. The first two solo albums are now reissued, The Blue Ridge Rangers from 1973 and John Fogerty from 1975. The first is an especially country-marinated set of covers, such as Jimmie Rodgers' "California Blues (Blue Yodel #4) and his US hit cover of Hank Williams' "Jambalaya (On the Bayou")". The second album is self-penned fare and mainly famous for containing the original version of "Rockin' All Over the World". It's a tasty blues-rock affair. Both albums have the requisite roll and easy looseness. C86 band The Servants are mainly recalled, if at all, as the original home of indie iconoclast Luke Haines. Frontman David Westlake is semi-retired from music but still pops up every decade or so with an album of well-crafted songs, as he did last year with My Beautiful England. In its wake Optic Nerve Records gathers together his 1987 debut Westlake EP with two demos and four BBC session cuts from the same period under the title D87. Featuring effusive introductory notes by Haines, the music is a window into the indie values of the period; heartfelt - and this case solid – songwriting, delivered via guitar-based home recording-style production, attempting to offer a sense of the genuine. Comes in photo/lyric/info inner sleeve. Jimmy Somerville was already a few years into her career when all that C86 stuff kicked off but he'd already broken ground in a very different way, his openly gay hi-NRG pop with Bronski Beat charting all over the world and empowering the lives of many. His biggest successes were with Bronski Beat and The Communards but when the latter ceased to be, his 1989 debut solo album. Read My Lips, achieved one last commercial flourish (although he did have a Top 20 hit in 1995 with the Millie Jackson song "Hurt So Good"). Read My Lips now reappears via London Records, spread over two discs with sleeves that feature notes about each song from Somerville as well as chewy, biographically interesting background from activist and writer Paul Burston. It's Somerville's trademark hi-NRG but laced with the coming sounds of the acid house revolution, emphasised by the second record's plethora of remixes. Includes a bangin' version of Sylvester's "You Make Me Feel (Mighty Real)". An upbeat ultra-disco LGBT statement in the face of the plague of AIDS and the stagnant official response to it. As is some of the re-released 1987 sole album by MӗL & KIM (London sisters Mel and Kim Appleby), a duo briefly massive in the mid-Eighties. Entitled F.L.M. on Cherry Pop Records, in photo/lyric inner sleeve and on flesh-pink transparent vinyl, it contains their three main hits (but not their fourth, "That's the Way It Is" from the soundtrack to the Eddie Murphy flick Coming to America). The best of these by far is the contagious "Respectable", although all three show songwriter-producers Stock, Aitken & Waterman anticipating the choppy sampled style of early house (the other hits are "Showing Out (Get Fresh for the Weekend)" and "F.L.M", which stands for "fun, love and money"). The album cuts are mostly forgetable but MӗL & KIM were always going to be a singles act, and would likely have become massive were it not for the death of Mel Appleby from cancer aged only 23 in 1990. So sing it, "Tay-tay-tay-tay, t-t-t-t-t-tay-tay, take or leave us, only please believe us, we ain't ever gonna be respectable".
FINALLY, TWO THAT HAVE ALREADY BEEN REVIEWED ON THEARTSDESK BUT WHICH ARE WELL WORTH OWNING ON PLASTIC
The Hives The Death of Randy Fitzsimmons (Disques Hives): The Hives are always a welcome rock'n'roll blast and their sixth album holds true, full of garage-rockin' gems, as Guy Oddy finds out here.
Lucinda Williams Stories From a Rock'n'Roll Heart (Thirty Tigers): Bloodied but unbowed, the Americana perennial follows her autobiography with more gritty tales in song form, thoroughly enjoyed here by Liz Thomson.
It's about a guy gaining mystic insights via travels in space
Share this article