Year Out/Year In: Dance is Still With Us (So Far) |

reviews, news & interviews
Year Out/Year In: Dance is Still With Us (So Far)
Year Out/Year In: Dance is Still With Us (So Far)
DIY dance, public participation and arts cuts - not the brightest prospect
Wednesday, 29 December 2010
New fruit on an old tree: Liam Scarlett's 'Asphodel Meadows' with Marianela Nuñez and Rupert Pennefather
I was taken to task by a commenter this year who told me I should go and review music, if I couldn't enjoy dance. Hm. One takes such things to heart, but it's humbug. While piling up memories over 25 years might mean that the noise in my memory is getting more and more obtrusive, that doesn't mean you can't suddenly find the corker one night that wipes the field clean and places a new memory there which will move your yardstick yet again.
A scrap of Trisha Brown, an ear-blasting piece of political dance theatre, a joy of a Coppélia, and indeed a dancer-less musical performance of a score that pulsed with magic - these will do for 2010, and I'm afraid they're going to make me still more picky next year.
While we're on the subject of humbug and noise, let's touch upon ballet's imminent death and ballerinas who eat too much - both late controversies this year courtesy of critics in America. Jennifer Homans asserted, in her publicity tour for her new history of ballet Apollo's Angels, that ballet was tottering into its grave, while Alastair Macaulay (of the New York Times, formerly of the Financial Times) mentioned that the two leading dancers in a Nutcracker performance in New York seemed to have eaten a sugar plum or two too many. Have a guess which opinion got the civilian world's revered attention, and which the opprobrium.
Bah, humbug, I say to Homans, who is too narrowly a former New York City Ballet dancer mourning the death of the titan George Balanchine in 1983 and should get over it and get out more. But do leave off Macaulay, whose brief comment got instantly hijacked by spokespersons for diet, feminism, class-war and obesity rights, those four over-familiar horsemen of ballet's ever-present apocalypse. To cap it all, the villain of the piece is a cut-glass Brit, just as Hollywood likes 'em.
For heaven's sake, it is possible as an observer to be equally enchanted by cuddly tinies Lynn Seymour and Tamara Rojo on one side and lanky stringbeans Uliana Lopatkina and Sylvie Guillem on the other, so self-evidently the argument is not about body shape but about the line the offending dancers traced in air normally, and the line that they traced that night. Clearly to that critic they had been more their graceful selves on other days. When a singer sings with a cold, the critic mentions that the voice is rough, and the roof does not fall in.
If anything, 2010 gave centre stage to the role that non-conformity plays in branding the memory, epitomised in everything and anything to do with the Diaghilev/Ballets Russes era, whose centenary was belatedly celebrated in the V&A Museum and British Film Institute's deliciously random, eclectic exhibition in London (please don't miss it, it closes 9 January). There is not one standard template to be found among the artists, composers or performers; each a one-off. The evocative magic and atmosphere of possibility created by Diaghilev's mindset re-echoes if you simultaneously read Bloomsbury Ballerina, Judith Mackrell's affecting biography of Lydia Lopokova (pictured right), chubby, batty, rackety, and wholly unsuitable on first light to be a golden girl of Diaghilev's ballet and a world-celebrated political wife.
As the Government's chainsaw hacks through the rainforest, it has never been more apposite to think about what it takes to kick the big beasts up their slumbersome backsides and get something fresh moving in an art form. More to the point than Ms Homans' generic lamentation was something I read in a blog by a Royal Ballet dancer/choreographer, Kristen McNally, who puzzled over the lack of interest in storytelling among ballet choreographers today, considering how much people love stories and how powerfully ballet is devised as a language to express emotion and action. I'm right behind her, but there are two things here: music and money.
While money buys the scene-setting and costumes, I'm certain music is the more vital issue: today's musical tastes are bound up with mass popularity, and youngsters much less educated in music generally, so that they lack the confidence to select music for expressiveness and answer its huge challenge. Yet the media and TV have never been so saturated with stories - how strange that these things haven't married up. Surely the musical challenge lies at the root of it, and it is one that the major companies should be making central to their artistic education of their performers.
But you also need to follow the money. Sadler's Wells declared record attendance figures for the past year, but the box-office popularity of such a wide range of offerings (next year Sadler's is mostly offering horses, nudity and acres of Belgian contemporary dance) is a sidetrack from the question of who or what is seriously working on nursing the emergence of resonant choreography. An unhealthy monopoly is now increasingly held on opportunities by the very large institutions, the Arts Council and the Royal Opera House, the Royal Ballet's whipmaster. While most commentary on next year's arts funding cuts homed in like vultures on the Arts Council's fat bureaucracy, we should have no difficulty whatever in being delighted by London's luxuriance in culture - hailed the world over - and its laudable dependency on the supporting foundation of the Arts Council principle, a principle of public recognition of what would not be possible without it. TV and internet downloads really isn't all there should be to give us some fun in life and reflect our own humanity in an ever-increasing array of art forms, some of them of magisterial tradition and strictness.
I might not think ballet and opera worth my taxes - wouldn't I then have to refuse to pay for any roads that I don't drive on?
Grumble as we Brits love to do, change for change's sake as we love to wally on about, this is chaff that's blinding us to Britain's much-envied achievements. I keep hearing what Americans, Russians, Japanese, French, say about the relative richness of our national cultural scene compared with their own, I see the fervour with which they desire the idiosyncrasy, innovativeness and traditions that our public funding has fertilised over the past 70 or 80 years. Take away that floor, leave it all to private enterprise and charity, and our ballet and opera companies, our Shakespearean and new playwriting theatres vanish. They only cost the minutest fraction of our taxes, and indeed I or you might not personally think money for those things should be ripped unasked out of our pay cheques - but then wouldn't you or I have to refuse to pay up for surfacing any roads that we don't drive on? Logic is a slippery slope in this argument.
Less prominent but just as vital is local authorities' support. Dance can't exist without a network of fellow arts reaching down into the young ranks and at the small scale: bands of musicians, art students, apprentice lighting engineers, stage hands, fashion students with sewing machines, and a curtain rising at 7.30pm to show it all. Cities like Birmingham, Leeds and Glasgow are closely knotted cultural networks of music, theatre, dance and art, powerful in their city image and the wellbeing and quality of all-round life offered to their residents. This is threatened by the earthquake of public funding cuts. Town theatres where thrillers tour, regional orchestras good enough to invite a star guest in, local halls where a young choreographer develops his or her first works before getting noticed nationally, civic festivals where a cutting-edge artist might not sell out but will be remembered for years, these are the losses we can't afford. If no one thinks really clearly about how to manage cuts with purpose and definition, the next three years will be upsetting, offputting and dismaying to young choreographers, and a dark time for those who hunt around trying to find them.
Highlights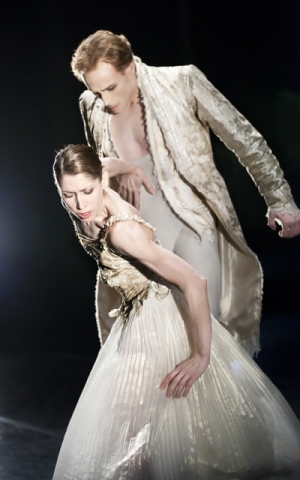 Among this year's happy memories for me, the fizzing hilarity of Jonathan Burrows and Matteo Fargion's Cheap Lecture/Cow Piece; Natalia Osipova's gloriously ebullient Coppélia on the Bolshoi Ballet's London tour, and the prodigious Ivan Vasiliev's manly Spartacus in far-flung Siberia; Kim Brandstrup's steady progress with his sophisticated, subtle storymaking into mainstream ballet (Invitus Invitam, Leanne Benjamin and Edward Watson pictured left © Johan Persson, following swiftly upon Goldberg and Rushes); the generous heart in Matthew Bourne's inventive Blitz Cinderella; John Macfarlane's starlit designs for Birmingham Royal Ballet's new Cinderella: the ghostly atmosphere of Russell Maliphant's expanded Afterlight; the vivid anger of Akram Khan's Vertical Road.
Six of the best
Lowlights
Merce Cunningham's final piece, Nearly Ninety, overdesigned, underpowered, sad to say. The sell-outs of tango in the trashy Tanguera at Sadler's Wells and of streetdance in StreetDance 3D, the movie.
Bad omens: The V&A's closure of its musical instruments gallery, an uncivilised act that shames the museum; the assault on our hearing and the experience of live theatre by Sadler's Wells in their now endemic over-amplification; bitter endings for Christopher Wheeldon's choreographer-led independent ballet company Morphoses, and for Ashley Page's smart leadership of Scottish Ballet after next year.
Next Steps
Strategic thinking and setting strong large priorities should be done, not just a cowardly equal decrease for all. In contemporary work, it's desperately sad to find the absence on the national touring circuits of the many British small choreographer companies that existed 10 years ago, though Rambert continues to do what it can (pictured right, Davies's The Art of Touch, © Hugo Glendinning). There remains a great gap between the five/six-strong group with two lightbulbs and an iPod and the needs of medium-sized theatres and their audiences all over Britain.
As for ballet it's time to think the unthinkable. Compare the output of the three national English classical companies 10 years ago and now:

Birmingham Royal Ballet
(Current grant £8.2 million)
1999-2000 [artistic director David Bintley] (Hippodrome closed; much of the year danced elsewhere) Giselle (NEW PRODUCTION); Nutcracker; Slaughter on Tenth Avenue, Shakespeare Suite, Nutcracker Sweeties; Arthur Part 1 (NEW full-length CREATION ); two Ashton programmes - Two Pigeons, Five Brahms Waltzes, Walk to the Paradise Garden, Tweedledum and Tweedledee; Dante Sonata (NEW RECONSTRUCTION), Scènes de Ballet, Enigma Variations = three full-length, 10 one-acters
2009-10 [Bintley] Powder, E=mc2 (NEW CREATION), The Centre and its Opposite; Cyrano (NEW VERSION); Sleeping Beauty; North-East and South-West tours (seven venues): Allegri Diversi, Grosse Fuge, The Centre and its Opposite & Brouillards, The Dance House, Slaughter on Tenth Avenue; Swan Lake = three full-length, nine one-acters

Royal Ballet
(Current grant some half of the Royal Opera House's £28.4 million)
1999-2000 [Anthony Dowell] Davies's A Stranger's Taste (NEW CREATION), Neumeier pas de deux, Vertiginous Thrill of Exactitude, Remanso, Page's Hidden Variables (NEW CREATION); Nutcracker; MacMillan - Concerto, Rituals, Gloria; Coppélia; Ashton - Les Rendezvous (NEW PRODUCTION), Symphonic Variations, Marguerite and Armand (NEW PRODUCTION); Manon; US - Serenade, The Crucible (NEW CREATION), The Concert; Diaghilev - Les Biches, Jeux, L'Après-midi d'un faune, Firebird; Giselle = four full-length, 18 one-acters
2009-10 [Monica Mason] Mayerling; (Linbury - Goldberg Variations NEW CREATION); Sleeping Beauty; Nutcracker; Agon, Sphinx, Wayne McGregor's Limen (NEW CREATION); Les Patineurs, Tales of Beatrix Potter; Romeo and Juliet; Jonathan Watkins's As One (NEW CREATION), Rushes, Infra; La Fille mal gardée; MacMillan 80th - Concerto, The Judas Tree, Elite Syncopations; Cinderella; Electric Counterpoint, Liam Scarlett's Asphodel Meadows (NEW CREATION), Carmen, Chroma, Tryst, Symphony in C = six full-length, 17 one-acters

English National Ballet
(Current grant £6.9 million)
1999-2000 [Derek Deane] Coppélia, La Bayadère Kingdom of the Shades, Sphinx, Rite of Spring, Nutcracker, Alice in Wonderland, Les Sylphides, Voluntaries, Etudes; Tour de Force (10 venues: rep included Sylphides, Three Preludes, Who Cares?, Apollo, Tchaikovsky Pas de deux, Raymonda, Le Corsaire), arena Sleeping Beauty (NEW CREATION) = 4 full-length, 12 one-act
2009-10 [Wayne Eagling] Nutcracker, The Snow Queen, Men Y Men, Giselle, Cinderella, Swan Lake = five full-length, one one-act
ENB is - I say it bluntly but with immense sadness - a shadow of its past, boring its dancers, and leaving its director with hardly a thing to do, but it has touring nous and robustness. Meanwhile the clamour for the Royal Ballet to tour could be turned into a key revitaliser for a stagnating company. In the spirit of today's times, a coalition looks highly desirable. So my strategy for the next three years, seizing the reality of these cuts, would be to place public inspiration at the forefront of priorities, rather than quasi-education or pseudo-participation, by focusing on these broad lines.
Pool the ballet money anew with two large touring companies, one of 120 dancers out of London, funded independently within the Royal Opera House, and Birmingham Royal Ballet increased in size. Oblige both to tour nationally, and to commission a proportion of new works and music scores. Keep a substantial whack of change to hand over to Rambert for expansion, and reverse the menace of a severe contraction just as they move into a new HQ, a cut that's also a cruel threat to composers' almost extinct opportunities to write dance scores. Rambert is vital to the ballet ecosystem.
Refashion contemporary dance money to focus on developing emerging choreographers to create at the 10-20-strong medium-scale productions required to feed the majority of British regional theatres and their audiences, as well as Sadler's Wells. This to entail funding support for a nationwide theatre circuit to encourage live music and a wider variety of performance on the bills.
Separate public dance participation programmes from the needs of dance's professional performance quality. Too much dance funding and attention is being focused on DIY public dance. This may mean that our cultural politicos think DIY dance will raise the excellence of our professional dancers or that they think public dance is as much of a joy and delight to watch as elitist, over-strict old ballet. Either notion is certifiably loony.
Use technology to broadcast live art events to regional cinemas far and wide, while guarding against making digital TX the priority of live production creation.
Watch the trailer for Hofesh Shechter's Political Mother:
Watch the trailer for Akram Khan's Vertical Road:
Watch a trailer for Russell Maliphant's Afterlight with Daniel Proietto:
Watch a trailer for Mark Morris's L'Allegro, il Penseroso ed il Moderato:
When a singer sings with a cold, the critic mentions it, and the roof does not fall in
Explore topics
Share this article