WOMAD III, Charlton Park |

reviews, news & interviews
WOMAD III, Charlton Park
WOMAD III, Charlton Park
Overview of the global music extravaganza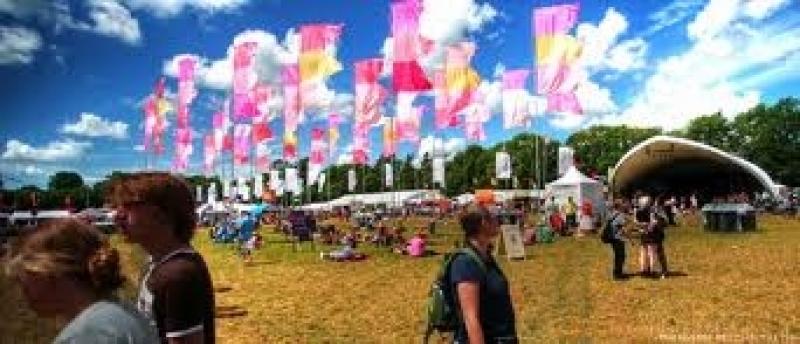 WOMAD: the world's festival
WOMAD is in its 29th year, and ticket sales have gone up 29 per cent, we are told, with over 35,000 sold. World music, always rather beyond fashion, is thriving, at least in this live festival incarnation in Wiltshire. One criticism, according to The Independent among others (made by trendy middle-class people in a fit of self-loathing, generally), was that there were too many Cath Kidston tents and it has become too bourgeois.
But there was enough strangeness and idiosyncrasy on display to undermine the idea that WOMAD has become complacent in its middle age.
In fact, WOMAD has expanded way beyond its origins in the UK and if you want to experience a truly, totally mixed multi-ethnic audience you could always go to WOMAD Abu Dhabi, where it's a free festival and the audience consists of expats from myriad countries – cheering on their representatives like a World Cup football crowd.
The slightly tapas experience – a brief taste of assorted bands - has its uses, when you discover enough about an artist to realise you want to investigate further. Plenty of WOMAD highlights were from off the usual world music beaten track – notably Ayarkhaan, a trio of women from Sakha Republic, in the outer reaches of Siberia. They had exquisite voices (see video below) which sounded vaguely familiar, but once they started the ensemble playing of the khormus - similar to the Jew's harp but bigger and with a range of three octaves, and imitating the sound of animals - it sounded like futuristic electronic music, an impression buttressed by their shiny silver sci-fi gear.
Listen to Ayarkhaan perform "Maary Khaatyn"
Another big hit was Danyel Waro (right, photo by David Corio) from Réunion Island, whose maloya music was banned by the authorities because of its subversive Creole style. He sang how he wasn't black or white but a "free bastard" in a beguiling, beautiful voice with just percussion and backing vocals behind him. He looks like a mad inventor or something but the passion, craftsmanship and the soulful spirit of his music is hugely impressive.
One culture only recently on the world music radar is the Garifunas, a mix of Carib Indians and escaped African slaves who were ejected from St Vincent island and ended up in Honduras and Belize. The great Andy Palacio put the Garifuna music, rhythms and language on the map with his wonderful Watina album. Aurelio (he seems to have lost his surname, like Madonna) gave up his career as the representative of the Garifunas in the Honduras National Congress to resume his career as a musical spokesman for his people, taking over from his friend Palacio, who died tragically young a couple of years ago. If he doesn't quite have the authority of Palacio on stage yet, his band were probably the most accomplished of the entire festival. As Caetano Veloso said to me about Brazilian music, the sweetness perhaps comes from the strong native Indian influence (something you don't get in, for example, Argentina).
'Dressed in a dark cloak and with Medusa-like hair, she looked like a priestess of some slightly pervy sect'
The most atmospheric performance area was the Radio 3 stage, surrounded by trees, where many of the most intriguing acts of the weekend could be seen, including the reggae-Ethiopian mix of Dub Colossus, although I preferred their more Ethiopian numbers. Fatoumata Diawara (left, by David Corio), a Malian singer who used to sing with the great Oumou Sangare and is now signed to World Circuit (the world music equivalent of getting signed to Manchester United) acquitted herself with aplomb.
Round the back of the stage there are numerous alternative therapy tents – including an intriguing Gong Bath tent where you lie down and someone bashes a large gong to align your chakras, or whatever. Have a Gong Bath – the queues for the showers were too long anyway.
One of the highlights of the Radio 3 Stage was Susheela Raman, for whom, amazingly enough, this was her first WOMAD, despite it being a decade ago that her debut album Salt Rain was nominated for the Mercury and winning a Radio 3 World Music Award and selling bucketloads (in France, anyway). Since then, she has gone on a fascinating musical journey – doing a cover album of artists, including Jimi Hendrix's "Voodoo Child" which she reimagined in her own Tamil Voodoo style.
I only caught the second half – jammed with rousing numbers from her brilliant and intense new album Vel ("Spear") like "Daga Daga" and "Raise Up", an anthemic number (see video below) that really should be played to about 10,000 people for full effect. Dressed in a dark cloak and with Medusa-like hair, she looked like a priestess of some slightly pervy sect. Having previously borrowed West African music, jazz, punk and Indian music, the band now seem to be channelling prog/psychedelia, mixed with intricate rhythms and violin in an original and highly focused set that went down a storm with a partisan audience.
Watch the video for Susheela Raman's "Raise Up"
Another top band were Majorstuen, named after their barrio in Oslo who played some tremendously melodic violin-driven music and only lost my interest when they started getting jaunty, which was like being forced to listen to jokes from a depressive in a bar. A band who did go down hugely well were the Penguin Café, the reconfigured band who also played the Cambridge Folk Festival last weekend. The band, now under the aegis of founder Simon Jeffes's son Arthur, do mix humour, lightness and melody as befitting Simon's enthusiasm for Zen and Erik Satie. Having known Simon quite well, I found it moving that his classic tunes, with global influences but somehow very English also, have found a new audience and the new band have one or two effective new numbers.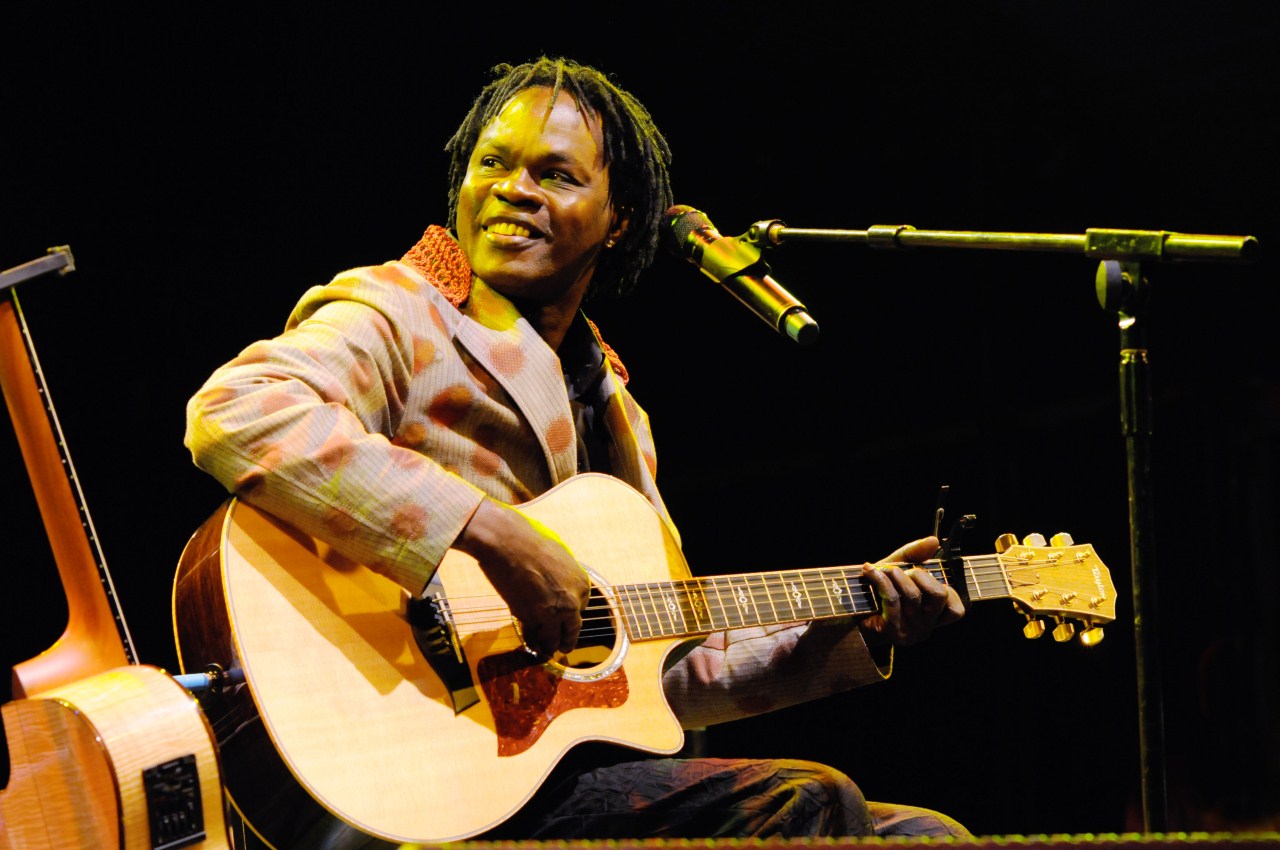 I caught some of headliner Baaba Maal, but it was so rammed I could only see from afar, and didn't particularly like his country-ish tune "Dakar Moon", sung in English. His band, with brass section, were hot, even though I always have the sense of an artist (right, photo by David Corio) with even bigger potential who hasn't quite made the killer album he could have made. An androgynous figure, like many pop stars, who somehow, despite his wonderful voice, doesn't quite know what his direction is.
Like all festivals, you miss more than you see – I caught enough of Bomba Estereo to confirm that the Bogota scene is worth more investigating (at the same time feeling the loss of Joe Arroyo, the Colombian artist who had one of the best bands in the world and who died this week). What I saw of Ana Moura reminded me what a tremendously soulful singer of fado she is. On the Charlie Gillett stage (and how Charlie is missed in these parts), Brassroots did some highly enjoyable brassy covers of everything from Kylie Minogue to Bowie and Beyoncé, although I'd prefer to have seen them at a post-midnight bar gig when tanked up on cider.