Reissue CDs Weekly: Game Theory |

reviews, news & interviews
Reissue CDs Weekly: Game Theory
Reissue CDs Weekly: Game Theory
The first of a series of reissues paying tribute to sadly missed pop auteur Scott Miller
Sunday, 14 September 2014
Game Theory in 1982. Left to right: Scott Miller (guitar, lead vocals), Michael Irwin (drums), Nancy Becker (keyboards) and Fred Juhos (bass)
Game Theory: Blaze of Glory
The news of the death on 15 April last year of Scott Miller was a shock. Although hardly a household name, he was one of pop's great auteurs. The California-born songwriter may no longer be with us, but the music he made with his bands Alternate Learning, Game Theory and The Loud Family will forever testify to his originality, single-mindedness and, above all, way with a tune and a meaning-filled snarky lyric. The structure of his songs twisted and turned, but they were always melodic. He was clever, eloquent, sarcastic and, in person, always charming. All of this informed his music.
Music defined him. In 2010 he took it even further with the book Music: What Happened? His personal history of the pop era was written on a year-by-year basis, from 1957 to 2009, and took a selection of emblematic songs for each year. That simple, that elegant. It's one of the few genuinely perceptive books about pop. Not just because Miller was a songwriter and performer – which brought him a unique perspective – but because he was also a fan.
There is no doubt Miller was a one-off but his music, especially with his greatest and second band Game Theory, was often lazily pigeonholed as either powerpop or college rock, the blanket Eighties term for leftfield American pop which also encompassed R.E.M. More relevantly for Miller, the term also scooped up Let's Active, whose leader Mitch Easter produced R.E.M. and would also go on to do the same for Game Theory. But the major labels who signed near contemporaries REM, The Dream Syndicate and The Three O'Clock – and to varying degrees rubbed the interesting edges off all these bands – weren't drawn to Game Theory, who split in 1991.
For Miller, defining what he was about was obviously problematic from the moment Game Theory formed in 1982. A handbill, reproduced in this reissue of their debut album Blaze of Glory, says they are "a new wave dance-and-think band?" The question mark was included. It went on equivocally: "hopefully modern rock with some improved ideas about entertainment." (Pictured left: Game Theory in 1982 with Scott Miller right)
When Blaze of Glory was originally issued, it didn't have a sleeve but came in a white, plastic trash bag. That may have been an improved idea about entertainment or a money-saving move, but it was done for another reason. In the liner notes of this new release, keyboard player Nancy Becker says, "Our hope was that it would be noticeable in the record stores and spark interest, but it was an annoyance to the stores." The band received complaints and the arty gimmick backfired. She continues, saying, "Scott had these vision of being more than another band taking up space on a stage."
The melodramatically titled Blaze of Glory had arrived in 1982. Up to that point, Miller was known in the California college town of Davis as the leader of the band Alternate Learning. They fell apart after an EP and an album, so he picked up the pieces and formed Game Theory, whose debut album already had the sound which would endure through their life, line-up changes and that of The Loud Family: oddly structured acoustic songs and upbeat, winding compositions topped with what Miller later dubbed his "miserable whine". Whatever the handle for the vehicle, Miller's vision dominated. Let's Active were, albeit more straightforwardly, fellow travellers, but Game Theory were artier. Big Star were a precursor. Todd Rundgren was in there too, as were The Beatles, Roxy Music and This Year's Model-era Elvis Costello. Miller's music was instantly recognisable though, whatever the touchstones.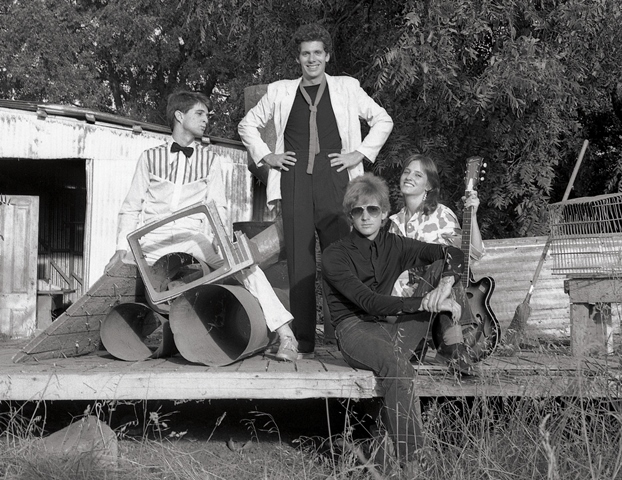 Despite nailing the later-familiar style, Blaze of Glory was tentative and jagged with a thin production. But "Mary Magdalene" and "Bad Year at UCLA" are fully formed classics, standing against anything Miller did later. The album is a vital part of his discography. (Pictured right: Game Theory in 1982 with Scott Miller front)
The reissue adds 15 tracks to the album's original 12. Some are fragments, others are by Alternate Learning or jokey asides, but one is utterly extraordinary. The intense solo demo "In the Still of the Night", recorded some time between 1977 and 1980, shows Miller had talent to burn from the beginning (he was born in in 1960).
This fine, lovingly compiled, well annotated reissue is the first in a series of Game Theory archive releases. Perhaps there is a chance, even a small one, that they might help bring Miller the widespread attention he should have received while he was alive. With artists like Aimee Mann and Magnetic Fields' Stephin Merritt already on board as fans, maybe Miller's time has belatedly come.
'Blaze of Glory's' "Mary Magdalene" and "Bad Year at UCLA" are fully formed classics, standing against anything Miller did later
Share this article