CD: Hawkwind - Road to Utopia |

reviews, news & interviews
CD: Hawkwind - Road to Utopia
CD: Hawkwind - Road to Utopia
The grizzled, grimey drug-rockers get an easy-listening makeover with somewhat surprising results
Saturday, 15 September 2018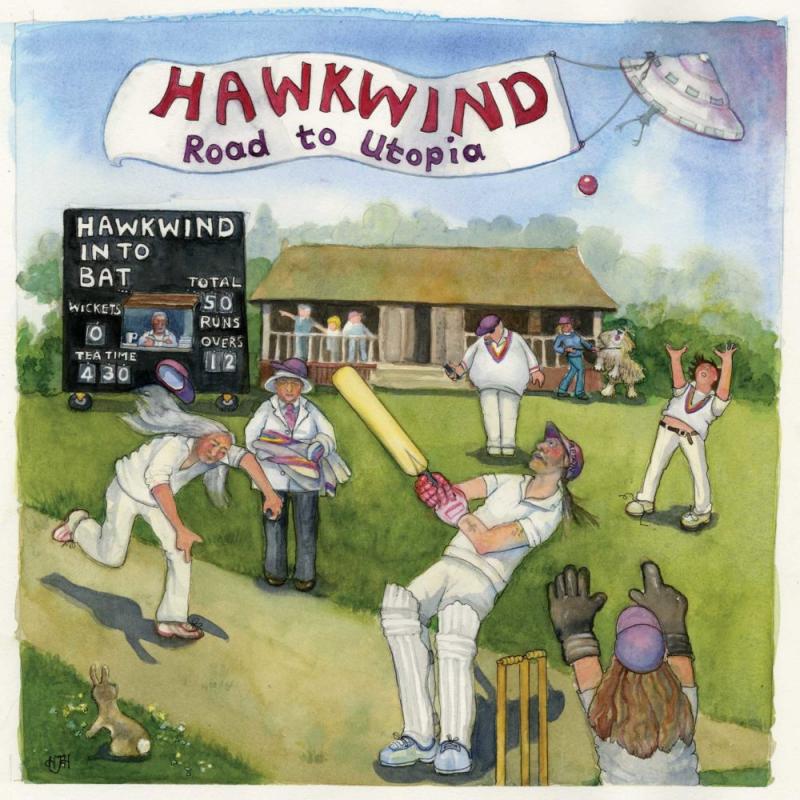 'The dreamy celebration of people who've ventured into the void and brought back treasures that still shine'
Implausible times call for implausible music, and it doesn't come much more unlikely than this. Hawkwind, the die-hard troupers of gnarly cosmic squatter drug-rock, have re-recorded highlights from their catalogue, arranged and produced by Mike Batt. Yes, Mike "Wombles" Batt. Mike "Elkie Brooks" Batt. Mike "Katie Melua" Batt. Mike "Bright Eyes" Batt. And yes, he's removed all of the dirt, grease, diesel fumes, sticky bong residue and guitar distortion from the band's sound – this is a full-on showbiz spectacular, ballroom dance rhythms, big band brass, orchestral swoops and all.
And yet, no amount of buff and polish can disguise the incorrigible nature of Dave Brock and his crew. Brock's voice has the naughty insinuating quality of every sketchy crusty uncle with a twinkle still in his eye, there are still plenty of synapse-tickling analogue synthesiser swooshes to remind us that this is a musical history steeped in gallons of the purest LSD (not to speak of the amphetamines and all the rest), and there are still the lyrics. Oh, the lyrics. They're enough to make you flash back to the strongest drug you've never taken, and start trying to escape your own skull. "The Watcher", "Flying Doctor", "The Age of the Micro Man": all capture the paranoia, conspiracy thinking, distortions of scale and reality that come with massive, massive over-indulgence.
And amazingly, the arrangements, sometimes, work. Sometimes it just feels like a cleaning up, but more often, the stagey nature of it all amplifies the cabaret sensibility that's always there in classic psychedelia, and you end up swept up in the silly stories and deranged mind-movies. And it can even be beautiful. "We Took the Wrong Step Years Ago" could be an environmental parable, but it also works well as a wistful hymn to frazzled braincells. And it's worth the price of admission to this deranged circus, just for the closer "Down Through the Night", that for all the frayed edges of Brock's voice, sounds triumphant, the dreamy celebration of people who've ventured into the void and brought back treasures that still shine.
Brock's voice is has the naughty insinuating quality of every sketchy crusty uncle with a twinkle still in his eye
rating
Explore topics
Share this article