Best of 2019: Classical concerts |

reviews, news & interviews
Best of 2019: Classical concerts
Best of 2019: Classical concerts
From vital youth at the Proms to septuagenarian pianists and a 90 year old conductor
Sheer adrenalin-charged ecstasy: Nicola Benedetti with Mark Wigglesworth and the National Youth Orchestra of Great Britain in Tchaikovsky's Violin Concerto at the Proms
It says so much for the cornucopia of London's classical music scene alone that all five of the most recent concerts I've attended have made the long list for best of 2019. I'll settle for two.
It says so much for the cornucopia of London's classical music scene alone that all five of the most recent concerts I've attended have made the long list for best of 2019. I'll settle for two. The anger and violence of Vaughan Williams's Fourth Symphony is still resonating after the London Symphony Orchestra and Antonio Pappano tore into it with focused fire on election night. Shortly before that, beauty rather than ferocity was the keynote of Bartók's Sonata for Two Pianos and Percussion as played in an intense Wigmore Hall lunchtime concert by Pavel Kolesniknov (don't miss his Wigmore solo recital on 3 January), Samson Tsoy, Colin Currie and Sam Walton.
Much as I loved Solomon's Knot giving us a Christmas concert with a difference in the revelatory sacred dramas of Charpentier, it was the communicative group's late night Bach Prom which stands out in 2019, not least for the instrumental performance of the year for me, that of bassoonist Inga Maria Klaucke (praise be to our musical God for writing such parts in his cantatas).
Among other top instrumentalists there was the wonder of cellist Sheku Kanneh-Mason, very much part of a top team in the opening concert of the Highgate International Chamber Music Festival (Kanneh-Mason pictured below by Jay Lawrence with Natalie and Ashok Klouda and Alexander Sitkovetsky) and a succession of amazing clarinettists at the Pärnu Music Festival in Estonia, the one immovable fixture abroad for me in the concert year (and the chamber musical revelation of the year here was a hyper-sophisticated performance of Korngold's String Sextet). I was delighted to witness Swedish master Christoffer Sundqvist, again with outstanding players from Hugo Ticciati's stunning O/Modernt Ensemble, in the Brahms Clarinet Quintet as part of the ambitious Wimbledon International Music Festival. As with the Schubert String Quintet in Highgate, an interpretation of such depth and mastery that I'll try to steer clear of hearing another live over the next few years.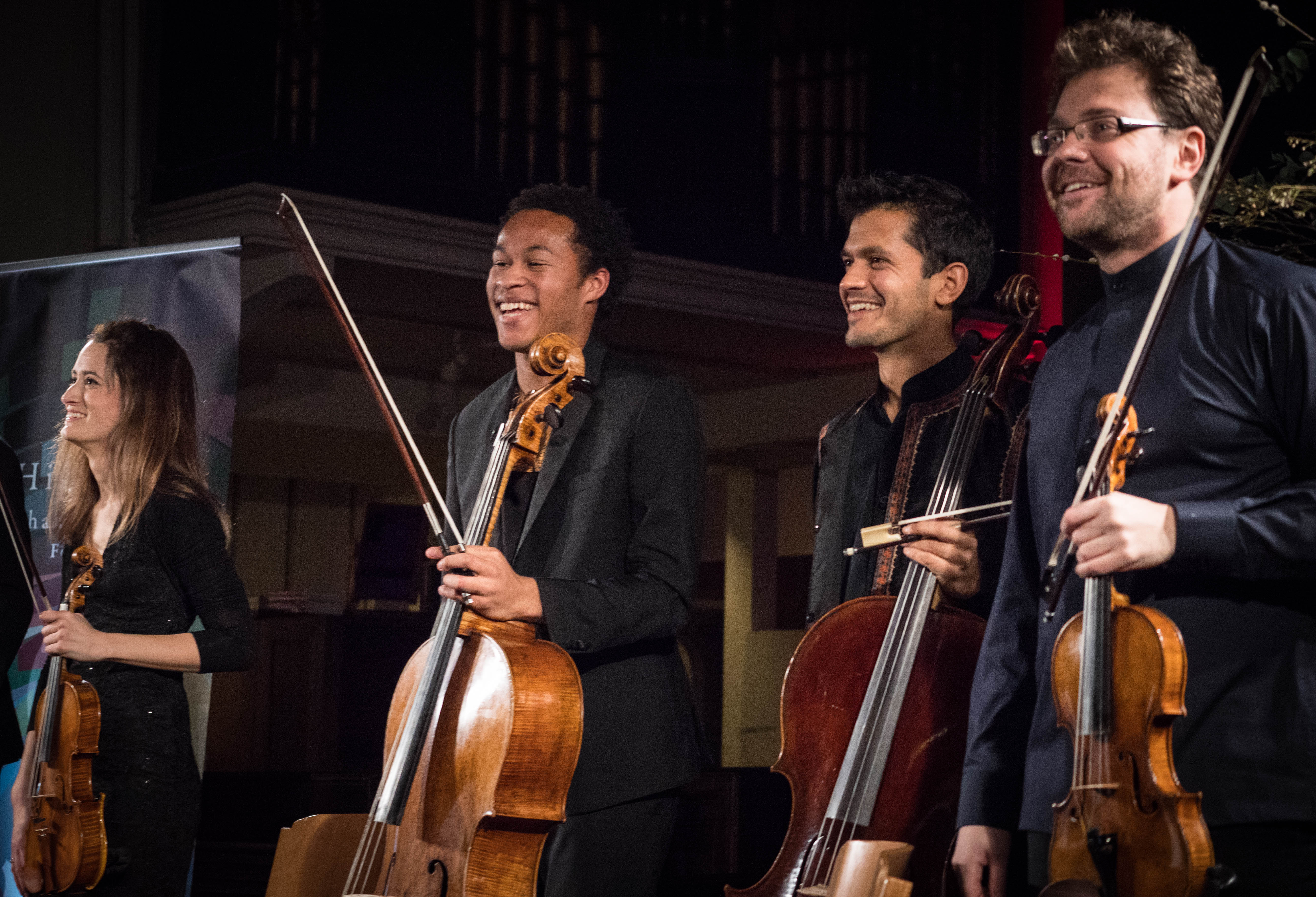 Back at the Wigmore Hall, Gavin Dixon's chamber highlight was the JACK Quartet in Elliott Carter. Of duo recitals, Sebastian Scotney praises duo recitals by violinist Janine Jansen and Alexander Gavrylyuk, and by veteran cellist Miklós Perényi and Dénes Várjon. Among song recitalists, Elīna Garanča gave a supreme lesson in the art with Malcolm Martineau only a week after another great mezzo, the Georgian Anita Rachvelishvili, had seduced us in Rachmaninov romances with Pappano and the Royal Opera Orchestra at Covent Garden. A last-minute replacement at the Lake District Summer Music Festival revealed a baritone of glorious promise in young Malachy Frame. As this was part of a Shostakovich day in which I was giving two lectures, I've not written about it here, but there's a brief appraisal on my blog – young vocal artist of the year for me.
We're spoilt for pianists of the younger generation, two of them Brits to boot – Jessica Duchen treasured Benjamin Grosvenor shining in Chopin and Fauré with the Doric Quartet, while I was amazed at the advances Martin James Bartlett has made in a couple of years at the 10th anniversary edition of the Southrepps Festival in North Norfolk (a stunner all round) - and yet the supreme poetry came from two gracious but still powerful setuagenarian women: Elisabeth Leonskaja in Beethoven's last three piano sonatas and Schubert's piano trios with violinist Liza Ferschtman and cellist István Várdai, epic Wigmore concerts both, and Imogen Cooper, making the turn into her seventies with the last three Schubert sonatas, miracles of wisdom and fresh insights.
As always, mainstream Proms programmes may have looked ordinary on paper but yielded huge delights, none more so than the sheer communicative elan and professional discipline of the National Youth Orchestra of Great Britain with Mark Wigglesworth and true Mensch Nicola Benedetti in Auerbach, Tchaikovsky and Prokofiev (plus the Mambo from Bernstein's West Side Story). Good to see that the two main works are currently up on YouTube: all kids should be persuaded to watch and wonder. Here's the Tchaikovsky Violin Concerto:
Jessica chose the Aurora Orchestra's Berlioz Symphonie Fantastique: "unforgettable, and pushed the boat out mostly convincingly, even if I wasn't mad about the masks". But she also made a special pleading for Vladimir Jurowski's LPO (which she wouldn't normally review as her husband plays in the first violins) on three occasions, and though we didn't cover his returns to Mahler's "Resurrection" or Strauss's Alpine Symphonies, this take on a stunning concert culminating in the deepest and richest of Tchaikovsky "Pathétique"s confirms her eulogy. The LPO/Jurowski all-Russian Prom was one of the rarest programmes of the season, sumptuously persuasive about Glazunov's theme-park Fifth (has the orchestra ever sounded more top-league?).
There was another Albert Hall special as Stephen Hough played on Queen Victoria's kitschily impressive grand to commemorate the 200th anniversry of her birth with Ádám Fischer and the Orchestra of the Age of Enlightenment, and an orthodox farewell to Bernard Haitink, taking his official leave of the concert scene in his 90th year and bowing out in style (the last exit pictured below by Chris Christodoulou) with the glow of the Vienna Philharmonic in Bruckner's Seventh. If anything, I enjoyed his Bruckner Fourth in the first of two Barbican concerts saying goodbye to the London Symphony Orchestra even more, if only because it reconciled me with the first three movements of this harder-to-love work (nothing, alas, can be done about the finale). Somehow that was more moving than a fascinating but deliberate Mahler Fourth, anticipated as the highlight.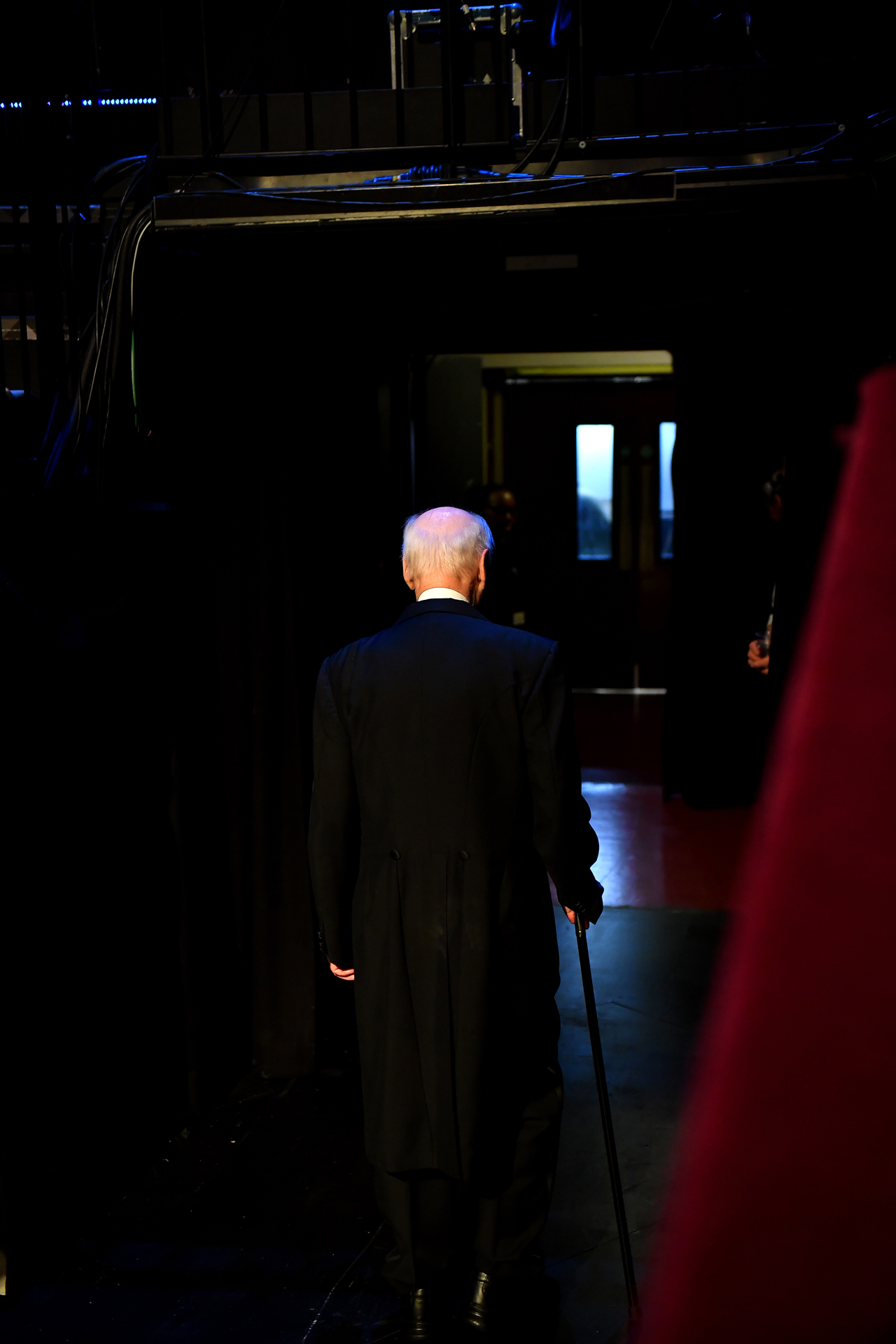 Haitink's partnership with Emanuel Ax in the first half of the Prom gave us a Beethoven Fourth Piano Concerto of chamber-musical perfection. Boyd Tonkin was bowled over by András Schiff's Barbican partnership with Iván Fischer and the Budapest Festival Orchestra (Barbican) in the "Emperor" Concerto, which he found "revelatory" as followed by "the year's most generous encore"; but the Schiff I heard in the Fourth with the wonderful Verbier Festival Chamber Orchestra at Georgia's prestigious new Tsinandali Festival seemed to be on auto-pilot alongside the players, so hyper-expressive under the febrile Gabor Takács-Nagy. Their Beethoven Second Symphony in the second half, though, was the most alive and revelatory I ever expect to hear – and that's saying something, coming as it did close on the heels of a glistening Proms performance from the Bavarian Radio Symphony Orchestra under another conductor who shows how in love with the music he is, Yannick Nézet-Séguin, replacing an indisposed Mariss Jansons (whose subsequent death is the biggest loss of the musical year, if it's possible to quantify).
Within the main season, Bernard Hughes was bowled over by two concerts in Esa-Pekka Salonen's Weimar series with the Philharmonia, citing one he reviewed and a second – even better, he thought – written up by Boyd Tonkin. I can only add a third which gets top marks for unconventional programming – sadly it didn't sell well - and has me echoing Bernard in a plea for more Hindemith in concert programmes. Alexandra Coghlan's large(ish) scale concert choice is of another rarity – albeit one which had two major London performances this year – Handel's multifaceted Brockes-Passion from the Academy of Ancient Music. Peter Quantrill chose John Butt's more controversial Bach B minor Mass with the BBC Symphony Orchestra.
Of contemporary highlights, Christopher Lambton and Richard Bratby were more unreservedly ecstatic about James MacMillan's Fourth Symphony at its Edinburgh International Festival world premiere than I was when it came to London's Barbican Hall. I had to wait until the autumn and travel to Estonia to hear big new(ish) symphonic music that fired me up from first note to last, the superb triptych of recent works by Erkki-Sven Tüür to celebrate his 60th birthday in Tallinn.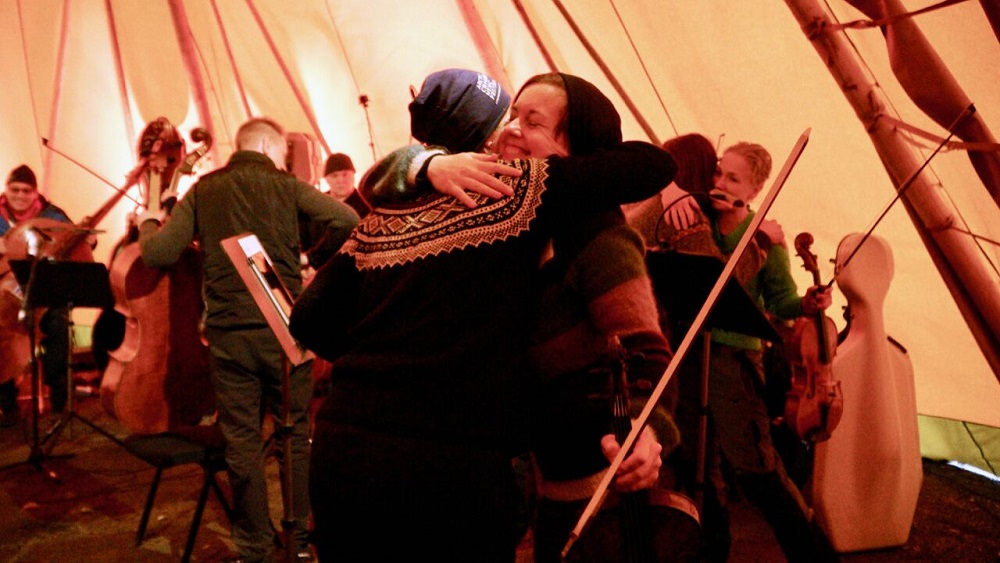 Jolliest musical experience of the year for me was to be found much further north, the farthest I'll ever go: in a tent in Svalbard, courtesy of the Arctic Chamber Music Festival. This was a party-atmosphere concert of Nordic folksongs adapted from celebrated Danish String Quartet arrangements and compered in English, with unanticipated comic genius, by violinist Anders Melhus (the end of a very merry evening pictured above by Aggie Peterson). The accompanying reindeer stew, for which I broke my loosely-held vegetarianism, was equally warming.
Lithuania was feted in style by its already great ambassador in the conducting world, Mirga Gražinytė-Tyla (pictured below) with her City of Birmingham Symphony Orchestra – the second concert of theirs I'd heard in two months that proved totally engrossing. Birmingham regular Richard marvelled at how Gražinytė-Tyla made "even the most obscure repertoire sparkle with life" in an all-British programme. In Manchester, Robert Beale enjoyed daring from the BBC Philharmonic conducted by John Storgårds in Valentin Silvestrov's Fifth Symphony, "an extraordinary piece of thoughtful modernity", and trumpeter Håkan Hardenberger in Robin Holloway's Trumpet Concerto about the "Son of the Sun".
Finally, a more modest-scaled but impactful choice about the artistic sun we celebrated in 2019, Leonardo da Vinci. I Fagiolini's "Shaping the Invisible" programme associating music from across the centuries alongside some of Leonardo's masterpieces, eloquently discussed by expert Martin Kemp, impressed Alexandra in London, Stephen Walsh in Bristol and myself in Kendal. Do buy the CD as a memento of the year;s biggest (500th) anniversary; it's beautifully presented and illustrated.
All kids should be persuaded to watch and wonder at the National Youth Orchestra Prom on YouTube
Explore topics
Share this article