New Music Lockdown 8: Take That, Moby, Kaiser Chiefs, Róisín Murphy and more |

reviews, news & interviews
New Music Lockdown 8: Take That, Moby, Kaiser Chiefs, Róisín Murphy and more
New Music Lockdown 8: Take That, Moby, Kaiser Chiefs, Róisín Murphy and more
The latest eclectic selection of musical treats available to enjoy from home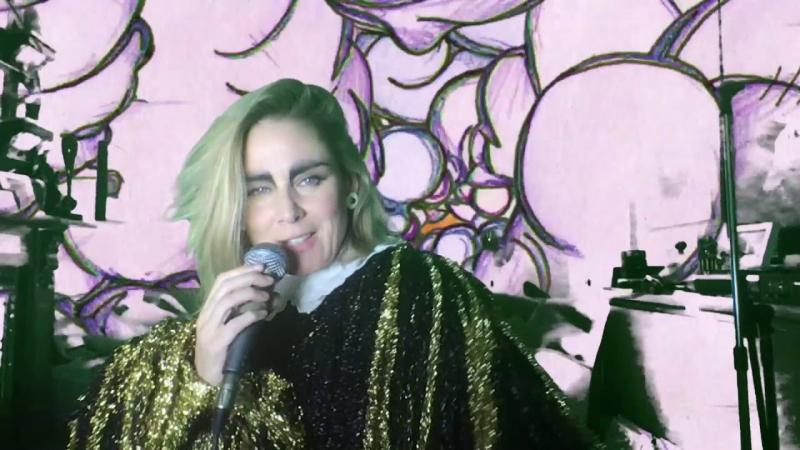 Róisín Murphy turns her living room into an eye-boggling stage set
From the biggest man band of all time to a rising Doncaster DJ, from the lofts of New York to the garage studios rooms of Scotland, the best of current musical lockdown life is here. Dive in!
Take That/Robbie Williams: Meerkat Music Concert
The big news this week is that the classic Take That line-up, minus Jason Orange, who left for good in 2012, will be reuniting for an at-home concert at 8.00 PM this Friday (29th May) via the Youtube channel of the price comparison website-related Compare the Meerkat. Supporting music therapy charity Nordoff Robbins and Crew Nation, a relief fund for workers in the live gig economy, it's the first time Williams has reunited with Take That since a brief appearance on The X Factor a couple of years ago. It remains to be seen how group harmonies will work remotely or if there will be any choreographed dancing around their kitchens.
Róisín Murphy Live @ Home
Perennial club-pop maverick Róisín Murphy has created six at-home performance videos, much-enhanced with costumes, alongside visuals and virtual backdrops by lighting designer Tom Scofield. Turning her living room into a sci-fi disco, at the heart of it all the singer is fine voice, giving a playful, frollicking performance as she debuts a remix of her cheekily titled latest single "Murphy's Law" alongside a bunch of recent singles, 2012 cut "Simulation" and the Moloko classic "Sing It Back". The performances were commissioned for a livestream night by Manchester club Homoelectric but very much stand up as entertaining in their own right
Below: Watch Róisín Murphy Live @ Home
In the Studio with Moby: All Visible Objects
Articulate and intelligent New York electronica don, Moby, has been as well known lately for his candid and riveting pair of autobiographies as his music. Last Friday, from lockdown in his home studio, he gave a thoroughly engaging half hour introduction to his new album, All Visible Objects, talking about each track, rifling through his rich memories, playing clips to improvised videos, and generally being interesting and self-depreciating right from the start ("To try and keep this even mildly entertaining I'm going to try and move around a bit so it's not just one middle-aged guy sitting in the same spot"). It's much more compelling than he or I have made it sound!
Below: Watch In the Studio with Moby: All Visible Objects
Stream4Scotland
What appears to be half of the Scottish music scene will be participating in a live music stream this Saturday, aimed at raising money for music therapy charity Nordoff Robbins and Glasgow based PPE charity ViseUp. Stream4Scotland is slated to last for 10 hours and has a dizzying amount of acts pencilled in to appear for performances and interviews, from smooth chart toppers Wet Wet Wet and long established rockers Gun to emerging talents, such as Dundee popster Be Charlotte and punk band Rascalton. The sheer amount of acts suggests that even if you aren't a fan of one, whoever's next up might satisfy your tastes, with the legendary Sub Club and SWG3 capping the night off. Stream4Scotland can be viewed from 3pm to 1am on Saturday, via www.stream4scotland.co.uk and the Gigs In Scotland Facebook page. (by Jonathan Geddes)
Franky Wah Isolation Mix
This Friday rising DJ Franky Wah releases an hour-long mix that arrives alongside visual accompaniment with a difference. Called the Isolation mix, the warm tech-house has a solitary contemplative groove, taking its time, but what sets the whole thing off is that it's filmed in a huge, desolate field on Wah's father's farm, near the Yorkshire village where he's from, all intercut with drone shots from above and images of the wide open sky. The DJ explains, "We shot it on a GoPro and I used my Dad's generator to power everything." The distant images of Wah and his DJ kit, a tiny figure on an empty horizon, are beguilingly effective, emanating an allegorical power loosely redolent of visual masters such as Russian film director Andrei Tarkovsky or the photographer/director Anton Corbijn. The mix/film can be viewed here from midnight on Thursday night.
Olive Grove Records Live Sessions
Small Scottish independent label Olive Grove Records have established themselves in the past decade thanks to a diverse roster of acts and a consistently high quality of music. With lockdown in effect they have called upon several of those acts to contribute live sessions to their Facebook page (facebook.com/olivegroverecords) ranging from the bruised, stirring indie of Campfires In Winter to the full blown pop stylings of Carla J Easton. All five performers featured are worth a listen though, a testament to the label's knack for finding good tunes over the years. (by Jonathan Geddes)
Kaiser Chiefs: Royal Albert Home
Finally, and briefly, the Royal Albert Hall continues to put on regular, free virtual Royal Albert Home events (viewable here) and has another biggie this Saturday (30th May) at 8.00 PM, a concert by pop-rock hit-makers The Kaiser Chiefs. The band say that since they cannot perform together because of quarantine rules, they will be doing their best to "turn their spare rooms into stages" and also advise that although it "will be free to watch… it's in aid of this beautiful venue, [so] donations will be much appreciated". They also promise all the hits!
The distant images of a tiny figure on a wide empty horizon are beguilingly effective, emanating an isolationary allegorical power
Explore topics
Share this article