Reissue CDs Weekly: Philip Rambow - The Rebel Kind |

reviews, news & interviews
Reissue CDs Weekly: Philip Rambow - The Rebel Kind
Reissue CDs Weekly: Philip Rambow - The Rebel Kind
Making the case for 'the eternal under-rated cult'
Philip Rambow in 1981: his received reputation is bang on
"Strange Destinies" is the first track. "Take your eyes off me Svengali" is its memorable opening phrase. Conjuring up Van Morrison, Tom Petty, Mike Scott, Bruce Springsteen and even The Boomtown Rats when they were aping the first and fourth of those, the song clangs along with a powerpop chug and sports a hook-filled melody. Great.
Despite this memorable opening, a triple-CD retrospective dedicated to Philip Rambow might seem like a cult item. Especially when no tracks from The Winkies, the band which first brought him to attention, are included. But there's definitely a story.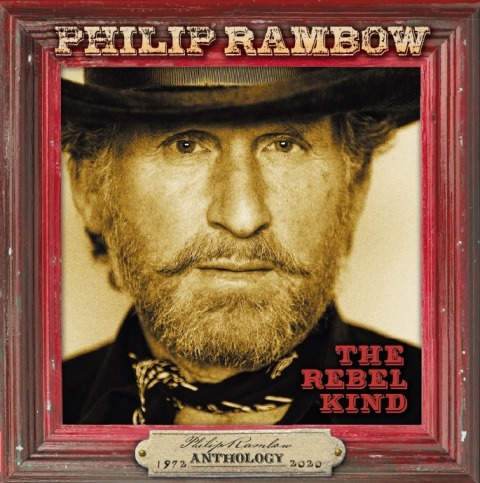 The Winkies were glam-leaning, London-based pub rockers formed by the Canada-born Rambow in 1974. Future Clash-man Mick Jones was a fan. Eno picked The Winkies up as his backing band and after they split, Rambow spent 18 months in New York on the CBGB/Max's scene. Back in London in 1977, his new band featured Mick Ronson on guitar. In late 1978 with Ronson gone, Rambow supported The Clash with Jones in his band alongside ex-Pistol Glen Matlock. Zigzag's Kris Needs described Rambow In early 1980 as, indeed, "the eternal under-rated cult." Rambow told Needs "Everyone thinks it'll happen eventually. There'll be a record I make that'll be the one." As The Rebel Kind: Anthology 1972–2020 shows, it didn't happen that way.
Four of the 54 tracks collected are integral to how it didn't happen for Philip Rambow. They were mentioned in a Chris Salewicz NME article in November 1978. Viz: "the former Winkies leader set himself up with a red-hot rock 'n roll combo featuring Mick Ronson…and clutching a fistful of rave reviews and comeback features in the rock press, Rambow was all set to go into Wessex Studios with [Sex Pistols] producer Chris Thomas to cut the proverbial vinyl affirmation of his worth. Just four tracks materialized from the Wessex sessions – 'Fallen', 'Cheap Shot', 'Prime Time' and 'Young Lust' – and have been circulating on cassette ever since, strictly for the ears of the punkbiz elite. 'Fallen', in particular, is a marvellous rock song that reeks of emotion and bristles with hook lines. Even in its unmixed form, it was an obvious choice for a hit single. And yet, apart from those fortunate enough to see Rambow on his two short series of London dates earlier this year, nobody has even heard those songs outside of the business. Those cassette tapes will probably be the only versions of those songs ever available."
In a late-coming huzzah all four crop up Disc One of The Rebel Kind, each sharing the vibe and heft of "Strange Destinies". Despite their evident quality, the new compilation's liner notes say "Chrysalis [his label] management declared that the entire tape was 'just a thrash,' and allowed the band to dissolve." And that, until now, was it for Rambow's 1977 studio outing with Ronson and Thomas.
It's impossible to be certain what would have happened in 1978 had the Wessex tracks been issued but they are strong, don't sound dated and with promotion and sympathetic management may have been well received by a new wave-attuned audience. Rambow could have occupied a similar space to The Pretenders. In America, Tom Petty's slipstream might have grabbed hold of him.
That was then. Now, The Rebel Kind collects his 1979 album Shooting Gallery, 1981's Jungle Law and the pair's belated follow-up 2014's Whatever Happened To Phil Rambow? Bonus tracks include a 1972 demo with a Jesse Winchester feel, his OK, calpyso-ish post-Winkies 1975 solo single, a pre-New York demo with a new band and much more.
Further collector catnip comes with the original demo of "There's a Guy Works Down the Chip Shop Swears he's Elvis" recorded with Kirsty MacColl, with whom he wrote the song. There's also former Meat Loaf backing singer Ellen Foley's Rambow-composed "Night Out": he and Mick Ronson were involved with the album of the same name, and Foley had connections with Mick Jones.
Clearly, Philip Rambow was on-the-button. In the liner notes he says that while in New York in 1977, his label called to say "'punk is happening here in London now,' and there was a plane ticket waiting for me to come back because 'the scene here is ready for you'." Even so, Chrysalis lost interest and his debut album Shooting Gallery arrived on EMI. "We still went on the road with it, some support shows with Dr. Feelgood, club gigs, just gigging along [to promote Shooting Gallery]," says Rambow now. "But not much happened."
Of the albums collected on The Rebel Kind, Shooting Gallery is the one to go for. It's not all shoulder-to-shoulder with "Strange Destinies" but "Fallen" (again with that curious Mike Scott-predicting feel) and "Young Lust" are as good. Fussier songs like the over-produced album closer "Deep River" haven't worn well. The same applies to the whole of Jungle Law, where keyboard-dominated arrangements and an unsympathetic glossy production make it challenging to get through. Whatever Happened To Phil Rambow? is rootsier. John Hiatt fans would dig it.
What lingers after taking in The Rebel Kind: Anthology 1972–2020 is that Philip Rambow's received reputation is bang on. As the liner notes put it: "For anybody who had followed his career through the 1970s, Rambow certainly ranked among the most clear-cut Next Big Things of the decade." It's difficult, though, not to wonder whether a single-CD set cherry-picking the cream of his recordings would have hit harder.
Next Week: Rockabilly legend Dennis Herrold
With promotion and sympathetic management, Rambow could have occupied a similar space to The Pretenders
Share this article