theartsdesk on Vinyl 77: Scuba, Dannii Minogue, Tito Puente, ABBA, The Undertones, Oracle Sisters and more |

reviews, news & interviews
theartsdesk on Vinyl 77: Scuba, Dannii Minogue, Tito Puente, ABBA, The Undertones, Oracle Sisters and more
theartsdesk on Vinyl 77: Scuba, Dannii Minogue, Tito Puente, ABBA, The Undertones, Oracle Sisters and more
The biggest, most wide-ranging regular record reviews in the universe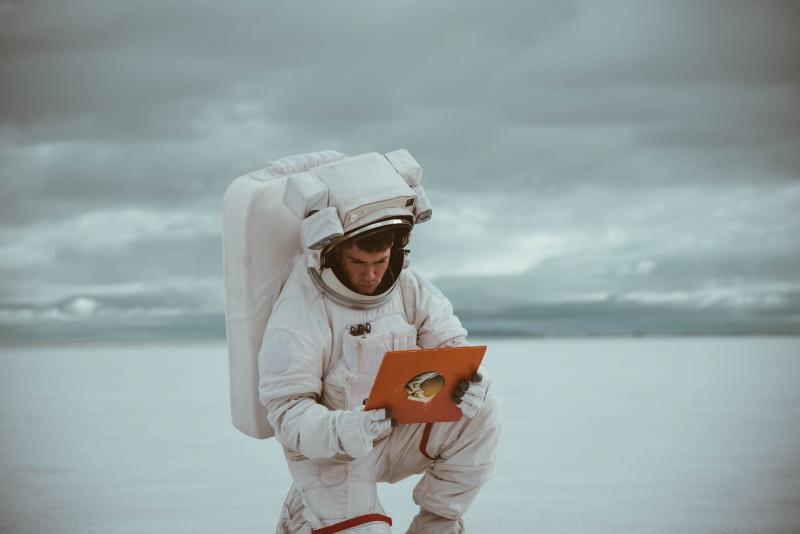 Facing the music
VINYL OF THE MONTH
Rahill Flowers at Your Feet (Big Dada)
Rahill Jamalifard's debut solo album somehow transmutes autobiography into gorgeous slow-pop. Of Iranian-American origin and best-known as singer of the band Habibi, she and FKA Twigs producer Alex Epton use home recordings and pensive, sometimes nostalgic lyrics to create something unique, lolling and amiable. Beck appears on one song, "Fables", and the magpie spirit of his best work is a good reference point. It's a lovely album that seems at once familiar, yet strange and new, a collation that includes elements of jazz, trip hop, hip hop, easy listening, baggy-era indie, spaced LSD Seventies, global roots, electronica and more, all topped by Rahill's persuasively lazy voice and thought-inducing words. The songs are solid, from start to finish; there's a child-like innocence too that drips through unostentatiously. It's a delicious album, richly mastered to (pale green) vinyl. Comes with a 12" x 12" four-page lyric insert that makes reference, via photos and a map, as does the cover image, to Rahill's Iranian origins.
VINYL REVIEWS
Oracle Sisters Hydranism (23Twenty) + Eyes of Others Eyes of Others (Heavenly)
Two more albums that offer alternative windows into ways that pop music could be. Oracle Sisters muster a classily European take on the American rock and pop tradition, part 1970s Beach Boys, part yacht rock insouciance, part Flaming Lips wackiness. The trio is based in France – and they sound like it, although the album was recorded on the Greek island of Hydra which might explain its sunniness – and consists of old mates Lewis Lazar and Christopher Willatt, and Finnish musician Julia Johansen. Their sound, whether intentionally or not, seems to draw from chanson and musical theatre, unafraid of large arrangements, at once opulent, laidback, and full of itself. Remember how Mika was (is?) a huge star in France? Well, Hydranism doesn't sound like him but there's something of that lushly crafted artifice about it. Whatever, it's as fine a set of unlikely pop songs as has landed at
theartsdesk on Vinyl Mansions this month. Comes on white vinyl in photo/info inner sleeve. Eyes of Others, AKA Edinburgh producer John Bryden, is not as immediate, but his Ian Brown-whispered Manchester-in-the'90s take on dub-pop has a Balearic congeniality. It's low-key but tuneful, pivoting around the repeating bass synth patterns underneath every song, which subtly add something akin to Krautrock to the mix. The lyrics aren't bad either, characterful, even eccentric, kitchen sink-y (the small print on the psychedelic cow's ears on the cover read, "Logging in for your daily mediation… have you forgotten your password?"). It's odd stuff but very approachable. Comes in art inner sleeve with a poster of the omnipresent psychedelic cow.
Scuba Hardcore Heaven (Hotflush)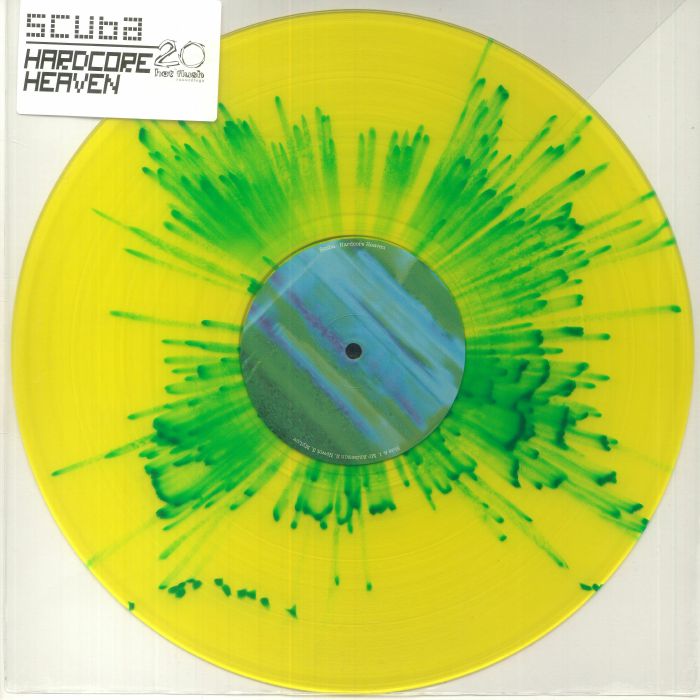 DJ-producer Scuba, AKA Paul Rose, has been celebrating the 20th anniversary of his Hotflush label with various releases, including this Record Store Day 12" EP which arrived just too late to be included in theartsdesk on Vinyl's RSD 2023 Special. But it deserves attention. Proving he can turn his hand to styles well outside house and techno, or even his crunchier electronica, this six-tracker, on garish lime vinyl splattered with green drips, is a tribute to early 1990s hardcore, the breakbeat rave that was Britain's response to all those early US techno and house tunes which dominated the original acid house days. He makes an excellent job of it. Of course, he's able to add more bass-end heft than those back-in-the-day classics, but he captures the outrageous "Let's 'ave it!" mood well, especially on opener "Mr Anderson". It's strictly vinyl, only 500, so grab it while you can (if you can!).
The Heavy Amen (Bad Son)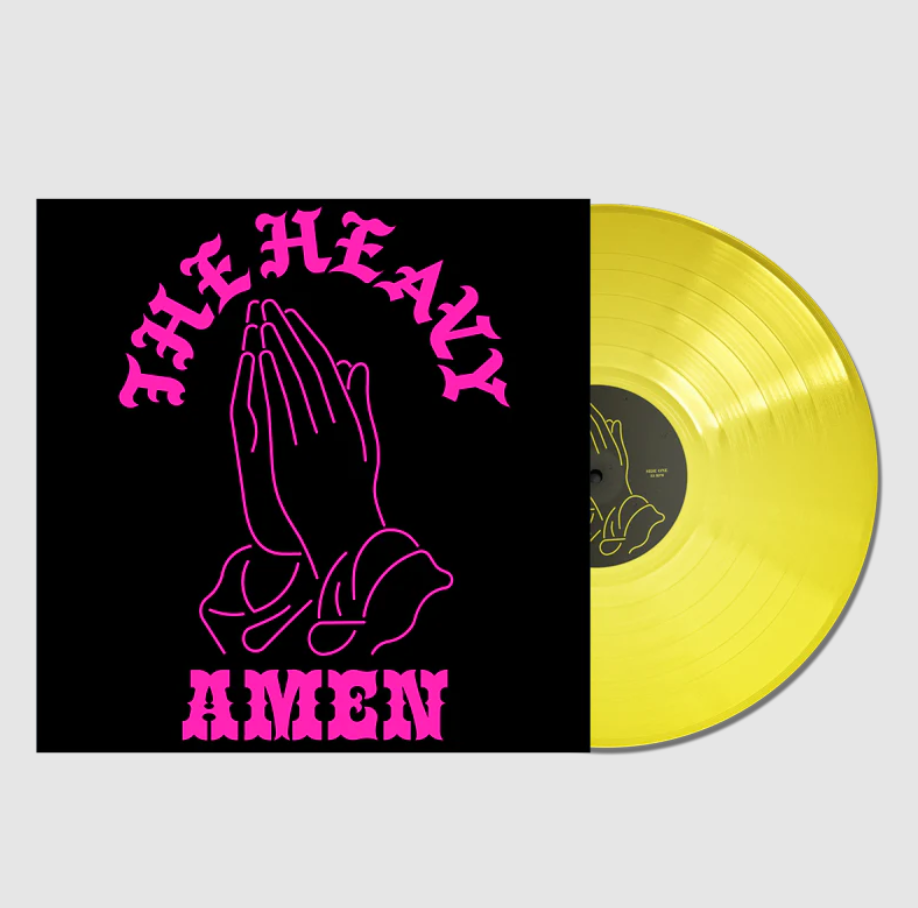 Back in 2007 when Ninja Tune announced they were going to start a rock imprint, Counter Records, I was excited. Musical genre-mingling is ace and Ninja Tune are a label who have the chops to carry it off. They launched, if I recall rightly, with the debut album from a rock four-piece from Bath, The Heavy. I wanted to like them but wasn't convinced. It seemed too composed, smart ideas above songs, over untamed rock'n'roll thrust. Sensibly, they ignored my lack of interest and kept going, achieving low level success along the way. Their sixth album, though, has that snap, a credible and eclectic journey whose songs jump about between swampy blues, chest-thumping rock, Memphis soul bounce, string-laced trip hop, lighter-waving slowies, and sometimes a combination of all the above and more. I can see the Americans, who have long shown an interest, being right into this. About time. Comes on garish fluoro-pink vinyl in photo/info inner sleeve.
Various Luke Una presents É Soul Cultura Una Dos 2 (Mr Bongo) + Guilherme Coutino e o Grupo Stalo Guilherme Coutino e o Grupo Stalo (Mr Bongo) + Various Tudo Ben (Mr Bongo) + Various Hidden Waters: Strange and Sublime Sounds of Rio de Janeiro (Mr Bongo) + Bala Desejo Sim Sim Sim (Mr Bongo)
A juicy haul of wonders from the ever-smart Mr Bongo label. Manchester DJ Luke Una gives us a second volume of his É Soul Cultura series of offbeat and obscure items, usually related, if sometimes only tangentially, to dancefloors of various eras and countries. As with the last lot, his taste only synchronizes with mine about half the time but, oh boy, when it does, he hits the bullseye. For instance, Side One is all soul boy stuff that's smooth and doesn't especially turn me on (although, admittedly Real Thing's "Children of the Ghetto" has a jazzy Marvin Gaye-ish appeal)… ah, but Side 2 is gold, the Spartan post-acid house bubbling jiggery-pokery of "Bach Revolution" by D.E. 108, or the bonkers Indian sounding electro-warpery of "Bangalore Whispers" by Andi Otto. The whole thing is a cherry-picking delight on double in gatefold with a 16-page fanzine-style mag that gives background and detail, plus a 12" x 12" insert that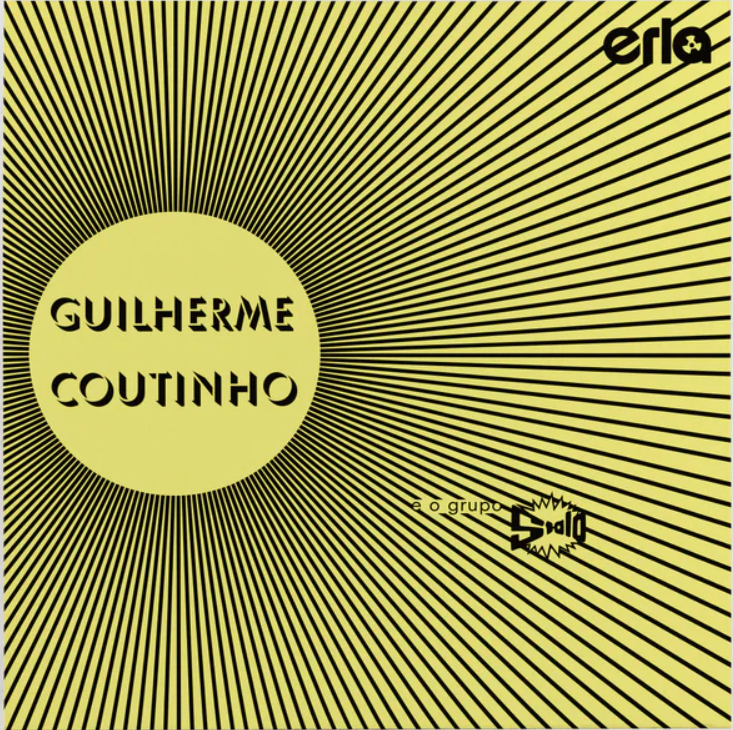 does more of the same. Back in 1978, Guilherme Coutino, from the nowhereville Brazilian port town of Belém, released his album Guilherme Coutino e o Grupo Stalo on a micro-label. It didn't do very much, and he died or a heart attack in 1983, but as sometimes happens, the record developed a cult afterlife, became a collectors' item. The original run was so small that tracking down copies was all but impossible. It's been released before, a couple of years ago, by Mad About Records, but now receives wider distribution. To make this happen the only pristine copy known to be in existence was located in Belém's public library. It's easy to hear the appeal, a fluffy sunshine feijoada of tropical funk and easy listening, with a side order of novelty synth sounds adding to
the merriment, as do the whimsically blithe vocals. Tudo Ben is a two-record compilation pulling together cover versions of songs by Jorge Ben, the samba-rock giant, perhaps best known for writing the song "Mas Que Nada", here covered by the late, great empress of samba, Elza Soares. It's a universally thrilling set, chock full of treats, mostly recorded at the end of the Sixties (I think). Out on CD a decade ago, it's great to have this on plastic. Bringing things up-to-date,
Hidden Waters sees Joe Osborne, of Brazilian music specialists Brazilian Wax, and Russ Slater, who partly oversees South American culture site Sounds and Colours, gather together four sides of plastic that represent a rising tide of young Rio musicians, a scene that's blossomed "reclaiming derelict spaces and dissident sounds". They range from the kind of carioca that might be expected, albeit filtered through 21st century pop sensibilities (and sometimes stranger influences), to cuts such as the over-amped Latin lo-fi freak-indie of Negro Leo's "Mulato", or the equally funk-rocked psyche of "Apre​ç​o Antigo" by Lê Almeida. On info-gatefold with sleeves giving background on the tracks and artists, this is a thoroughly welcome introduction to a heap of names unfamiliar to this writer and, likely,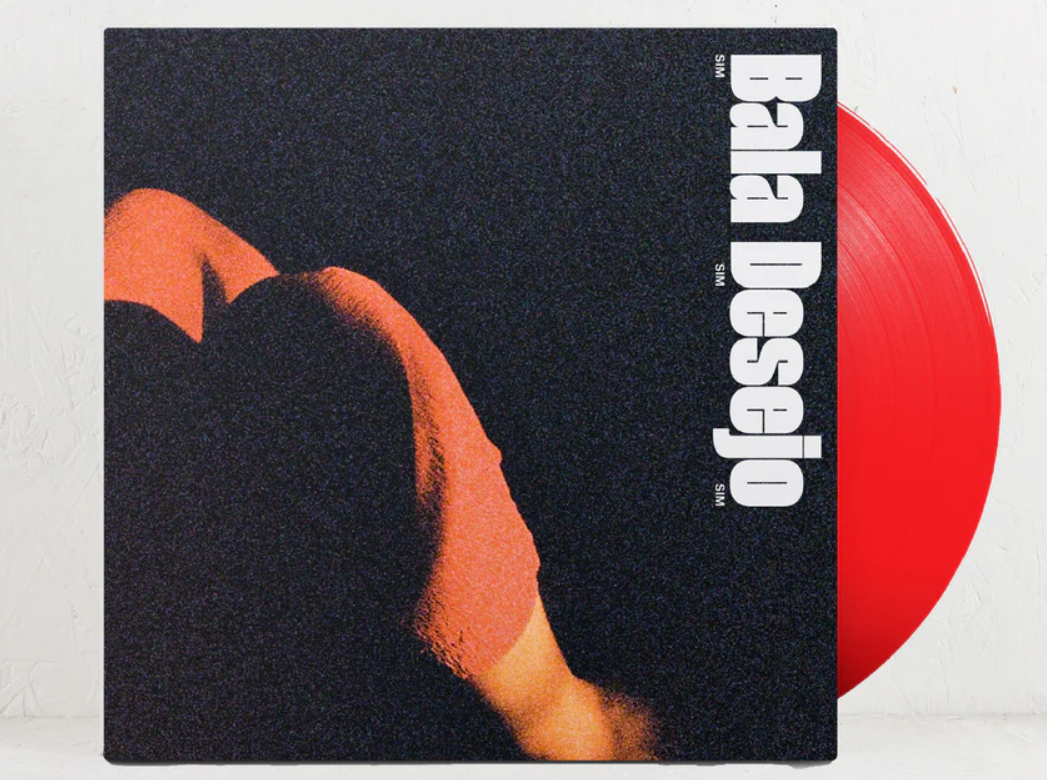 most British music-lovers. Finally, the raunchily freeform four-piece Bala Desejo, two women and two guys, have a song on Hidden Waters and their Latin Grammy-winning debut album Sim Sim Sim also now appears on vinyl. Uninhibited in their look, as well as the sounds they fuse, from tropicalia to straight-up Brazilian pop-rock, they come across as a band having a wild time making groundbreaking and good-natured music. And, on the 12" x 12" four page photo/lyric insert/poster, they look up-for-it!
Dannii Minogue Neon Nights (London)
I have not followed the career of Dannii Minogue. Last thing I recall was terrible cheese-pop rubbish circa early Nineties, bouncing off her sister's fame. Thus, I was never aware of this album, her fourth, which came out in 2003. I confess to being surprised when the needle hit the 20th anniversary picture disc on, suitably, opening cut "Put the Needle On It". Out bursts chewy, invigorated club-pop, imaginatively constructed, and as the record progresses, that's what's served up. Obviously, not every track hits home, and Minogue's vocals are what they are, but there's a hulluva lot of bright-eyed, sexy, foot-moving bangers of board, via a range of producers bridging Europop and meatier dancefloor sounds, the likes of Swedish duo Korpi & Blackwell, German producer Jean-Claude Ades, French indie outfit Neimo, and Dutch pairing Chocolate Puma in their Riva guise. A sassy and bouncy surprise.
Various Little Bangers from Richard Hawley's Jukebox (Ace)
Never mind whether you like Richard Hawley's music, his jukebox may be the best in Britain. This double album compilation collates tunes he has on 7", and his taste is relentlessly on-point. It's almost all singles from the Fifties and Sixties but he's mined record shops for a very particular sound; it's the place where proto-punk garage fuzz meets Duane Eddy/Link Wray-ish twang, all through the prism of the dirtiest-sounding rhythm & blues. Wray is on board, with "Poppin' Popeye", and there are "names", such as The Troggs, The Shadows and Bobby Darin, and cult niche-genre turns such as King Curtis or The Pirates. Also a raucous early Jimi Hendrix appearance on Curtis Knight & The Squires' 1966 "Hornet's Nest", a tune that gives clues as to developments in rock over the next decade. But the listener is as likely to find diamonds amongst the rest, cuts such as the bongos'n'organ'n'sax mash of "Buzzzzzz" by Jimmy Gordon or the musty Afro-kitsch-in-a-cellar "Bwana Jinde" by Al Duncan. You can drop the needle anywhere and hit nastily-amped vintage guitar excellence by bands with names such as Twangy Rebels, The Dyna-Sores and The Executioners. On the gatefold Hawley gives all the background to the album and the individual tunes.
Bill Evans Treasures: Solo, Trio & Orchestra Recordings From Denmark (1965-1969) (Elemental) + Asher Gamedze Turbulence and Pulse (International Anthem/Mushroom Hour) + Naná Vasconcelos Saudades (ECM) + The Stan Tracey Quartet Jazz Suite Inspired by Dylan Thomas' Under Milk Wood (Resteamed)
Four quietly vital jazz outings that deserve attention. The triple set by smack-addicted but ever-pro' Miles Davis sideman and piano don Bill Evans is lovingly collated, pulling together a variety of live work from the Sixties, much of it featuring the deft bass work of his regular sparring partner Eddie Gomez. LP1 features Evans' trio's autumn tour of 1965, an easy-grooving set, a highlight being a sweet version of his best-known piece, "Waltz For Debbie", alongside a selection of standards. LP2 is a very different kettle of jazz fish. Side A is completely solo from 1965, including sparse, lonely and lovely takes of "'Round Midnight" and "My Funny Valentine", while Side B, from 1969, is lusher, more filmic, as he's backed by The Royal Danish Symphony Orchestra and the Danish Radio Big Band. LP3 is back to a trio, this time with Eddie Gomez on board, with a set recorded for radio in '66 on Side A, and a live set from '69, recorded in Aarhus's Stakladen Hall, featuring a great eight-minute version of "Nardis". These last sides have a more experimental post-bebop edge, while still maintaining Evans' lightness of touch. The album comes with a 10" x 10" 12-page booklet full of essays, rare photos and interviews, giving as much background as even the most devoted fan could need. The whole thing is gorgeously mastered too, by American audio kingpin Bernie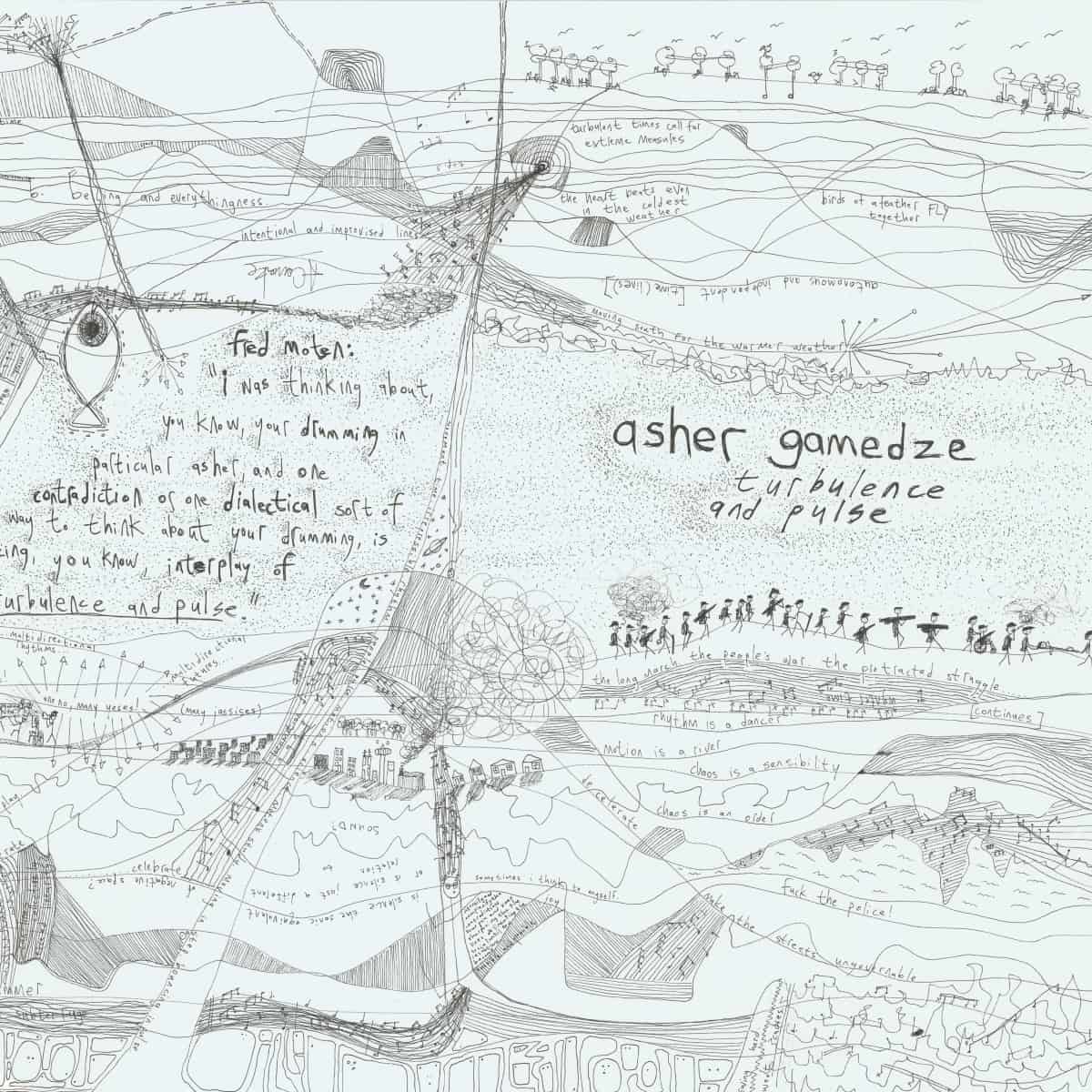 Grundman. South African drummer Asher Gamedze showcases a different face of jazz on his new album Turbulence and Pulse, released via the combined forces of Chicago exploratory label International Anthem and Johannesburg avant-gardists Mushroom Hour. Gamedze came to critical attention with his debut album, Dialectic Soul, during COVID lockdown. He returns with a manifesto of sorts, joined by a tenor, sax, trumpet and bass, with his words to the fore on opener "Turbulence's Pulse". On double in info gatefold, the final side offers additional live versions of three album cuts. It's conceptually pretentious. One of its themes, Gamedze says, is that "Time in music is a metaphor for thinking about time in history and how time moves" (oh, and it says on the cover banding, "Movement inducing rubato bursts of swinging revolutionary southern African soul, elastic and unwavering, exploring the imperative & impulse to make time"!). But not much new and interesting ever happened that some staid Luddite didn't call pretentious and, after a listen or two, this bell-jangled, percussive, slow-mo jazz oddity starts to get under the skin. Diving back through the decades to 1979 (when it was
recorded – it was released in 1980), Saudades by the late Brazilian percussionist Naná Vasconcelos may be his meisterwerk. Much of it is even more stripped back than Gamedze. Vasconcelos was well travelled; by the time he made this album, he'd worked with the likes of Jon Hassell and sussed out the terrain between Stockhausen and John Coltrane, applying his own expertise at the one-stringed Afro-Brazilian percussion instrument, the berimbau. Even to class it as jazz is a stretch. I'm not sure what it is, percussive space music that resonates with a wilful avant-garde-ism, sometimes sounding raga-esque. The lead track "O Berimbau" sets the listener a challenge, all VERY serious strings followed by shrieks and mantric metallic skronk. But then the album settles and becomes more welcoming to ears that enjoy downtempo electronica and classical minimalism. Comes on gatefold containing a large essay about the album's origins. Finally, and perhaps the most immediate of these albums is Stan Tracey's Jazz Suite Inspired by Dylan Thomas' Under Milk Wood. Tracey was a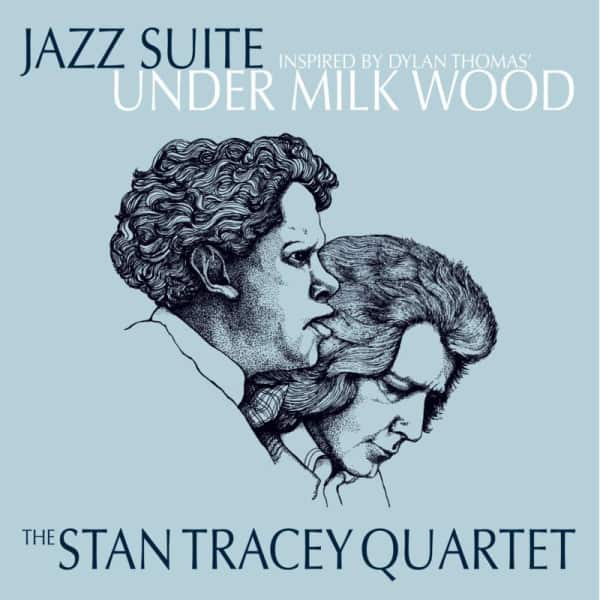 permanent, if under-rewarded, fixture of the British jazz scene from the 1950s until at least the 1990s (he died in 2013), but by far his most famous contribution is this album. It's easy to hear why. Each piece stands alone, rather than the album as a whole being the vibe, with Tracey's independent-minded piano style sounding both strident and relaxed, when surrounded by the rhythm section of Jackie Dougan on drums and Jeff Clyne on double bass. The able additional ingredient being Bobby Wellins' tenor sax that sits at home in the music like a bird on the wing. By the time he made the album Tracey had played with everyone from Cab Calloway to Stan Getz to Roland Kirk, and it's the way he sprinkles newer jazz ideas on the immediacy of his melodies that makes the whole such a finely balanced pleasure.
William DeVaughn Be Thankful for What You've Got (Demon) + Urban Cookie Collective The Key, The Secret/Feels Like Heaven (Demon) + Freestylers Ruffneck/B-Boy Stance (Demon) + The Yardbirds Psycho Daisies/Happenings Ten Years Time Ago (Demon)
As the vinyl market has bloomed and grown over the last decade, albums have been by far the main currency, but it's heartening to note the creation of the Demon Singles Club, which is repressing singles on 12" and 7" from a multiplicity of genres and eras. This is great idea and they're properly mastered, no cheap digital transfer nonsense. It's not, then, that I love all the singles here – I still find Urban Cookie Collective's fizzing, sugary chart-rave pop irritating – it's that this development is positive and exciting. Of the others, William DeVaughn's 1974 bongo-soul classic, on 12", famously nicked by Massive Attack (I admit that's how I first knew it), is about as good as popular music gets ("Blood is
Thicker Than Water" on the flip is a likeable but lesser cousin); Freestylers' 1998 12" is a four-tracker that speaks loudly of its time, MC Navigator fronting a big beat-friendly party for boisterous beer'n'chemical dancefloors. The Yardbirds 7" is from 1966 (reprinting a rare German sleeve) and showcases Jimmy Page and Jeff Beck going head-to-head on two lysergic blues-rock blow-outs that heavily intimate what both men will be doing in three years' time.
Juan Wauters Wandering Rebel (Captured Tracks)
The sixth solo album from Uruguayan New Yorker Juan Wauters is a playful affair, offering serious but often wryly humorous songwriting over a music that combines South American café chirpiness with easy listening tropes and a hint of indie (and an even smaller hint of hip hop). Led usually by strummed guitar, the lyrics are in both English and Spanish. The singer Greta Kline joins Wauters on "Modus Operandi" which is typically light-hearted but with a pin-sharp point (that when the going gets difficult in New York the rich flee to their country houses). Wandering Rebel gives off brightness, a sense of joy, but hidden within its smile-inducing songs are subtle, carefully wrought and witty barbs. Comes in basic info inner sleeve.
The Undertones The Undertones (BMG) + The Undertones Hypnotised (Arpeck/BMG) + Various Gary Crowley's Punk & New Wave Vol. 2 Boxset (Demon)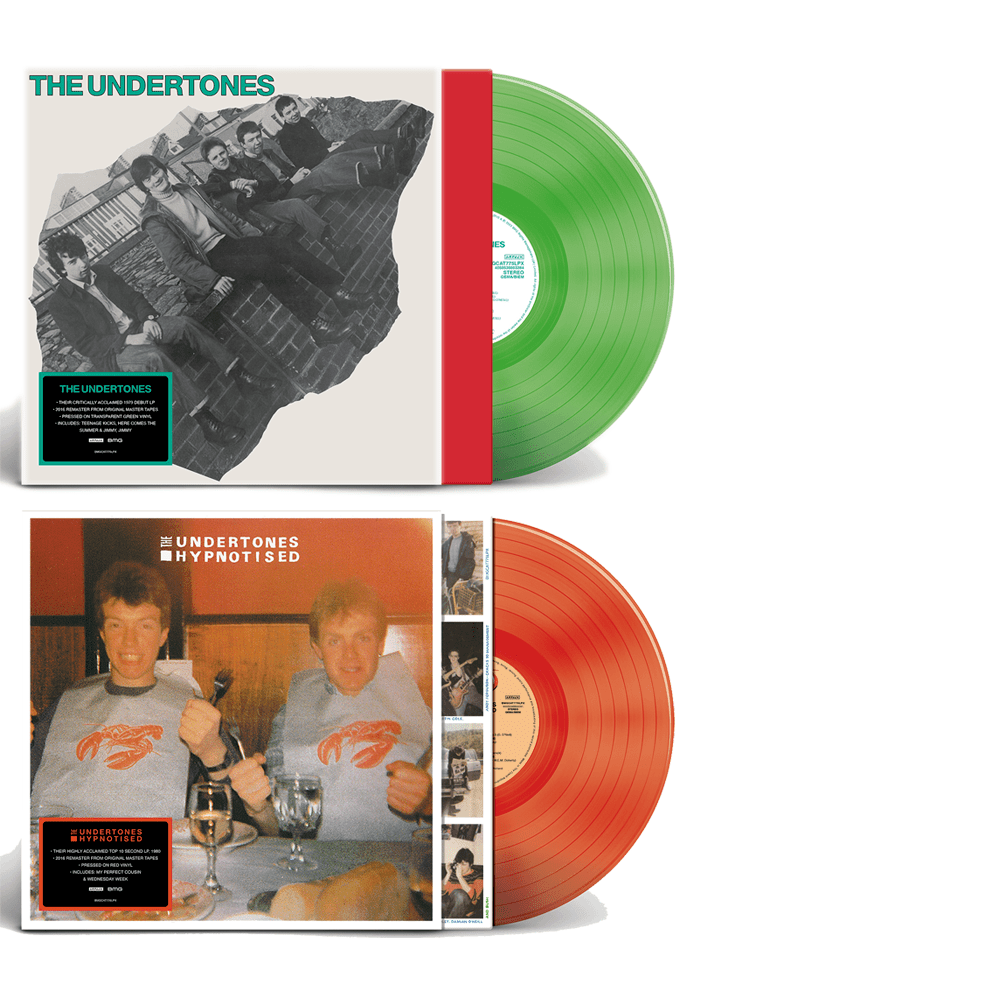 'Ere's a shedload of punk for ya! The Undertones' first two albums show off a band becoming who they are and it's a fine thing to hear. From Derry, Northern Ireland, unpretentious in their dress and outlook, fired at first by, mainly, The Ramones, their self-titled debut from 1980 is a masterclass in what would become known as "power pop". It's just memorable song after memorable song riding buzzsaw guitars – "Male Model", "Jimmy Jimmy", "Here Comes the Summer", "(She's a) Runaround", "Girls Don't Like It" and, of course, "Teenage Kicks" (which wasn't on the first edition of the album). A year later, with their second album, they'd welcomed in a broader range of influences, hence the cover of "Under the Broadwalk", and were at a commercial peak with hits such as "My Perfect Cousin" and "Wednesday Week". Anyone with the faintest interest in seeing how punk rock intersected with pop and became new wave, needs these two (and probably already has them!). These editions come on transparent green vinyl (The Undertones) and transparent red vinyl (Hypnotised). Gary Crowley includes "There Goes Norman" from the latter album on the second edition of the Punk & New Wave boxset he's put together with his Soho Radio co-host and devoted punk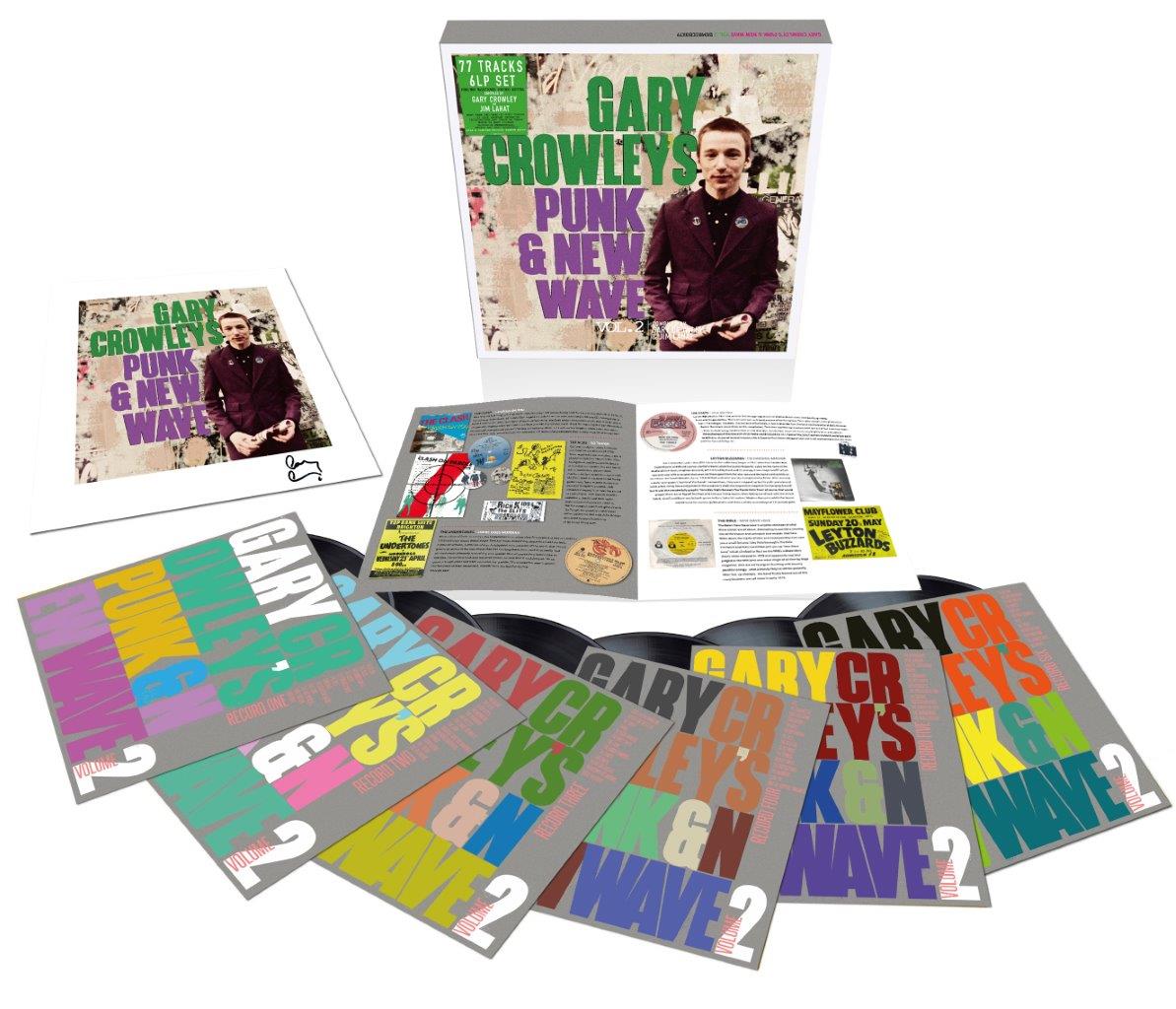 record collector Jim Lahat. It contains six records so is, by the nature of things, a very mixed bag. The big hitters are here, often with well-liked tracks that aren't alt-disco regulars (but which their fans will know well) – The Slits' "So Tough", The Ramones' Suzy is a Headbanger", The Jam's "Away From the Numbers", The Stranglers' "Tank", Stiff Little Fingers' "Barbed Wire Love", plus cuts by The Clash, Killing Joke, X-Ray Spex, The Cure, Devo, The Psychedelic Furs, Siouxsie and the Banshees, XTC, Suicide, and Magazine. But, for those who've already dipped deep into punk, the kicks are to be found exploring the rest. There's a good chunk of bog-end Lurkers-style shouty chuggers but there are also plenty of treats, such as the suburban angst of "Jimmy Brown" by The Boys, the dub of Poet and the Roots' "Dread Beat an' Blood", the deadpan robot ska of "Silicon Chip" by Basement 5, the hammy rockabilly yobbishness of The Rezillos' "Somebody's Gonna Get Their Head Kicked in Tonight", the Nick Hayward-fronted indie jangle of "Moving Back" by Moving England, and a whole load more. The records come in art/info inner sleeves with a 32-page 12" x 12" booklet full of background to each track, loads of photos and memorabilia, and, in my edition, a 12" x 12" insert of the cover signed by Crowley.
Le Abranis Amazigh Freedom Rock 1973-1983 (Bongo Joe)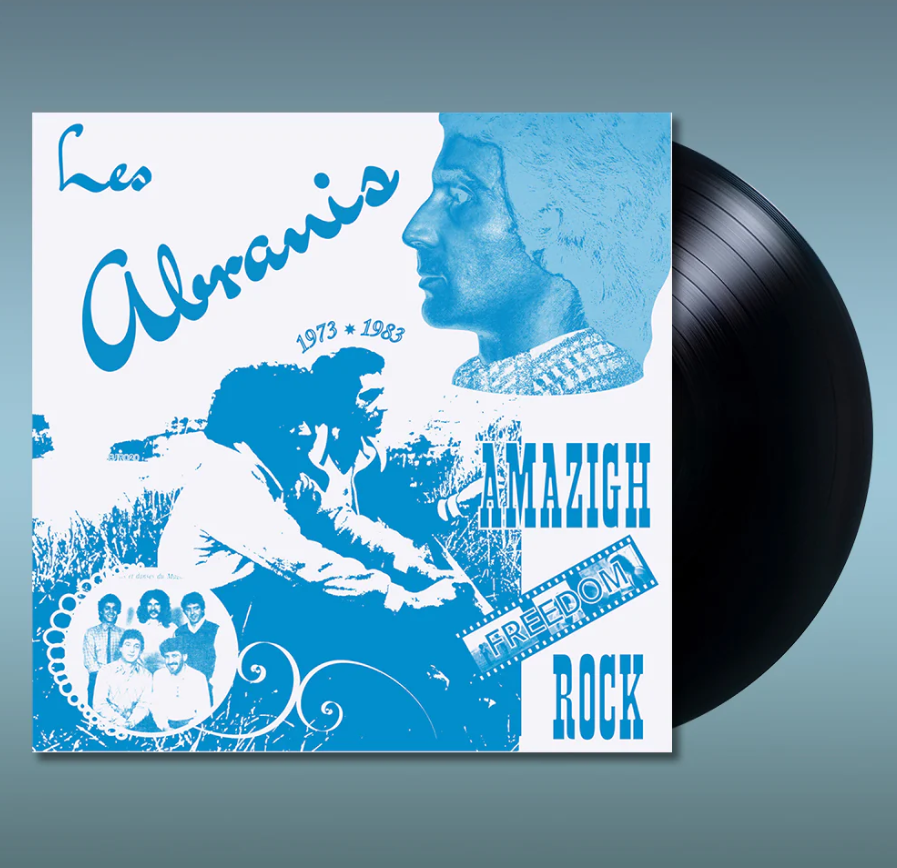 Bongo Joe is another label with the word "bongo" in the title who consistently do good things. The word "bongo" is, generally, a positive indication, whether on event posters, records sleeves, or outside beatnik wine-jug haunts. All that aside, Les Abranis were a a group based around Algerian immigrants in Paris. They began in 1967 and their raison d'etre, as showcased on this record, was drawing from their mother country's music but combining it with whatever was going on in western popular music. Thus, this collection jumps around between funkin' garage rock such has "Athedjaladde", disco flavours, as on "Akoudar" and the twangily groovy "Therrza Rathwenza" (the latter a highlight), synth-pop experiments such as "Thilelli" and more traditional sounds, as on "Avehri". Despite the language barrier, the musical variety and a certain urgency more than hold the attention.
Madness Oui Oui Si Si Ja Ja Da Da (BMG)
A decade ago, when this album came out, I recall not being too impressed. Must have not been in the right mood. That can be the way of things. Music criticism is as much a load of subjective arse as it is any use. Because Oui Oui Si Si Ja Ja Da Da is a solid late-period Madness album, which now appears on double in a gatefold with inner sleeves that, as with their other recent reissues, contain band memories which are pleasingly unedited in tone, candid to the point, sometimes, of grumpily dismissive. For example, there's a lot of suggestion that they should have stuck with their demo producer Charlie Andrew throughout rather than bringing in major pro's Owen Morris and Stephen Street for tracks (therefore implying the versions we're listening to are not the best ones!). Contains corkers such as "La Luna", "Never Knew Your Name", "Death of a Rude Boy" and "Powder Blue", as well as a seven bonus tracks, and a triple fold-out 12" x 12" lyric/info sheet, and art work by Peter Blake.
Tito Puente Mambo Diablo (Craft) + Malompo Jazz Malompo Jazz (Strut) + Malombo Jazz Makers Vol. 2 (Strut)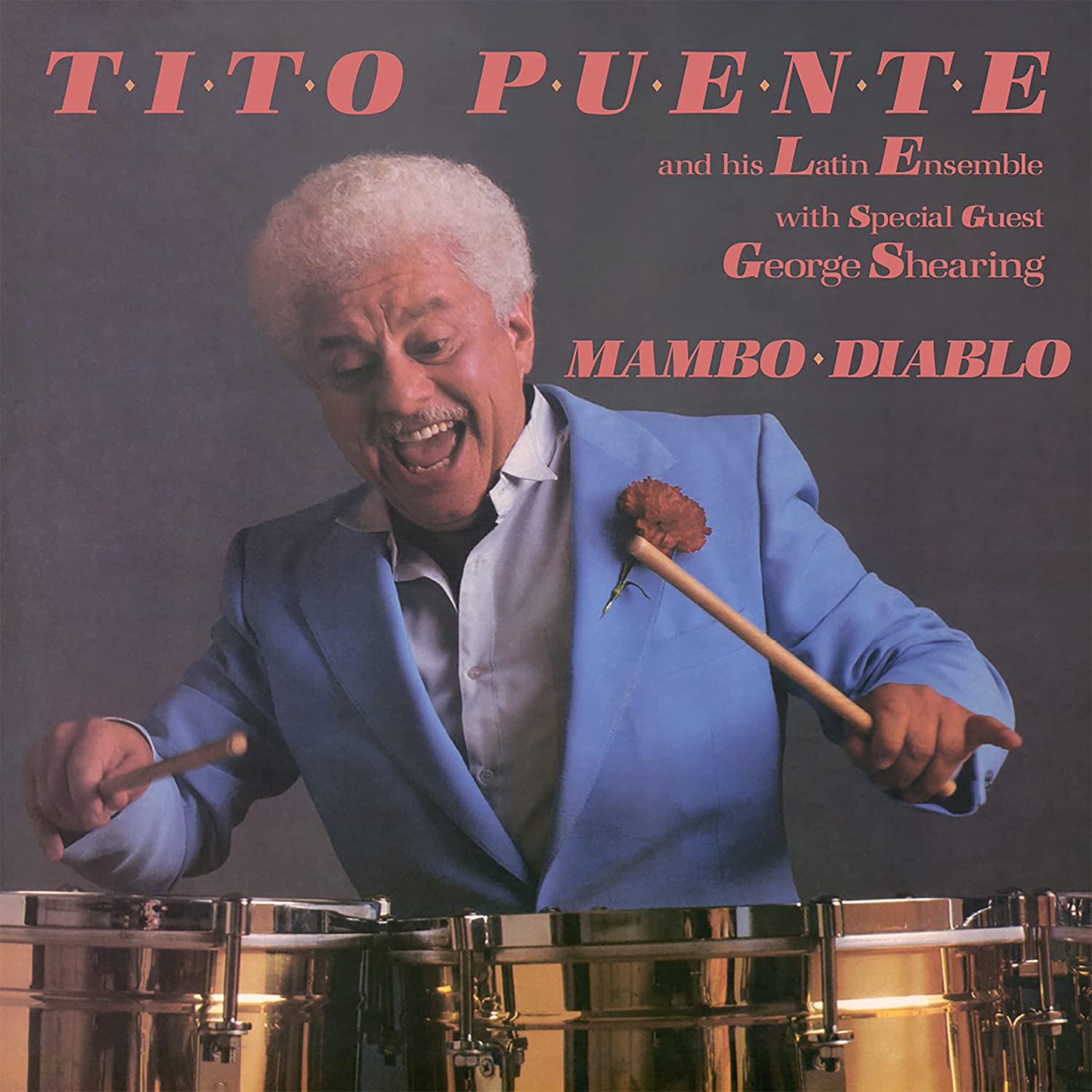 Three albums that showcase jazz reaching across continents and being reinvented in wonderful ways. Tito Puente's Mambo Diablo, recorded with his Latin Ensemble, won the Grammy for Best Traditional Latin Tropical Album in1985. Puente was in his mid-60s when he made the album but his percussion is as vigorous as ever, providing a magnificent foundation for small ensemble mambo that lifts the spirit. The title track and the irrepressible cover of "Take Five" will both have everyone but the dead wiggling their hips, while guest pianist George Shearing bring elegance to his own composition, "Lullaby of Birdland". Policy at theartsdesk on Vinyl is that only albums of new material can be Vinyl of the Month but, if that was not the case, this glorious set would be a shoe-in! Despite confusion around the band moniker, Malompo Jazz and Malombo Jazz Makers are two albums from 1966 and 1967, respectively, by the same South African unit. The inner sleeves of both albums are the same, containing photos and an interview with band member Julian Bahula, describing how they came together, with him on drums, combined with the flute of Abbey Cindi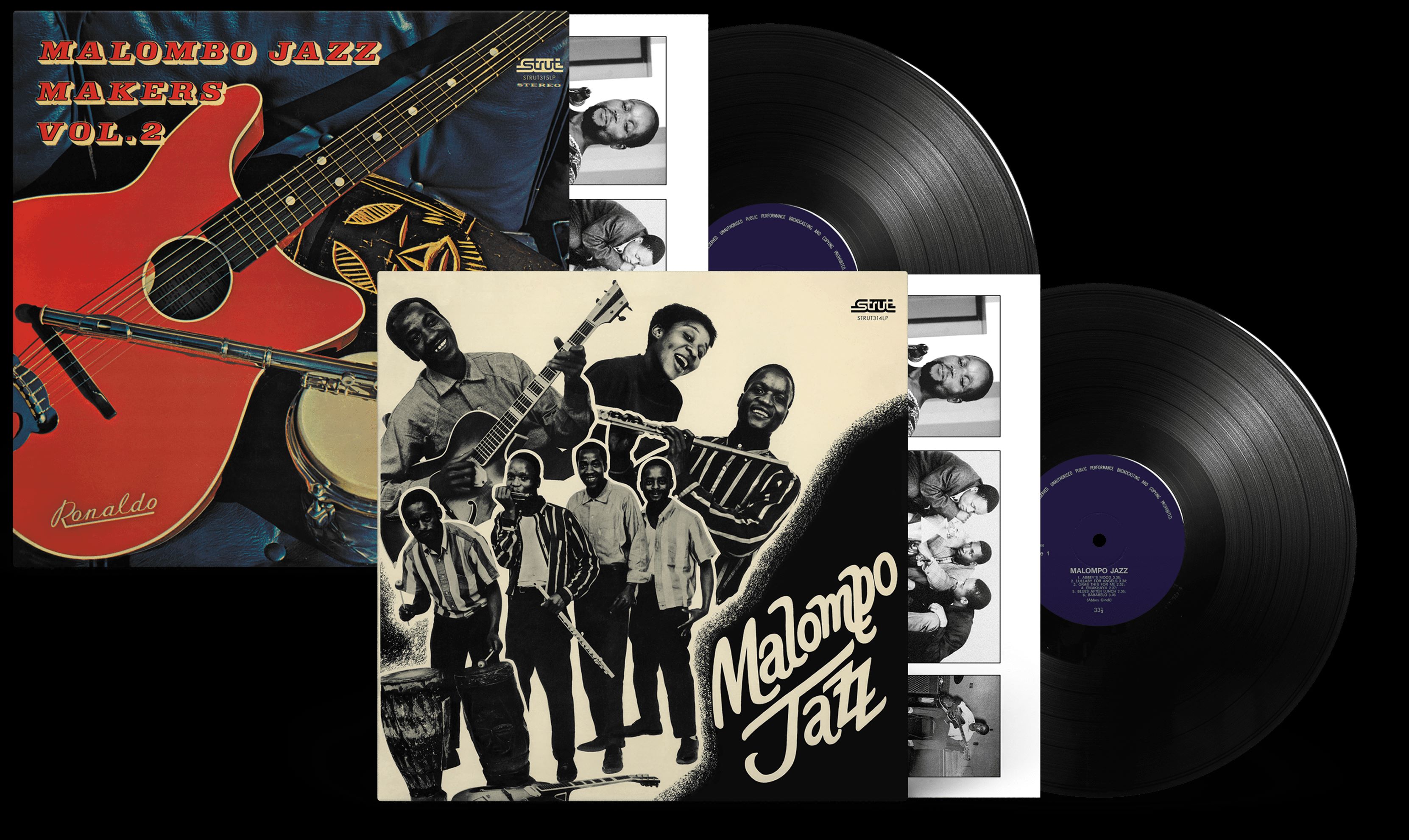 and the guitar of Philip Tabane (who left and was replaced by Lucas Ranku by the time of the albums). The key to it is that Bahula sourced drums, known as Malombo, which were traditionally used in healing ceremonies, trance dances and community tributes to the ancestors. Bahula, however, applied his knowledge of jazz. Having the Malombo name and a unique sound, the unit achieved success touring South Africa in the mid-Sixties, and their albums, richly cut to vinyl here, showcase music that's often bare, loads of room, each of the two lead instruments allowed to shine, with the drums giving an underlying texture that's often far from obvious. Occasionally, well, once on the first album and twice on the second, there are vocals from Hilda Tloubatla, but it's primarily instrumental, rising for a dance, once in a while, but mostly just doing its own breezy thing.
B.E.F. Music For Stowaways (Coldspring) + Matthew Herbert x London Contemporary Orchestra The Horse (BMG)
Two albums, decades apart, that revel in exploring the cutting edge of technology as it applies to music. Martyn Ware and Ian Craig Marsh separated from Human League in 1980 and had the idea of being a kind of an underground music corporation, facelessly providing music, presenting other artists. This vision reached its apex with the first Heaven 17 album, Penthouse and Pavement, a year later, with its ironic yuppie imagery on the cover. During that intermediary year, though, the pair were busy and the Music For Stowaways cassette, now reissued in an inner sleeve reproducing its studio paperwork, was a signal of their intent. It's a set of synth instrumentals, one of which would eventually be repurposed as Heaven 17's "We Don't Need (This Fascist Groove Thing)", but most of which, especially the hypnotic "The Optimum Chant", can easily been seen as techno predecessors. Fast forward a few decades and at the bleeding edge of technological music experimentation we find
the professorial Matthew Herbert whose penchant for avant-garde boundary-pushing seems limitless. The Horse comes on double in explanatory gatefold and inner sleeves, assisted by vanguard jazzers Shabaka Hutchings, Seb Rochford, Danilo Pérez and Theon Cross, The London Contemporary Orchestra, and thousands of horse samples. It creates a meditation that attempts, via a focus on man's long association with the horse, to pursue music from its primitive-percussive ritualistic origins to its digital present. Sombre, and as much atmospheric music concrète in places, its sonically intriguing but more fascinating, perhaps, in its conception, as a piece of art. It's being performed at the Barbican in October which will be a happening not to miss.
ALSO WORTHY OF MENTION
Dave Lombardo Rites of Percussion (Ipecac): You never know what you're going to get on Mike Patton's Ipecac label. Dave Lombardo is drummer and co-founder of the late great Slayer and this is his debut solo album, a 13-track collection of drum pieces surrounded by assorted atmospheres. Lombardo has said that he looked to his Cuban roots for the project and, indeed, with a multiplicity of percussive instruments involved, it's easy to hear that. I just wish the vibe of the whole thing was more that way, more ebullient and less moody, maybe like Grateful Dead drummer Mickey Hart's twisty Rolling Thunder album. Instead, solid grooves and paradiddling rhythmic complexity are layered around moody gothy electronic soundbeds and grinding ambient metal sounds. I suppose that was to be expected but, while of offbeat interest, it also feels like a wasted opportunity. Comes on art-image inner sleeve.
Snazzback Ruins Everything (Worm Discs) + The Circling Sun Spirits (Soundway) + Kenny Wheeler GNU HIGH (ECM): Three very different jazz releases. Bristol seven-piece Snazzback bring an energy to their music that speaks of gigging hard and keeping a drinking crowd interested. Their second album is a playful thing, as can be deduced from titles such as "Superstar Fish Bar" and "Gherkin"; broken beat rhythms are circled by sax, trumpet, and keys, with vocal input from poet Adam Kammerling and others, adding up to a gumbo of music that's light and flighty but also busy. Over in New Zealand, a six-person gathering known as The Circling Sun enjoy attacking their keyboards with verve on their debut album, Spirits. Redolent in places of Pharoah Sanders, their interplay is full and filmic, emanating vivid from the vinyl. It's jazz flecked deep with a global roots marinade, and even a seasoning of that long ago, Martin Denny-style exotica. One track is called "Bliss" and this is, indeed, cheery fare. GNU HIGH, the 1975 album by rising Canadian trumpet princeling Kenny Wheeler, was the album that really put him on the map. In the age of prog, it's unafraid to sprawl, but mostly gets away with it on a triptych of self-composed pieces, the key to its success perhaps being the collaborative team of Keith Jarrett on piano, Dave Holland on bass and Jack DeJohnette on drums, Miles Davis alumni to a man. It's too "proper jazz" for these ears but if you're a more of a purist than I, it may fit like a glove. Comes on gatefold containing extensive background by the late Wheeler's friend Nick Smart.
Healthyliving Songs of Abundance, Psalms of Grief (Healthy Living/La Rubia Producciones) + Mike Ross Third Eye Open (Taller): Healthyliving are an internationalist hard rock three-piece, featuring members already in underground metal acts. On their debut album, frontwoman Amaya López-Carromero (from Spain, based in in Edinburgh, and performs as Maud the Moth), Scott Maclean (from Scotland, based in Dresden, and performs in bands such as Falloch and Ashenspire) and Stefan Pötzsch (from Germany, based in Dresden) mingle psyche-grunge with a shoegazer-ish gothy aspect. It doesn't fit easy categorization but has moments of both proggy complexity and riffy guitar welly, alongside sombre slowies. Comes with 12" x 12" lyric sheet. Brighton rocker Mike Ross, of the other hand, returns to a Seventies blues rock template on his new album Third Eye Open. Clad in a simple black sleeve, this one is all about the ZZ Top-ish riffing. Ross rides the heavy rock thing close to the sound of early metal – US band Clutch would be another apt comparison – but sticks to a sweaty bar band sensibility too. It seems likely that this music would especially thrive in a live environment. Comes on marble-dappled off-white vinyl.
Nabihah Iqbal Dreamer (Ninja Tune) + Lucretia Dalt ¡Ay! (RVNG Intl.) Two albums by female artists exploring unusual sound palettes as a medium to carry their other-worldly songwriting. Nabihah Iqbal's second album under her own name is full of pleasing, hazy indie-tronic floatiness, her well-spoken voice huskily pronouncing loved-up magic-realist lyrics across a warm throb that's smeared in swirling textures and a late night opaqueness. I confess to being slightly bemused by the alt-culture hype surrounding her (she is, for instance, the Guest Director of this year's Brighton Festival, a position previously held by Laurie Anderson, Brian Eno, Aung San Suu Kyi and Kae Anish Kapoor), but this is pretty, nice on the ears, with an MDMA-esque uplift and would make a cuddly 3.00 AM listen. Comes on lyric/info gatefold. Berlin-based Colombian musician Lucretia Dalt is equally well-regarded in beard-strokey London media circles (this album, arriving on viny a few months late, was The Wire magazine's Album of the Year 2022). It's a more lugubrious creature than Dreamer, squattling around folk horror percussion, minor key backing choruses, an impending sense of possible catastrophe, with Dalt's Spanish vocals mournful and serious at the top. There is a 12" x 12" insert containing the lyrics, in Spanish and English, alongside a short piece by Mexican composer-poet Miguel Prado, none of which leaves the listener much the wiser, the whole an abstract meditation on the nature of time, matter and eternity (possibly). The sticker on the front suggests ¡Ay! is "a heliacal exploration of native place and environment tuning, where Dalt reverses the spell of temporal containment," so perhaps there's magic in the grooves. Hope so. The world needs more of that. I had to look up "heliacal" – it means "relating to or near the sun". Also comes with an A4 sheet of stickers with lines from the album in Spanish and English, so if you want "I gather a body in the hydrosphere…" and similar on your fridge, you're in luck.
Björn Benny & Agnetha Frida Ring Ring (Polar) + Björn Benny & Agnetha Frida Ring Ring 7" Boxset (Polar) + Paul McCartney and Wings Red Rose Speedway (Universal): Two 1973 albums from absolute monster acts of that decade and, in the case of one of them, right at the start of their international success. Both in gatefold and half-speed mastered, sounding fat (well, as fat as ABBA are ever going to sound!). Björn Benny & Agnetha Frida are, of course, ABBA, and Ring Ring is a reissue of their debut album, here on double. At its best, it reminds the listener of the quartet's folk roots, on songs such as the likeable "Another Town, Another Train", which owes debts to Laurel Canyon. They also succeed with pure easy listening schmaltz, as on "I Am Just a Girl", but, with the group yet to find their timeless sound, there's an infantile Euro-pop cheesiness to the likes of "Me and Bobby and Bobby's Brother" and "Nina, Pretty Ballerina". There's also a boxset of five 7" singles from the album, which includes B-sides such as "Merry Go Round", "Santa Rosa" and the bubblegum pop of "She's My Kind of Girl", the latter originally written as the titular character's theme in 1968 porn flick "The Seduction of Inga". The quartet, at that point, not even really a proper group, just a temporary recording unit, can never have dreamed what the future held. Paul McCartney had already been there by 1973. He'd also spent the Seventies, thus far, firing out a likeably thrown-together-and-bung-'em-out series of three albums. Red Rose Speedway sees a more curated approach and a shinier more determinedly friendly sound, which can especially be heard on "Get on the Right Thing", or the jolly piano music hall "Single Pigeon", but it was the syrupy slowie "Your Love" that made it to the top of the charts in the US. It's all a bit too pleasant, as if Macca's creativity is at cruising speed, and only really starts pressing buttons when it reaches the psychedelic instrumental "Loup (1st Indian on the Moon)".
Max Romeo Every Man Ought to Know (VP) + Rhoda Dakar Version Girl (Sunday Best)
A couple of tasty reggae outings. The first is old, a 1974 collection that gathers together a bunch of releases by Jamaican star Max Romeo, and which charts his growth from "slackness" numbers such as "Big Twenty (Play With Your Pussy)" and "Pussy Watch Man", into Rastafarian consciousness, as best exemplified by the title track. Produced by Bunny Lee at King Tubby's studios, it also contains some simply and lovely soulful skankers such as "Stick By Me". Business as usual with a reggae don. Comes in photo/info inner sleeve wherein New York reggae expert Carter Van Pelt tells the back story. The second album is by 2 Tone queen Rhodar Dakar, of The Bodysnatchers and The Specials, a set of cover versions with a spring in their step. The premise is simple; Dakar takes on a bunch of relatively well-known songs and adds reggae. That's it. It doesn't work all the time – some are too prosaic – but when it does, especially on Bowie's "The Man Who Sold the World" and the album's most obscure track, Maxime Le Forestier's 1972 song "Comme Un Arbre", it has a ringing appeal. As does the swirly mauve-white vinyl and the cover/inner sleeve art by Sheffield's Pete McKee (see left).
Eleni Drake Surf the Sun (Vanilla Sky) + Dan Croll Fools (Communion): Two albums by two singer-songwriters who really have nothing in common, but I couldn't find any other way to squeeze them in, which they both deserve. London-based Brit-Greek-South African singer Eleni Drake's latest album, Surf the Sun, showcases a compulsive set of songs laced in spacey twang, her breathy voice adding another layer of interest. There's a touch of David Lynch about its zonk-blues melancholia. It's one of those albums that doesn't initially persuade but once the listener beds down into its dappled charms, they want to stay awhile. Dan Croll, briefly Britain's most-likely-to singer, achieved some success about a decade ago and his fourth album, Fools, is jammed with unpretentious, lyrically entertaining guitar-led pop. There aren't any real sonic surprises along the way but he has an easy way with melody and a wit that should keep fans of such things on side. Comes in photo/lyric/info inner sleeve.
Savage Republic Africa Corps Live at the Whisky A Go Go 30th December 1981 (Independent Project)
While Adam Ant was achieving chart success in the UK with his unlikely Burundi drum pop, over in Los Angeles another lot of post-punks, Africa Corps, who would soon become Savage Republic, were utilising similar tribal percussion in a very different way, as can be heard on this engagingly raw live recording. They sound like The Cramps trying to do a particularly droney form of Krautrock, with some punk bellowing thrown in for good measure. In terms of sound quality and their uncompromising style, it's not for the faint-hearted but is enjoyable as a snapshot of a gritty sweaty long-ago (replete with some guy in the crowd repeatedly shouting, trying to find his mate Cerys). It arrives in Independent Project Records' typically ornate and stylish packaging, a cardboard fold-out sleeve, containing a 12" x 12" art/photo/info insert and a wax paper package containing reproductions of the original hand-made A4 posters for the gig.
Simeon Walker Imprints 1 & 2 (Simeon Walker) + Mark Barrott Jōhatsu (Reflections) + Monolake Hongkong (Field)
Three releases that focus of the idea that less is more, that quietness within music can be as powerful as what's being played. I have a weakness, which I only discovered since beginning theartsdesk on Vinyl nine years ago, for piano music that includes all the ambient noise, the sound of the room, even better if it's treated piano. Leeds pianist-composer Simeon Walker doesn't deal in treated piano but his two self-released four-track EPs are gathered on his new album, on gatefold, and it's a reverb-touched exercise in meditative gentleness that's absolutely not rock'n'roll – but I like it. Via Above & Beyond's new downtempo label comes Jōhatsu by chill-out perennial Mark Barrott (who was once Future Loop Foundation). The title means "the art of evaporating" in Japanese and it's the soundtrack to a film about that country's phenomenon of people deliberately vanishing completely from their own lives. The album is full of piano-led small ensemble works that have a snifter of jazz about them, a certain dolefulness as is appropriate to the subject matter, spare, serious and graceful. Comes in info inner sleeve. The final album of the three is a rerelease of a cult classic, regarded as one of the more obscure founding stones of dub techno. Originally on Basic Channel sub-label Chain Reaction, Berlin duo Robert Henke and Gerhard Behles utilised field recordings made on a trip to Japan to create a series of singles which comprise the album. It's a busier, faster album than the other two reviewed here, but it's equally all about space. These are hypnotic pieces that run the gamut from spooked, low-end techno to complete ambience, usually with attention to bass-end wobble, ghostly sounds fleeting past the ears in the background. Comes on double on bright scarlet transparent vinyl.
The Church The Hypnogogue (Easy Action): Aussie rockers The Church came up around the same time as California's "Paisley Underground" bands (such as Rain Parade and The Dream Syndicate) at the start of the Eighties. They had a similar kind of sound, although arguably were there first. In other words, as on their latest album in a prolific career (albeit only frontman Steve Kilbey now remains of the original band), they major in Byrdsian guitars and echoing Brit-sounding sounding vocals. The songs are expansive, effusive, sometimes more-ish, and have a shimmering jangliness, reminding sometimes of Love & Rockets. Comes on double in gatefold on neon violet vinyl.
Nkono Teles Love Vibration (Soundway): Nkono Teles is a name that will be familiar to connoisseurs of Nigerian music of the 1980s. Originally from Cameroon, he was became one of Nigeria's key producers, garnering a reputation for introducing modern electronics to Afro grooves, notably drum machines. Love Vibration is a six-track showcase of solo instrumentals that have a digital funk akin to early Shakatak or Imagination but with their very own local flavour stewed in, and a side helping of Seventies synth wizard sounds. The best word for it is "fun".
The Cinematic Orchestra Every Day (Ninja Tune): I never really "got" The Cinematic Orchestra so fully admit I'm not the best person to be reviewing this 20th anniversary rerelease of their 2002 album Every Day, regarded by their fans as a classic downtempo outing, as is made clear in the gatefold notes by Gilles Peterson. Back then we were overwhelmed by a chill-out boom, perhaps the comedown from a decade of deranged clubbing, and this album fits right in, stoned, shuffling jazz-hop grooves meet, as the band name implies, a film soundtrack aesthetic, classier than yer average, featuring singing from Fonetlla Bass and rapping from Roost Manuva. Still don't "get it" but fans of Kruder & Dorfmeister, Mo'Wax and all those sorts may find something in its blunted charms. This three-record edition on translucent red vinyl also contains four bonus tracks.
Leaf Hound Growers of the Mushroom + Unleashed (Repertoire): Blossoming from a previous London band that also gave birth to Free, Leaf Hound's original career was brief, releasing Growers of Mushroom in 1971. However, they became a cult with a long afterlife, the album selling for thousands of pounds. This was down to the way they blended heavy rock and elements of psychedelia, regarded as a touchstone for later stoner metal. Listened to in 2023, the grunginess is apparent, and, while cuts such as "Freelance Fiend" and the title track have a certain Sabbath-ish interest, it's hard to see why the album was quite so desirable. But as a chunky sliver of proto-metal it's decent enough. Unleashed is the band's 2007 comeback, with only singer Peter French from the original line-up. By this point, their initial sound was no longer a brand apart, and what's offered is sturdy straightforward heavy rockin'. Both come with 12" x 12" inserts, with Growers of Mushroom's giving an extensive account of its background.
Eels Blinking Lights and Other Revelations (E Works/PIAS): Following the reissue of the conceptual trilogy Hombre Loco/End Times/Tomorrow Morning, the album that preceded them now reappears. 2005's Blinking Lights and Other Revelations sees frontman-songwriter E deliver a double set that plays to his strengths, a career peak. His voice is gravelly and the subject matter is existential, with visits from Tom Waits (growling and wailing on the jolly but slightly sick "Going Fetal"), Peter Buck and John Sebastian. He keeps things succinct, the primary palette being strummed wistful, thoughtful songs, with 19 of the 33 coming in closer to the two-minute mark than three-to-five minuters. Comes on a pleasingly boxed fold-out double.
Domenico Lancellotti SRAMBA (Mais UM): This is album is what happens when two rated Brazilian musicians hook up in a Lisbon basement (Lancellotti's home studio) and have a play. Ricardo Dias Gomes, a multi-instrumentalist who's played with Caetano Veloso and many others, set up his synths, while Domenico Lancellotti, perhaps best-known for drumming for Gilberto Gil, attended to guitar and percussion. They seem to want us to call the result "machine samba" due to the electronic elements but, really sweet sunshine songs such as "Aterrizar" don't fit that. There are though, moments that do, sort of, Latin grooves with a little added electronic pulsation. Still hardly "machine samba" but who cares? A cuddly album, all the same. Comes with photo/lyric/info inner sleeve.
Debbie Harry KooKoo (Chrysalis): This album is, perhaps, most interesting when viewed as a trial run by Chic's Nile Rodgers and Bernard Edwards for their later, multi-million-selling work with David Bowie on Let's Dance, arguably even on Madonna's Like a Virgin album. Appearing in 1981, Debbie Harry was at the end of Blondie's late-Seventies/early-Eighties pop gold run (although the less successful The Hunter album would appear a year later). The sound is a punchy funk, laced with dub reggae production ideas and, of course, given its producers, disco. This 6000-run limited edition boasts a second 12" which contains contemporaneous remixes of the singles "The Jam Was Moving" and "Backfired" (only the former was a low-level hit at the time), as well as of "Inner City Spillover". The latter's Clash-like skank is appealing (despite the opening line "Lying in her bed/A brick fell on her head"). Overall, the sound and variety is appealing but the whole mostly lacks the catchiness of what had come before. This version also has a lenticular 3D-style take on the HR Geiger cover art.
AND WHILE WE'RE HERE
Tony Wilson attempted to resurrect the spirit of Factory Records with his 1990s label Factory Too. It collapsed in 1998 and the last album released was by Wilson's longterm compadre Vini Reilly, the leading player of The Durutti Column. It was called Time Was GIGANTIC… When We Were Kids and now reappears via Factory Too's parent label London. It arrives on two records with photo/info sleeves that explain the back story and the origin of the bonus tracks. The main album is a smooth mash-up of Eno-esque studio stylings and pastoral acoustica, the latter best represented by "Drinking Song", co-written by and featuring the vocals of Eley Rudge. The last side has a bunch of bonus tracks, including a drum & bass effort and a New Order pastiche. Not essential but worth a quick cherrypick for Factory obsessives. Graham Nash has nothing left to prove. He has mustered six decades of music, much of it in classic pop and rock's all-time canon, while also remaining the nicest bloke in Crosby, Stills, Nash & Young (also achieving an impressive parallel career in photography). Thus his new solo album, Now on BMG, is mainly something he needs to get it off his chest rather than any commercial imperative. It's a steady set of country-tinged songs, his social conscience still hanging strong in there too, as on the likeable "Stars & Stripes". Those Sixties dudes are reaching the end of the trail. I always liked the way they looked at the big picture issues, sang about them. Anyway… nice enough… good on him. Bath-based Jennifer Crook is another singer-songwriter brandishing an acoustic guitar, albeit younger and not with the same global reach. Her latest album – of many – is The Broken Road Back Home on Transatlantic Roots. The songs are straightforward, heartfelt, making me think of dusty wood-décor pub open mics, her voice clear and sweet, but the recording to vinyl is particularly impressive, a very rich sound. Those who fancy their strumming served in a more Americana a fashion could do worse than check out Paris-based French-Canadian singer Theo Laurence, whose new 10" EP, A Country Mile on Tomika Records, channels older country & western over four tracks, with the lead one, "Lips of Fire", being Johnny Cash-like to the point of pastiche. Dan Penn may not be a household name but, back in the day, he knew a few, co-writing "Do Right Woman, Do Right Man", the B-side to Aretha Franklin's first major hit in 1967, as well as multiple other songs, including "The Dark End of the Street". Unheard Demos on Last Music is a set of songs he recorded on holiday in coastal Alabama with two pals, the idea being they'd be used on soul singer Bobby Purify's comeback album. It is, then, a lowkey Memphis-flavoured set, loose and easy, if not hugely memorable. Comes in photo-art inner sleeve on emerald vinyl. Coming from a completely different place is Witchy Activities and the Maple Death on Zenna Records, the third album from off-the-wall 18-strong German unit the Monika Roscher Bigband. Across four sides on gatefold, they muster a stentorian minimalist pulse (oxymoronic but true) which they lather with a kind of apocalyptic Wagnerian jazz. It's a concept piece with lyrics, a touch of late period, cod-classical Björk about it, but harder-nosed. I think it would be amazing live and I enjoy dips into the album but the whole journey is a bit relentless. Speakers Corner Quartet, whose debut album Further Out Than the Edge arrives on OTIH Records. Consisting of Peter Bennie on bass, Raven Bush on violin, Kwake Bas on drum and someone called Biscuit on flute, their background is as house band for London's Speakers Corner spoken word night. And that's what the album sounds like, with a who's who of guests, such as Kae Tempest, Tirzah, Taiwah, Confucius MC, Sampha and others. Airy, plaintive, soulful my-2020s-pain vocals and thoughtful words are sprinkled around apt jazz noodle. It's earnest stuff, beard-stroking, with a well-dressed but casual feel, and, again, would probably be at its best live, which those interested can catch, replete with an impressive array of guests, at the Roundhouse on Friday 2nd June (tickets here). Those wanting the ultimate chill may turn to Tsuf Haram on Soul Song Records, the new double on gatefold from Jerusalem-based South African jazzer Yosef Gutman Levitt, working with New York guitarist Tal Yahalom. It's their take on nigunim, Hassidic Jewish instrumental music, collected in Russia by a Rabbi called Eli Rivkin, some years ago (though it's unclear from my information/research how long ago). It's sparse but rich, imbued with a melodic sense of lost place but also the players' own traditions and skills. And it's very mellow. As is Angus McOg's Cirrus on Gare du Nord/Murmur, with the exception of two songs, the rockin' "Parts" and "Communist Party Party". These two may actually be the best songs on the new album by Italian musician Antonio Tavoni under his regular pseudonym. The rest of the album is laidback but opulent and precise piano-led post-jazz prog. Comes in art/info inner sleeve. Still staying downtempo is the debut album from 7ebra, AKA Swedish twin sisters Inez and Elia Johansson, Bird Hour on PNKSLM Records. Given it's produced by Franz Ferdinand producer Tore Jonhansson and the cover photo is by Susanne Johansson, it's hard not to conclude this is a family affair. The music is woozy, a bit indie, well, a lot indie, but more in the bedroom wonk-pop sense than the jangling guitars sense. It doesn't bite hard but there's a psychedelic undertow that's welcome. Comes in photo/lyric inner sleeve. More Scandy quirk-pop, but of a more expansive character, comes from Icelandic singer JFDR, AKA Jófríður Ákadóttir of the bands Samaris and, with her twin sister Ásthildur, Pascal Pinon. Her new album – and she's made a few – is Museum on Houndstooth, which has her emoting over a soundtrack that's equal parts modern classical and experimental folk. It's very now and very Icelandic and has interest as ambient alt-pop, although it never swept me fully into its heady currents. Equally offbeat but a heap chunkier is the tenth anniversary reissue of Matt Berry's Kill the Wolf on Acid Jazz, which comes on double gatefold with a second record that contains a bunch of extra material that was originally included as outtakes on CD extras and has never been available on vinyl before, alongside tracks from the Kill the Wolf EP, all on blood spatter vinyl. Berry is probably best-known as an actor, in shows such as The Mighty Boosh and the TV series of What We Do in the Shadows, but his unforced, tuneful late-Sixties-scented folk-pop makes a convincing case for this other side to him. It's easy to hear why he's a cult figure. Talking of film, Simon Franglen's soundtrack to the most successful film of last year, Avatar: The Way of Water appears on gatefold vinyl courtesy of Hollywood Records. It veers between wafty ethnic themes, soft, string-swathed mysteries-of-the-deep sounds, and action scene orchestral explosiveness, and also contains the unpleasantly bombastic "Nothing is Lost Give Me Strength)" by The Weeknd and the new agey South-Americana of "The Songcord", sung by Zoë Saldaña who is, of course, in the film. One for the Avatar super-fans. More film action from Hollywood super-composer Hans Zimmer whose tour of Europe early last year now appears in the from of a quadruple gatefold album via Sony. Because they're recalibrated to play vast arenas and deliver a jolt to audiences, rather than acting as the background to a cinematic experience, the pieces are more GIGANTIC even than usual, whether doing Zimmer-does-doom, as on his music for Inception or The Dark Knight, or Zimmer-does-ethereal on Wonder Woman and Gladiator. Throughout, the tribal percussive attack is particularly boshin'. Other films featured include Dune, Man of Steel, The Lion King, Interstellar, No Time to Die and Dunkirk. Flippin' the coin of the subject, back in the Nineties, I used to HATE The Brand New Heavies. Listening to the released 1994 compilation of their early songs, Original Flava on Acid Jazz, I can still hear why, although it doesn't bother me much anymore. They do a kind of easy afternoon funk that's just a sliver too smooth for me. Back when I was listening to a diet of mostly bangin' techno and freaky festival bands, it sounded like wet lettuce. It still does, quite a bit of the time, but I can hear its cocktail hour appeal. An alternative vision of the 1990s can be heard via the debut album from London indie band The Utopiates, whose sound is pure mid-Nineties, a chuggy amalagam of Britpop's desire for Oasis largesse and Madchester funk-grooves from earlier in the decade. The album is called The Sun Also Rises and is on V2 and they do a good job of emulating that era but with catchy new tunes. If you want your rock more janglingly American, the new album from band L.A. Edwards, a trio of male siblings, makes no pretence of anything but meat'n'potatos songwriting, which, at its best, as on "Now You Know", has a kind of lighters-in-the-air stadium country-rock feel. It's called Out of the Heart of Darkness and is on Bitchin' Music. French folkies Doolin' have been touring the US extensively in hope, possibly, of becoming the new Mumford and Sons. Their music slaps a smidgeon of chanson flair on an Irish sound tinted with Americana. Their new album, possibly their third studio album, Circus Boy on Compass Records, is quite Waterboys-ish, chirpy, but hasn't grabbed me by the short'n'curlies. Paul Oakenfold's 2002 Bunkka album, which now reappears on New State Music, was a pet hate of mine at the time, representing the high watermark of the club culture I adored being co-opted by mainstream American-centric radio pop ideals in an attempt to "conquer" that nation. However, in light of the EDM explosion, which has happened since, this lot, on double in gatefold, just seems like a forced set of chugging trance-house pop and sub-Chemical Brothers rocker-friendly breaks. It has a wide range of guests, from Perry Farrell to Kronos Quartet (!?!) to Ice Cube to Nelly Furtado, but that doesn't stop it lacking any real heart. Even a nearing-his-end Hunter S Thompson rambling about Richard Nixon cannot save the day. Carl Cox dates from the same era and is still a kingpin amongst DJs. He also recently put out a bangin' techno album Electronic Generations, from which the track "Deep Space X" now appears on 12" on BMG, featuring four mixes by Detroit techno original Juan Atkins. They are functional and wouldn't turn you off a dancefloor but, at the same time, are not so striking they stand alone. A Kinks-compiled best of The Kinks on double in gatefold from BMG, entitled The Journey: Part 1, and with notes from both Davies Brothers and Mick Avory, should be a cause for celebration, containing some of the greatest pop songs of its era, but from what I can tell, playing it alongside old Kinks albums, the mastering seems flat, lacking oomph, perhaps from digital source rather than original masters? I don't know, I can only write what my ears suggest.
FINALLY, FOUR THAT HAVE ALREADY BEEN REVIEWED ON THEARTSDESK BUT WHICH ARE WELL WORTH OWNING ON PLASTIC
Metallica 72 Seasons (Blackened): Our reviewer Tom Carr found the latest from Metallica a blend of punk and polish that had him onside. You can read the whole review here.
The Zombies Different Game (Cooking Vinyl): The first album in eight years from the classic 1960s outfit was received with joy by Joe Muggs, who gave them four stars out of five. Read the full review here.
Tinariwen Amatssou (Wedge): Our reviewer Guy Oddy reckons the latest from Malian desert rockers Tinariwen is a beautiful combination of their own desert sound with American blues. Read more here.
Rickie Lee Jones Pieces of Treasure (BMG): The latest from the veteran US singer is a collection of standards such as "September Song" and "Nature Boy", but Tim Cummings argues here that she breathes a whole new sultry jazz life into them.
We welcome any and all vinyl for review. Please hit thomash.green@theartsdesk.com for a postal address.
A juicy haul of wonders
Explore topics
Share this article