Best of 2019: Opera |

reviews, news & interviews
Best of 2019: Opera
Best of 2019: Opera
Haunted-ballroom Shostakovich and high jinks in Royal Albert Hall Berlioz top the bill
Thursday, 26 December 2019
Murder on the dance floor: Chrystal E Williams' Katerina strangles husband Zinovy (Joshua Stewart) in Birmingham Opera's 'Lady Macbeth of Mtsensk'
There's no question about my top opera choice for 2019, especially since the London houses rarely delivered at the same pitch of engagement. It's Graham Vick's walkabout Birmingham Opera Company spectacular, a production of Shostakovich's Lady Macbeth of Mtsensk that worked on every level.
Literally, since a full City of Birmingham Symphony Orchestra conducted by Alpesh Chauhan - doing superlative work in the absence of Mirga
Gražinytė-Tyla
, on maternity leave - was on a raised platform and some of the action took place at other points around the disco-lit, dilipidated Tower Ballroom on the edge of Edgbaston Reservoir.
After the stupendous BOC Khovanskygate of 2014, I knew I couldn't miss this - and again, the casting was perfect, not least in introducing us to Chrystal E. Williams as Katerina. This is the supreme way to convert anyone to opera, and with strong community involvement in a cast including over 150 Brummies, Vick made sure that happened, not least to the excited students I spoke to before the show. His is a model of how to engage everyone in operatic work at its fiercest and best.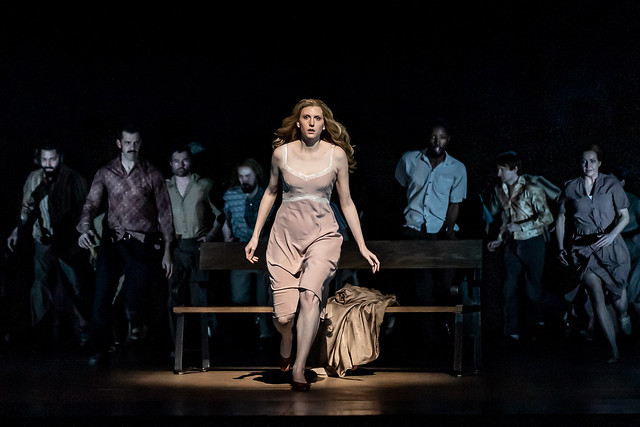 Running Vick close for imagination, if not - inevitably, given the limitaions of the proscenium arch - for immediacy of impact was that other visionary master of the British opera stage, Richard Jones. He went for an audaciously stripped-back setting in his necessarily bleak Royal Opera realisation of Janáček's Kátya Kabanová, with a harrowing but never "starry" central performance by Amanda Majeski (pictured above by Clive Barda). If only Edward Gardner's conducting on the first night had been more lurid in the orchestral sounds it drew, a bit soft-edged (his Peter Grimes, of course, is anything but). At Glyndebourne, Robin Ticciati went more for refinement than overwhelming Berlioziana alongside Jones's rigorous attempt to make La Damnation de Faust, a ""légende dramatique" for the concert hall, work as a stage drama. Not enough credit was, I felt, generally given to his solutions, grafting extra elements of Goethe's tale on to Berlioz's sporadic scenes. Perfectly realised by the three committed leads, there were the usual echoes and symmetries, as in the brilliant revival of Jones's Musorgsky Boris Godunov at the Royal Opera
Peter Quantrill wasn't quite as stunned by the Glyndebourne Damnation as I was - since I'd interviewed Jones for the Glyndebourne programme book, I couldn't review the show, but I'm allowed my opinion here - and his choices of the year are two hardcore experiences, Stockhausen's Donnerstag aus Licht at the Royal Festival Hall and English National Opera's bold resuscitation of Birtwistle's The Mask of Orpheus. Lacking the staying power for the former, for the latter I echo him in the brilliance of the singing and playing under Martyn Brabbins, though for me there are problems with the theatricality of the mesmerising score, and we part company on Daniel Kramer's production. Let's just say I was never bored. Full marks to Kramer for the concept of four Orpheus operas at the start of this ENO season, though two were written off here as dud productions, while the success of Netia Jones's multimedia Orphée must be set against the (for me) utter pointlessness of Philip Glass's score (Auric's for the original Cocteau film is better, for starters). I almost forgot one absolute winner from ENO, the Regent's Park Humperdinck Hansel and Gretel with a terrifying drag-act Witch from Alasdair Elliott (pictured below by Johan Persson with Susanna Hurrell). There was plenty to frighten both kids and adults, but the visual beauty and magic were here too.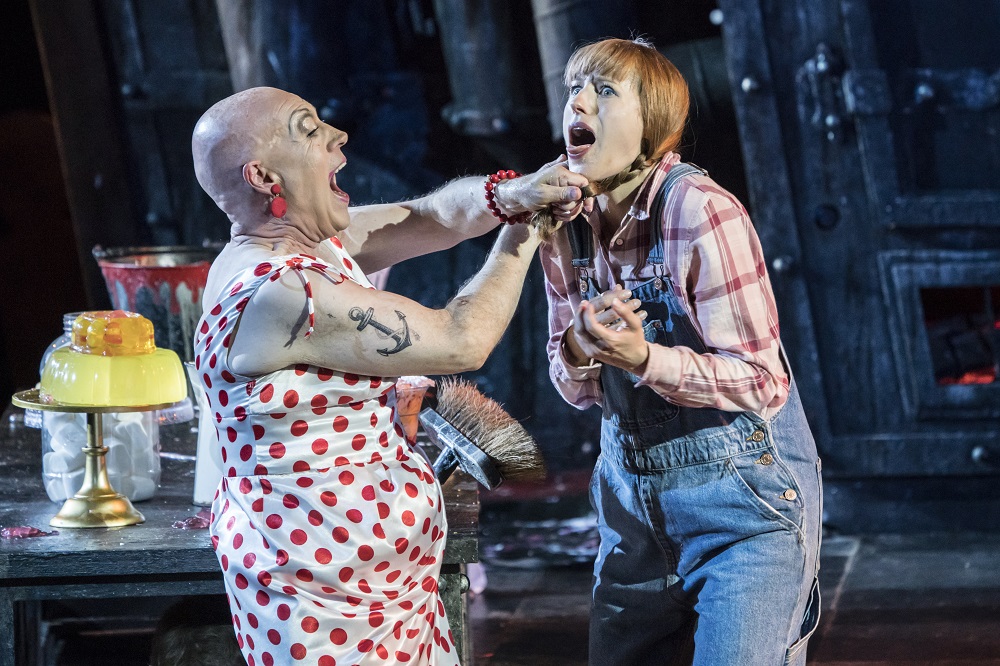 English Touring Opera provided, as usual, more opportunities than ENO for the whole company. Boyd Tonkin loved its Mozart Idomeneo: "honest, intelligent, musically both robust and refined, James Conway's fuss-free production proved moving, beautiful and wholly accessible." And I was perhaps more grateful than Boyd to hear how Weill's numbers for George Kaiser's 'musical play' The Silver Lake (Der Silbersee) fit into a whole of sorts - the text much shorn, both the concept and the production clunky, but every note treasurable, top-notch Weill of the early 1930s. Another one ENO should have championed long ago, and having spent two Monday afternoons with my opera class students on the score, I'm all the more in awe of ETO's advocacy.
Other colleagues are committed to country-house or open-air opera. Both Jessica Duchen and Richard Bratby have chosen Opera Holland Park's double bill of Wolf-Ferrari's Il segreto di Susanna and Tchaikovsky's Iolanta. Though the music of the first is absolutely winning, the casting of the leading lady could have been stronger; but the central lovers in Iolanta, Natalya Romaniw (pictured below by Ali Wright) and David Butt Philip were outstanding. I plump for rare perfection among OHP's choice of Italian rarities, Cilea's L'Arlesiana - a notch above Giordano, Mascagni and Zandonai, conducted with such love and flexibility by a new star on the opera conducting scene, Dane Lam.
Alexandra Coghlan's choices are The Grange Festival's fun with Verdi's Falstaff, and Garsington Opera's new production of Britten's The Turn of the Screw. Echoing her about the second, Stephen Walsh remembers it as "a great evening of music drama, superbly conducted by Richard Farnes and intelligently, musically, staged by Louisa Muller" and also singles out "David Pountney's witty, moving production for Welsh National Opera of Brundibár, Hans Krása's children's opera done at Theresienstadt not long before the entire cast and the composer perished in the Auschwitz gas chambers. Brilliant even without the painful history."
Graham Rickson was lucky to catch Opera North's highlight of a perfectly-balanced season (as ever), Martinů's adaptation of Kazantzakis's novel Christ Recrucified as The Greek Passion - more topical than ever with its central theme of persecuted and rejected refugees. Central was the strong performance by Nicky Spence (pictured below by Tristram Kenton), now moving into the heroic-tenor repertoire (reports were strong of his Parsifal in York Minster at Easter).
Opera in concert, or what were for the most part ingeniously realised "concert stagings," did well as usual. Boyd's other choice is Janáček's The Cunning Little Vixen "with Rattle's LSO in scintillating form and a luxury cast led by Lucy Crowe and Gerald Finley bringing woodland magic to Peter Sellars's semi-staged version". There was very classy entertainment to be had from John Eliot Gardiner's latest Berlioz flourish at the Proms, an unflaggingly brilliant Benvenuto Cellini, all players of his Orchestre Révolutionnaire et Romantique who could standing for the Overture according to Gardiner's latest vibrant experiment, even if Michael Spyres wasn't in top form on the night (the exuberance carried it off).
Gardiner also triumphed earlier in the year back with his English Baroque Soloists at Alexandra Palace's newly reopened theatre. Long a JEG speciality, Handel's Semele shone, with our brightest young soprano Louise Alder as an entrancing heroine, vividly contrasted with the jealous Juno of Lucile Richardot, another quickly rising star. Royal Opera Jette Parker Young Artist Jacquelyn Stucker also made a classy impression in Handel's Berenice, more of a second-rater in the composer's cornucopia, and Henze's schizoid swansong Phaedra, both in the swishly-refurbished Linbury Theatre. One of 2018's candidates for most promising newcomer of the year, Samantha Clarke, shone again among another stunning young cast, in the Guildhall School's Britten A Midsummer Night's Dream.
Operatic performance of the year, for me, has to go to Sondra Radvanovsky (pictured above by Ryan Buchanan with Burkhard Ulrich) as a hyper-nuanced Manon Lecaut in Donald Runnicles' predictably vivid Usher Hall Puccini at the Edinburgh International Festival (just the tonic we needed a night after the bitter disappointment of Mizzy Mazzola's impossible new opera based on Lars von Trier's film Breaking the Waves, where an excellent cast struggled to no avail). Radvanovsky's is star quality finely honed, as perceptive in detail as the playing of the Deutsche Oper Orchestra under Runnicles. With big Royal Opera performances coming up next year from Jonas Kaufmann and Lisa Davidsen in Beethoven's Fidelio and Nina Stemme's long-awaited Elektra in a new production of the Strauss thriller, there should be plenty more top-notch elan vital in 2020.