Best of 2018: Opera |

reviews, news & interviews
Best of 2018: Opera
Best of 2018: Opera
A year more remarkable for high musical values than any wealth of great UK productions
Wednesday, 26 December 2018
Bess (Nicole Cabell) torn between Crown (Nmon Ford) and Porgy (Eric Greene) in ENO's Gershwin
esk">Boyd Tonkin all chose English National Opera's production of
Gershwin's Porgy and Bess
as their best of the operatic year, while I went on another night when the spirit from usually zesty conductor John Wilson and a fine cast seems to have been shining less bright. Most disappointing, I thought, was the cliched staging and the way that director James Robinson had failed to encourage even a singer as consummate on stage as Nicole Cabell to find a convincing body language. But I won't deny the fabulous line-up of voices, outstanding down to the smallest parts, nor the encouragement we must take from the new renaissance of black South African opera singers peopling the cast.
Otherwise, ENO had one ineptly-staged flop - Daniel Kramer's mishandling of La traviata - one stylish turkey – a wilfully misconceived Salome – and one smash hit which deserves to return as a filler of depleted coffers as well as a tonic in hard times. Hard-working to the point of exhaustion, but laugh-out-loud funny, Cal McCrystal's sparkling G&S Iolanthe was gorgeous to look at (in a rollercoaster of beautiful designs by the late, much-missed Paul Brown) and delivered on the physical comedy; test the funny bone of anyone who wasn't tickled by silent but not inactive Richard Leeming's additions to the traditional encores of the Act 2 Trio (sung by Andrew Shore, Ben Johnson and Ben McAteer). That's my choice for delight of the year – so good I went twice – and Richard Bratby's too (peers and peris pictured below by theartsdesk's Bill Knight).
For depth, layers and searing pain, it's over to the Royal Opera for Krzysztof Warlikowski's production of Janáček's last masterpiece From the House of the Dead, a very weird and wonderful selection of scenes from Dostoyevsky's semi-fictionalised Siberian labour-camp memoirs (pictured below by Clive Barda). That Warlikowski is a stage director to be taken very seriously indeed was already clear from his shaping of Phaedra dramas with Isabelle Huppert. That he might not give the music full value here made for some worrying moments at first in the misalliance of Overture and Foucault text, but the challenge thereafter seemed wholly congruent (though a discussion in the comments section of the review suggested that much onstage was missed in different parts of the house). A magnificent cast worked its prison socks off under the watchful eye of Mark Wigglesworth, a late replacement for capricious Teodor Currentzis, proving that when Pappano does finally leave the Royal Opera as Music Director – and we must be pleased that the day is further off after a renegotiated contract - Wigglesworth is one of the few who can keep a whole company together at a similar level. How he's missed at ENO.
Pappano may still not be the most idiomatic of Wagner conductors – one of the few areas of a wide repertoire where he divides opinions – but the singers he marshalled for a revival of Keith Warner's cluttered Ring cycle, hurriedly dusted off to showcase the great Brünnhilde of our time, Nina Stemme, could hardly have been finer. The one of the four operas I saw this time, Siegfried, made me regret putting qualms about the production above this season's casting (though I'm pleased we divided this Ring between four reviewers). A colleague turned to me at the end of a blistering Forging Scene and said, "I know I shouldn't be saying this to another critic, but that was sensational, wasn't it?" And it was. Stefan Vinke is the only Siegfried I've seen who shows no signs of wilting by the time of the opera's massive concluding love duet; with Stemme on top form, that was a wonder. Jessica saw the complete cycle, and chooses Die Walküre as her favourite. In between performances, Stemme popped over to her native Stockholm to receive the Birgit Nilsson Prize; she didn't sing, but colleague Bryn Terfel did, and his three monologues (of Dutchman, Hans Sachs and Falstaff) served as a bracing reminder of how quickly he can set an audience in the palm of his hands.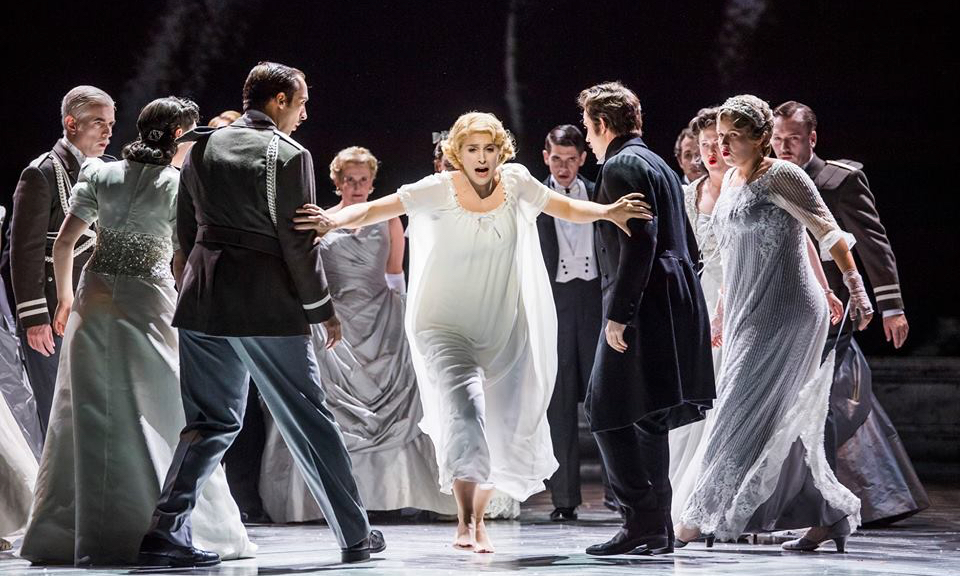 The launch of a new Ring in Gothenburg bodes well, according to Boyd who saw the new eco-friendly Rheingold there, for the appointment of Stephen Langridge as Artistic Director of Glyndebourne. Which didn't have its best season, apart from the luxuriously cast revivals of Richard Jones's hyper-choreographed (and funny) Der Rosenkavalier and of Saul which I was seeing live for the first time – the first (and so far only) perfect production I've seen of the variable but when good, brilliant, Barrie Kosky. Undoubtedly everything about Barber's Vanessa was strong, including Keith Warner's production, except for the overwrought score (though I am at loggerheads over that with the superlative conductor Jakub Hrůša, who will always know it better than I ever can).
A more recent American opera, Jake Heggie's Dead Man Walking, semi-staged at the Barbican was one of Alexandra's chief discoveries of the year; other than that, not much new or newish opera of quality has surfaced in 2018, though Turnage's The Silver Tassie has worn well, according to Alexandra and Gavin Dixon, who also admired another Barbican concert staging. No shortage of fine young performers, though, David Benedict gives a special debut accolade to Virginie Verrez in that Vanessa (pictured above by Bill Knight); I second him, though I can choose two other best newcomers of my own: Jennifer Davis, fresh and strong as Elsa in the Royal Opera Lohengrin, powerfully conducted by Andris Nelsons; and Samantha Clarke, a perfect and vivid Anne Trulove (pictured below with Pedro Ometto as Father Trulove and Frederick Jones as Tom Rakewell) in British Youth Opera's superbly drilled production of Stravinsky's The Rake's Progress.
Stephen Walsh, now as well versed in Debussy as he is in Stravinsky, was lucky to enjoy the musical values of Glyndebourne's Pelléas et Mélisande in the Proms semi-staging, spared the bigger intrusions of Stefan Herheim's oblique-to-distraction concept. That performance is one of his highlights, the others being the spectacular Welsh National Opera realisation of Prokofiev's War and Peace, and the Longborough Strauss Ariadne auf Naxos, in a golden country-house summer for that most culinary of operas. I caught the one originating at Scottish Opera, much admired there by Miranda Heggie, when it came to Opera Holland Park, and fell in love with love: namely the one director Antony McDonald allocated to a female Composer (white-heat personality from Julia Sporsén) and a Zerbinetta (Jennifer France) who plausibly turned out to have been looking for Miss Right all along. What a model of elegant economy, too, from the director-designer. Increasingly we see how more can be achieved with less, so long as the vision is in the right hands and the roles cast to perfection.
Moving back to the continent for the best of directors, I start in the heart of Switzerland just before Easter. With similarly little in the way of expensive production values, but using instead a site-specific division between three locations - Lucerne's small theatre plunged into near-darkness, the Jesuit Church and the square (and roofs) in between, young director Benedikt von Peter gave us the best of a Faust work never devised to be staged - Schumann's Faust-Szenen - and proved its eloquent setting of Goethe's text to be dramatic indeed.
On a more spectacular scale but still with more trust in the performers to furnish the action than the designs was brilliant Czech director Jiří Heřman's production of Smetana's Libuše in a vast Brno exhibition hall – a first experience of the work live for me. It's a potentially static pageant which I never want to see again other than in concert, since this Masaryk-to-Zeman history parade seemed the only possible solution. And Heřman is a director who should be invited to work here at the first possible opportunity; he's rare in combining the intellect of a Herheim with great feeling for characters and emotional truth. That's a very rare quality in the operatic world today. Hence a final double-whammy of operatic and directorial discovery of the year in a scene that's healthy indeed across Europe – but will sicken in the UK if free movement ceases. We can only live in hope that the operatic and concert spheres aren't among the first to suffer from a still-avoidable Brexit.
A scene that's healthy indeed across Europe will sicken in the UK if free movement ceases
Explore topics
Share this article