Buxton Festival review - early Verdi, earlier Mozart and refreshing Britten |

reviews, news & interviews
Buxton Festival review - early Verdi, earlier Mozart and refreshing Britten
Buxton Festival review - early Verdi, earlier Mozart and refreshing Britten
Three major new productions served hot and strong in the Peak District
Little Britten, big heart - Albert Herring at Buxton International Festival
"The subject is neither political nor religious; it is fantastical" wrote Verdi to the librettist Piave about his opera Macbeth. "The opera is not about the rise of a modern fascist: nor is it about political tyranny.
It is a study in character" adds director Elijah Moshinsky in the programme for this opening production of the 2017
Buxton International Festival
. To which (at least if your last encounter with
Macbeth
was Welsh National Opera's production last year, seemingly set in a Travelodge somewhere near Edinburgh Airport) it's tempting to respond, for this relief much thanks.
Moshinsky has gone for the relatively rarely performed 1847 Florence version of the opera – part of a focus on early Verdi at Buxton that saw him direct a stylish Giovanna d'Arco in 2015 and which will culminate in a new production of Alzira next year. We lose Lady Macbeth's La luce langue and the final chorus, as well as the ballet music that always gets chopped now anyway. In its place we gain a swift, cinematic pace coupled to an almost forensic focus on the two central characters – concluding with a stark dying aria for Macbeth himself.
The production strips things back too. Designer Russell Craig's drab reddish box of a set serves for all four acts, and the lighting is so gloomy that for the first few minutes I thought there'd been a technical malfunction. There are no props beyond a few benches and the odd dagger, and the costumes are opera-generic, with plenty of the inevitable trenchcoats and leather jerkins. True, there's no clumsily shoe-horned concept at work here. But I wondered at first if Moshinsky hadn't gone too far in pursuit of that relentless focus: certainly, he seemed unsure of what to do with the chorus apart from march them on and off, performing sloppily synchronised gestures as they sang. Macabre video projections by Stanley Orwin-Fraser (otherwise unseen, except briefly during one of the witches' early scenes) swirled all over Macbeth's Act Three visions, as if someone had suddenly remembered Verdi's comment about the fantastical.
Still, none of this mattered alongside two volcanic central performances by Stephen Gadd (Macbeth, pictured above) and Kate Ladner (Lady Macbeth, pictured below left). Their pairing – along with Stephen Barlow's taut, atmospheric conducting – carried the whole performance. Macbeth is sometimes called Verdi's "anti-bel canto" opera (especially in this original version), though these two had no problem pouring out long, ardent lines. But neither, crucially, was afraid to put their voice at the service of the drama: Gadd beginning with a washed out sound that grew in heroism and power as the drama unfolded, consistent with his portrayal of a Macbeth who spends much of the opera accepting his terrible destiny before facing it with fearless resolve.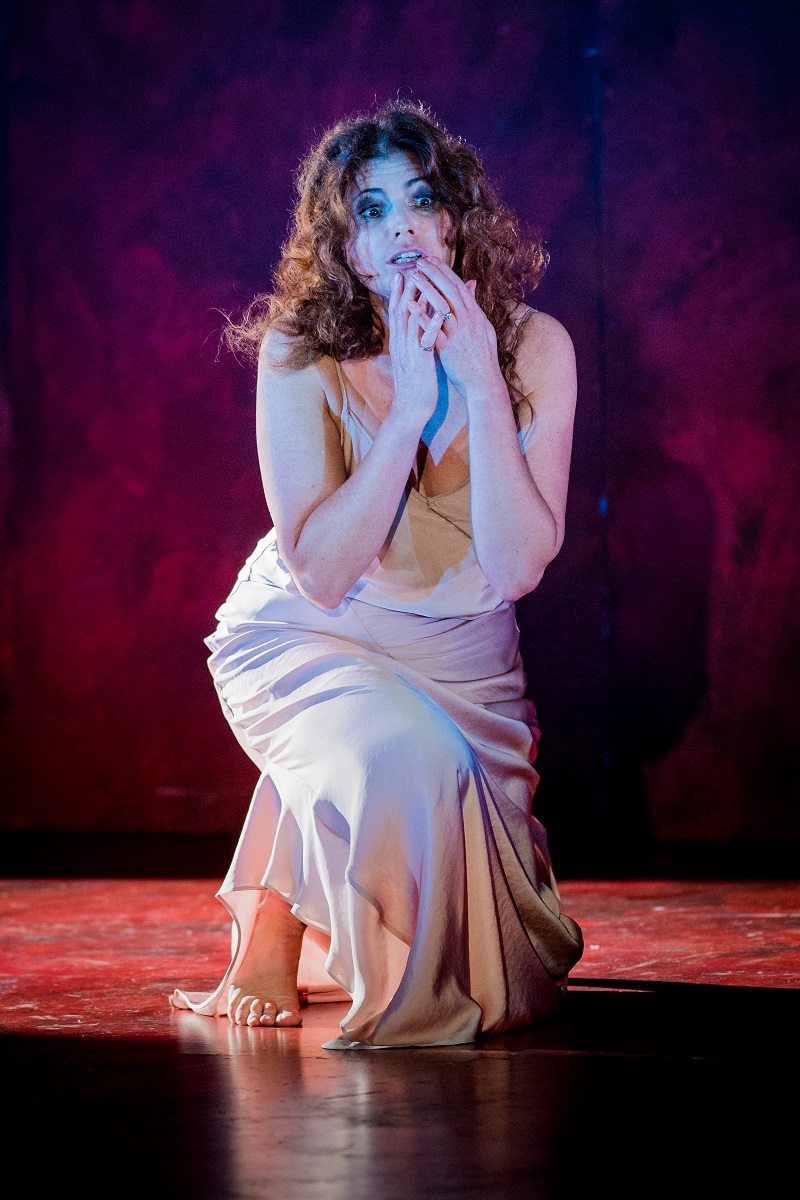 Ladner ranged from sibillant hisses and low, curdled asides to terrifying, hawk-like shrieks, all the while projecting a sensuality which made it hard to take your eyes off her while she was on stage. Her sleepwalking scene was a masterclass in tight, luminous vocal control; Gadd's grief at her demise was painfully raw. This was a believably devoted couple for whom - by the end – you felt a disturbing degree of empathy. Against Gadd's dark vocal grandeur it was a smart bit of casting to set the softer-edged singing of Oleg Tsibulko as Banquo. Jung Soo Yun's sweet toned Macduff won a deserved ovation, and as Malcolm, Luke Sinclair addressed his followers from a stageside box. But this was Gadd and Ladner's show, and taken overall, as a means of concentrating the entire drama on their relationship, the austerity of Moshinsky's vision worked well. Where it counts, this Macbeth is gripping.
Coming the night after Macbeth, Britten's Albert Herring felt, if not like undiluted sunshine, then definitely a refreshing spring shower. The only hint of thunder (since we know that nothing really bad is going to happen to Albert) comes in the downpour which, at the beginning of Act Two in Francis Matthews's production, threatens to rain off the Loxford May Day celebrations. But that actually fits quite neatly with the hints of John Piper in Adrian Linford's bright, just-naturalistic-enough designs. It's hard to imagine any production of Albert Herring that strays too far from its original time and setting, but Matthews and Linford place it somewhere around the year of its premiere, 1947, with enough trestle tables and R White's Lemonade adverts to evoke that Make-do-and-Mend era, plus a civic feast straight out of Enid Blyton (when was the last time you saw, let alone ate, a pink blancmange)?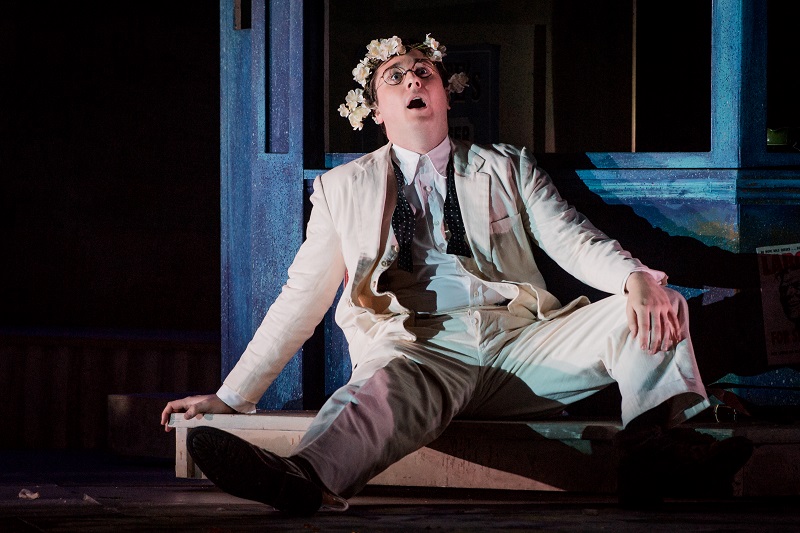 But that's just the centre of a whole network of 1940s-inspired cultural references, most notably the addition of a non-speaking figure described as "The Stranger" (Simeon John-Wake), whose trilby, sharp suit and insinuating smile mark him out as a distinctly Transatlantic tempter amidst the homely pullovers and cardigans of rural Suffolk. His role seems to be to ensure that Bradley Smith's bespectacled Prufrock of an Albert (pictured above) very definitely eats that peach – and to partner him in a sort of Rodgers and Hammerstein dream ballet during Act Two's shimmering orchestral interlude. It's a strange, transformative sequence, and it casts a spell over the whole piece. To read some commentaries on Albert Herring, you'd think it was a sociology textbook caricature of English rural society (and knowing what a snob Britten was, you'd expect the worst). In fact, with help from Eric Crozier's libretto, generosity of spirit triumphs, and this vividly realised little world becomes something universal. Matthews's flashes of fantasy lift the whole thing into the realm of Powell and Pressburger.
Meanwhile, we don't miss a single delicious detail. A near-ideal ensemble cast plays affectionately off each other, supported in the pit (as for Macbeth) by a Northern Chamber Orchestra who sounded, under conductor Justin Doyle, like they were enjoying every note – fresh, boisterous, and keenly alert to Britten's constantly-shifting colours, whether the grumbling bass line beneath Superintendant Budd (John Malloy)'s police report, or the comically sensuous quote from Tristan und Isolde as Sid (Morgan Pearse, whose urbane light baritone was a nice match for the easy confidence with which he carried himself on stage) spikes Albert's lemonade with rum. As Nancy, the warmth of Kathryn Rudge's singing belied her peroxide blonde, village bombshell appearance; it was hard, too, to forget the anguish of Heather Shipp as Albert's mollycoddling mother. These touches of characterisation helped make the final resolution a bracing splash of cold water, rather than a pat moral to the tale.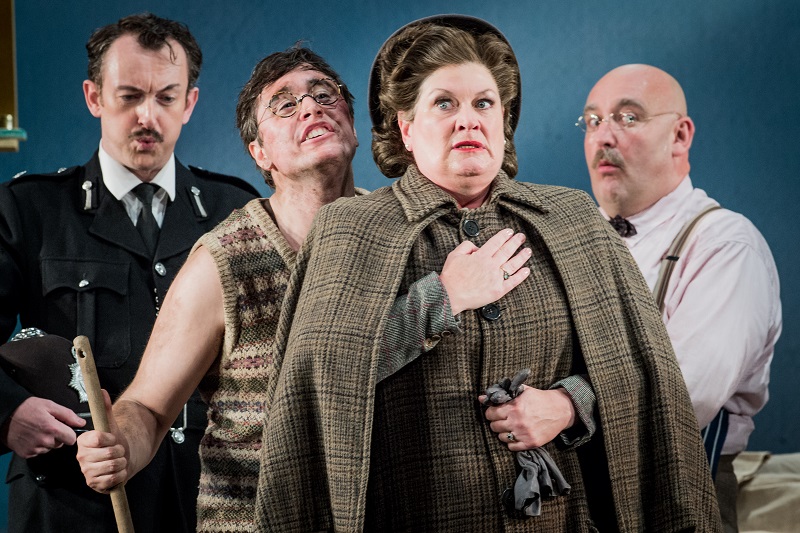 By that point, a dishevelled but beaming Albert is a new man, and it was an impressive feature of Bradley Smith's performance that the earnest young lad of the earlier scenes was still plausibly the same character. Smith's clear, conversational tenor projected an integrity that made his confusion touching and his final transformation wholly life affirming. But it's hard to pick out individual performances. From Yvonne Howard (pictured above left, with Bradley Smith), bringing a touch of the valkyrie to Lady Billows and Lucy Schaufer as her minion Florence, puffing herself up vocally in emulation of her mistress's manner; to the genteelly squiffy schoolmarm (Mary Hegarty) and her three brilliantly heartless, sausage roll-filching pupils (Sophie Gallagher, Nicholas Challier - whose voice was provided offstage on this occasion by Charlotte Trepess - and Bonnie Callaghan: pure Just William), this was a team effort, audibly enjoyed by a Buxton crowd for whom it may have struck particularly close to home (we drove through at least two aspiring Best Kept Villages on the road up through Staffordshire). In other circumstances, it'd probably get a long run and a good few revivals.
If Harry Silverstein's staging of Mozart's Lucio Silla fell flat by comparison, that's not entirely the fault of the production. Although this 1772 Milan carnival commission contains just enough inspiration to lift it out of the "impressive for a 16 year old" category, it's very telling that the adult Mozart never touched opera seria unless he was paid a great deal of money to do so - and that the Buxton audience (through no fault of the performers) laughed openly at the drama's supposedly edifying final twist. The challenge for a modern director of opera seria is to find a replacement for whatever it was, beyond the music, that 18th century audiences found compelling in these heavily stylised, frequently static dramas.
And for any solution, finding a convincing visual language is vital. In that respect, Silverstein isn't the first to fail, though he wasn't helped by sets which (if you wanted to be uncharitable) looked like they might have been all that designer Linda Buchanan could afford once Macbeth and Herring had got first dibs on the Festival budget. Bare scaffolding frameworks were lit in lurid washes of blue and pink, and draped (at least until Joshua Ellicott as Silla tore them off in a tantrum) in tatty bits of plastic sheeting. A spotlight trailed the characters erratically around the stage. Costumes, meanwhile, varied from Ruritanian military uniforms to what I'm informed were 1980s party dresses. Madeleine Pierard managed to bring a desperate heroism to the castrato role of Cecilio while dressed in turn up jeans and a hoodie.
The visual incoherence and lack of atmosphere might have been survivable if the drama had ignited. There were some fascinating individual performances, as well as energetic (if occasionally raw) support from Laurence Cummings and The English Concert in the pit. Karolina Plicková (Cinna, a trouser role - pictured above left with Fflur Wyn) carried herself with a persuasively masculine swagger, and as Celia the sunlight that radiated from Fflur Wyn's singing lit up the stage – as it always does. Rebecca Bottone, as Silla's unwilling lust-object Giunia compensated for slightly strained coloratura with a commanding, stricken stage presence, finding a piercing emotional intensity in her Act Three aria Fra i pensir – one of the score's verifiable moments of 24 carat genius. Pierard, as her husband, achieved a comparable focus and a haunting poignancy in another, Act Two's Ah se a morir, and when the pair shared a scene you were briefly aware of what was missing elsewhere: a sense of human connection.
Silverstein just didn't seem to have many ideas about what to do with his characters during the later stretches of their sometimes overlong arias (even a 16 year old Mozart is still only a 16 year old). Too often, he simply left them striding back and forth in that big, empty, ugly space while the other cast members stood around like lemons. It felt like a very long evening – and that's not something you ever want to say about Mozart.
Still, you can't win 'em all, and two out of three is a strike rate that some of our permanent national companies might envy. This ambitious Peak District festival, in its gorgeous little Frank Matcham theatre, remains one of the UK's most consistently rewarding operatic summer treats: worth seeing, and unquestionably worth going to see.
Buxton International Festival operas run until 22 July
It felt, if not like undiluted sunshine, then definitely a refreshing spring shower
rating
Explore topics
Share this article