Faustus: That Damned Woman, Lyric Hammersmith review - gender swap yields muddled results |

reviews, news & interviews
Faustus: That Damned Woman, Lyric Hammersmith review - gender swap yields muddled results
Faustus: That Damned Woman, Lyric Hammersmith review - gender swap yields muddled results
Chris Bush's retelling has feminist urgency, but lacks dramatic coherence
Wednesday, 29 January 2020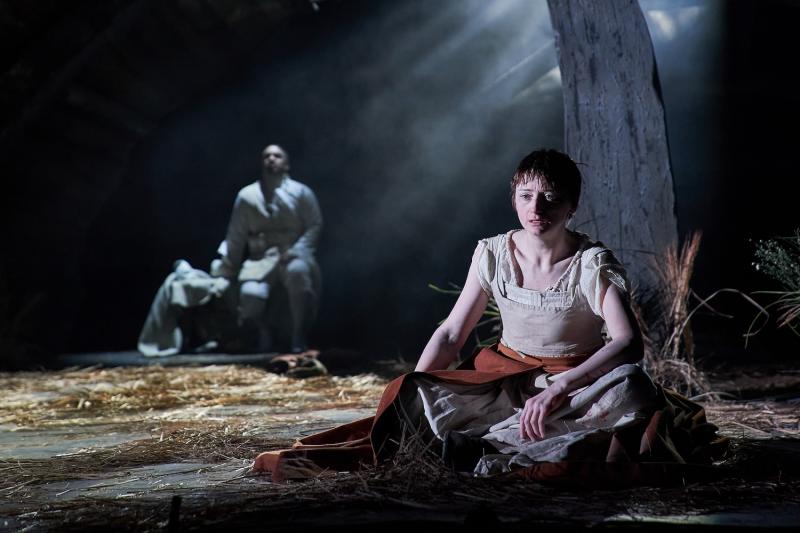 Hell's angel: Johanna Faustus (Jodie McNee) contemplates her fate
Changing the gender of the title character "highlights the way in which women still operate in a world designed by and for men," argues Chris Bush, whose reimagining of Marlowe's play premieres at the Lyric ahead of a UK tour.
It's certainly a compelling idea – albeit one already explored in previous productions like Pauline Randall's 2018 gender-swapped
Faustus
at the Globe – but the resulting piece, though impassioned, is unfortunately rather a muddle.
Johanna Faustus (Jodie McNee) is the epitome of powerless: a low-born, 17th-century woman whose apothecary father (Barnaby Power) crushes her ideas (he prefers leeches to potentially life-saving herbs), preaches female docility – the cautionary tale is Johanna's mother, who was hanged as a witch – and looks for ways to marry her off. Oh, and the bubonic plague is sweeping through London. It's easy to believe Johanna when she quips that she's already in Hell. Thus, she strikes a bargain with the Devil (also Power): 144 years of life, during which she will never age and has access to the supernatural powers of Mephistopheles (Danny Lee Wynter, pictured below right with McNee), in exchange for her soul.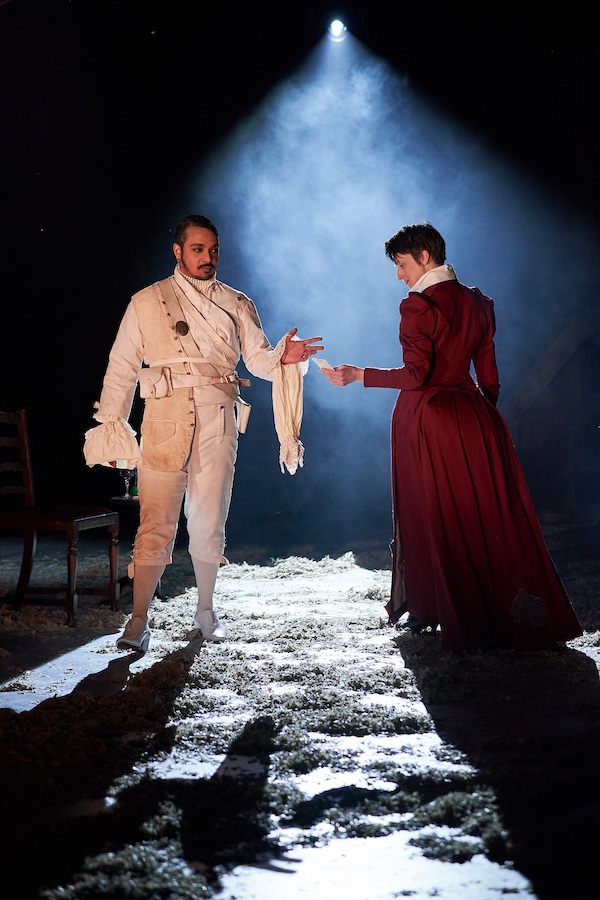 While eager for educational and professional opportunities, Johanna's primary motivation is that she yearns to discover whether her mother is suffering eternal damnation for also communing with the Devil, and, if so, whether there's a way to save her. Straightaway, she learns a terrible irony – her mother's name is not in the Devil's book, but now that Johanna's is, they are parted forever. So, she embarks on a bloody vengeance rampage; if she can't see her mother, at least she can ensure that everyone who had a hand in her death is viciously punished.
The second half descends into Doctor Who-esque educational time-travelling adventures. Johanna witnesses the Great Fire of London, meets the first woman in Britain to qualify as a physician and surgeon in the 19th century, squabbles with Pierre and Marie Curie, and – on a quest to discover immortality – joins the digital revolution. There's an overt feminist slant, voiced in wry lines like "If you knew the lives we women lead, you'd understand the Devil is a catch", in Johanna raging about the centuries it takes for equality to inch along, or questioning whether marriage and motherhood detract from Marie Curie's work and individual status as a brilliant scientist.
But such ideas are at odds with Johanna's tentative use of her infinite powers. She's initially consumed with personal revenge, then fears that Mephistopheles is tempting her down a dark path and tries to limit his involvement – even though that means she makes minimal impact. Correspondingly, we don't really see anyone challenge her until the very end, when she's more explicitly overambitious, so the drama lacks conflict and scope. We also lose Marlowe's poeticism and wild imaginative evocations in a blunt (though sometimes funny) text, and moving into a modern context lessens the threat of damnation; can we really believe in a literal Devil once we're in the Digital Age?
Jodie McNee brings a restless ferocity to Johanna, who is often compared to a fire, and shows how her passion can lead to reckless choices. But by placing her against centuries of patriarchal oppression (with woman labelled witches or mad when they threaten male control), Bush stacks the deck too heavily. Johanna is an intelligent woman denied opportunity, who befriends other female trailblazers and wants to save the world – how can we condemn her? Yet that robs the play of its complexity, and fatally impairs the climax.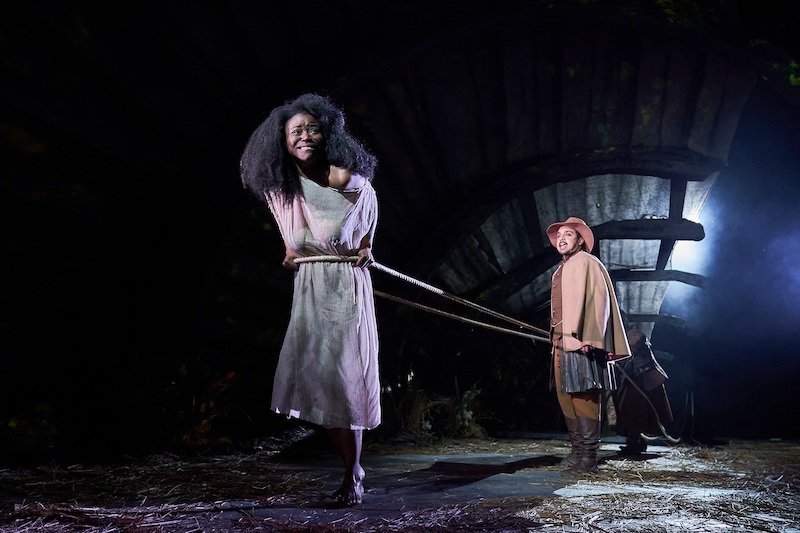 Emmanuella Cole (pictured above with Danny Lee Wynter) and Alicia Charles are excellent in multiple roles, while Danny Lee Wynter makes for a delightfully flamboyant Mephistopheles – gestures are emphasised by his overlong sleeves, and he gives his devilish figure a silky insouciance (a doctor abusing young women is, he sighs, merely "tedious"). It's an effective stylistic contrast with McNee's zealous earnestness. However, we never really dig into this Mephistopheles's psyche, other than getting a general enthusiasm for fire and blood.
Caroline Byrne's production is atmospheric, which aids some of the more meandering sections of the play. Ana Inés Jabares-Pita's dark, smoky set has skeletal trees arching over and covered with rough canvas, creating a claustrophobic bomb shelter-like structure; after the fire, ash rains down in a desolate cloud, hauntingly lit by Richard Howell, who also contributes spooky shadows. Ian William Galloway's projections clarify the time jumps, and underline Johanna's vengeance spree by scratching off the names of her victims, and Giles Thomas's sound design adds visceral impact. But this is a piece overflowing with ideas that never really coalesce into a satisfying, coherent drama.
Can we really believe in a literal Devil once we're in the Digital Age?
rating
Explore topics
Share this article