Habeas Corpus, Menier Chocolate Factory review - grappling with Alan Bennett's anti-farce |

reviews, news & interviews
Habeas Corpus, Menier Chocolate Factory review - grappling with Alan Bennett's anti-farce
Habeas Corpus, Menier Chocolate Factory review - grappling with Alan Bennett's anti-farce
Has director Patrick Marber boobed this time?
Wednesday, 15 December 2021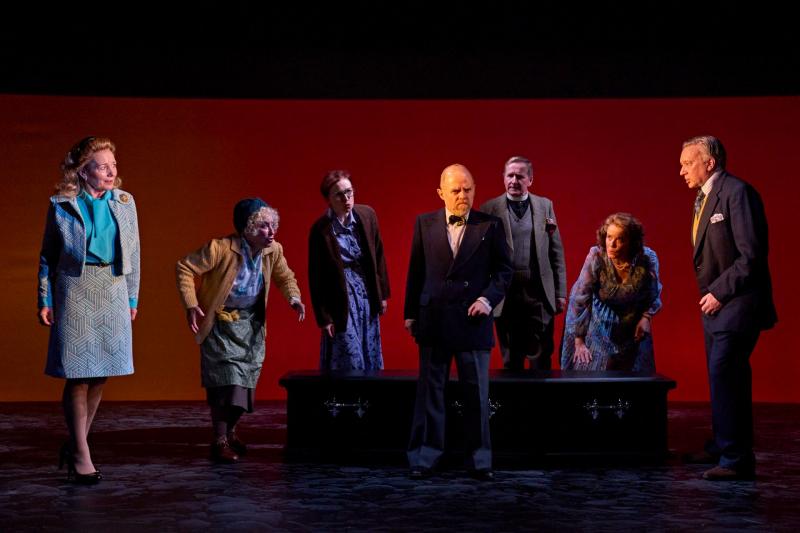 Anyone here speak Latin: the cast of 'Habeas Corpus'
Today's younger playgoer would probably marvel at the popularity of these plays in the 1950s and 1960s, and at the ease with which they made it onto the nation's television sets.
Powered by wince-worthy double entendres, trouser-dropping and much rushing through multiple doors, they passed for light entertainment: the middle classes laughing at naughty sexual shenanigans, harmless fun, what! Bennett, though, decided to create a dark entertainment out of the genre. And so we have his farce with a PhD in metaphysical poetry and renaissance drama and an obsession with death and sex of which Wagner would have approved.
Bennett decreed the piece was to have no set, which already puts it in the realm of the modernist play – Richard Hudson's set offers just a coffin, a phone, a stuffed terrier dog and lots of great lighting (design by Richard Howell). And instead of the usual hurried one-liners, double takes and lots of shouting, the text is a treasure chest of orotund speechifying and vicious verbal sparring, stuffed with references to Shakespeare, Donne et al.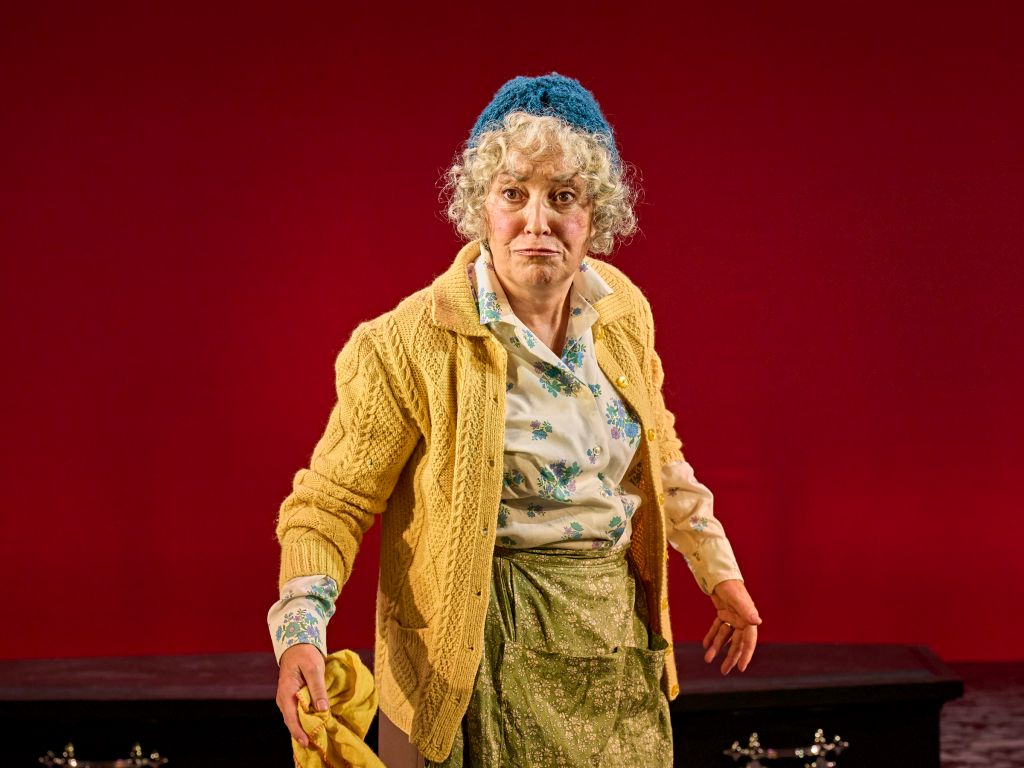 The sexually frustrated middle-class characters, living unfulfilled lives in Hove, turn out to be as melancholy as the Dane, as furiously vengeful as Iago, as nihilistic as Lear's bastard, Edmund. They have a toothsome text to work with, breaking into couplets where "Sundays" rhymes with "undies" and delivering lines as unexpected as "King Sex is a wayward bollock!" (This from a character called Percy.) Even the self-styled representative of the working class, the cleaner Mrs Swabb (musicals actress Ria Jones, pictured above), is at it: "The air is black with the wings of chickens coming home to roost," she declares near the denouement with all the melodrama of a witch on the blasted heath. Bennett played Mrs Swabb himself for part of the first run: that would have been worth the price of admission.
All of this requires an almost deranged performing style that's nevertheless anchored to a crispness of delivery and impeccable comic timing, which were not uniformly in play on opening night. As Muriel Wicksteed, the sex-starved middle-aged wife of philandering doctor Arthur, Catherine Russell has a good stab at this mad mix, especially in the scene where she aims a breast at the waiting cupped hand of the man from the bra company (Abdul Salis) who thinks he is there to check that her mail order "falsies" fit. (They have been bought by Arthur's flat-chested sister Connie, played ably by Kirsty Besterman.) Dan Starkey, too, as Sir Percy Shorter, "head of the BMA", clearly relishes getting his chops round his florid lines, and his battle of words with Canon Throbbing, the predatory vicar (a subtle Matthew Cottle, who delivers the finale's wedding vows in Bennett's voice), is of the high standard the piece needs.
Camp it up too much, though, and it tilts towards being a raucous romp about private parts and breast implants. That might be what some audiences are looking for in these straitened times but it's not really the play Bennett wrote. Disappointment particularly registers in Jasper Britton's portrayal of Arthur Wicksteed, Muriel's roving-eyed husband, who tries to hide behind the rubric: "As a doctor, I'm a eunuch."
The original Arthur was Alec Guinness; a 1996 one at the Donmar was Jim Broadbent. Alongside these masters of the maniacal, Britton (pictured above) comes across more as a dyspeptic matinee idol playing the provinces. I wanted to feel he loved the latent anarchy of the piece, but it was a lukewarm relationship at best. His is the pivotal figure of the play: Wicksteed brings with him bleak aphorisms about the futility of the fleshly and the terrible pain of deathbed regrets. If you can't take his sadness remotely seriously, all that remains is boobery, almost literally – a string of breast jokes.
It's a farce with a PhD in metaphysical poetry and renaissance drama
rating
Share this article