Manic Street Creature, Southwark Playhouse review - songs in the key of a traumatised life |

reviews, news & interviews
Manic Street Creature, Southwark Playhouse review - songs in the key of a traumatised life
Manic Street Creature, Southwark Playhouse review - songs in the key of a traumatised life
Maimuna Memon sings of the pain mental illness brings, and not just to the person it afflicts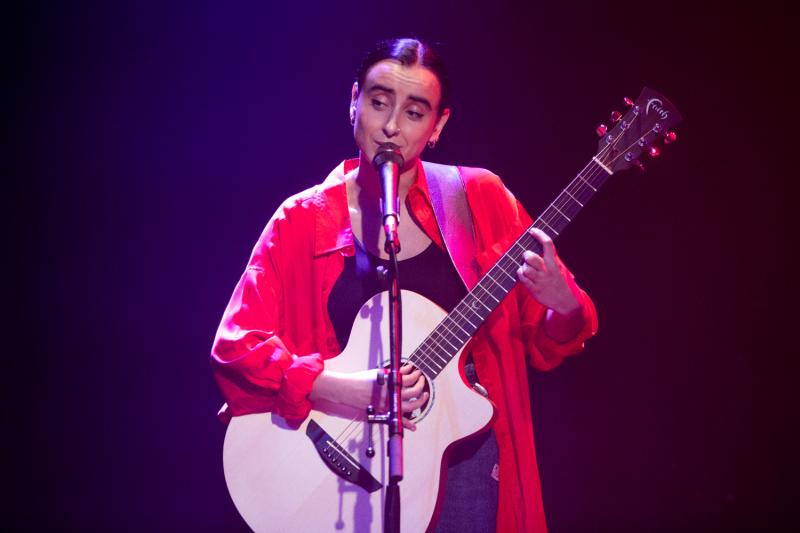 gently weeping guitar: Maimuna Memon in 'Manic Street Creature'
There's an old-fashioned feel to the story at its outset: Young woman, guitar in hand, Northern accent announcing as much as it always did, who makes a new life in London, all the money going on a room in Camden. One recalls Georgy Girl or Darling, films that were very much of their time.
But it's safe to say that, even if you missed the extensive trigger warnings on the way into the
Southwark Playhouse
auditorium, a volume of swear words to give a Tory backbencher pause is enough to tell you that this show is very much 2023.
Maimuna Memon's song cycle is a deeply personal story of finding one's feet while slipping into an abyss before settling on a ledge, looking up and down. She gives voice to Ria as the singer and narrator, playing a variety of guitars and keys, supported by vocals and cello from Rachel Barnes and vocals, percussion and bass from Harley Johnston (pictured below with Memon). The musicianship is first rate, the songs having something of the confessional nature of Carole King's early Seventies material, with some genuine belt added to underline the anguish. There are no toe-tapping poppy hooks, but plenty of ballads that bare the soul, surely going over well with the generation that has grown up with Adele from "19" to "30".
It's that all but palpable connection with a house well-stocked with 20- and 30-somethings that is the show's greatest strength. I've seldom been more sure (outside opening nights for which they have become a condition of entry) that a show would conclude with a standing ovation - and it did. There's stuff in these traumatic tales that resonates very much more with millennials than with boomers - which is, I guess, about the most "Okay boomer" statement one could make.
Perhaps the format mitigates against more universal engagement. We only hear reports of the boyfriend, Daniel, who gives the play its title as he fights his bipolar disorder, so he never fully coheres as he would were he actually represented on stage. But Memon has a background in musical theatre, with an Olivier nomination this past spring for Standing at the Sky's Edge at the National, and, as the writer of the songs and the book, everything here is a deliberate choice, pros and cons.
The payoff comes in the closing cluster of songs that turns the attention back towards Ria and explores how a man's struggles can be transmitted to a woman who must then become lover, therapist and paramedic, a burden that would put anyone's equilibrium under pressure. The final message is something akin to Whitney Houston's "The Greatest Love Of All": a plea to look after oneself, to rescue the rescuer before they too go under the waves.
There's a subplot with an absent father that nicely balances the too-needy boyfriend, but it feels tacked on rather than integral. The more interesting point, if overdone in exposition, is that Daniel appealed to Ria most when he was in trouble if not quite suicidal. At one point, she exclaims that she is jealous of the pills that kick up Daniel's serotonin, allowing him to function, even thrive, without her. That makes for a perceptive insight, the kind of jolt that can come enter into a relationship settled into a largely stable, if dysfunctional, comfort zone.
This is a psychologically gruelling 75 minutes witnessing the pain of mental illness, but it's offset by pleasing songs, some humour and a relatable protagonist. And if you're a person who uses the word "relatable" on a regular basis, it's almost certainly a show for you.
The payoff comes in the closing cluster of songs
rating
Explore topics
Share this article