Treason The Musical In Concert, Theatre Royal Drury Lane review - plenty of musical gunpowder but not enough plot |

reviews, news & interviews
Treason The Musical In Concert, Theatre Royal Drury Lane review - plenty of musical gunpowder but not enough plot
Treason The Musical In Concert, Theatre Royal Drury Lane review - plenty of musical gunpowder but not enough plot
Semi-staged production shows promise - and problems
Rebecca Lachance, Carrie Hope Fletcher and Emilie Louise Israel - no longer in the shadows of history
A semi-staged concert performance of a musical is a little like a third trimester ultrasound scan. You should see the anatomy in development, the shape of what is to come and, most importantly, discern a heart beating at its centre. But you can't tell if what will arrive some time later will be a bouncing baby or a sickly child. So it is with this iteration of a new British musical, Treason.
We're in a divided kingdom whose leader, Queen Elizabeth I, is about to die and whose successor is unclear – the audience did not need too much prompting to catch the contemporary parallels. Thomas Percy, a reformed aristocratic brawler, extracts a half-hearted promise from the man who would become King James I that he will ameliorate the persecution of Catholics in England. On assuming the throne, he reneges on the deal and things get even worse for the oppressed minority, worshipping in secret, losing capital and lands. Against the wishes of his wife, Percy teams up with hothead Robert Catesby, and explosives expert Guy Fawkes, and the rest is, quite literally, history.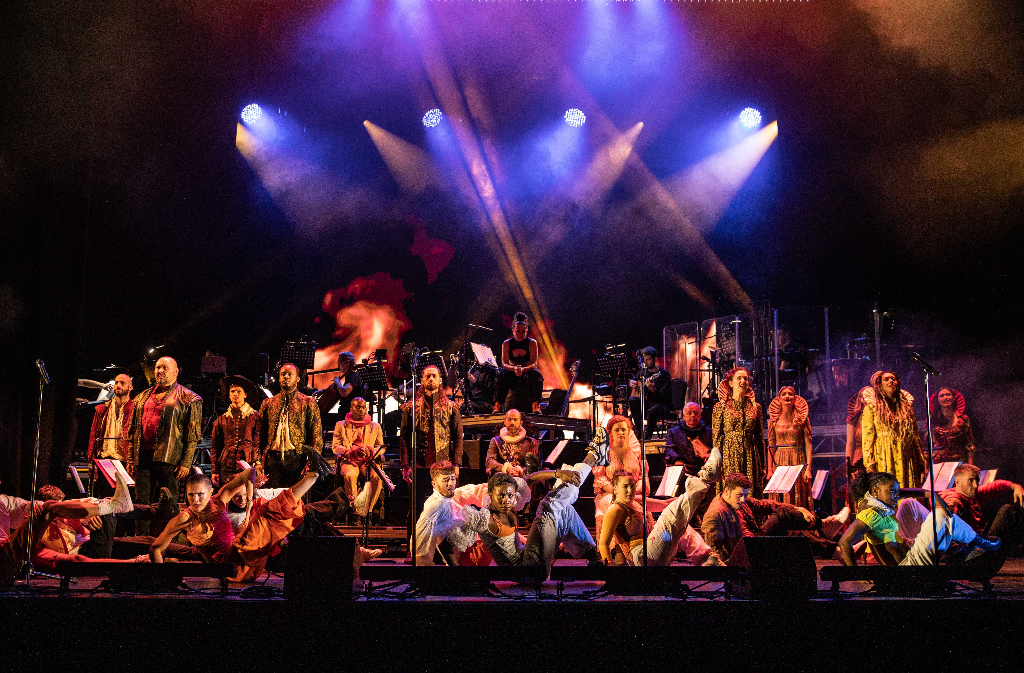 Ricky Allan has written some splendid songs with a hint or two of the ethos of Hamilton (there are many parallels, leading to some excitable claims that we may be witnessing the birth of an English version of Lin Manuel Miranda's landmark show) with pop, rap and folk influences locating a place but keeping the time fluid. Ruffs and jeans also mixed past and present and a lament about how bureaucracies can become overwhelmed with paperwork would have had many fingers itchily moving towards phones to check emails and WhatsApps.
Bradley Jaden lends his Percy a doomed, naive nobility and Simon-Anthony Rhoden convinces with his hot-headed Catesby, almost inviting death after the loss of his wife has shattered his world. Daniel Boys is in scene-stealing form, going full Jonathan Groff as the camp monarch (well, King George did say "I'll be back", and here he is as King James) and Les Dennis plays to his strengths with the patter song delivered by the long-suffering royal apparatchik Robert Cecil.
The singing from a tremendous cast (pictured above) is excellent, especially the close harmony work beautifully balanced against the London Musical Theatre Orchestra, who give full value to the melodies. They work best with Carrie Hope Fletcher, who brings her considerable belt (and even more considerable social media following) to the role of Martha Percy, Thomas's uneasy wife, radiating star power to underline the difference between a fine actor-singer and a fully fledged West End leading lady.
Not everything works – in fact, too much doesn't really. I wasn't sure that Debris Stevenson's Narrator added much and slowed the plot (and the Plot) down just when it should have leapt forward. And, as a device to get 'edge' into a show, grime poetry, its glottal stops a jarring presence amongst the melodies, is surely too much of a cliche these days.
Composer, Allan, shares the book credit with Kieran Lynn, but, as is so often the case with new musicals, it's the most problematic aspect of the show. In a laudable attempt to write women back into a history that has erased them (I could hear "Who Lives? Who dies? Who tells your story?" in my head when the chorus sang "A Woman's Role") the women have some agency but no real character. We don't see how Martha fell in love with Thomas, why she makes a decision that surely she must know would lead to his death and that of many others of her faith, including likely reprisals against her and her family, why she walks straight into the crossfire she and the other women sing about. Indeed, who are these women with whom she consults before taking her fatal step? Fellow Catholics but beyond that, we're not told.
There's work to be done on the ending too. We know the Gunpowder Plot fails and the Catesby conspirators lose their lives, but it's all so rushed, so perfunctory that any emotion provoked by their tragedy is washed away in the curtain calls.
So it's not quite a case of throwing the script on the bonfire come the fifth of November, but there's character development, narrative detail and a proper ending to work on before the songs can sit within the musical theatre structure that they deserve. And that might take rather longer than nine months to see through.