When We Have Sufficiently Tortured Each Other, Dorfman Theatre review - Cate Blanchett's underwhelming debut at the National |

reviews, news & interviews
When We Have Sufficiently Tortured Each Other, Dorfman Theatre review - Cate Blanchett's underwhelming debut at the National
When We Have Sufficiently Tortured Each Other, Dorfman Theatre review - Cate Blanchett's underwhelming debut at the National
Martin Crimp's latest about a sex game is all talk and no action
Thursday, 24 January 2019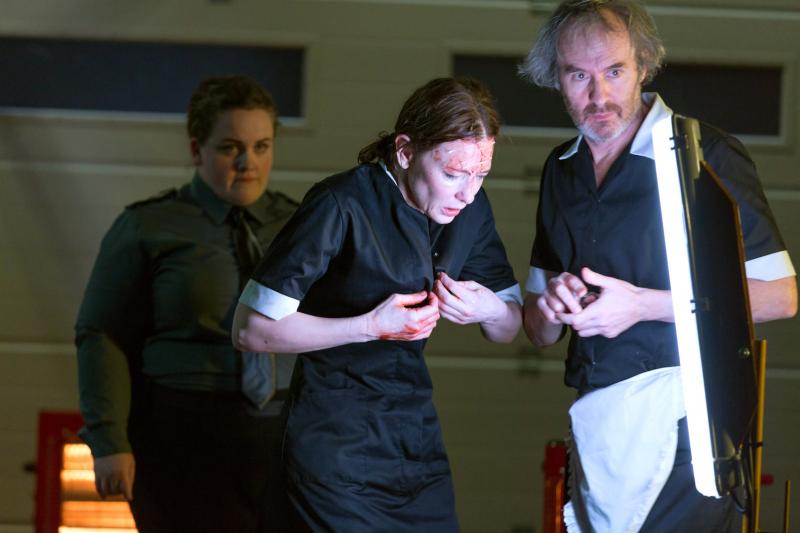 Cate Blanchett and Stephen Dillane, with Jessica Gunning in the background
When it was announced that Cate Blanchett was making her National Theatre debut with Martin's Crimp's new play, When We have Sufficiently Tortured Each Other, its website exploded with people wishing to buy tickets. To those many thousands disappointed, I say: "Well done, you!"
The play's subtitle is "Twelve Variations on Samuel Richardson's Pamela", so it certainly starts from an interesting place. The epistolary novel from 1740, subtitled "Or, Virtue Rewarded", concerns a young maid, Pamela, whose master, Mr B, makes frequent and unwanted sexual advances to her. After many refusals, he eventually proposes marriage in an equitable partnership as her "reward".
The programme notes – unlike the play itself – tease us by saying it "breaks through the surface of contemporary debate to explore the messy, often violent nature of desire and the fluid, complicated roles that men and women play". Oh, would that it had.
The action is set in the garage of a suburban house where we eventually gather that Blanchett (as Woman) and co-star Stephen Dillane (Man) live. She has readied herself for his arrival, with four other people who take part in an elaborate sado-masochistic role play to inject some energy into the couple's sex life.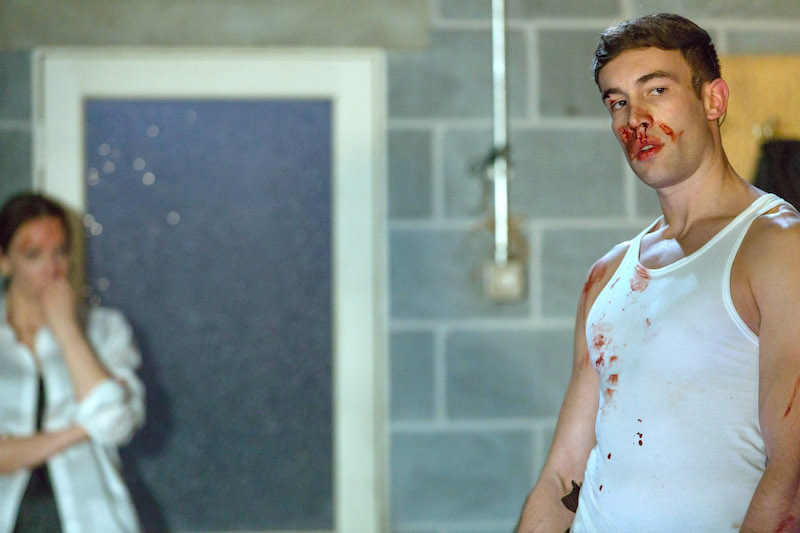 Man and Woman bicker and insult each other, but few barbs land. They frequently swap clothing (down to slinky black undies and "sexy maid" outfits) and blonde wig as they flit between playing Mr B and Pamela in a stultifyingly boring game about power and domination that lacks any titillation for either the characters or the audience. They try to get a reaction out of each other, fail, try again, repeat. For two hours.
Man and Woman talk about their relationship – a lot – but the parallels one was hoping that Crimp may have drawn between Richardson's time and now in the age of #MeToo, the gender pay gap, and the balance of power between men and women in heterosexual relationships and society more broadly, while touched on, aren't developed. Katie Mitchell's languorous direction doesn't help matters.
There's little to shock here; certainly not having two young actresses playing teenage Girl 1 and Girl 2 (Emma Hindle and Babirye Bukilwa respectively) to plant the possibility of paedophilia in the audience's minds, or introducing a whiff of lesbianism between Woman and Mrs Jewkes (the complicit housekeeper in the novel). Even the violent scenes, mostly played out through the character of young hunk Ross (Craig Miller, pictured above), feel half-hearted.
Blanchett and Dillane give committed performances that the script doesn't merit, but even so, some of the audience woke with a start at the end. (Although if they were snoozing they may have missed a few darkly comic lines delivered with verve by Gunning.)
The denouement, with its lazy reveal, feels a long time coming, and the sexual action, for what it is, is desultory and hardly provocative. As a friend remarked after the show: "It takes a special kind of badness to make Cate Blanchett lubing up a strap-on boring, but the National Theatre managed it." And that was the best line I heard all evening.
The couple bicker and insult each other, but few barbs land
rating
Share this article