Happy Valley, Series 3, BBC One review - tension mounts as the Yorkshire crime drama approaches its conclusion |

reviews, news & interviews
Happy Valley, Series 3, BBC One review - tension mounts as the Yorkshire crime drama approaches its conclusion
Happy Valley, Series 3, BBC One review - tension mounts as the Yorkshire crime drama approaches its conclusion
Sally Wainwright's masterpiece shows the competition a clean pair of heels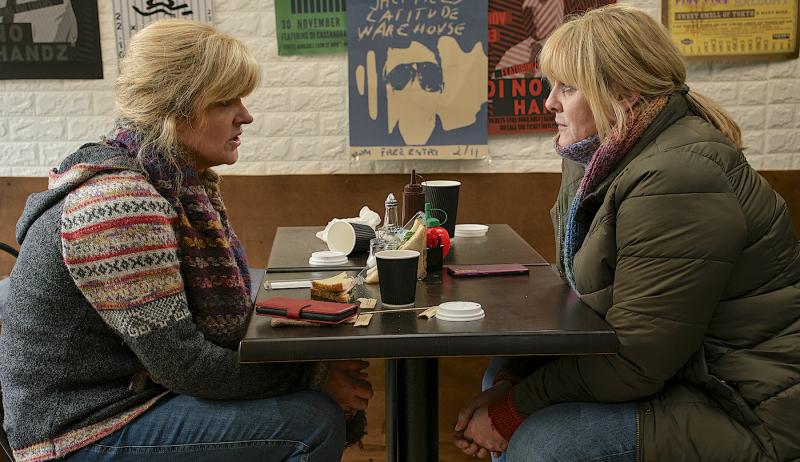 Clare Cartwright (Siobhan Finneran, left) and Catherine Cawood (Sarah Lancashire)
In this glittering era of global streaming, the viewer is constantly bombarded with the latest and most sensational TV drama from South Korea, Australia, Denmark, California etcetera. But Huddersfield's own Sally Wainwright continues to show most of the competition a clean pair of heels.
Scott & Bailey, Last Tango in Halifax and Gentleman Jack notwithstanding, it's Happy Valley which is liable to be remembered as her crowning achievement, and this long-anticipated third and final series is steadily tightening its grip as it reaches the halfway mark. The BBC's seemingly counter-intuitive decision to ration it to one episode per week, so exasperating for the I-want-it-all-and-I-want-it-now faction, has successfully kept tension and anticipation rising remorselessly.
What Wainwright does so well is to weave together the public and the personal so you can't see the join. At the centre of the spider's web of despair and dysfunction is the seemingly conscience-free rapist and murderer Tommy Lee Royce, whose smirking malevolence reaches its tentacles remorselessly into the lives of Sgt Catherine Cawood (Sarah Lancashire) and her family, then ripples outwards to infect several generations of the inhabitants of West Yorkshire's Calder Valley. One might have thought that James Norton, who played that nice clergyman in Grantchester, would be too genteel for Royce, but he's remarkably good at conveying a sense of unhinged amorality. Meanwhile, Lancashire's towering bloodied-but-unbowed performance continues unabated, and she's doubtless due for another gong or two (pictured below, Con O'Neill, Rhys Connah and James Norton).
The tangled relationships between Catherine and her sister Clare (Siobhan Finneran), a recovering alcoholic and heroin addict, her son Daniel (Karl Davies) and ex – though not entirely ex – husband Richard (Derek Riddell) are all lived out in the threatening shadow of Royce, who has now been transferred to a prison in Sheffield. Catherine continues to be haunted by the death of her daughter Becky and the future of her grandson Ryan (Rhys Connah). Becky killed herself after she'd been raped by Royce and given birth to Ryan, and Catherine still suffers ghastly hallucinations of Becky's dead body.
Wainwright revealed that she waited seven years before writing this third series to allow Ryan (and indeed Connah) to reach 16, an age where he'd have to face choices about whether or not to have a relationship with his father. Typically, the sadistic and devious Royce has been surreptitiously grooming Ryan, partly by manipulating a teaching assistant at his school. Now, Catherine is appalled to discover that Clare and her none-too-reliable partner Neil (Con O'Neill) have been secretly taking Ryan to visit Royce in prison. The way Catherine followed Clare's car to Sheffield, then clinically confronted her about her tissue of lies, was just another of Happy Valley's agonisingly treasurable moments.
What's surprising is how compulsively watchable it is, given the amount of torment, misery, death and suffering that Wainwright has crammed into it. It's as if the entire local population was born under a bad sign and are being steadily ground underfoot by drugs, alcohol, crime and poverty. It would take the entire local police force weeks to track down anything resembling a healthy relationship.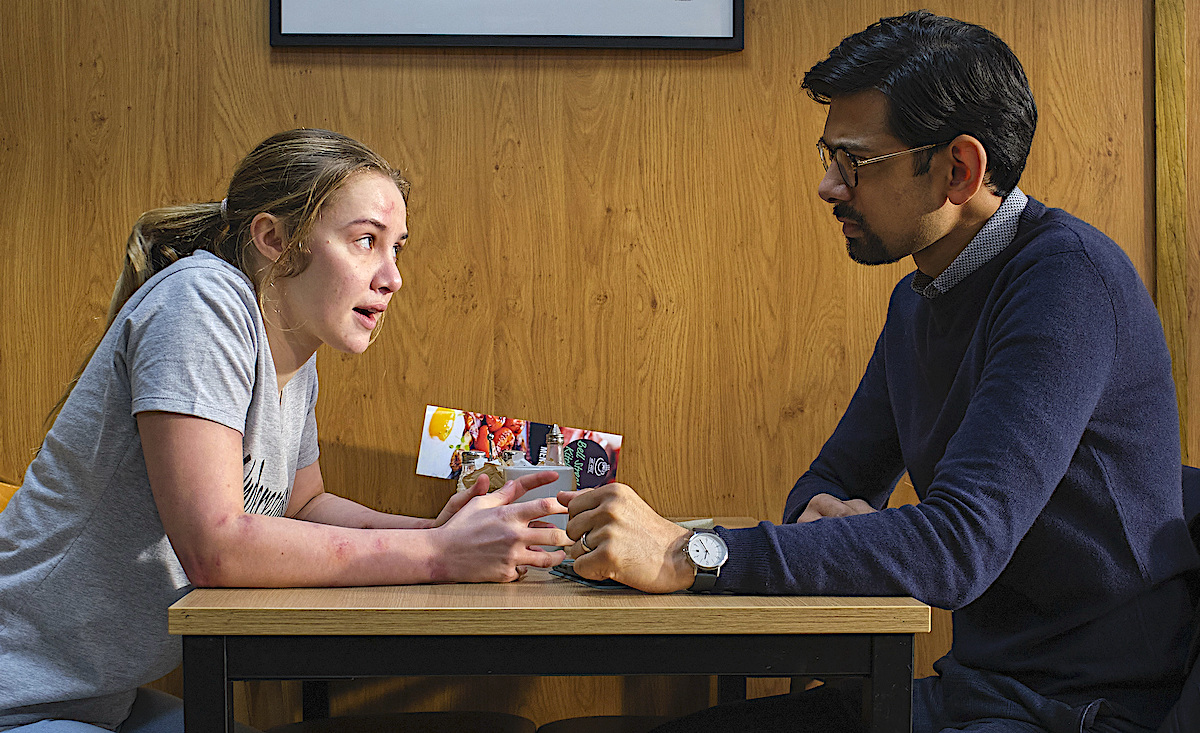 Wainwright has thrown in a sinister new loop via schoolteacher Rob Hepworth (Mark Stanley), a macho bully who batters his wife Joanna (Mollie Winnard) and treats his pupils with swaggering contempt. Inevitably, one of them is Ryan. Mr Hepworth had previously been having stand-up fights with Ryan about his shortcomings as a goalkeeper, but, learning about his parental problems, has suddenly adopted a caring, concerned approach which sets alarm bells clanging.
Meanwhile, as the final credits rolled on episode three, Joanna Hepworth's homicidal conspiracy with the pharmacist Amit Shah (Faisal Bhatti, both pictured above) seemed to have gone catastrophically wrong…