My Father and Me, BBC Two review - Nick Broomfield's moving voyage around his family |

reviews, news & interviews
My Father and Me, BBC Two review - Nick Broomfield's moving voyage around his family
My Father and Me, BBC Two review - Nick Broomfield's moving voyage around his family
Acclaimed documentarist's most personal film acutely catches social history
Double-click moments: Nick Broomfield with his father Maurice
Nick Broomfield made his first film 50 years ago, and his career over those five decades (and some three dozen works) has been as distinctive, and distinguished as that of any British documentary maker.
It has ranged from early films on
British social themes
, through overseas journeys, often around America and more extreme subjects such as penal incarceration (1982's
Tattooed Tears
, his first work outside England, and his studies of serial killer Aileen Wuornos on death row) but also his including his remarkable 1991
The Leader, His Driver and the Driver's Wife
about the white South African leader Eugène Terre'Blanche, to works that catch unexpected slants on celebrity subjects (
Kurt & Courtney
). The way he has frequently included himself – and concurrently the documentary-making process – within the result has become something of a trademark.
With My Father and Me Broomfield has come full circle. Finished two years ago, it's a movingly personal memoir devoted to his family origins and in particular to his relationship with his photographer father Maurice, who is acclaimed here as "Britain's greatest applied photographer" for his elaborately staged depictions of the nation's industry in the post-war glory that would turn out to be its swansong. The director's entry point is how personal conflicts of the kind experienced by any father and son were amplified in the Broomfields' case by professional variances in their creative approaches, a divergence that speaks resonantly about a generation of British social history, especially the industrial decline that set in in the 1970s, just as Nick was coming into his creative own. (Pictured, Maurice Broomfield's "Tapping a furnace in a steel works", below, and "Taper roller bearing", bottom page)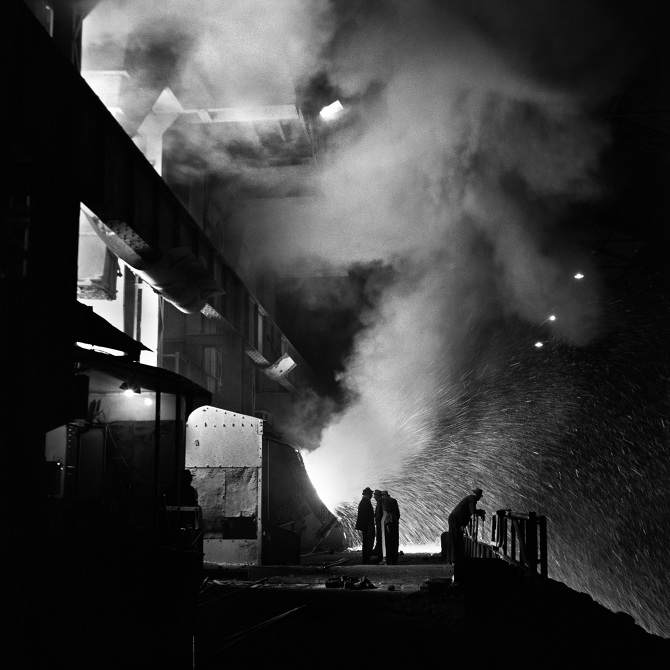 There's a striking distinction made between "craft" and "chaos". Maurice's photographs used the full artifice of photography, especially lighting, to create memorable images that predicated aesthetic effect over the reality of the industrial shop floor: he spoke of "upgrading" the experience of his employee subjects out of respect for them, though the result also certainly met the expectations of his corporate clients. Such compositional priorities seemed alien to Nick, who charted his subjects' lives with vérité spontaneity in circumstances that themselves reflected the breakup of that same social fabric, not least the closeness of community that had been sustained by the economic and class structures that Maurice's images had somehow exemplified.
But the resonance of My Father and Me as a family story goes far beyond any such simple thesis. Born in Derby in 1916, Maurice began within the working environment that had sustained earlier generations of his family and which he would capture in his work. Professional success broadened his worldview – he clearly loved a fine motorcar, from the early MG in which he carried his equipment around as he moved from one factory assignment to another, to the vintage Jaguar that we see him tinkering on in retirement – and saw him move south, to North London, where Nick grew up.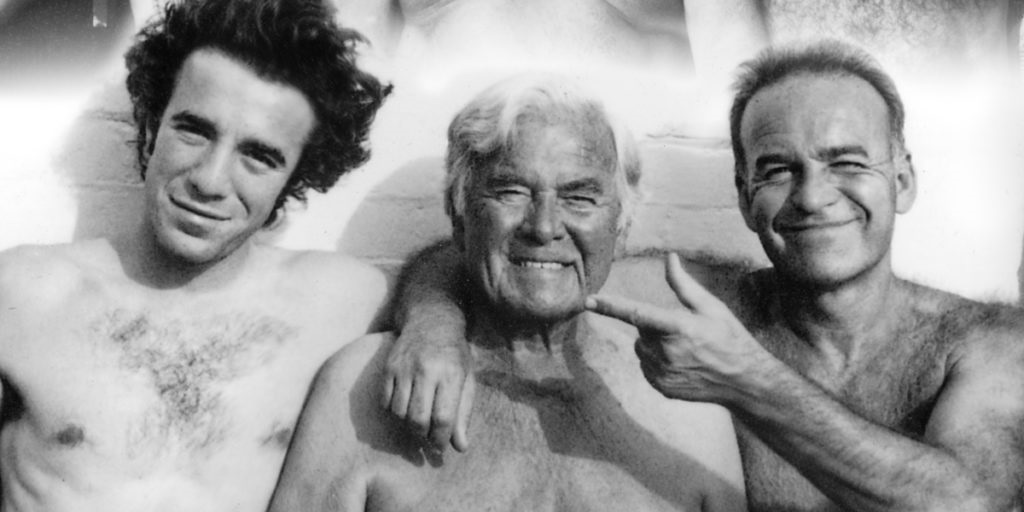 The patterns of family life changed in more profound ways too, not least when Maurice married Sonja, who was from a Czech family that had come to England after the war as refugees (the concealments of the émigré experience were such that Nick, brought up a Quaker, only became aware of his Jewish roots in his twenties). His maternal grandfather, Gogo, is a vivid presence in the film, captured in archive interview by the young director as he explains how his wartime experiences, not least as part of the British forces that liberated Bergen-Belsen, has left him with profound doubts about humanity that were almost diametrically opposed to Maurice's pacifist optimism. As Nick visits the Derby haunts in which his father had grown up, he hears how his paternal grandmother Daisy was simply unable to engage with anything "foreign", so the marriage brought family rifts from the start. Nevertheless, in her widowhood Daisy would appear as a somehow uneasy visitor at the Sussex watermill to which Maurice and Sonja had retired.
It looks like an idyllic environment, one in which Nick's son Barney clearly flourished as he was growing up, though the implication is that Nick himself felt less at ease there. It was an idyll that came to an abrupt end when Sonja died from cancer just short of her 60th birthday. She was the one who kept the couple's world going, and the loss was cruel to Maurice: drinking, he fell into a depression that, among other things, saw his photographic archive fall into decay (it would be restored and is now held by the V&A, which is due to stage an exhibition later this year). But, in one of the most tender moments of the film, Nick remembers just what his mother's early death meant to him, the loss of his close confidant, the figure who had somehow always supported him even when his father was critical of the directions he was taking. It brings home how much My Father and Me goes beyond its title: this film exploration is a voyage around a family every bit as much as it is one around a father.
It's supported by some wonderful home-movie footage, but there's also the sense that the time since Maurice died in October 2010 brought revelations for Nick, not least some audio archive in which Maurice speaks about his childhood and work (of which he appears not to have been previously aware). Their father-son pairing clearly matured over time towards the rich completion that speaks so powerfully at the heart of the film. Maurice found an Indian summer-like late happiness with his second wife, Suzy, as well as emerging as a painter (the only time, apparently, that he thought of himself as an "artist"). As he matured, Barney became a third-generation presence in the two men's professional bond, a photographer in his own right who shared group exhibitions, another factor that helped to bring Maurice back to life (the three generations, pictured centre). Fittingly, he has co-cinematographer credits (with Sam Mitchell) on My Father and Me, the other notable contribution being Nick Laird-Clowes' score, which ranges across the genres – hints, surely, of The Dambusters at the beginning – towards the predominantly elegiac.
For elegy becomes the dominant mood here, fitting at a personal level for a relationship that moved through antithesis to synthesis, towards mutual respect and closing understanding. Elegy too, no doubt, for an era of British life of which Maurice Broomfield was a last-act chronicler (full plaudits to whoever brought the wider archive clips together, they capture the historical period outstandingly). In that sense, somehow, My Father and Me is Maurice's film after all. We are left to wonder how the next generation (Barney, perhaps) will one day come to assess Nick, his achievements and those of the generation that he may loosely represent. This beautiful documentary history will be hard to beat.
There's a striking distinction made between 'craft' and 'chaos'
rating
Explore topics
Share this article