Gerstein, Bintner, Waarts, Wigmore Hall review - fascinating connections, uneven music |

reviews, news & interviews
Gerstein, Bintner, Waarts, Wigmore Hall review - fascinating connections, uneven music
Gerstein, Bintner, Waarts, Wigmore Hall review - fascinating connections, uneven music
Stellar musicianship at the service of Busoni
Kirill Gerstein and Gordon Bintner
Stefan Zweig once wrote that the difference between Busoni and every other pianist he had ever heard was the way the influential Tuscan-born Germanophile performer, composer and intellectual would always appear to be listening so intently to his own playing, "his uplifted face full of blissful rapture, which turns to stone in sweet awe at the Medusa-like beauty of the music."
Kirill Gerstein, who last night at Wigmore Hall gave the second of three concerts in a themed series "Busoni and his world", is a superb pianist, and is similarly mesmerising to watch. He rocks gently back and forth and clearly also gives the music he is playing deep listening and concentration. The programme he had devised was mainly an exploration of links between Busoni and Beethoven, with various off-piste excursions. This was a programme alive with associations and links.
Perhaps the most fascinating of these was Busoni's complete re-writing of Schoenberg's solo piano piece Op.11 No. 2. In 1909, Schoenberg was attempting to have the set published, and asked for Busoni's assistance to make it happen. In the spiky exchange of letters which followed, Schoenberg berated Busoni for the rewriting – it's officially called an "arrangement" – which dollops several scoops of two-handed counterpoint into it. Schoenberg saw what Busoni had done as a misguided attempt to put the younger composer's "new wine into old bottles". Whatever the merits of that argument, Gerstein managed to tell an utterly convincing story with the piece. It was a highlight, and it would have been fascinating to hear Schoenberg's "new wine" alongside it.
Whereas one tends to think of Gerstein in his most visible role as concerto soloist, he is quite superb as a collaborative pianist/accompanist. With the solitary exception of the Schoenberg re-imagining, he was to be heard last night as part of two different duos. For the first half his companion was the glorious-toned, Saskatchewan-born baritone Gordon Bintner, who will be Antonio Pappano's Albert in Werther at Covent Garden this summer. In the second half we heard with American violinist Stephen Waarts (pictured below with Gerstein), a very late stand-in for Leonidas Kavakos who had to cancel because of an injury.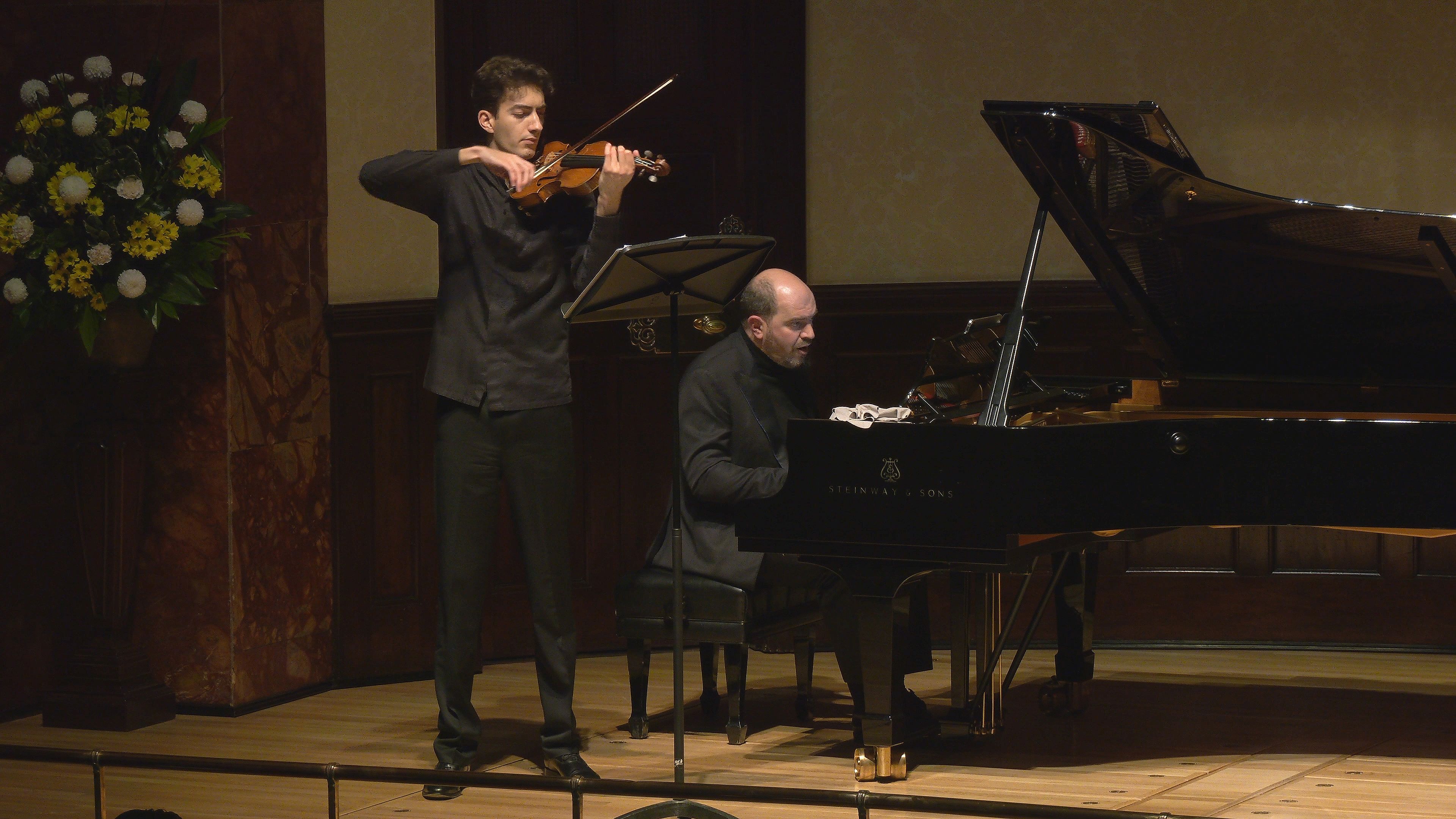 One can only admire the level of Gerstein's skill in dovetailing every rubato together with his duo partners, in always keeping a wonderfully natural sense of dialogue with them. His Beethoven playing was constantly alive to the balance and the alternation of lyricism and provocation.
The pairing of Gerstein and Bintner opened with Goethe settings by Beethoven, the Busoni connection here being the prevalence of Faust, a major preoccupation for Busoni in later life as he worked on the opera Doktor Faust. Gordon Bintner has a glorious sound and a willing, enthusiastic manner which brought to mind the young Olaf Bär. Whereas the opener "Mailied" was gentle and conversational, "Neue Liebe, neues Leben" brought the first opportunity to unveil his wonderful sound, notably and appositely with the words "mit unendlicher Gewalt".
Busoni's Lieder are an acquired taste, particularly the "Lied des Unmuts", a poem by Goethe which seems little more than an expression of knottiness and crabbiness. Tricky repertoire continued with Sprechgesang settings of bleak visions of the aphoristic early expressionist poet August Schramm, by Wladimir Vogel, whose mentors were an odd couple: first Scriabin and later Busoni. The Busoni songs and the Vogel songs, all sung from memory by Bintner, were a tough ask, which made the more familiar closing songs from The Threepenny Opera by Brecht and Weill, another Busoni pupil, all the more welcome for being so approachable and familiar.
Stephen Waarts played Beethoven's "Kreutzer" Sonata, followed by the Busoni Second Sonata from 1898-1900 written for Ysaye, which contains quotes from it. It is in some senses a Wigmore Hall piece: the first ever concert in the Wigmore (then Bechstein) Hall in 1901 was the duo of Busoni with Eugène Ysaÿe. For Stephen Waarts to have stepped in and played the fearlessly virtuosic Busoni sonata so well was impressive, to say the least. He played the outer movements of the "Kreutzer" with compelling and bright-toned verve. The central Andante could arguably have had more shape, but that is a minor quibble.
The third "Busoni and his World" recital on Sunday 2 July will be with Kirill Gerstein and fellow pianist Zoltán Fejérvári and the focus will be on Busoni and Mozart
Gerstein kept a wonderfully natural sense of dialogue with his two duo partners
rating
Explore topics
Share this article