Mad Song, Ballance, High Barnet Chamber Music Festival review - Reich towers over the rest |

reviews, news & interviews
Mad Song, Ballance, High Barnet Chamber Music Festival review - Reich towers over the rest
Mad Song, Ballance, High Barnet Chamber Music Festival review - Reich towers over the rest
This ambitious new festival offers chamber music, but not as we know it
The ensemble Mad Song, directed by Joshua Ballance
Perhaps 2021 was not the most propitious time to launch a new festival, but composer and conductor Josh Ballance did it anyway, and the High Barnet Chamber Music Festival has returned in 2022 – as it will, I hope, in 2023 and beyond.
Still modestly proportioned, the programming doesn't lack ambition, and I was particularly drawn to last night's programme by the ensemble Mad Song, featuring a wealth of
new and newish music
.
"Chamber music" is a term that conjures up polite string quartets and piano trios, and while the festival includes Mendelssohn and Beethoven, it also embraces Elizabeth Lutyens and Ailsa Dixon. At last night's concert, though, the nearest thing to mainstream repertoire was Steve Reich and the oldest piece was written in 1982.
The ensemble, Mad Song are a young group, directed by Ballance (pictured below) and dedicated to 20th and 21st century music (taking their name from Maxwell Davies's Eight Songs for a Mad King). Their programme last night was carefully crafted and according to Ballance took four months to put together: each of the six players featured in either a solo or duo, then all came together as a sextet for a substantial work at the end of each half.
To take the solos and duos first: violinist Hana Mizuta-Spencer gave a rapt and rhapsodic account of Missy Mazzoli's Vespers, combining live and sampled sounds but still allowing her warm tone to shine through. I had less patience with Saariaho's spectralist Oi Kuu, for bass clarinet and cello. The athematic slides and harmonics and multiphonics were played with sensitivity and commitment by Rennie Sutherland and Laura MacDonald but the piece felt dated (I realise with a start that 1990 is actually a long time ago).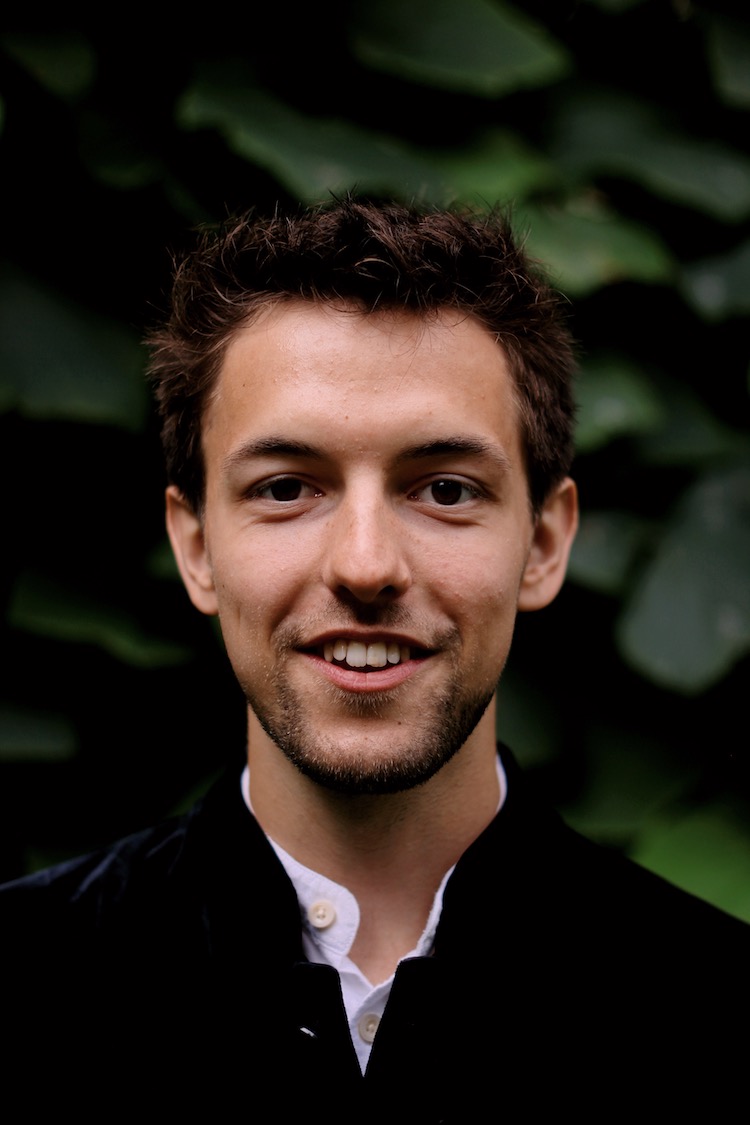 In the second half flautist Hannah Gillingham delighted in Richard Causton's gem Sleep. The sinuous melody was played with an alluring, breathy sound and was utterly beguiling. Also – it knew when to stop. Barbara Monk Feldman's Duo for piano and percussion didn't, but that was kind of the point. Her name sounds like a mashup of two great American experimentalists, and so did the music. Very much in the tradition of Morton Feldman, not much happened, and slowly. Which isn't to say I didn't enjoy it: there is a hypnotic quality to this sort of non-developmental music, where apparently unconnected musical events happen one after the other, building a weighty anti-rhetoric. It was beautifully played by Kieran Crowley and James McLeish, who gave it the spaciousness it required.
The two tutti items comprised a hit and a miss. The miss was Joan Tower's Noon Dance of 1982. It gave each instrument a solo spot, separated by passages for the whole ensemble. These ritornellos were muscular and assertive, although I'm not quite sure what they were asserting, and the end result was undoubtedly bitty. The faster passages were propelled forward confidently by Ballance, and the players were equal to the technical challenges, but the piece – though interesting to hear – didn't convince.
The finale was a surefire hit: Steve Reich's Double Sextet of 2007. Here the live ensemble played against a pre-recording of themselves and the quality of the music shone through. This was a welcome return of pulse – mostly absent from the rest of the evening – and Mad Song delivered with cool aplomb. The yearning central section, perhaps the most straightforwardly melodic passage Reich has ever written, was entrancing, while the final dash for the line had a rock solid groove and was very exciting. Hats off to Ballance and Mad Song for an enterprising festival, characterised by this ambitious and intriguing concert which I was very glad to hear.
The sinuous melody was played by Hannah Gillingham with an alluring, breathy sound and was utterly beguiling
rating
Explore topics
Share this article